Who wouldn't run to the dinner table for a classic like chicken Parmesan? Topped with melted mozzarella and a well-balanced marinara, this Italian dish is easily rounded out with pasta, salad, and some crusty garlic bread.
In the US, serving chicken Parmesan with pasta is a no-brainer — but elsewhere in the world, the composition is different. In the UK, it comes topped with a white sauce as well; in Australia, replace the pasta with chips (what weíd call french fries).
Here, we're just using a simple marinara and some pasta. Use store-bought sauce if you'd like, or follow this easy recipe for a smooth red sauce. The result will still be delicious!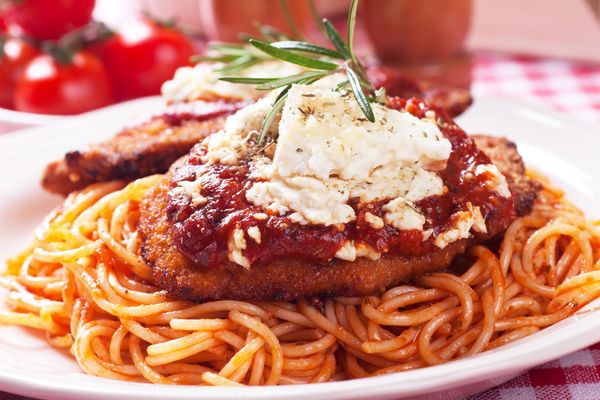 Chicken Parmesan
(makes about 4 servings)
Ingredients:
For the sauce (if you want a homemade marinara):
1/2 large yellow onion, grated or finely chopped
1/4 cup olive oil
3 medium garlic cloves, peeled and minced
1 28-ounce can crushed tomatoes
1 teaspoon dried oregano
1 teaspoon dried basil
Pinch of red pepper flakes
Pinch of sugar
Pinch of salt
For the rest of the dish:
16 ounces of spaghetti, linguini, or your favorite pasta, cooked al dente
4 chicken breast cutlets (1-1/4 to 1-1/2 pounds total)
2 eggs, beaten
1/2 cup Italian breadcrumbs
1/2 cup panko breadcrumbs
1 cup freshly grated Parmesan cheese, divided
1/4 cup olive oil
2 tablespoons fresh basil leaves, thinly sliced
8 ounces mozzarella cheese, sliced
Salt
Flour
Directions:
To prepare the sauce (if using store-bought sauce, skip to step 2), first grate or finely chop half of an onion. Put the olive oil in a saucepan on medium-high heat and add the onions, sautÈing for 2 to 3 minutes. Then, add the garlic and cook for about 1 minute. Finally, add the tomatoes, oregano, basil, red pepper flakes, sugar, and salt. Bring the whole mixture to a simmer, reduce the heat, and cook uncovered for about 10 to 12 minutes while the chicken cooks.
Preheat oven to 400 degrees F.
One at a time, you want to flatten each chicken cutlet by placing it between two layers of wax paper or plastic wrap and pounding the chicken with a meat pounder. Pound each cutlet to an even thickness ñ between 1/4 inch and 1/2 inch ñ and lightly salt each chicken piece as well.
Prepare three shallow bowls, large enough to dredge the chicken ñ one for flour; one for the beateneggs; and one for the breadcrumbs, 1/2 cup of Parmesan, and a pinch of salt.
Heat 1/4 cup of olive oil in a large sautÈ pan on medium-high. Dredge each chicken piece — both sides of it — in the flour mixture, then the egg mixture, then the breadcrumbs. Then, once the oil is hot enough, lay the pieces each in the hot pan. Turn the heat down to medium and fry the chicken until golden-brown ñ about 3 to 4 minutes per side.
This is a good time to start cooking your pasta ñ get a big pot of water boiling and add some salt, and then add the pasta and cook until al dente (check the directions for cooking times ñ likely itíll be about 7 minutes). You can let the water boil while preparing the chicken, and then cook the pasta while baking the chicken in the next steps.
Grease a 9×13 baking dish and spread tomato sauce to cover the entire bottom of the pan (just enough to cover ñ youíll want extra sauce leftover for dinner). Then, arrange the golden-brown chicken on top of the tomato sauce in the baking dish. Spoon sauce over each cutlet and sprinkle with fresh basil. Finally, top the chicken with the slices of mozzarella cheese and 1/2 cup of Parmesan cheese.
Bake for 10 to 12 minutes, or until the cheese starts to get golden-brown and bubbly. Serve alongside the rest of the sauce and pasta.
Enjoy!
Recipe adapted from Simply Recipes
SKM: below-content placeholder
Whizzco for 12T