Growing up, my experience with gelatin was probably the same as many: packets of Jell-O instant mix. While that will always have a time and a place, those translucent, wobbly desserts don't even come close to displaying the incredible variety of ways to prepare gelatin! Next time the mood hits you, why not make some gelatin at home using fresh fruit?
For this recipe, I wanted to use a fruit I've recently fallen in love with: mangos! They're that perfect combination of being sweet without being overpowering, and honestly I'm a sucker for anything with mango in it now. This recipe is also beautifully simple with ingredients that aren't hard to find anywhere. The gelatin packets can be found in the baking needs aisle in your grocery store, and from there it's just a matter of getting the fruit. I also couldn't resist reserving a few slices of the mango to slide into the cold gelatin as a garnish after it was prepared. Keep reading below for this great dessert recipe that is sure to be a crowd-pleaser in your family…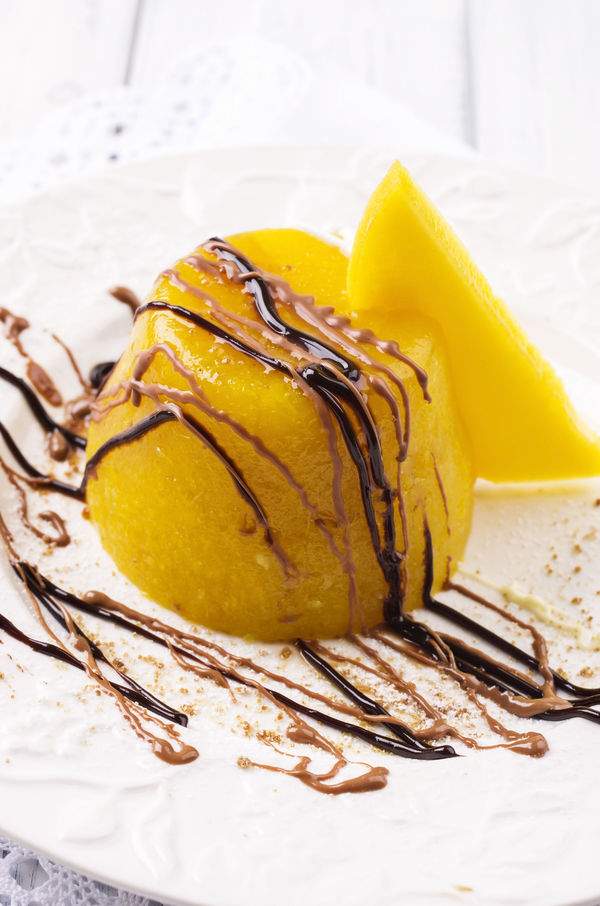 Mango Gelatin
Ingredients
4 envelopes unflavored gelatin
4 cups 100% mango juice (Simply Mangoes is my go-to brand)
1 teaspoon vanilla extract
1 tablespoon lime juice
1 cup pureed fresh or frozen mango
2 tablespoons honey or sugar (optional)
fresh sliced fruit for garnish (I love adding more mango, but strawberries make another great garnish)
Directions
Chill one cup of juice until it's ice cold. Put the cold cup of juice in a large pot and sprinkle gelatin over it. Let set for at least 1 minute.
Boil the remaining 3 cups of juice and add sugar/honey with the vanilla extract.
Puree 1 cup of fresh or frozen mango until thin. Add it to the boiling juice and bring back to a boil. Add the hot juice to the cold gelatin with the tablespon of lime juice and mix.
Pour into cups or bowl for individual servings, or a mold if desired. Chill until firm.
To serve, dip a knife in warm water and run the knife around the rim of the cup, bowl, or mold. Gently shake to loosen, then invert onto a serving plate. Garnish with the fresh fruit or any other garnishes as desired.
Enjoy!
Recipe adapted fromHealthy Baby Beans
SKM: below-content placeholder
Whizzco for 12T