One pot, one pan, one skillet, or sheet pan, I love these types of meals for their delicious, time-saving simplicity.
As our family operates without a dishwasher, I also love any dinner that doesn't involve a kitchen's worth of cleaning up when you've got to get the kids in bed, the baby fed, and try to find five minutes to relax.
The following one pot dishes are all tremendously tasty, enjoyable meals that come together quickly with little mess or fuss, and will appeal to all types of home cooks looking to create a stress-free dinner time.
Baked Feta Pasta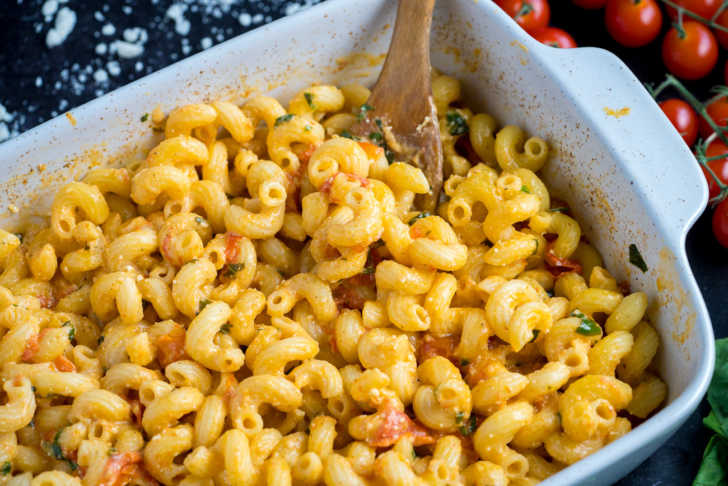 Baked feta pasta is a hit with almost everyone – especially the kiddos – worthy as a standalone meal or as a delicious side dish with any type of meat.
Our one pan feta pasta is even quicker and easier than the TikTok sensation that it spawned from; you put the noodles in the oven from the start and let it cook with everything else.
All you've got to do is put the ingredients – elbow pasta, tomatoes, feta, and herbs – in a baking dish, give them a stir, and come back later when it's finished.
Trust me, this yummy one pan pasta for when you are busy will immediately go into high rotation.
One Pot Chicken and Dirty Rice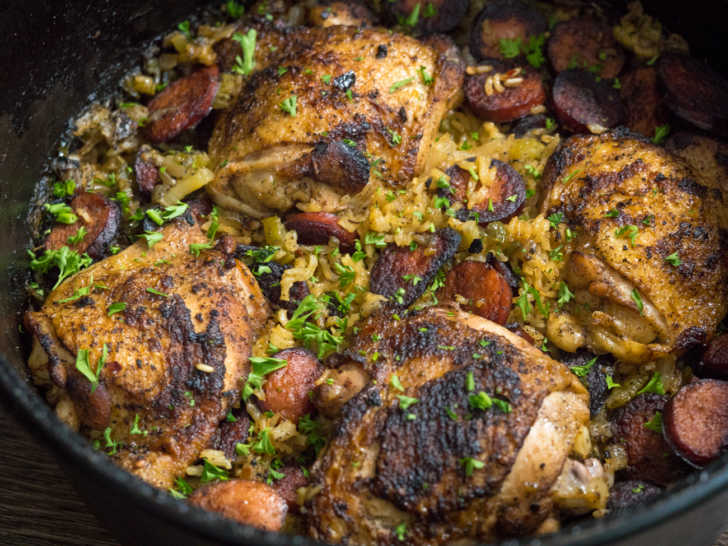 The Louisiana classic staple dirty rice is a great option for use in one pan dishes. You can load it up with stock and spicy flavors, a tasty protein option or two, then let it bubble and cook away quickly and trouble-free.
While our recipe veers away from the N'Awlins classic version (it means there's no liver!) it's plenty tasty when combined with chorizo, flavorful chicken thighs, veggies, and jalapeños.
Pork Chops and Apples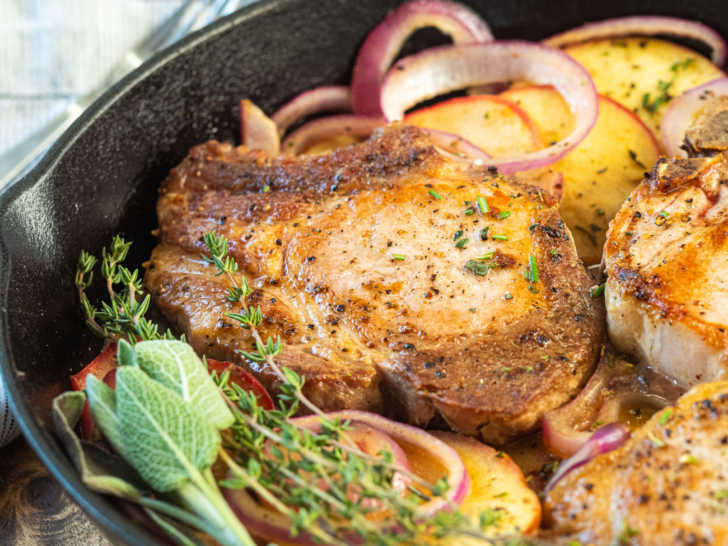 I'd never thought to try cooking pork chops with apples in one pan and won't go back now that I have tried them. It's a simple skillet meal that brings all the tasty flavors together while cutting down on prep time and cleaning.
The sweetness of apple and caramelized onion, the layered accent of herbs, and delectable pork juices mingle together delightfully over 25 minutes of one-pan cooking, and it looks sensational for plating.
If you want to make date night daring but with little real effort (or risk), our recipe for one pan pork chops and apples is one I highly recommend (My wife is looking over my shoulder, nodding as I type this).
Chicken Taco Bake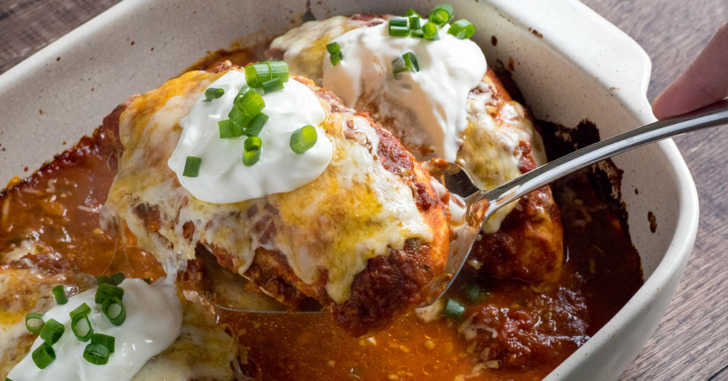 I really enjoy cooking this recipe for my elderly parents. Dad's been on record for twenty years about how he can't eat tacos because of the mess, while my poor mum absolutely loves them, but only gets the chance when they are dining out (which is rare).
This taco bake takes care of both dad and mom and tastes as delicious as anything you'll find at a restaurant.
The bake also offers versatility, perfect with spicy rice and beans, a simple healthy side salad, or a cheeky pico de gallo or mango chutney. You can't go wrong!
Mitch Schwartz' Shrimp and Sausage Paella

NFL All Pro tackle and can-do kitchen operator Mitch Schwartz has a tremendous riff on Spanish Paella.
I love his modern tweak on the traditional dish. It's a simple yet effective recipe blending seafood, sausage, and chicken with flavor and crackle in every forkful.
With Mitch's recipe, there's also plenty of scope to take your own path regarding the meats you use and some of the seasoning choices to give it an individual twist.
Coconut Lime Chicken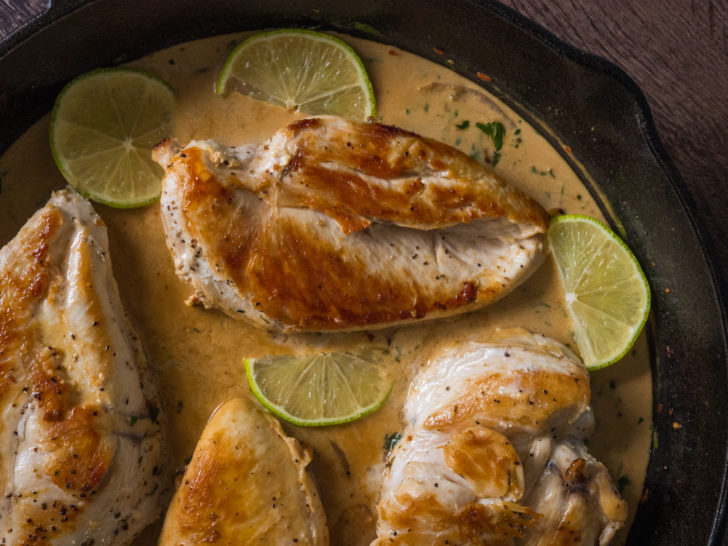 Of the one pan recipes on this list, our coconut lime chicken would have to be my favorite, with its simplicity belying the brilliant layer of tropical flavors.
Boring weeknight grilled chicken breast becomes fun and exciting in just 20 minutes. This sensational sauce-based chicken dish captures the juice and tenderness of the chicken along with lush Thai-inspired flavor.
Fold in with pilaf rice, a yellow bell pepper (my current favorite), fresh steamed asparagus, or a creamy mash to add further ballast to your meal.
One Pot Italian Wedding Soup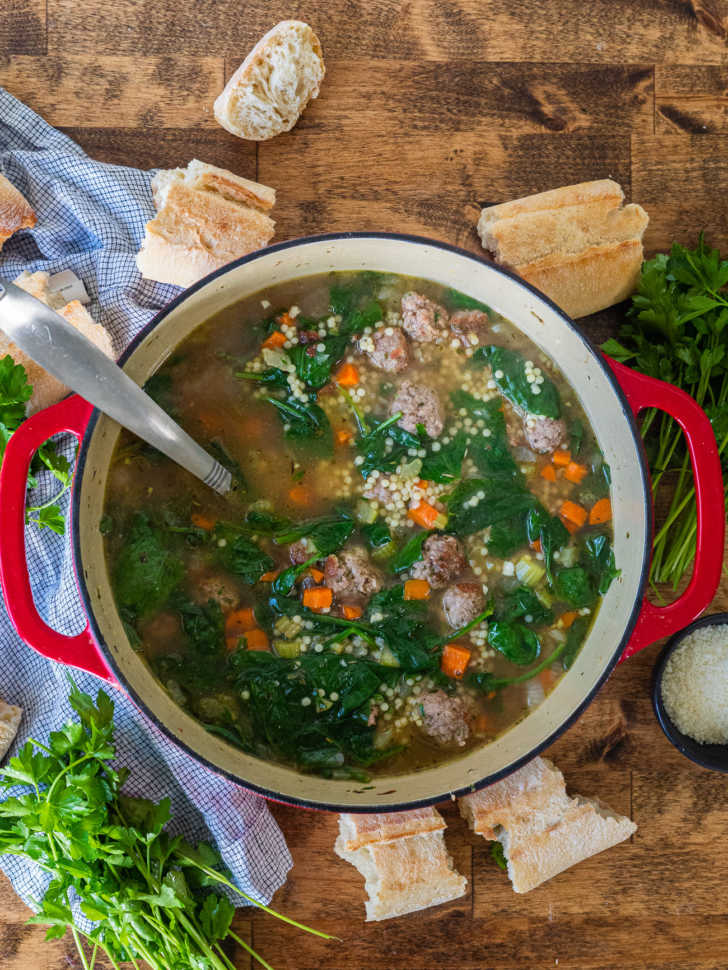 You could happily opt for a classic minestrone soup, however, I love the flavors our Italian Wedding Soup creates with spicy meatballs and hearty veggies.
It's a must-have in your lineup for cold winter evenings, chock full of great tasting flavors and laden with meat, veggies, and Acini de Pepe pasta.
It only takes half an hour from start to finish and tastes like you've spent the day at the stovetop. Grab yourself some crusty bread to have with it, and you've got a simple, magic meal that fills your stomach and re-heats nicely for the day after.
Conclusion
As the one pan meals above showcase, you don't have to destroy your kitchen to create quick, flavorful meals that your family will love.
When it comes to one pan dinners, what do you like to cook?
SKM: below-content placeholder
Whizzco for 12T