All the flavors come together so nicely.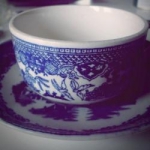 Rose Heichelbech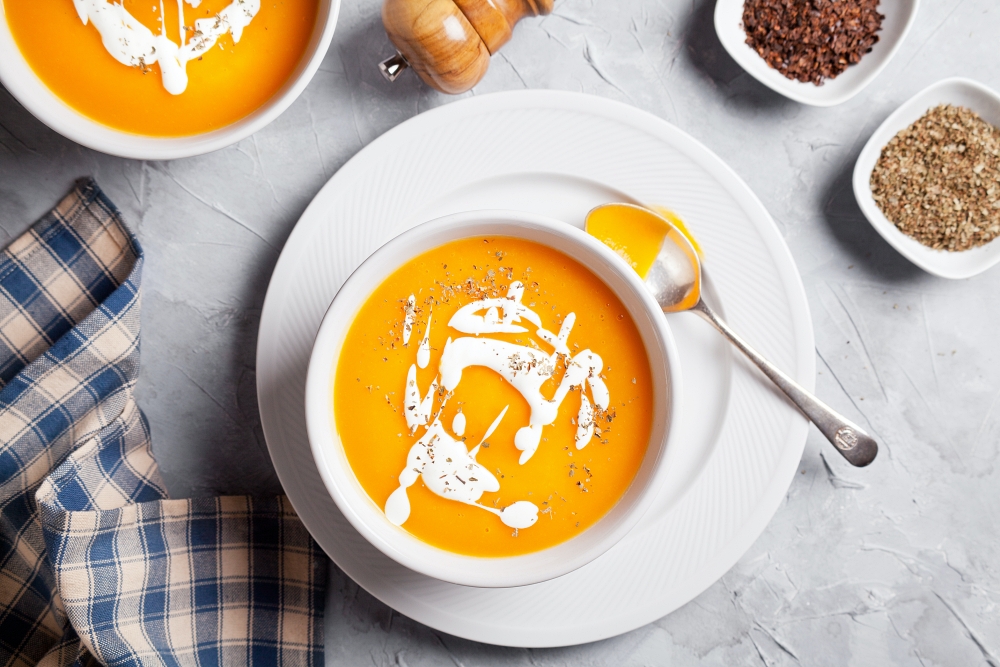 Is there anything better than homemade soup? It lifts the spirit, is completely customizable, and is the perfect light dinner or side dish for busy nights. Plus, it's great to have in the fridge or freezer for re-heating later on. And, butternut squash soup just happens to be one of my very favorite soups. If it's on your top ten as well, then this pear and curry infused version is simply a must-try recipe.
Butternut squash is one of those foods that goes well with a wide variety of other flavors, sweet and savory alike. This soup has both, with the complex blend of spices in curry mixing harmoniously with fresh ginger, garlic, pear, and freshly-cracked black pepper.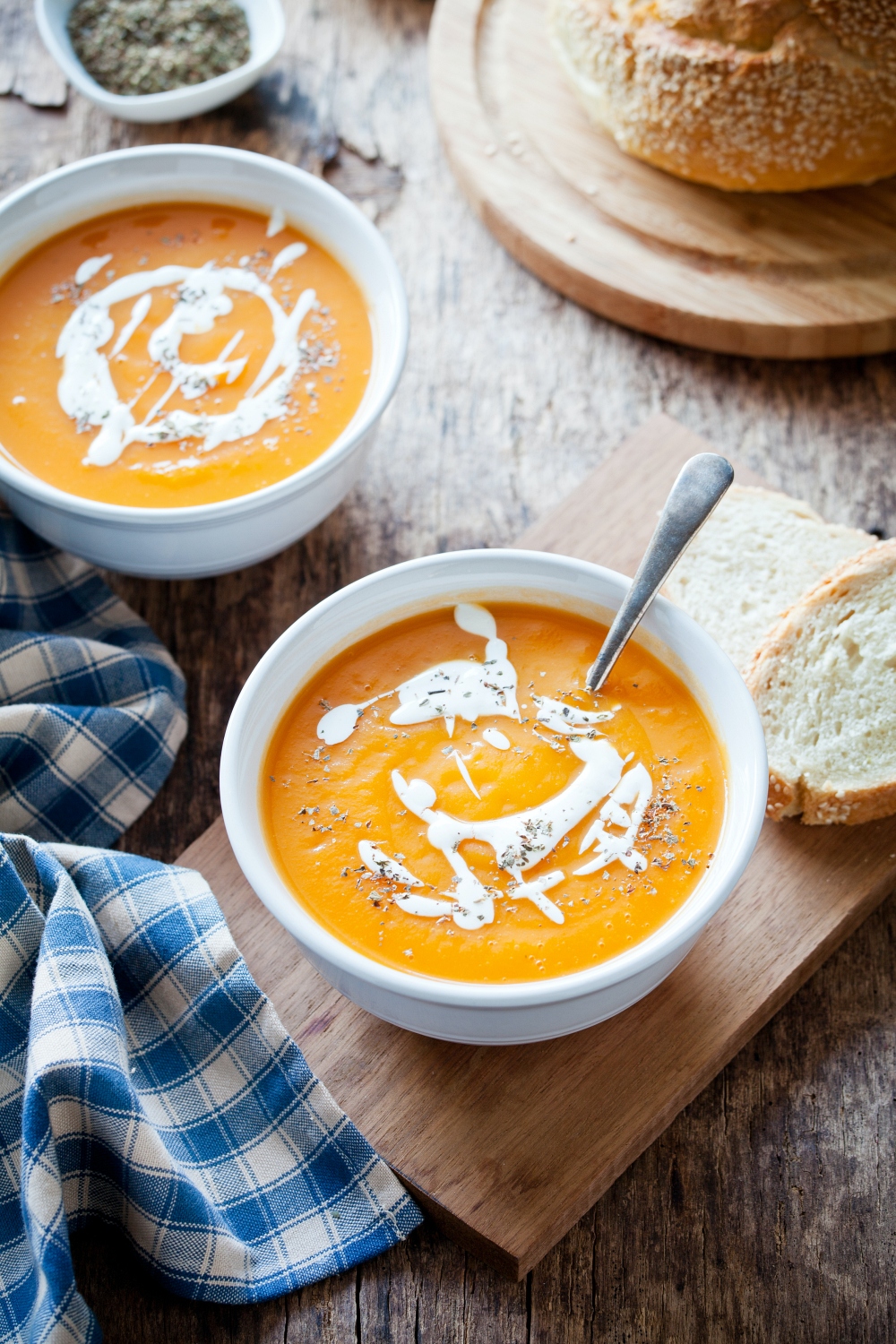 To get the butternut squash to the right texture you'll need to bake it before beginning on the soup. It only takes minimal preparation to make this happen. Cut the butternut squash in half lengthwise and then scoop out the pulp and the seeds.
Then place the squash on a baking pan or deep cookie sheet skin-side down. After 40-50 minutes in the oven the flesh should be soft and ready to make soup with- simply spoon out the meat and leave the skin on the pan.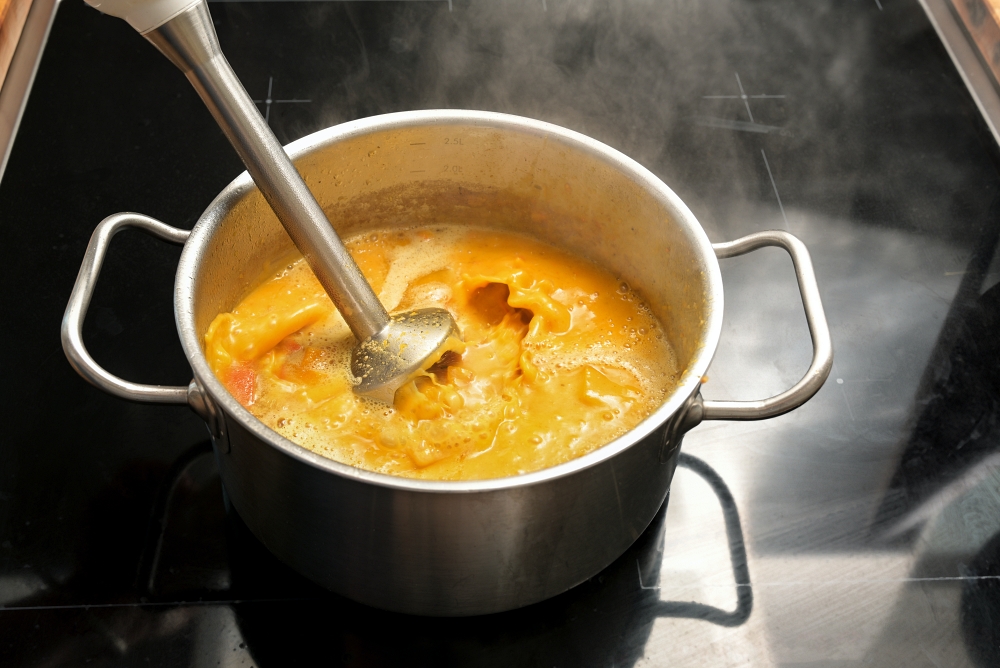 Sauté the onions in vegetable oil and then add in the other ingredients. If you have a metal immersion blender you can purée the soup hot while it's still in the stockpot. For those with blenders only, simply mix the cooked squash with peeled and chopped pears and then blend until perfectly smooth before adding to the pan.
After bringing to a boil let the soup simmer for 30 minutes before removing from the heat and adding heavy whipping cream and stirring it in. For a healthier option you can use plain yogurt or plant-based plain yogurt instead. However, my taste is to go all out when making soup from scratch.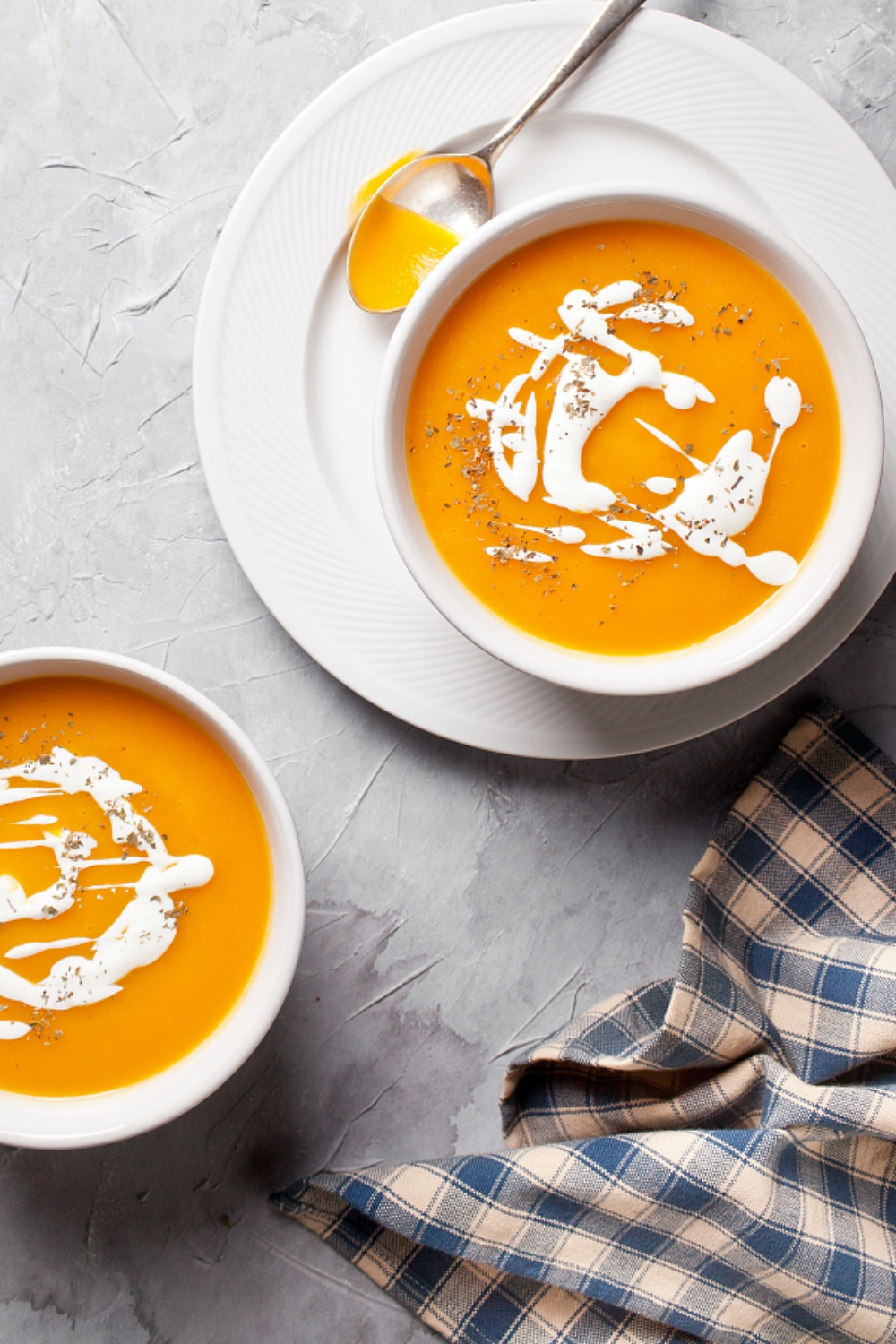 As a final touch add bit more cream to each serving, then sprinkle on the black pepper. For even more oomph I like to use the 3 peppercorn blend- it's also a bit prettier as well. You could put a pinch of crushed red pepper on top if you like heat.
I also enjoy adding finely chopped chives as a garnish to this soup if I have them on hand, too. But, some parsley would also work well.
Serve this curried butternut pear soup with some nice bread for lunch or as a starter to your dinner. This is one recipe that's just a little sweet, just a little spicy, and a whole lot delicious.
Curried Butternut Pear Soup
Makes 9 servings
20m prep time
1h 30m cook time
Ingredients
1 3-lb butternut squash
1 onion, diced
2 Tbsp vegetable oil
1 1/2 Tbsp curry powder
3 garlic cloves, minced
2 tsp minced fresh ginger root
1 tsp salt
4 cups chicken broth
4 pears, peeled and chopped
1/2 cup heavy whipping cream, plus more for garnish
freshly cracked black pepper
chives for garnish (optional)
Preparation
Preheat oven to 400˚F. Cut butternut squash lengthwise using a large knife. Scoop out small section of pulp and seeds from the middle. Place skin side down on a baking sheet and bake for 40-50 minutes or until completely tender.
Use a spoon to scoop out cooked flesh into mixing bowl, leaving the skin on the pan. Add squash and chopped pear to a blender and purée until completely smooth. Or if you have a metal immersion blender skip this step and purée in the stockpot after simmering in the next step.
Heat oil in a medium stockpot over medium heat. Add in onion and cook until just beginning to turn translucent, about 10 minutes. Then add in curry, garlic, ginger and salt and stir. Cook for 1 more minute before adding squash and pear. If using immersion blender purée now.
Stir well and bring to a boil, then reduce heat and simmer on low for 30 minutes. If using immersion blender purée now. Remove from heat and stir in whipped cream.
Garnish each serving of soup with freshly cracked black pepper, a little more cream, and some chopped chives if desired.
Recipe adapted from Taste of Home.
SKM: below-content placeholder
Whizzco for 12T