This brunch sandwich will absolutely change your weekend brunch game.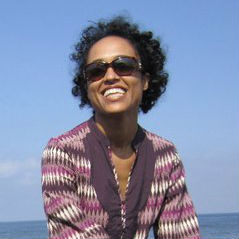 Sarah Cool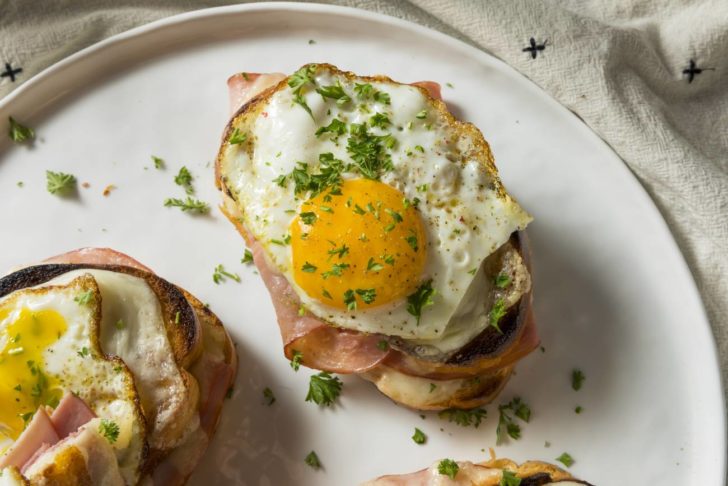 One of our favorite ways to enjoy the weekend is to bask in the glory of a delicious brunch. Fresh orange juice, fruit, eggs, pancakes or waffles, coffee (of course) and maybe a newspaper or magazine. One of our favorite brunch spots serves up this amazing breakfast sandwich with a fancy French name, we affectionately call it a "brunch-wich" but it's more formally known as a Croque Madame (sounds like "croak") and it is positively heaven-sent. Besides, anything topped with a fried egg has got to be good, am I right?!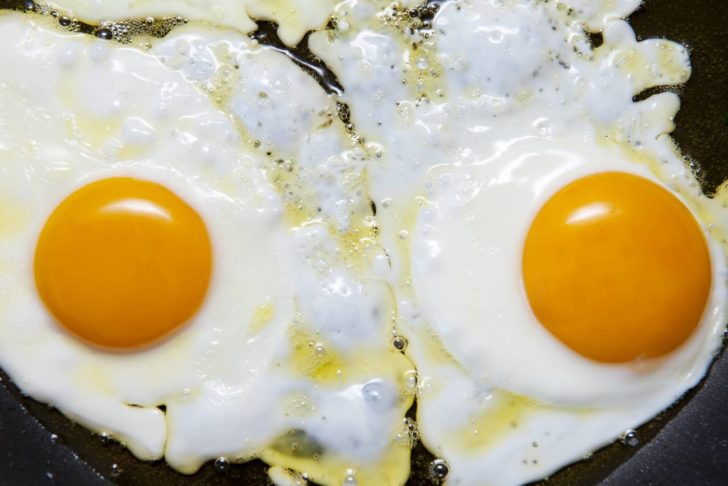 A Croque Madame is basically a jazzed-up grilled cheese sandwich with ham, a cheesy white sauce and topped with a beautifully fried egg. The glue to the sandwich is a simple yet flavorful Mornay sauce, and the secret to its goodness is just a hint of nutmeg. It's bechamel-esque because the process is to make a bechamel (flour-butter-milk mixture) and then add gruyere cheese, stir that together and you've got the most amazing creamy sauce. Black forest ham might seem very specific and you could absolutely use bacon instead, but give this ham a try and you'll quickly appreciate the difference.
Without the fried egg, this brunch sandwich is known as a "Croque Monsieur" but with the egg, it becomes "Croque Madame." Topping this French breakfast sandwich with a fried egg makes the sandwich truly delicious, and you can cook that egg to your preferred consistency based on how runny you like your yolks to be. This is a restaurant-quality brunch that is super easy to make right at home, for family or for weekend guests. A Croque Madame is a simple and satisfying brunch-wich, perfect for a casual weekend. Enjoy!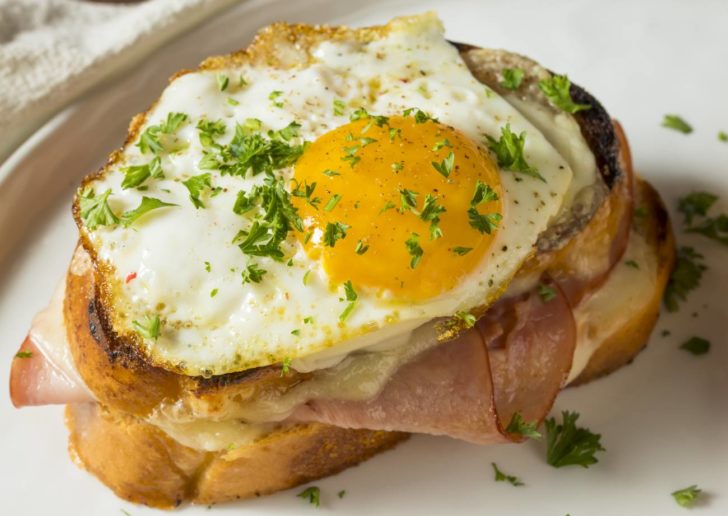 Croque Madame
Ingredients
Mornay Sauce:
1 cup milk (whole milk is recommended)
2 tablespoons flour
2 tablespoons unsalted butter
½ cup gruyere cheese, shredded
¼ teaspoon nutmeg
½ teaspoon kosher salt
Sandwich:
4 large eggs
8 slices French bread, sliced 1-inch thick
8 slices black forest ham, thinly sliced
1 ½ cups gruyere cheese, shredded
4 tablespoons dijon mustard
4 tablespoons unsalted butter, softened
Kosher salt
Black pepper
3 tablespoons parsley, chopped for garnish
Preparation
Prepare the Mornay sauce. Melt 2 tablespoons unsalted butter in a medium skillet over medium-low heat. Sprinkle in 2 tablespoons flour and whisk until paste forms.
Add ¼ cup milk and whisk until blended. Slowly add remaining milk, whisking constantly. Bring mixture to a low boil then reduce heat to low and simmer until sauce has thickened, about 2 minutes.
Remove pan from heat and add nutmeg, ¼ teaspoon kosher salt, and the cheese, stirring until cheese has melted and mixture has thickened. Set aside.
Butter one side of each slice of bread. Set aside.
Begin to build the sandwich. Spread one slice with prepared Mornay sauce, about 1-2 tablespoons, and a second slice with Dijon mustard. Place two slices of ham onto one slice then top ¼ cup shredded gruyere cheese. with the second slice of bread. Top with the second slice of bread. Repeat until all four sandwiches are prepared.
Prepare a baking sheet by lining it with aluminum foil. Set aside.
On a griddle or in a large frying pan, cook the sandwiches on each side until golden brown, about 2 minutes per side.
Place each sandwich on the prepared baking sheet. Top each sandwich with the remaining Mornay sauce then place into the oven under the broiler, set to High. Check frequently to prevent burning, and cook no longer than 1-2 minutes. Remove from oven and plate.
In the same frying pan or griddle, fry up four eggs until whites are cooked and center is just set (or cook to desired yolk consistency). Season with kosher salt and black pepper each. Top each sandwich with a fried egg and garnish with chopped fresh parsley. Serve immediately.
Recipe adapted from Fifteen Spatulas.
SKM: below-content placeholder
Whizzco for 12T