Melted cheese? Say no more when can I eat it? Add meat into the mix, and there's no other better savory combo out there. This easy skillet dish is a classic Mexican dish that takes a small list of ingredients and creates something full of flavor.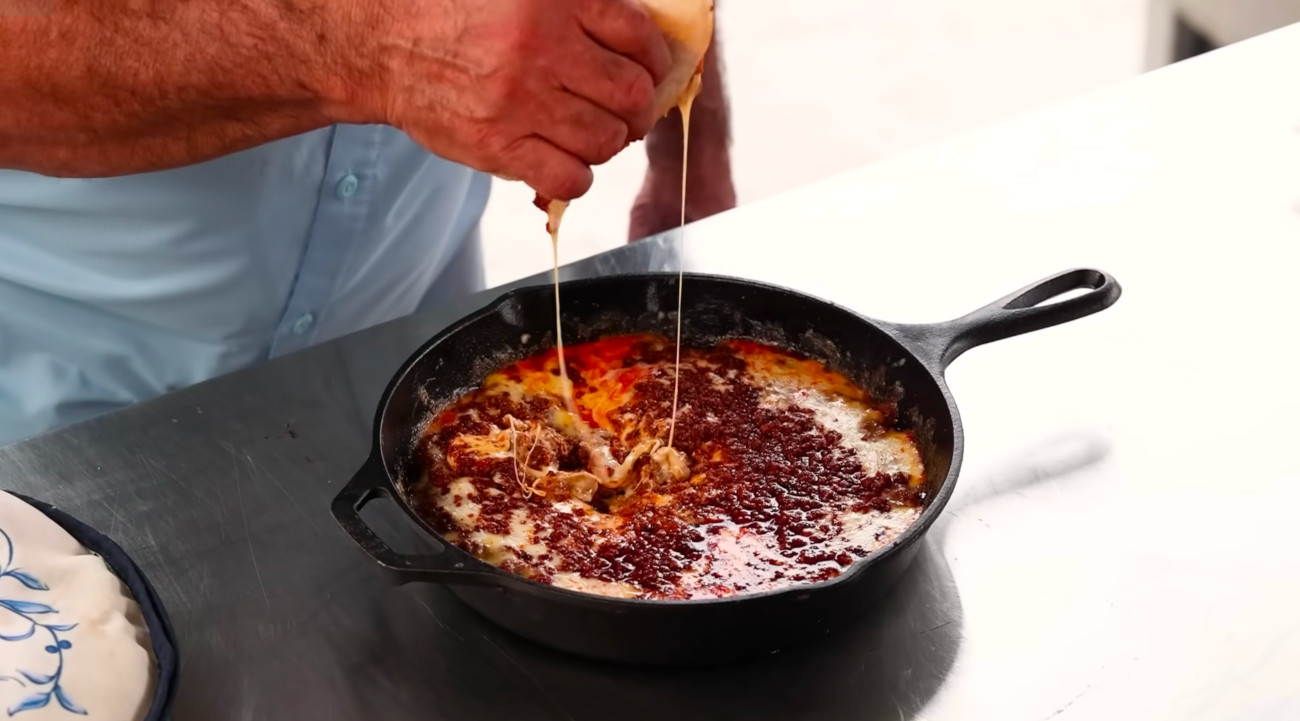 Arnie Tex's YouTube channel shows he knows his way around a piece of meat. He's become an International Barbecue Cooker's Association Hall of Fame nominee and has countless Grand Champion and Reserve Grand Champion wins in the competitive barbecue circuit. But he also shows his heritage in many Mexican and South Western dishes.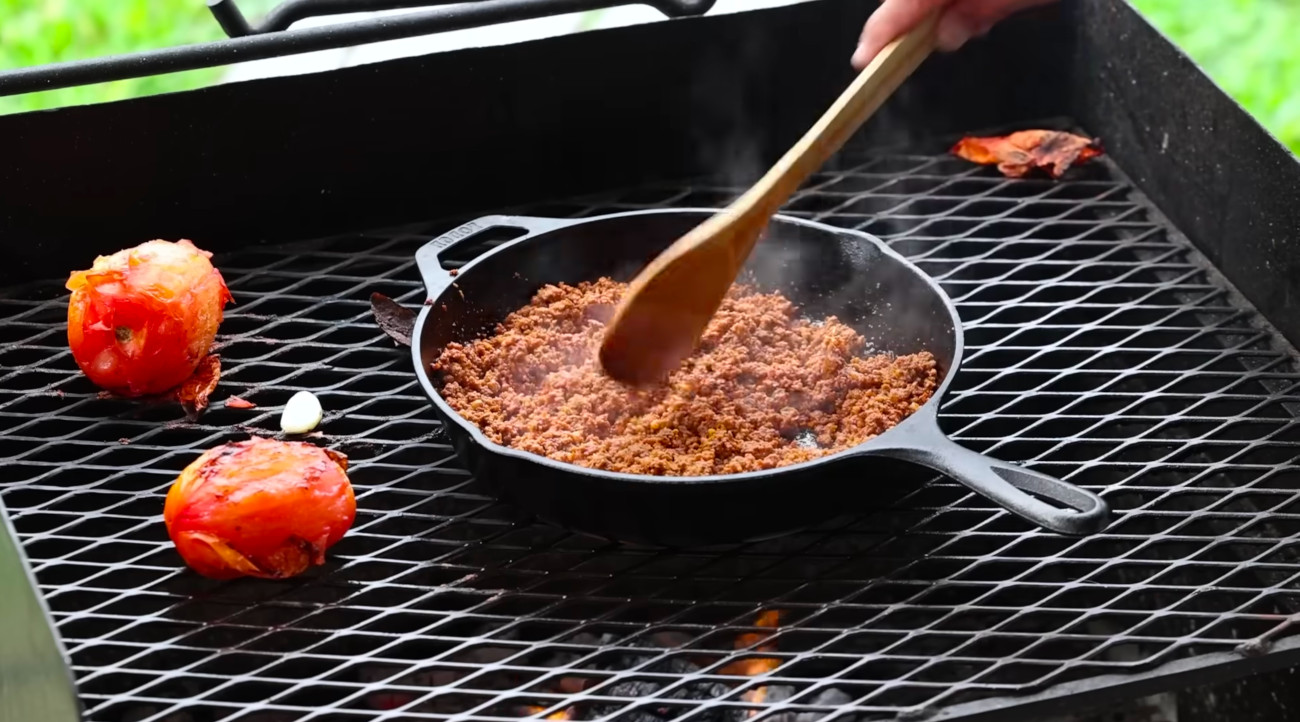 Choriqueso is the simplest but most divine dip out there. When most people think of cheese and chorizo they think of queso flameado which takes a pan of melted cheese and seared chorizo and lights it on fire with a bit of alcohol. Choriqueso is the easier, non-flammable sibling of this dish.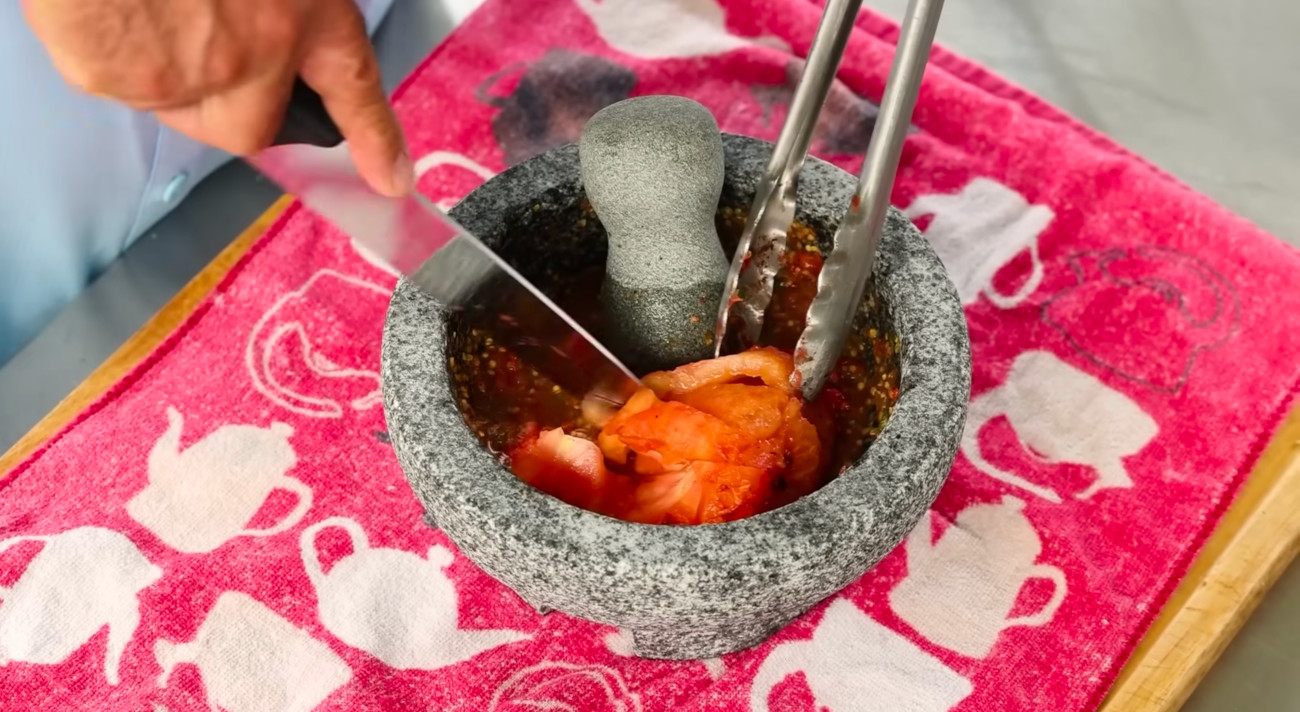 Arnie uses an outdoor grill, but you can easily cook this recipe on the stovetop. Start by cooking down the chorizo, don't rush this process, you make as much of the oil as possible to leave the sausage. This grease is a keeper — it's the secret ingredient that makes choriqueso super saucy and gooey. You want to keep the chorizo a little crispy but have the fat in the pan. To create this fine balance, he covered the pan, until the grease came completely out of the chorizo.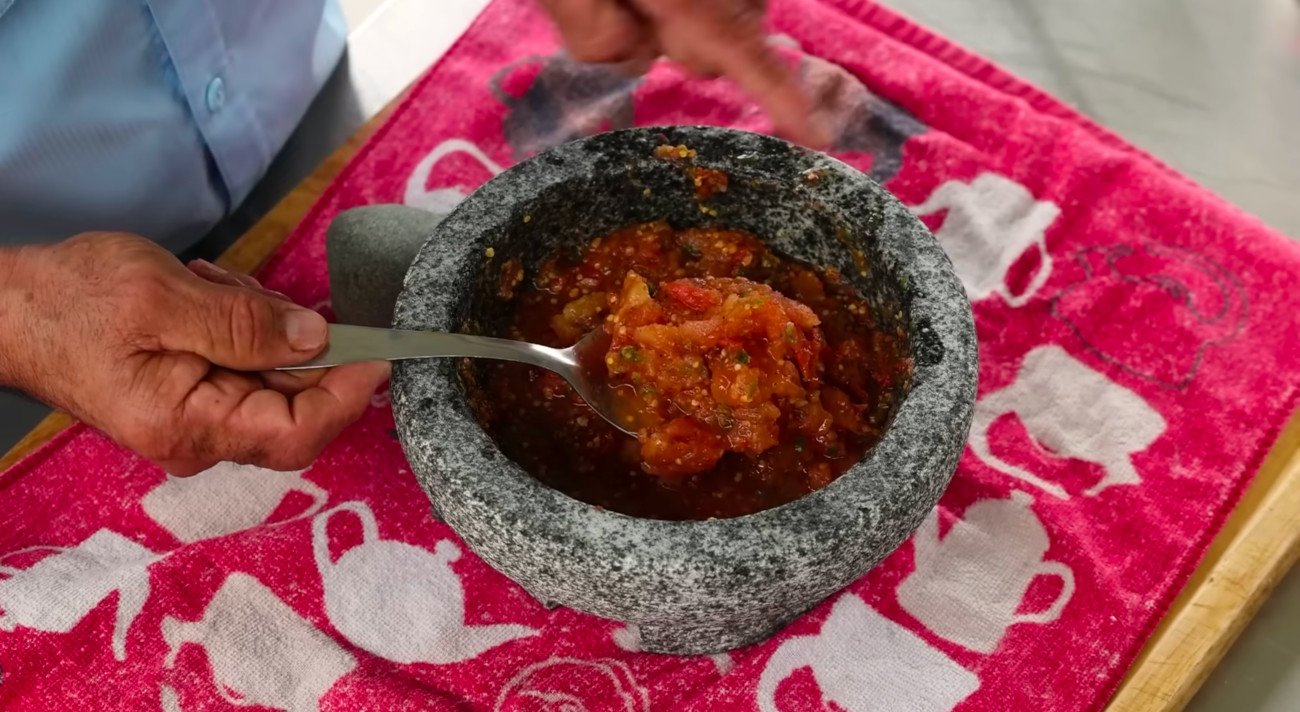 At the same time, he grills tomatoes (whole and with the skin on). Once tomatoes are completely charred, remove the tomatoes from the heat, and you can prepare a salsa. This salsa uses ground-up spices and tomatoes. The salsa is that simple. To prevent hot tomato liquid from splattering on your face, remove the core of the tomato and slice the tomato into pieces before mashing. Some people add onions, but here Arnie keeps it simple.
Remove some of the chorizo from the pan for later and add the second ingredient — cheese. Shredded cheese isn't skimped in this recipe. You can use the traditional queso Oaxaca but you can also use the more available mozzarella cheese. Here shredded is used for a better melting factor.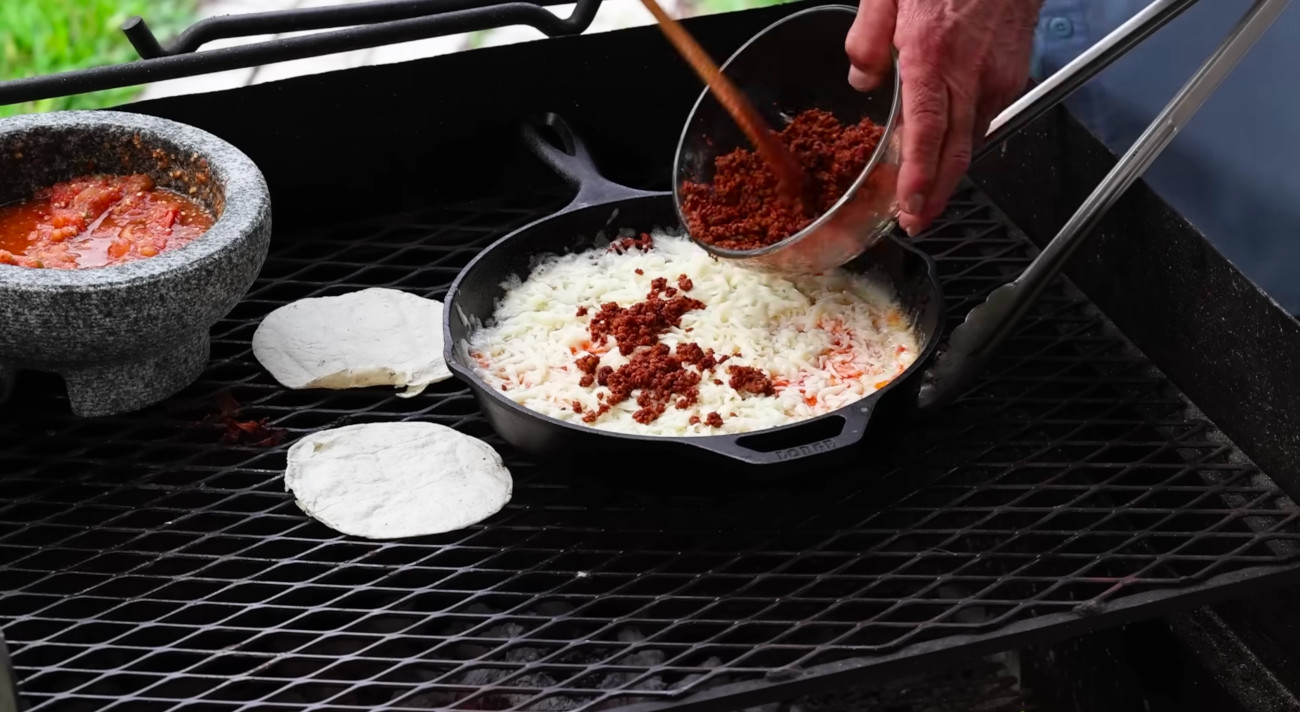 Once all of the cheese is distributed, he covers the pan yet again, letting the heat do all of the work. When the chorizo starts to bubble up and peek through the cheese, he presses the reserved chorizo into the top of the cheese.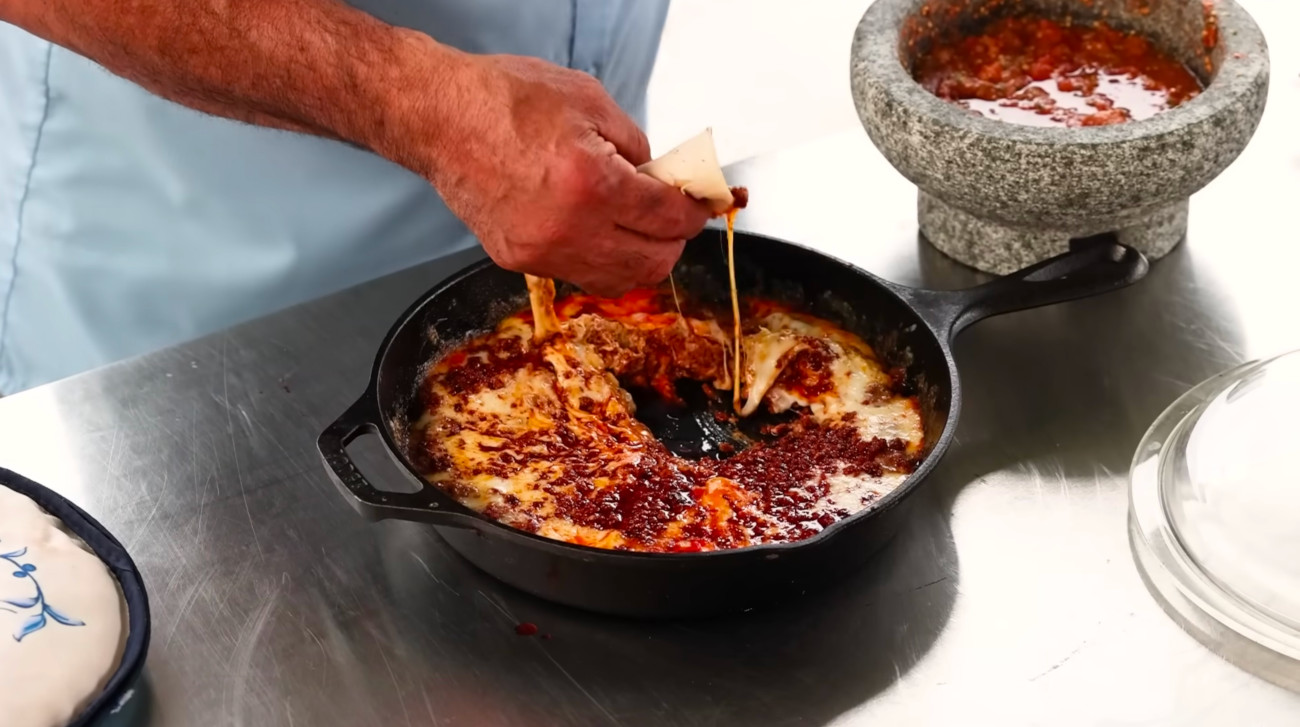 After a few more minutes, the choriqueso is ready to serve. Arnie uses warmed tortillas as a way to scoop up the delicious dip. Paired with the fresh and biting heat of the salsa makes it more of a dish that's balanced with richness. Eat it while it's hot, and while it lasts. Seriously, if you're not alone, others will get to it first, and this dip will be gone in a flash!
SKM: below-content placeholder
Whizzco for 12T