An easier way to enjoy a crisp and delicious classic.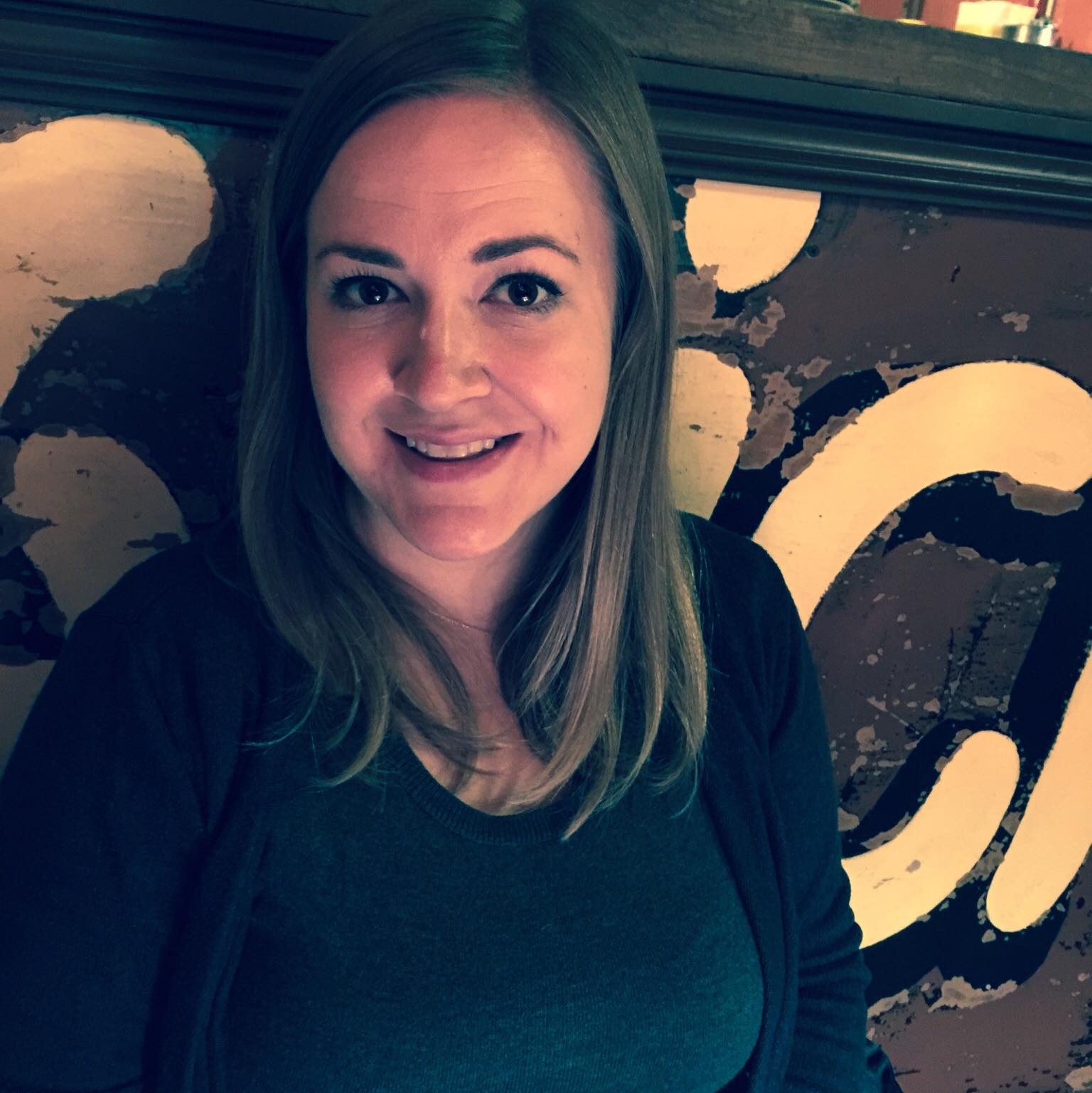 Kristy Norrell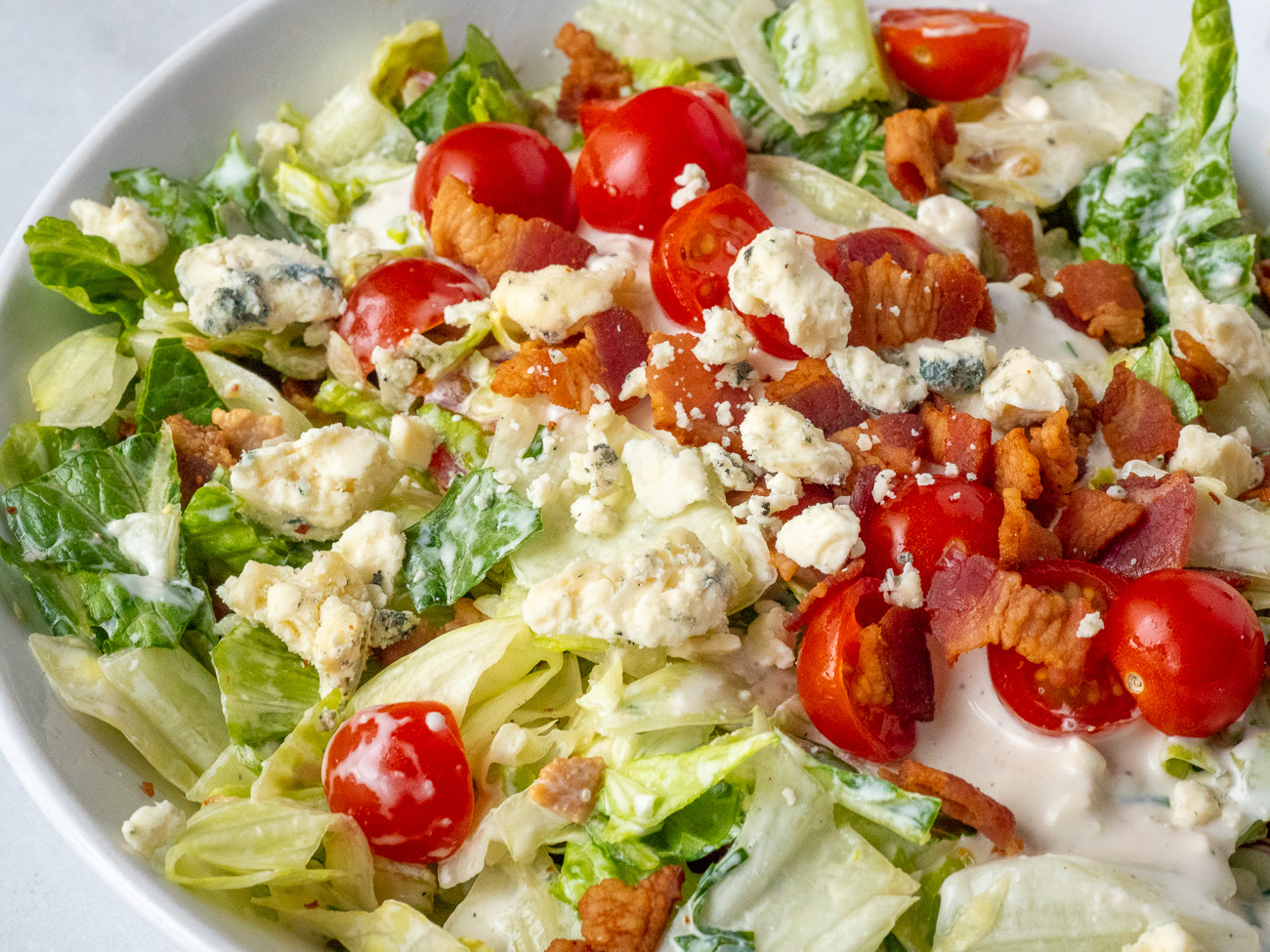 Look, Wedge Salads are delicious — thanks to a medley of crunchy iceberg lettuce, tangy blue cheese, salty bacon, and fresh juicy tomatoes. But — and this is a big but — they are super impractical to eat. You're served a giant triangle of lettuce on a plate that's topped with a lot of delicious things, but how do you get those delicious things into every bite? And furthermore, how do you even get it into your mouth without making a mess? It's a classic and it's an incredibly tasty combo of ingredients but I've always felt that the delivery left a lot to be desired.
But no matter, now we have this Chopped Wedge Salad. See, it has all of the flavor you know and love from a classic Wedge Salad, but it's not served to you as a wedge at all. Instead, it's allll bite-sized so you can enjoy every last delicious morsel with ease.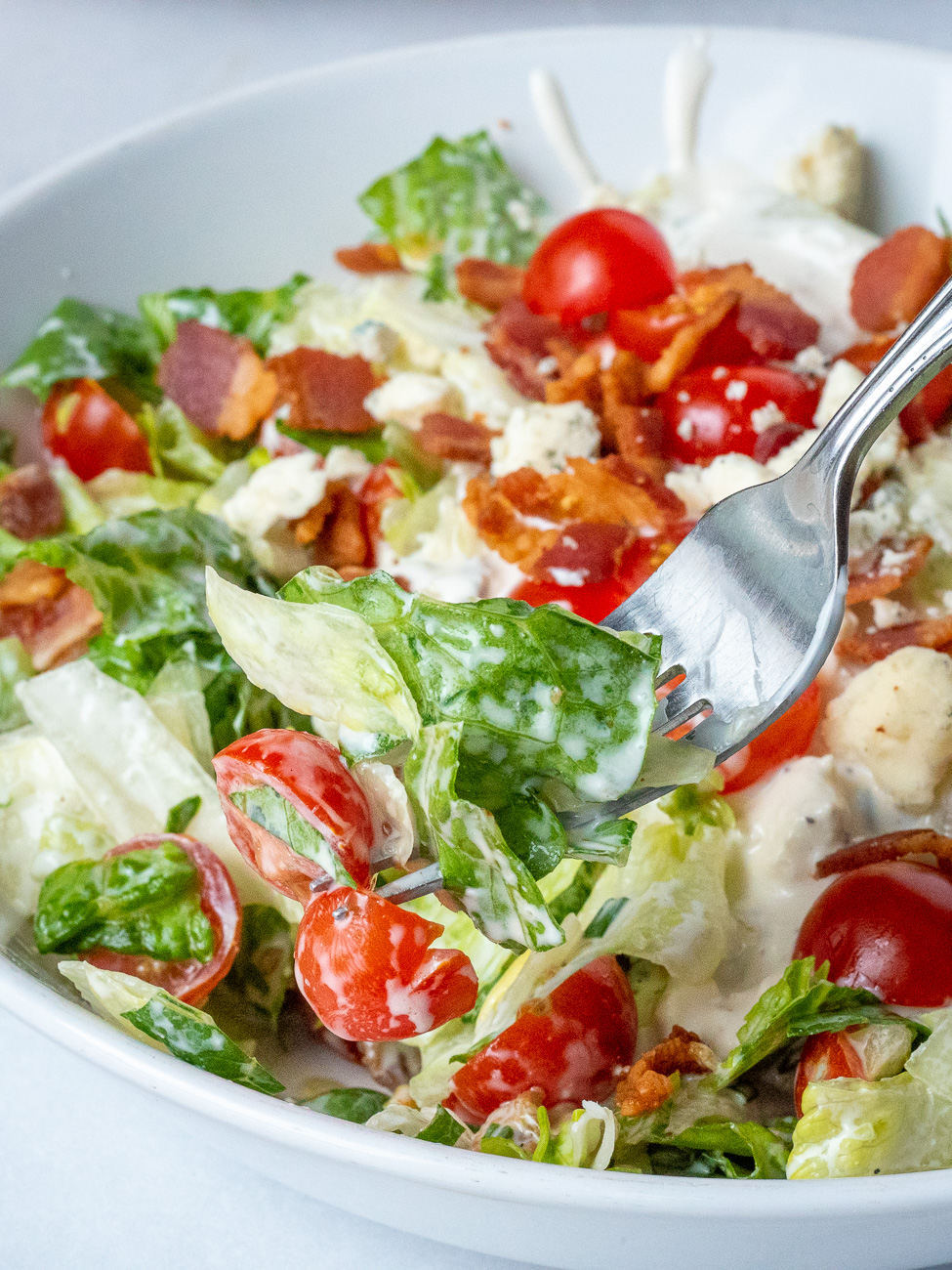 This seems like a no-brainer. All of the pros about Wedge Salad without the one con — that wedge. The base still features plenty of iceberg lettuce, because that's a crisp and crunchy must for a Wedge Salad, but it's rounded out with the softer and more flavorful romaine. (In other words, you get the best of both worlds.)
One great lettuce tip: If you ever want to chop and rinse your lettuce ahead of time, you can then dry it well and store it in a ziptop bag that's lined with two paper towels. It keeps the lettuce nice and crisp for a good long while, sometimes up to a week!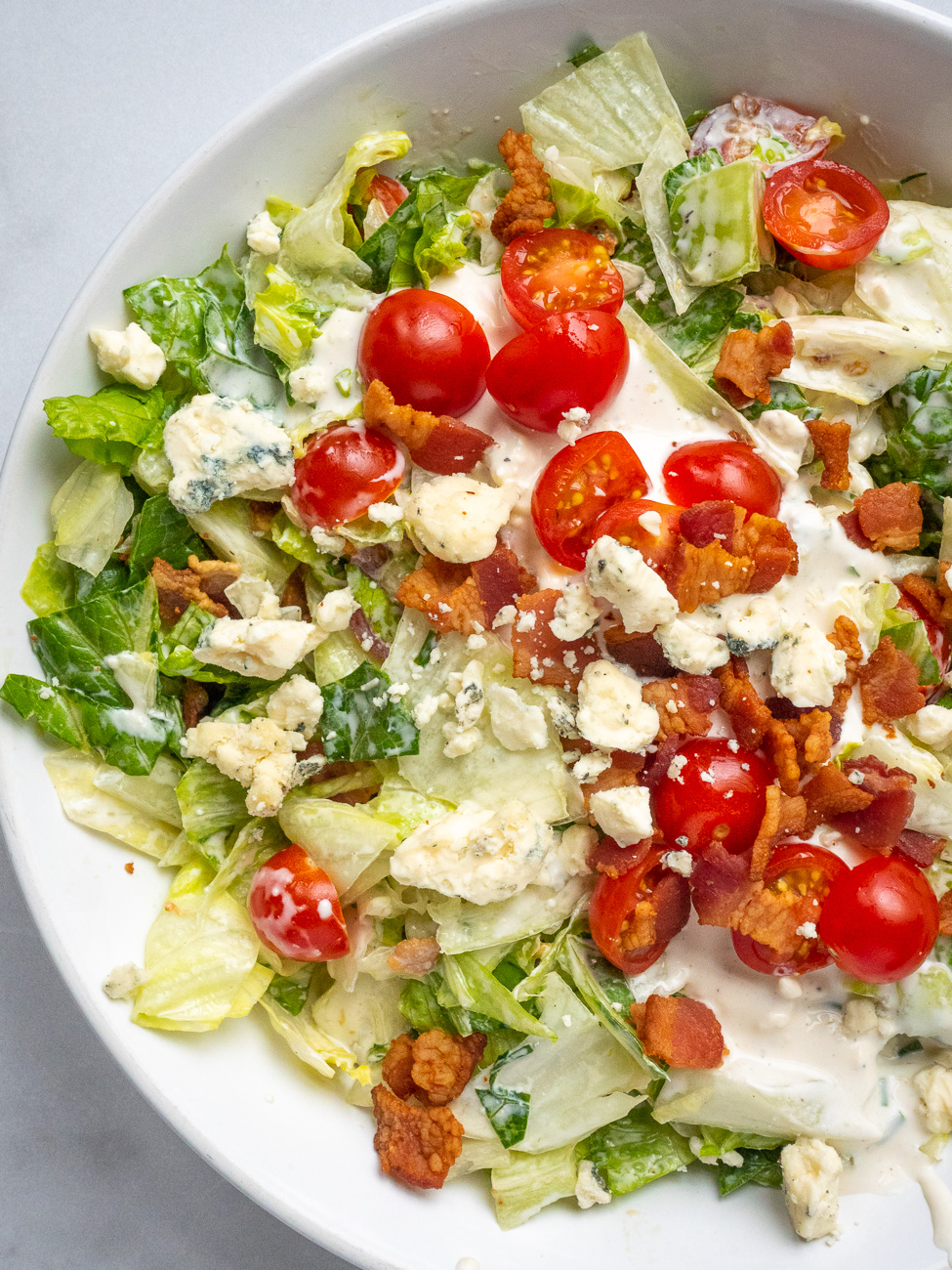 The other components probably look familiar here. There's halved cherry tomatoes, crisp salty bacon, and a generous crumbling of blue cheese. Now, normally blue cheese is not my go-to cheese, but it absolutely belongs on a Wedge Salad — its salty bite just works so well with all the other components.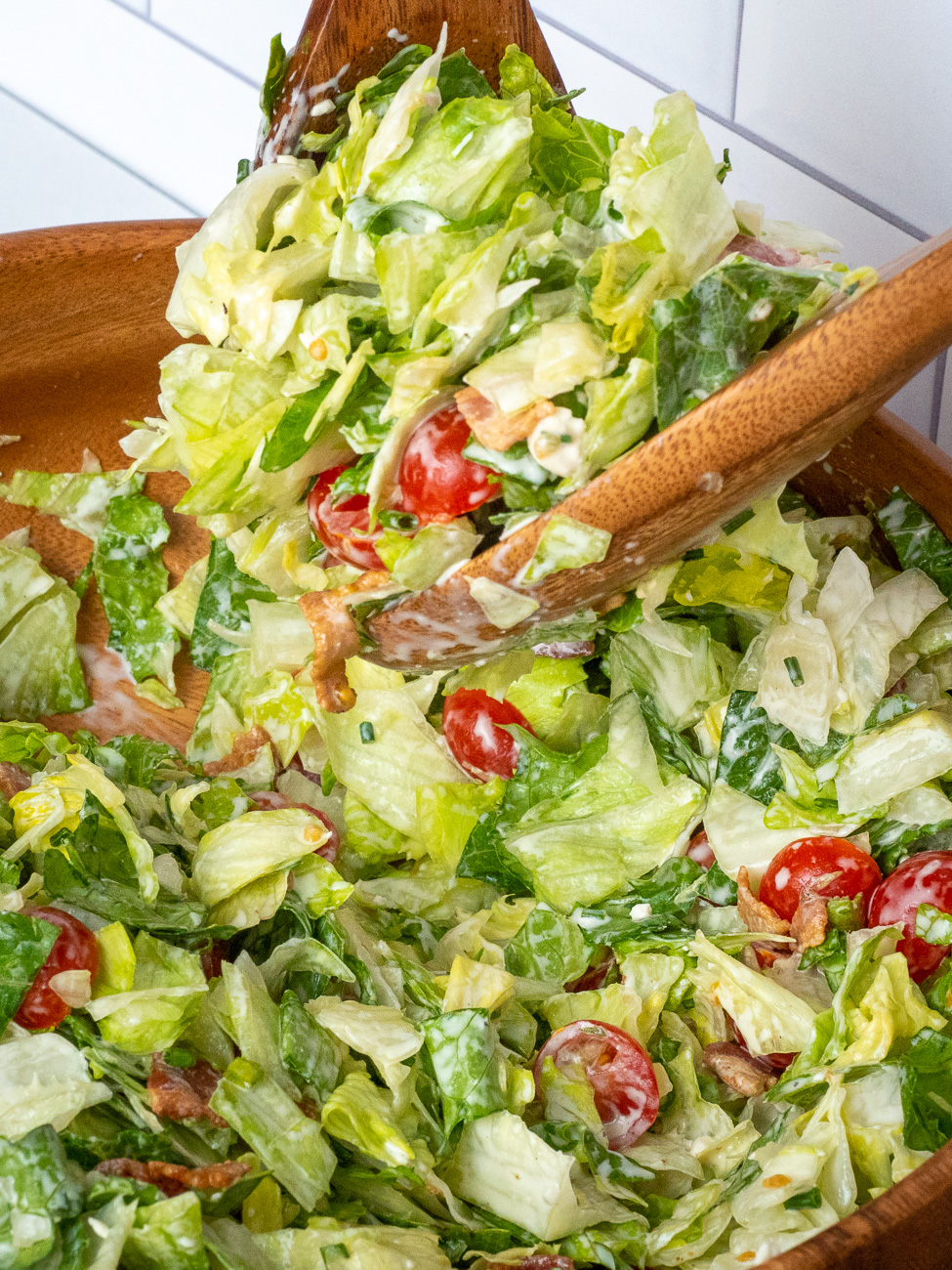 And then there's the dressing. This isn't a situation where you're going to squeeze a store-bought bottle of ranch over your finished salad. That just wouldn't feel special and this is, after all, a special salad. Besides, homemade dressings are truly a breeze to make and the results are always leaps and bounds above anything you can get in a store. Here, you'll simply whisk together some buttermilk, mayo, and sour cream with some fresh chives, garlic powder, lemon juice, Worcestershire, and a bit more of that signature blue cheese. It's creamy, it's salty, and it goes perfectly with all of those cool and crunchy greens.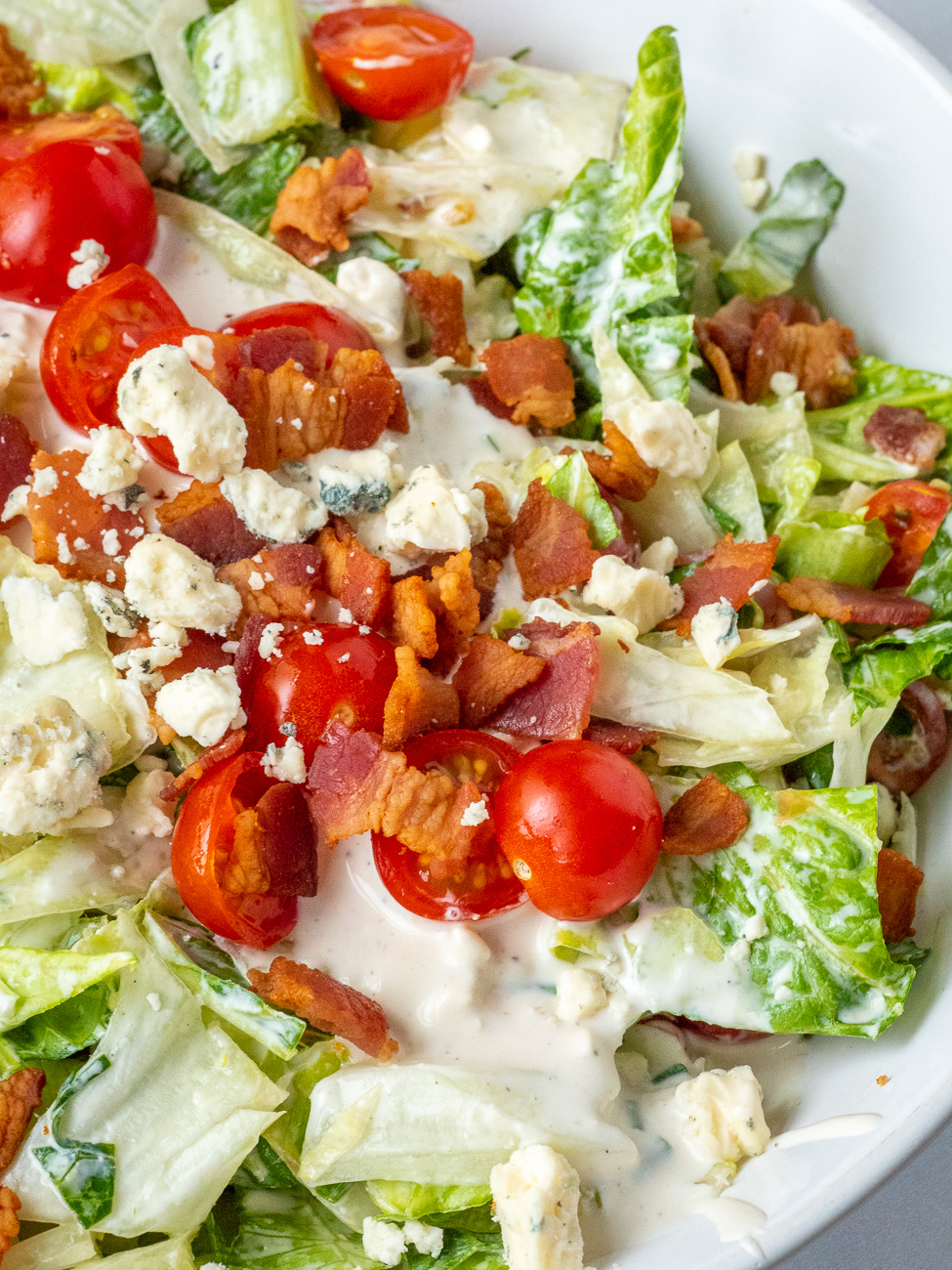 This is dressed up enough for a dinner party (and certainly easier to eat than the original) but casual enough for a backyard barbecue, and I can promise that it'll be a sure crowd-pleaser. I haven't met a single soul who doesn't love this salad, even if they claim they aren't a blue cheese fan.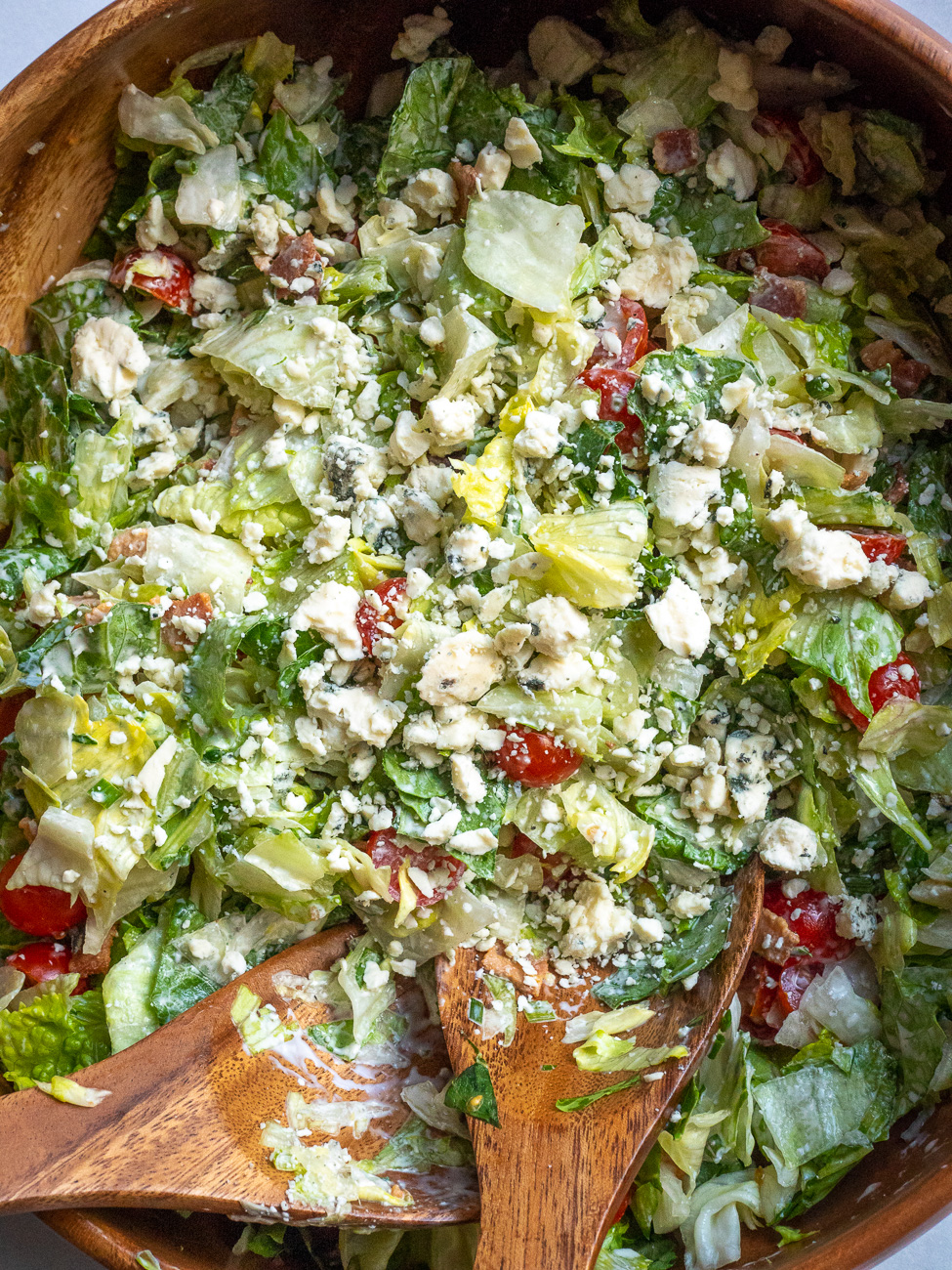 Chopped Wedge Salad
Ingredients
1 head iceberg lettuce, cored, quartered, and chopped
1 romaine lettuce heart, cored and chopped
8 slices bacon, cooked and crumbled
2 cups cherry tomatoes, halved
1/4 cup fresh chives, chopped
For the dressing:
1/2 cup buttermilk
3/4 cup mayonnaise
3/4 cup sour cream
1 1/2 cups blue cheese, crumbled and divided
1/2 teaspoon garlic powder
2 teaspoons Worcestershire sauce
Juice of 1 lemon
2 tablespoons fresh chives, chopped
Kosher salt and freshly ground black pepper, to taste
Preparation
In a large bowl, toss together iceberg lettuce, romaine lettuce, bacon, cherry tomatoes, and 1/4 cup chives.
To make the dressing, whisk together buttermilk, mayo, sour cream, 1/2 of the blue cheese, garlic powder, Worcestershire sauce, lemon juice, and 2 tablespoons chives in a medium bowl. Season to taste with salt and pepper.
Pour dressing over salad, toss to combine, and top with remaining blue cheese crumbles. Enjoy!
SKM: below-content placeholder
Whizzco for 12T