A favorite Chinese recipe for many is sweet and sour pork. It's arguably one of the most well known Chinese dishes in the world. Sweet and sour pork, traditionally called "goo lou yok" is originally a Cantonese dish that gets its name from its combination of ingredients: sweetness from the sugar and sourness from the tangy ketchup and rice vinegar. The pork is stir fried in the sauce along with some red bell peppers and pineapple pieces.
We wanted to make a recipe that found just the right balance between the sweet and the sour, yet didn't drown the dish in sauce. For our recipe, we went a little beyond just the use of ketchup and rice vinegar. We added in some plum sauce, Worcestershire sauce, and oyster sauce to find the perfect balance. Keep reading below for this great sweet and sour pork recipe…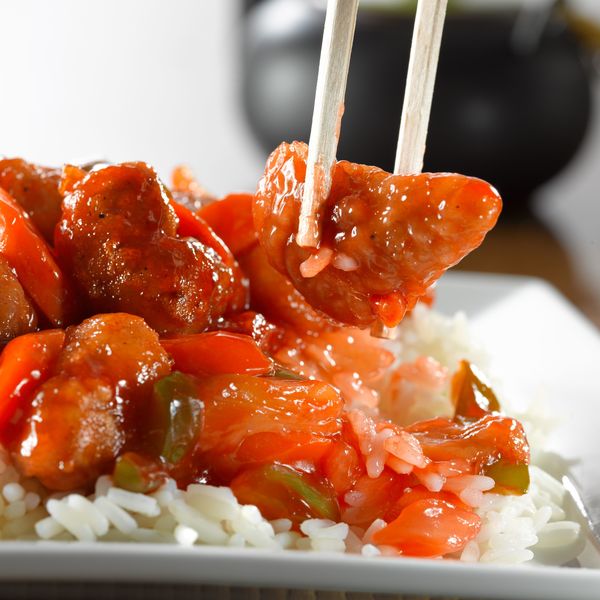 Sweet and Sour Pork
(makes 2-3 servings)
Ingredients
SAUCE
1 1/2 tablespoons tomato ketchup
1 teaspoon plum sauce
1/8 teaspoon Chinese rice vinegar
1/2 teaspoon Worcestershire sauce
1 teaspoon oyster sauce
1 teaspoon corn starch
1 teaspoon sugar
2 tablespoons water
MARINATE
1 teaspoon soy sauce
1/2 teaspoon corn flour
1/2 teaspoon rice wine
FRYING BATTER
1/2 cup water
2oz flour
1oz corn starch
1/2 teaspoon baking soda
1/2 egg
1 teaspoon canola oil
1 pinch salt
STIR FRY
3 to 4oz pineapple cubes
8oz boneless pork shoulder
1/2 green bell pepper seeded, de-veined, and cut into pieces
1/2 red bell pepper seeded, de-veined, and cut into pieces
2 stalks scallions (only the white part) cut into 2″ length
1 small onion cut into wedges
1 rounded teaspoon minced ginger
2 tablespoon beaten eggs
1 clove garlic minced
canola oil for frying
Directions
Cut the pork shoulder into bite sized pieces and marinate with 1 teaspoon soy sauce, 1/2 teaspoon corn flour, and 1/2 teaspoon rice wine for 15-20 minutes.
Mix together all of the ingredients for the sauce until well combined and set aside.
Sift together the dry ingredients of the frying batter, then add in the egg, water, and canola oil to form a thick batter.
After the pork is done marinating, transfer the pork pieces into the batter and make sure they are well coated. Add enough canola oil to a skillet for deep-frying. Once the oil is hot (360F to 375F), deep fry the pork pieces until they turn golden grown. scoop out with a slotted spoon and drain on paper towels.
Heat up a wok and add 2 teaspoons canola oil. Add the onion and pineapple pieces. Fry about 2 minutes, stirring and flipping until the pineapple starts to brown. Add the ginger and pepper and cook, stirring constantly until the peppers are crisp and tender.
Pour in the sauce. Cook, stirring quickly. As soon as the sauce thickens, add the pork and stir to combine and coat. Transfer to a serving plate and garnish with the green onion. Serve with white rice.
Enjoy!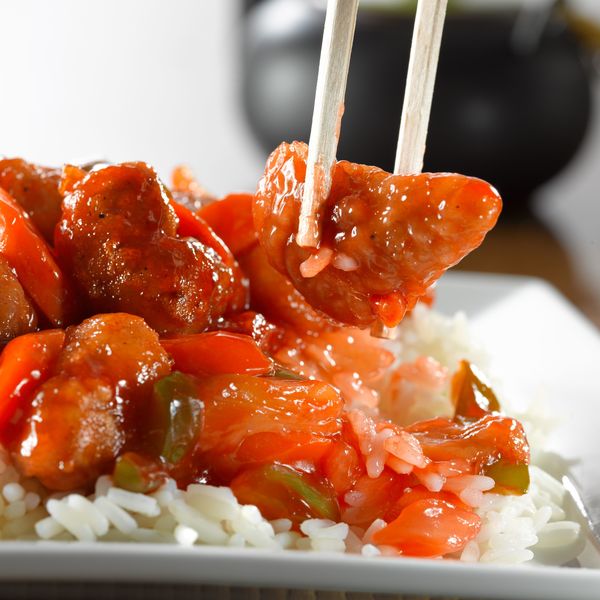 Recipe adapted fromViet World Kitchen
SKM: below-content placeholder
Whizzco for 12T