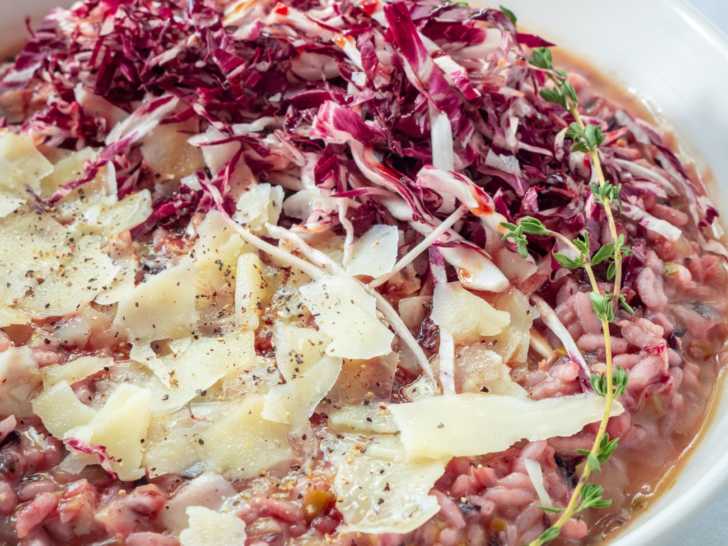 I took a trip to Italy a few years ago. On my first day in Venice, I was absolutely stunned by a delicious vegetable flatbread and the star of the show was roasted radicchio. I'd never tasted anything like it. In Italy, the local radicchio variety is called Treviso. Treviso's long stems, bitter flavor, and crunchy stems add great dimension to a meal, particularly on my flatbread that day in Venice and today in this beautiful risotto. The radicchio will paint the arborio rice with a luxurious lavender hue. Radicchio risotto strikes a flavorful balance of bitter and creamy, with a touch of sweetness from a good balsamic reduction. This caramelized radicchio risotto is a kind of homage to my first experience with radicchio.
Risotto has a misunderstood reputation for being difficult to make but risotto is fairly simple. Risotto is essentially three elements: vegetable broth, arborio rice, and cheese. To make this risotto, I start by heating up the vegetable broth in a separate pot; the warm broth will be added by the ladleful to the rice, which will slowly absorb the liquid and become creamy. Of course, this creaminess is aided by the addition of pecorino-romano and asiago cheeses.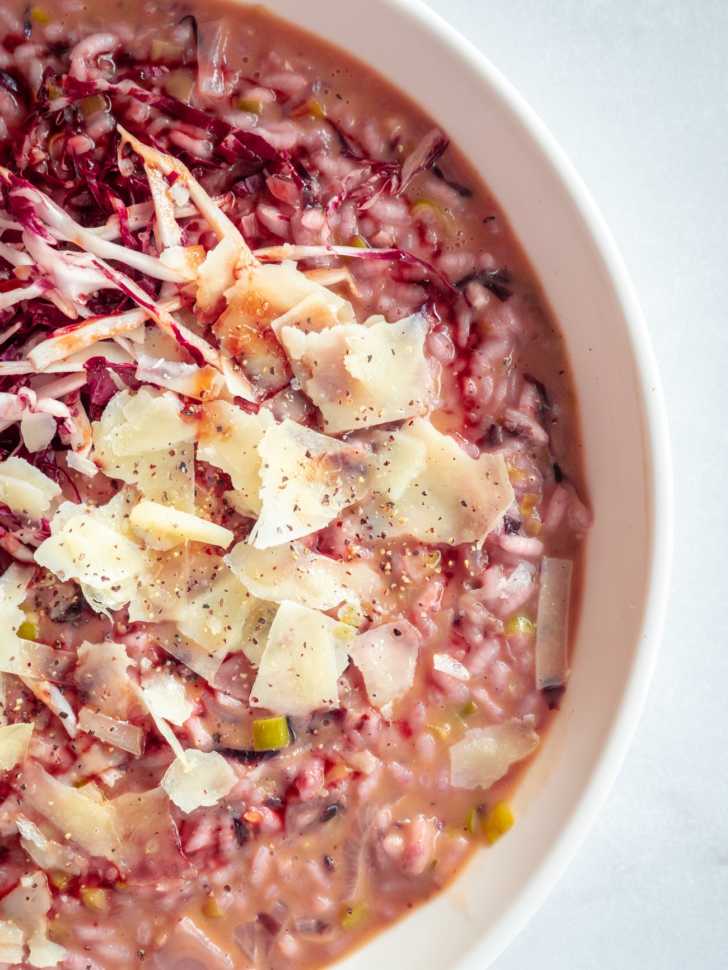 Once the broth is warmed, I'll turn my attention to the next pot, where my onion, thyme, and garlic are beginning to infuse the base flavors of the dish. I'll add the radicchio and sauté for a few minutes. Now, it's time for the rice. I add this to the pan and then deglaze with the dry red wine, making sure to scrape the bottom of the pot for all of those delicious brown bits – because those bits are like gold when it comes to flavor.
I let the red wine reduce before adding the broth, one ladleful at a time. Consistent stirring will keep the rice from becoming a gummy glob. No need to wear out your arm with constant stirring, but you need to be attentive. Once you see that the rice has absorbed the liquid, it's time to add more. The rice will gradually become al dente in texture. Now, add the radicchio as well as the pecorino and asiago – leaving about a handful or so aside to use as a final garnish. I'll continue to add more broth until the rice has fully cooked, tasting along the way for texture as well as for salt and pepper.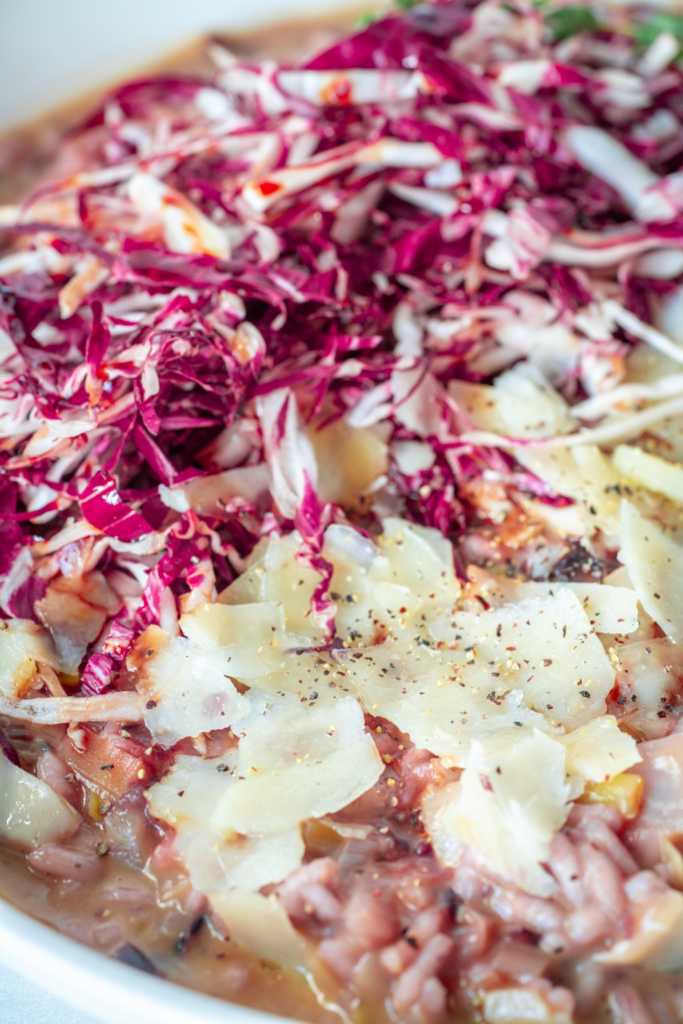 And now this beautifully caramelized radicchio risotto is ready to eat. I transfer it to a serving bowl and top it with the reserved cheese. A drizzle of a good balsamic, one that's thick in texture, adds that final flash of flavor. G-O-R-G-E-O-U-S! It's elegant but simple and so full of flavor. This is elevated comfort food – you'll think it's fine dining when really it's just good home cooking.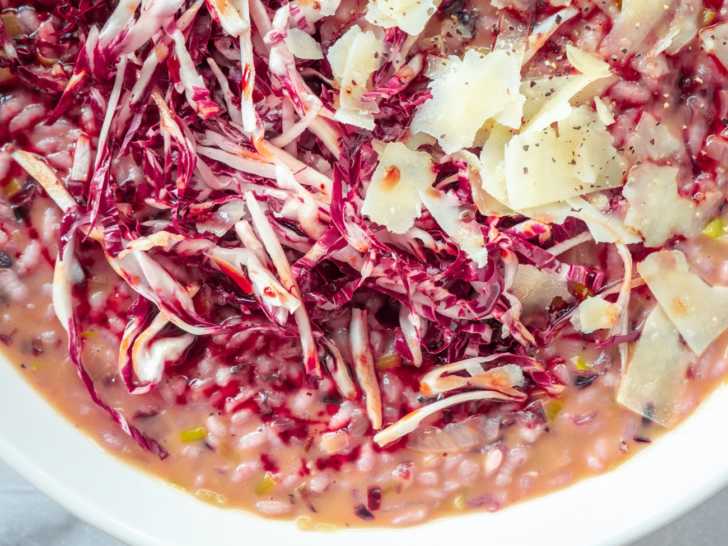 Caramelized Radicchio Risotto is a part of the Table for 12 Venetian Dinner menu. It was served with Roasted Brussels Sprouts with Crispy Pancetta and Pepper Jelly Vinaigrette, Rolled Beef Braciole in a Slow Roasted Tomato Sauce, and a Blood Orange Campari Cake.
Caramelized Radicchio Risotto
Serves 6
10m prep time
30m cook time
Ingredients
2 tablespoons olive oil, plus extra for drizzling
1/2 medium yellow onion, diced
2 cloves of garlic, minced
3 cups radicchio, cut into thin wedges
1 teaspoon fresh thyme, chopped
1 1/4 cup arborio rice
1/3 cup dry red wine
1 quart of vegetable broth
1/2 cup Pecorino Romano, grated
1/2 cup Asiago cheese, shaved
2 tablespoons aged balsamic vinegar
Kosher salt and freshly cracked black pepper, to taste
Preparation
Heat up vegetable broth in a sauce pot until the broth is simmering. The broth should be hot when you add it to the risotto.
In a large pot over medium - high heat, add the olive oil, onion, thyme and garlic to a pot. Cook for 2 - 3 minutes, Then add in 1 cup of radicchio. Cook for 1 - 2 more minutes.
Add in arborio rice and deglaze the hot pan with red wine and let it reduce.
Slowly ladle hot vegetable broth into the risotto, stirring until the liquid gets absorbed by the rice, repeat until rice is al dente.
Once al dente, mix in the remaining radicchio, Pecorino, and 2/3 of the Asiago cheese, reserving some Asiago cheese for garnish. Let the rice finish cooking, adding more broth if necessary. Taste for salt and pepper. Remove from heat.
Pour into a bowl and garnish with reserved Asiago cheese, aged balsamic, and cracked black pepper.
This recipe is featured in the Table for 12 Venetian Dinner Menu.
SKM: below-content placeholder
Whizzco for 12T