Sometimes when we want breakfast, we just want something nice and simple. What could be simpler for breakfast than hash browns? There are so many ways to cook these, especially depending on how the potatoes are cut. What we wanted was that classic potato pancake style hash brown, but we also wanted to find a way to elevate the flavor.
The simplest way we found to add flavor was to throw in some vegetables with the potatoes. The only thing is, we didn't want to create too much moisture, which would make those crispy pancakes fall apart on us. To fix this issue, we approached it from a few directions. We squeezed as much moisture as we could from the potatoes after they were shredded (using a ricer as a garlic press was one inventive way to take care of this, but paper towels also worked). Another was adding eggs and flour to the mix to help bind the whole pancake together. If you'd prefer the simplest of hash browns, follow the instructions but only use the potatoes and oil. Keep reading below for this simple recipe…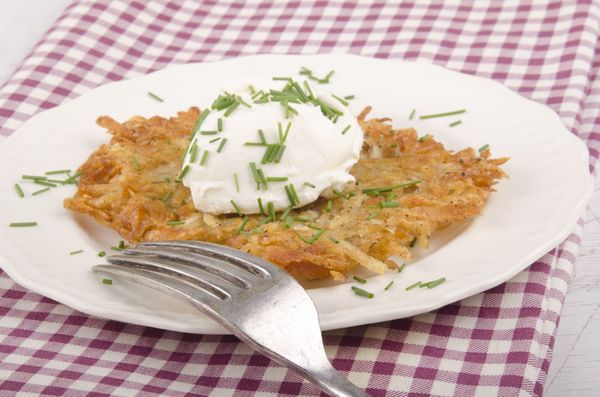 CrispyHash Browns
(makes 6-8 pancakes)
Ingredients
2 russet potatoes, peeled then shredded
1/2 medium onion, finely chopped
1 tablespoon flour
2 tablespoons bread crumbs
1 egg
3 tablespoons olive or canola oil for frying
salt and pepper to taste
Directions
Squeeze excess moisture out of the shredded potatoes, then place in a bowl. Mix in the onion, flour, bread crumbs, and egg until evenly distributed.
Heat oil in a large, heavy skillet over medium-high heat. Once the oil is hot, divide the potatoes into 4 piles in the pan, spreading them thin (you may need to make this in batches like pancakes). Make sure the potatoes aren't too thin in any one place. Sprinkle with salt and pepper. After a few minutes, lift one edge up. If it's golden brown, flip the potatoes and cook until the other side is a nice golden brown as well. Cook until both sides are golden brown, then transfer to a plate. Serve hot, garnished with sour cream, cheese, and/or chives.
Enjoy!
Recipe adapted fromFood Network
SKM: below-content placeholder
Whizzco for 12T