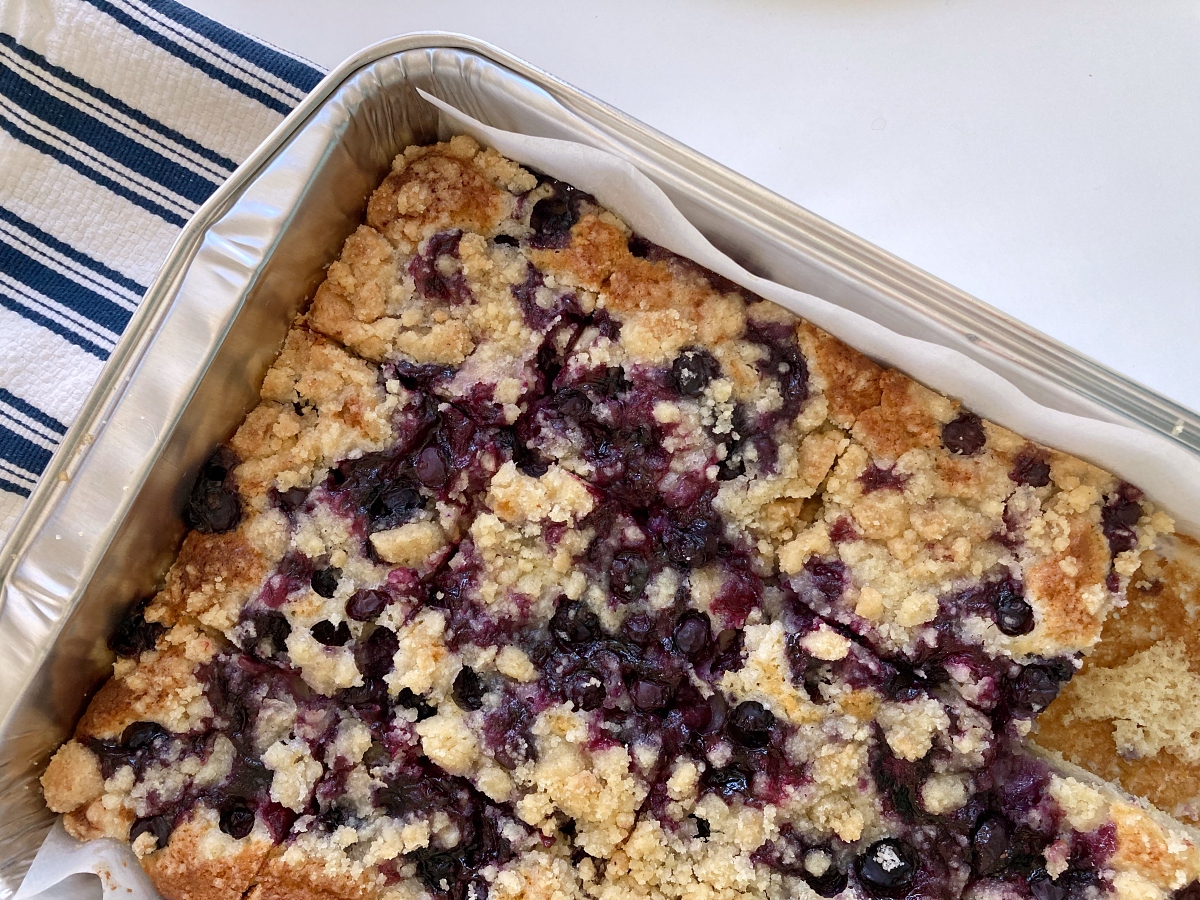 "Kuchen" in German just means "cake", but there are many varieties of what goes for a kuchen in the US. Where I grew up there were a lot of families descended from German immigrants (mine included) and it was a given in my childhood that kuchen meant a cake with a crumb topping, preferably with fruit as well.
My own grandma used to make something very much like this- though her recipe is now long lost sadly.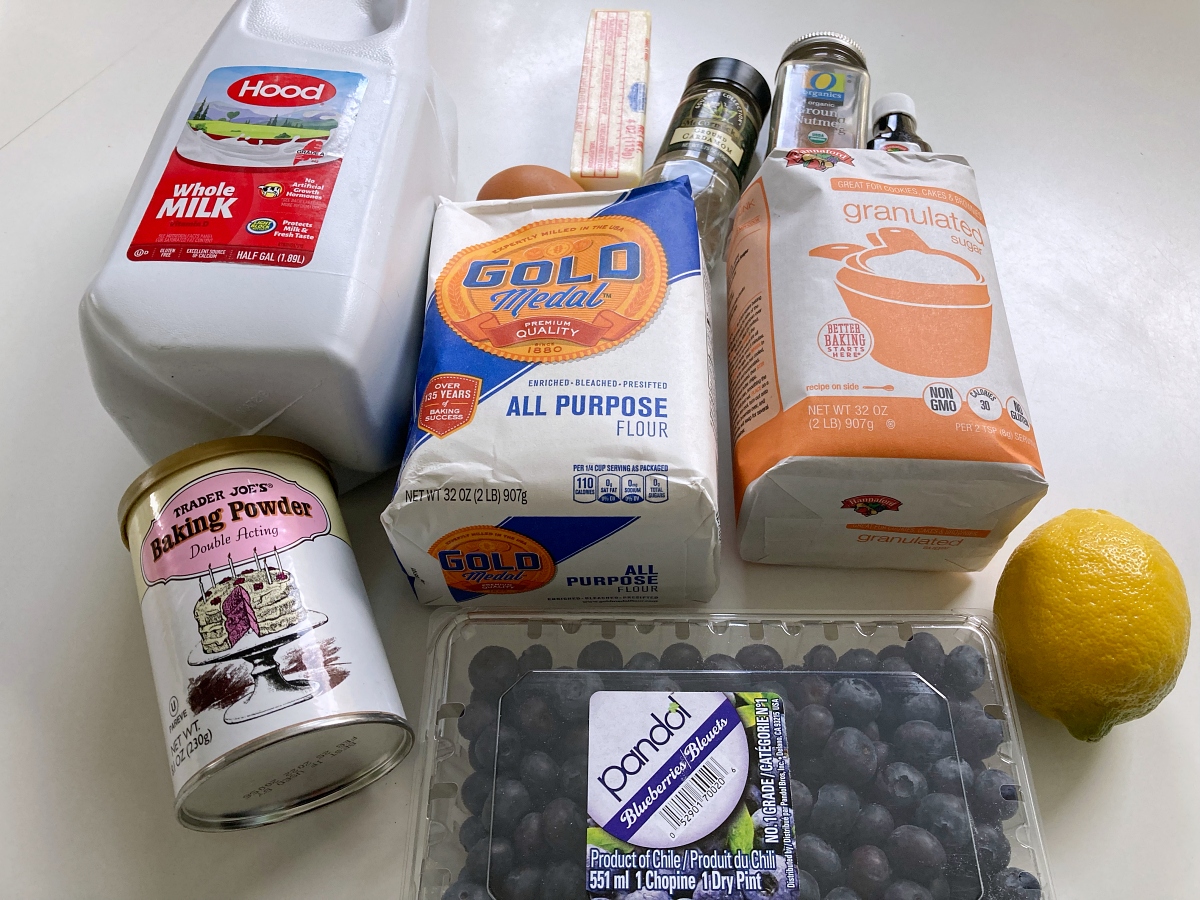 What I love about this recipe is how springy the cake is. It's never dry at all and is the perfect foundation for a fruit and spiced crumb topping. In the batter for the cake this recipe uses the zest of 1 lemon as well as a healthy dose of cardamom. For my taste lemon and blueberry are a match made in heaven so even if I didn't have lemon zest I'd probably add some lemon extract instead.
The crumb topping is a simple blend of butter, sugar, and flour. But, the addition of nutmeg gives it a lot more flavor. You can use cinnamon or leave it un-spiced if you prefer.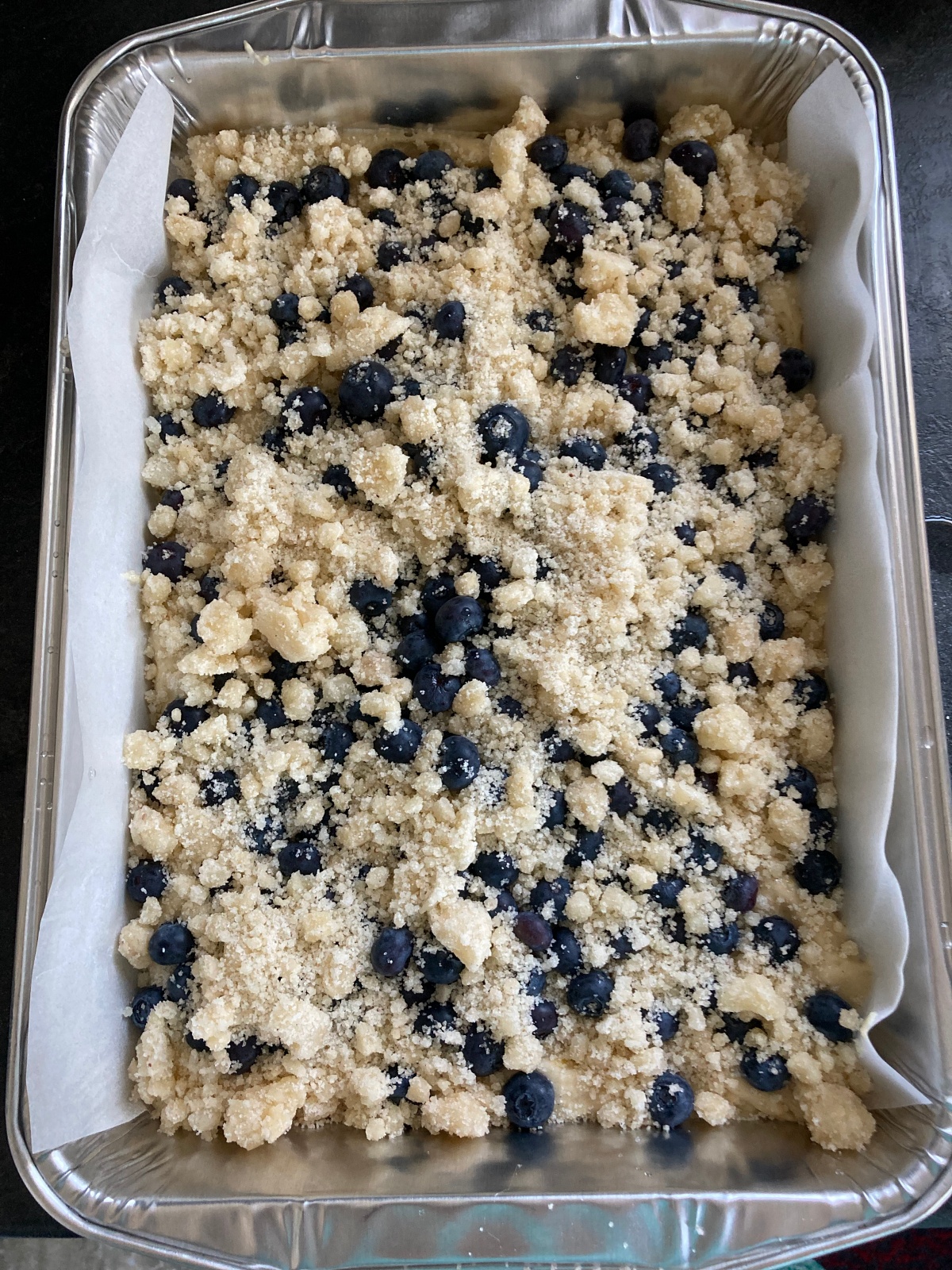 To make this recipe combine the batter ingredients and then pour it into a 9″x13″ pan. I lined mine with parchment paper just so it would be easier to lift out. Then scatter on the fresh blueberries. You can use frozen if you prefer, but just make sure they are thawed and fully drained before adding them to the cake.
The last step before baking is to make the crumb topping. Be sure to "fluff" it up with a fork just to break up the bigger chunks before adding it on top.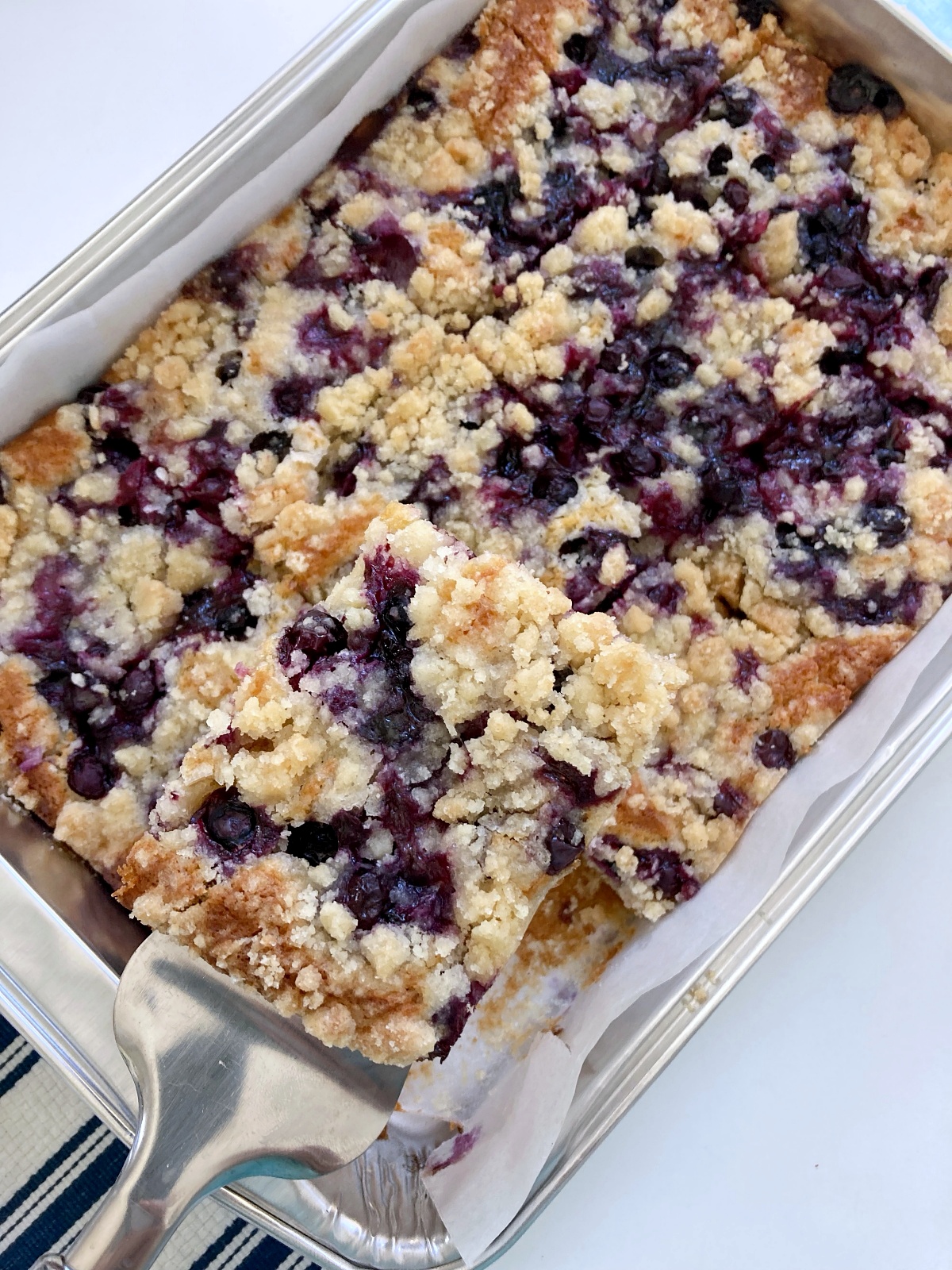 Once this gorgeous cake comes out of the oven it's the perfect snack to have with tea or coffee for breakfast, but it also makes a divine dessert for dinner, too.
The lemon, cardamom, and nutmeg together with the fruit and the light, yet bouncy, cake make this a treat for the generations. Simply put: everyone loves this blueberry kuchen!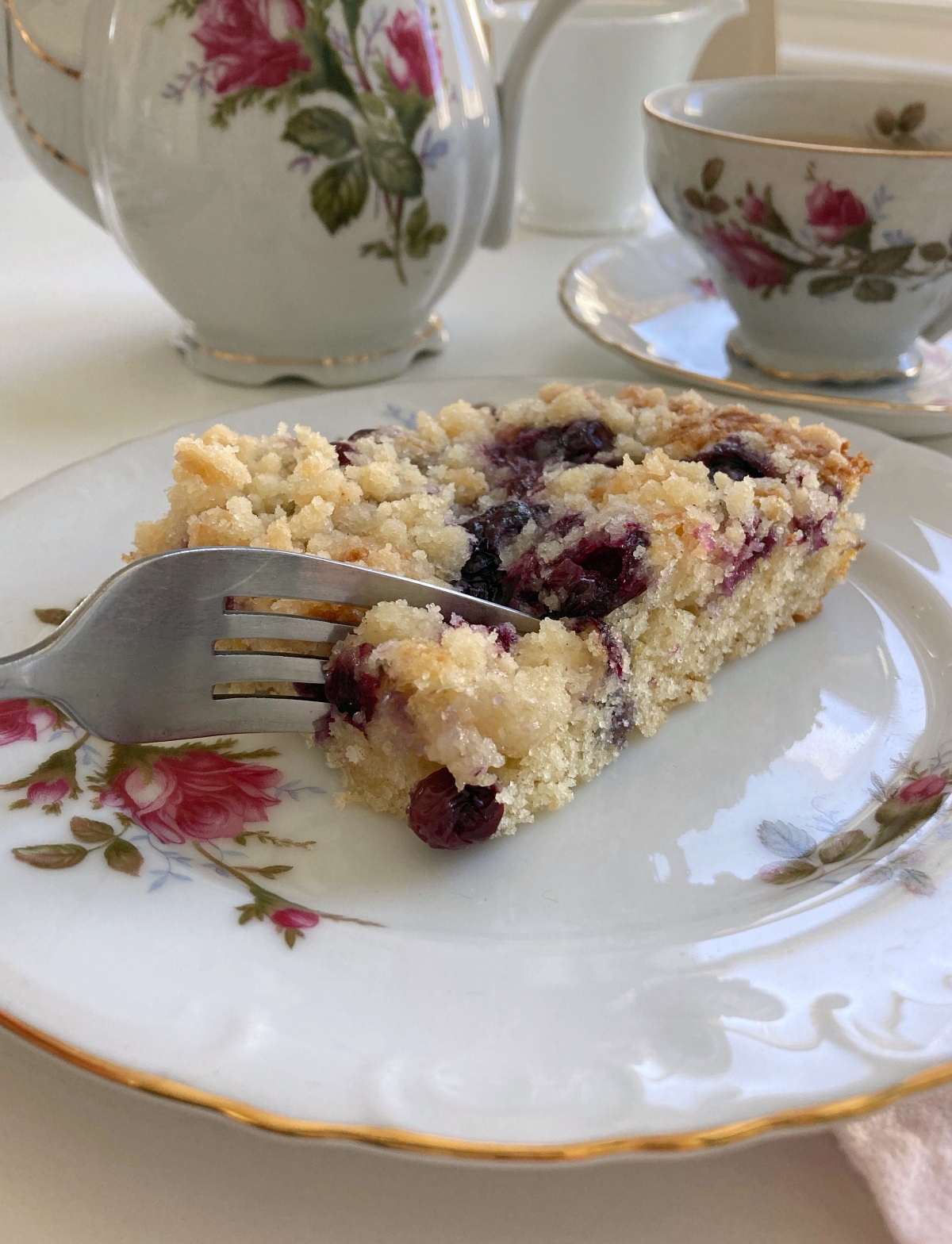 Blueberry Kuchen
Makes 12 squares
40m prep time
40m cook time
228 calories
For the cake:
1 1/2 cups all-purpose flour
3/4 cup granulated sugar
2 teaspoons baking powder
zest of 1 lemon
1/2 teaspoon ground cardamom
1/4 teaspoon salt
2/3 cup milk
1/4 cup butter, melted
1 egg, room temperature, beaten
2 teaspoons vanilla extract
2 cups fresh or frozen blueberries (thaw and drain if using frozen)
For the topping:
3/4 cup granulated sugar
1/8 teaspoon nutmeg
1/2 cup all-purpose flour
1/4 cup butter, melted
Preparation
Preheat oven to 350°F. Combine flour, sugar, baking powder, lemon zest, cardamom, and salt in a large bowl. Add milk, butter, egg, and vanilla and beat for 2 minutes. Pour batter into a lined 9"x13" baking dish and scatter blueberries on top.
Combine all topping ingredients in a bowl and mix until a crumbly mixture forms. Fluff topping with fork and top cake with mixture.
Bake for 40-46 minutes or until crumb topping is just beginning to brown. Allow to cool for 30 minutes before cutting into 12 squares.
Recipe adapted from Taste of Home.
SKM: below-content placeholder
Whizzco for 12T