Syrupy butter, brown sugar, rum, and banana flavor through and through.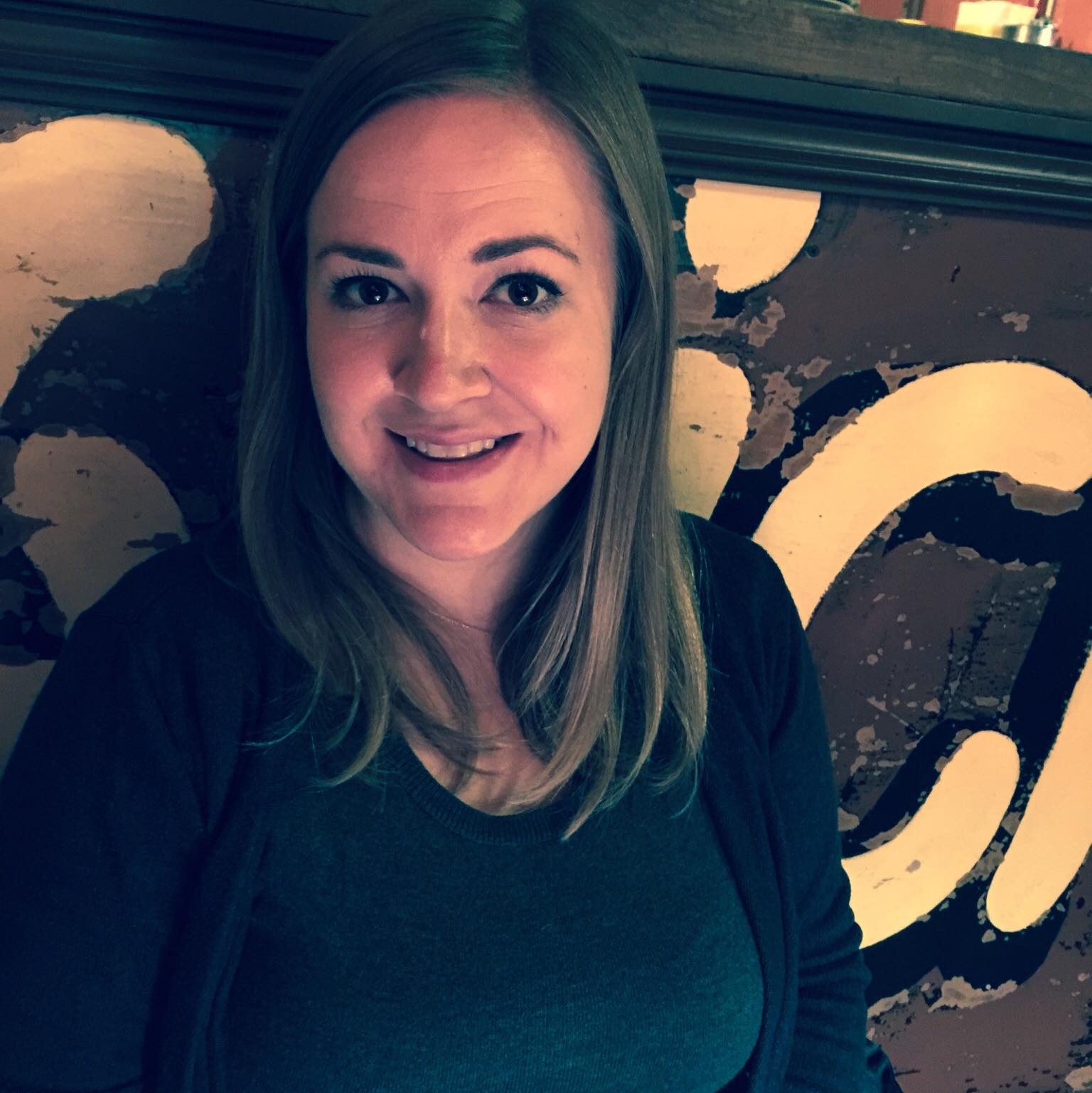 Kristy Norrell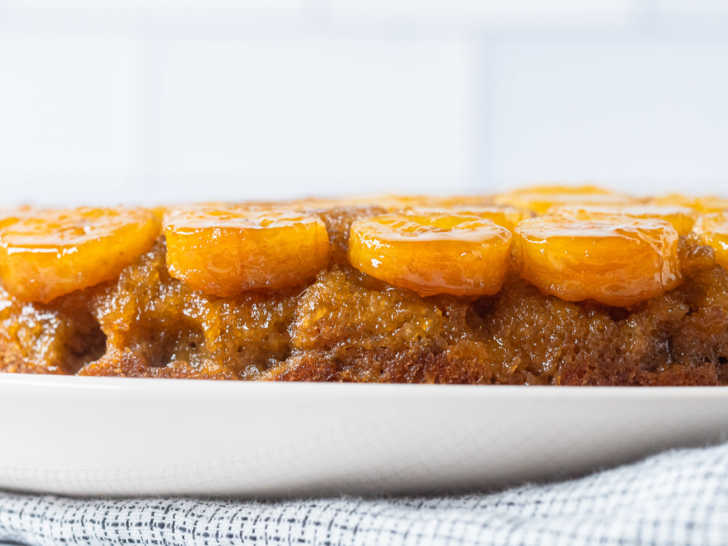 When I first discovered Bananas Foster, I really had a moment with it. I made it again and again and again – I just couldn't get enough of it! There's something so irresistible about that combination of buttery, syrupy rum sauce and bananas over ice cream and it's surprisingly easy to make. (And it certainly doesn't hurt that you get to light your food on fire. That's pretty fun.) This recipe brings you that same incredible combination in a different dessert form – sliceable, shareable cake. Bananas Foster is easy to make on the fly, but this scrumptious cake lets you plan ahead a bit for that incredible caramelized banana goodness.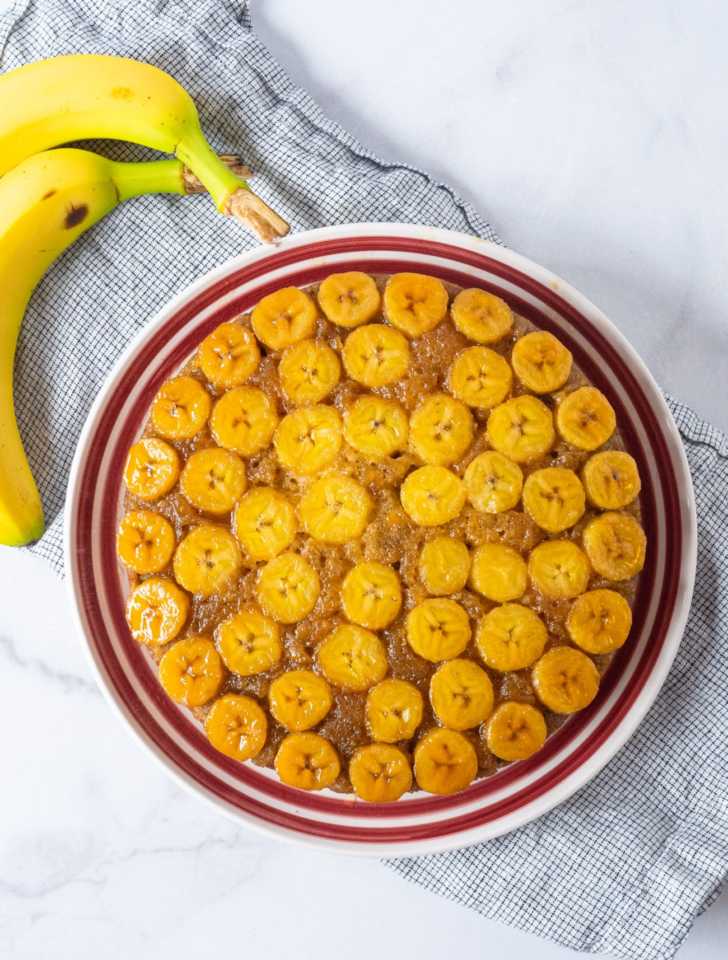 Like Bananas Foster, this cake uses a quick caramel sauce made from butter, brown sugar, and rum. You don't need to flambée anything here, you'll just pour that sauce into the bottom of a cake pan and top it with rings of sliced bananas. The cake batter that goes over it uses mashed bananas as well, so you can be sure there's plenty of banana flavor. And once it's baked, it's time for the fun part – inverting!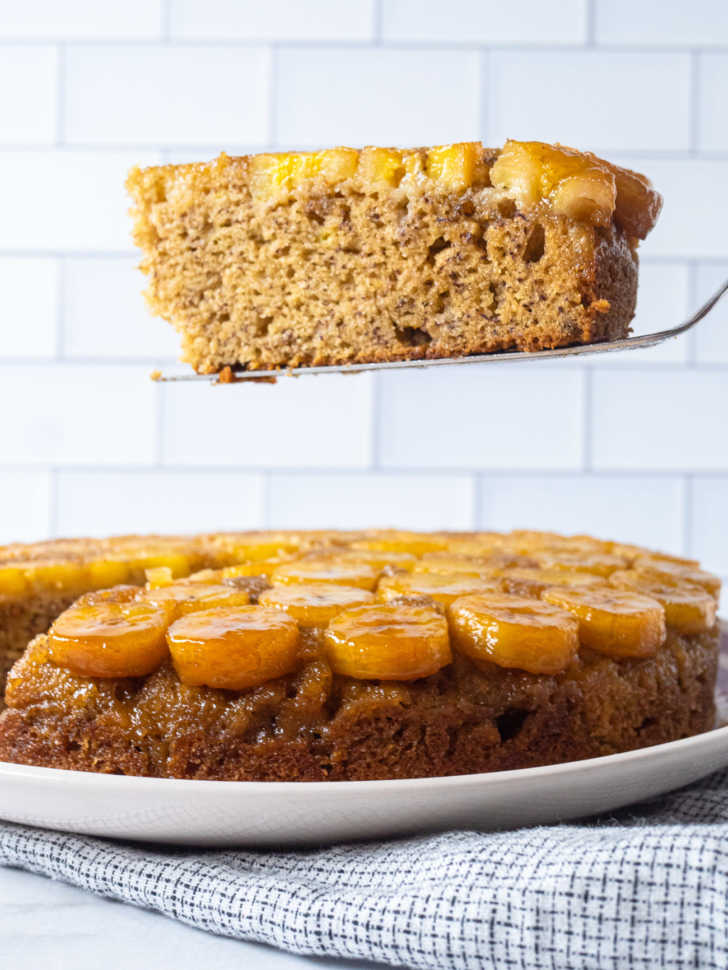 When you turn out this cake, the sugary rum syrup runs all down and into the cake (which means it's equally perfect to serve with vanilla ice cream). It just goes to show that there's so much more you can do with an extra bunch of bananas than make banana bread… If there's rum and brown sugar and butter to be had – you just have to make this!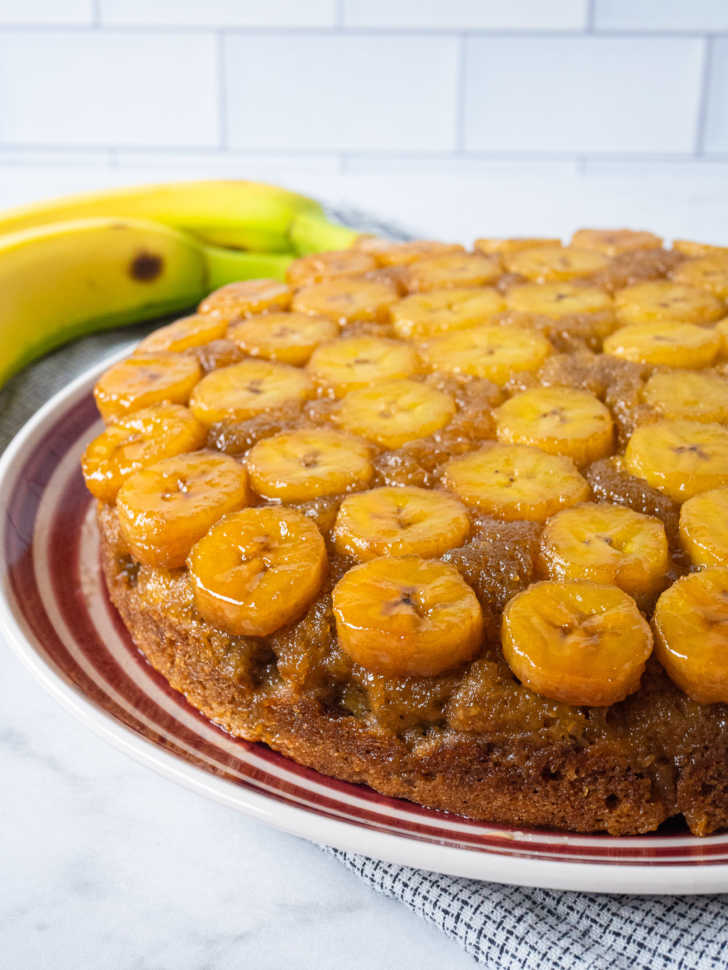 Bananas Foster Upside Down Cake
For the caramel layer:
1/4 cup unsalted butter
1/2 cup brown sugar
1 tablespoon rum
3 bananas, sliced 1/2 inch thick
For the cake:
1/2 cup brown sugar
1/2 cup granulated sugar
1/4 cup unsalted butter, softened
2 bananas, mashed
2 eggs
1 teaspoon vanilla extract
1/2 cup milk
1 1/2 cups all-purpose flour
2 teaspoons baking powder
1/4 teaspoon salt
Preparation
Preheat oven to 350°F and grease a 9-inch cake pan with butter. Set aside.
First, make the caramel layer: In a small saucepan, combine 1/4 cup butter and 1/2 cup brown sugar. Bring to a simmer and cook until sugar dissolves, about 3 minutes. Remove from heat and stir in rum.
Pour into bottom of prepared cake pan and arrange sliced bananas neatly over it. Set aside.
In a large bowl, make the cake batter:
Mix together brown sugar, granulated sugar, butter, mashed bananas, and vanilla. Using an electric mixer, beat until just combined.
Add flour, baking powder, and salt and mix to combine. Gradually add milk and mix again.
Pour batter over banana layer and carefully transfer to oven. Bake until cake is golden and set in the center, about 45 minutes.
Remove from oven and let sit exactly 5 minutes, then invert onto a serving plate with a bit of a rim to contain caramel.
Allow to cool, slice, and serve with vanilla ice cream and enjoy!
Recipe adapted from Olga's Flavor Factory.
SKM: below-content placeholder
Whizzco for 12T