'Tis the season for friends, family, food, and of course, awkward holiday photos! I don't what it is about the holidays, but it seems the worst (and best) photos come from those big family gatherings around the table. Maybe it's the tryptophan in the turkey, the extra glass of wine aunt Cindy had for breakfast, or just being around extended family for so many hours. No matter the reason, I'm just thankful these photos exist.
The Grumpiest Little Pilgrim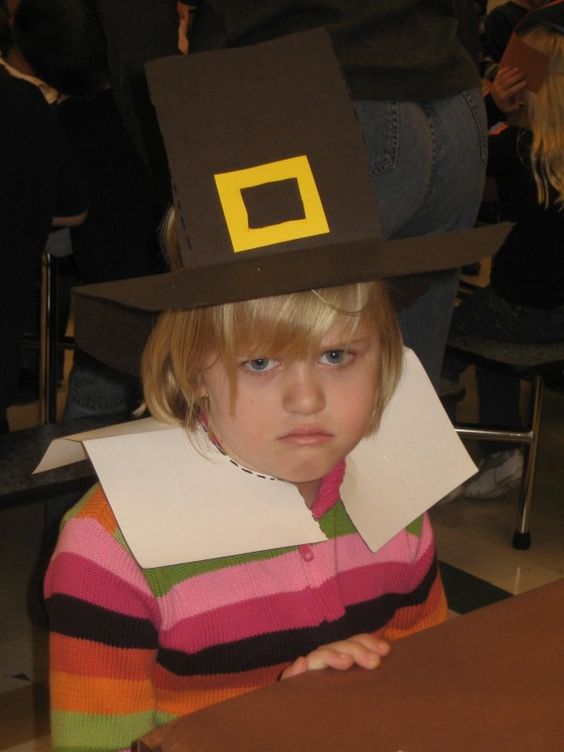 Oh my goodness. She's adorable, and adorably grumpy. I get it. That paper collar looks uncomfortable. I think I'd be a bit cranky if I had to wear that around all day.
Unimpressed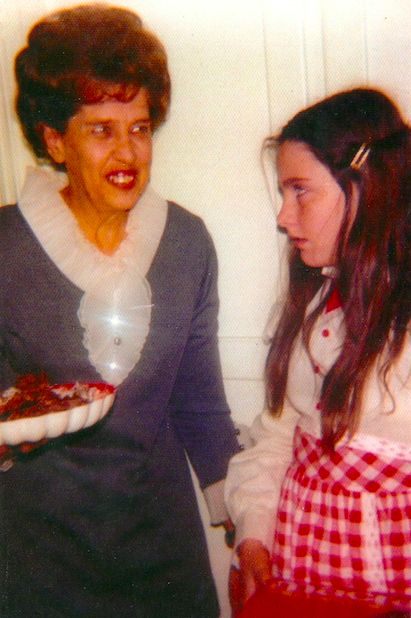 Wow. This one might be my favorite. Both of these people look so uncomfortable! I can't tell if Granny was trying to give some unsolicited advice that her granddaughter clearly didn't want to hear, or if they are both genuinely irritated with one another, but they had to fake it for a picture. Granny isn't looking too sincere with her forced smile and shifty eyes.
Puppy Pics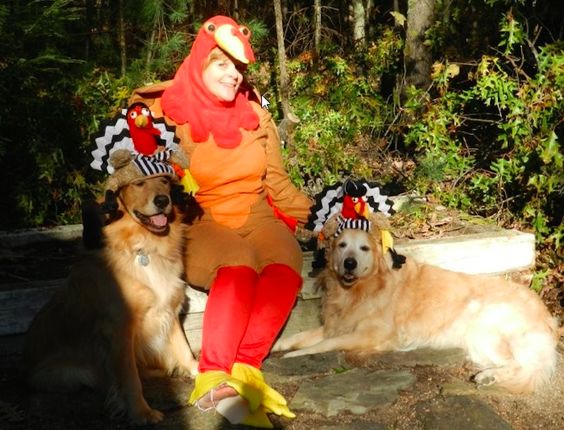 Okay, this one isn't too awkward, I mean, those pups don't seem to have a problem with it, but I have questions. Why is their owner in a full-body turkey suit? Why isn't she wearing any shoes or socks? And how did she get her dogs to pose so perfectly with those ridiculous turkey hats on their heads?
Family Feud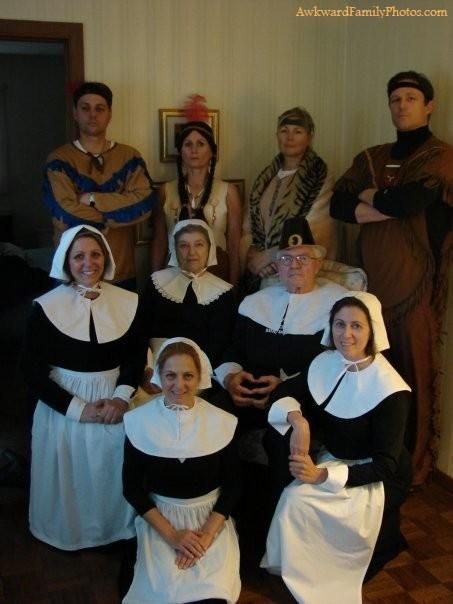 I don't know about you, but my family never went this far in our celebration of Thanksgiving. My mom likes to decorate, get matching napkins, plan out the meal to a T, but we've never actually dressed up as pilgrims and American Indians. Is this a thing other families do?
Father Son Bonding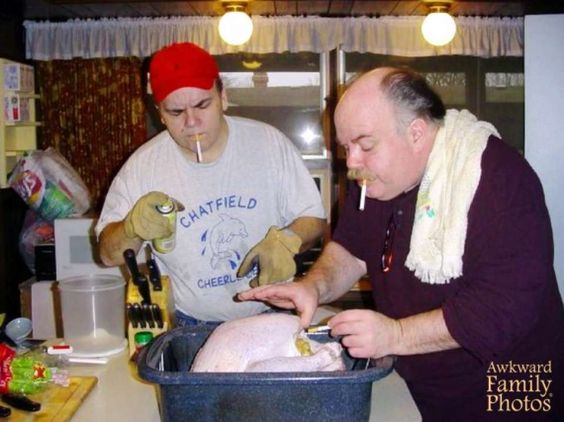 You know what they say, "The family that smokes and cooks turkey together, stays together." Or, something like that. There's a lot to unpack here. I love that the son is wearing work gloves while holding a spray can of what I hope is cooking spray and not spray paint, though it could go either way, honestly. Then there are the matching furrowed brows and scowls, and of course, the cigarettes. It's actually kind of beautiful, if you think about it.
Turkey Head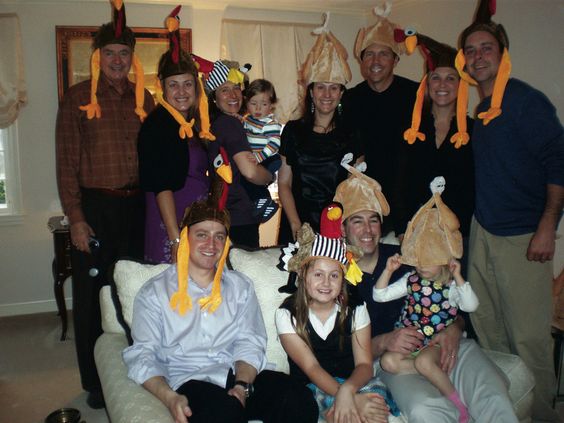 Now this is totally something my mom would have made us do back in the day. Surprisingly, most people look pretty happy about wearing a turkey on their heads. Maybe this is before dinner and everyone is still in a good mood. The poor little girl up front is having some technical difficulties, but she's a trooper!
What A Beautiful…Table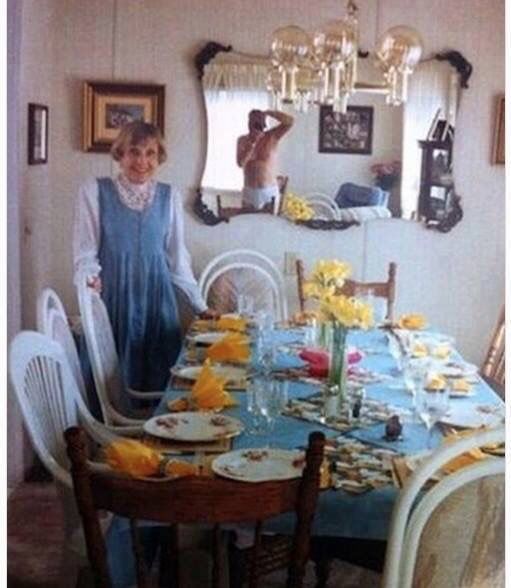 I don't think my words could do this masterpiece justice. Let's just take a moment to *reflect* on how hilarious this photo is.
Not Again, Grandma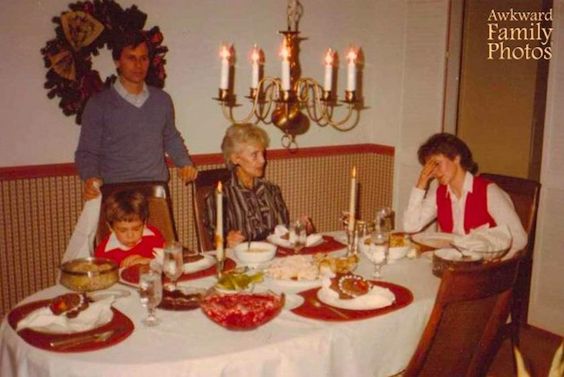 Ah, yes. We're all familiar with the "head in hand, elbow resting on the table" maneuver. It's a classic, really. And it certainly helps us get through the holidays! I wonder what was said that made this woman shake her head and hang it in defeat? I can almost hear her sighing and muttering under her breath.
Are We Done Yet?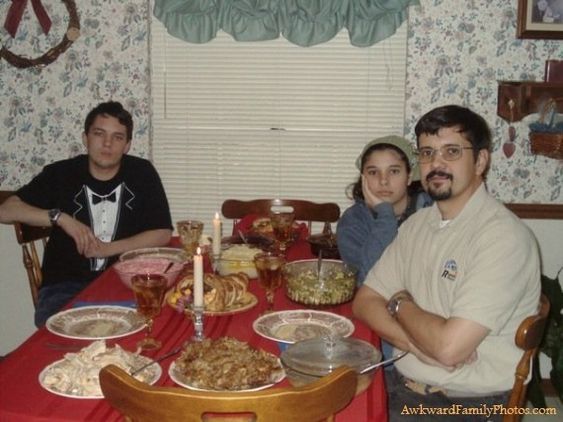 No one looks happy, let alone thankful to be at the table. In fact, the looks range from bored to annoyed. Mr. Fancy Tux T-Shirt looks downright angry. I would be too. Did no one else make an effort to dress up?
Pilgrim Siblings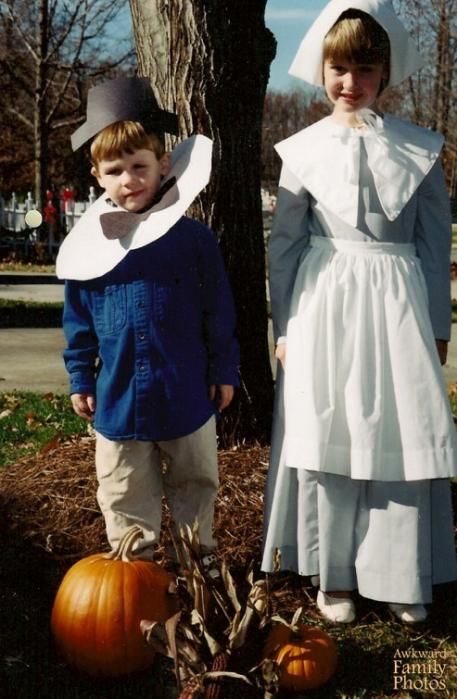 Seriously, is dressing up as pilgrims for family Thanksgiving a thing? I've come across a few of these photos while researching for this article. This one made me laugh – just look at the younger brother's face! I just know he's thinking, "How many more pictures are we going to take before I get pie? You promised me pie!"
SKM: below-content placeholder
Whizzco for 12T