My very favorite meatloaf, turkey or not!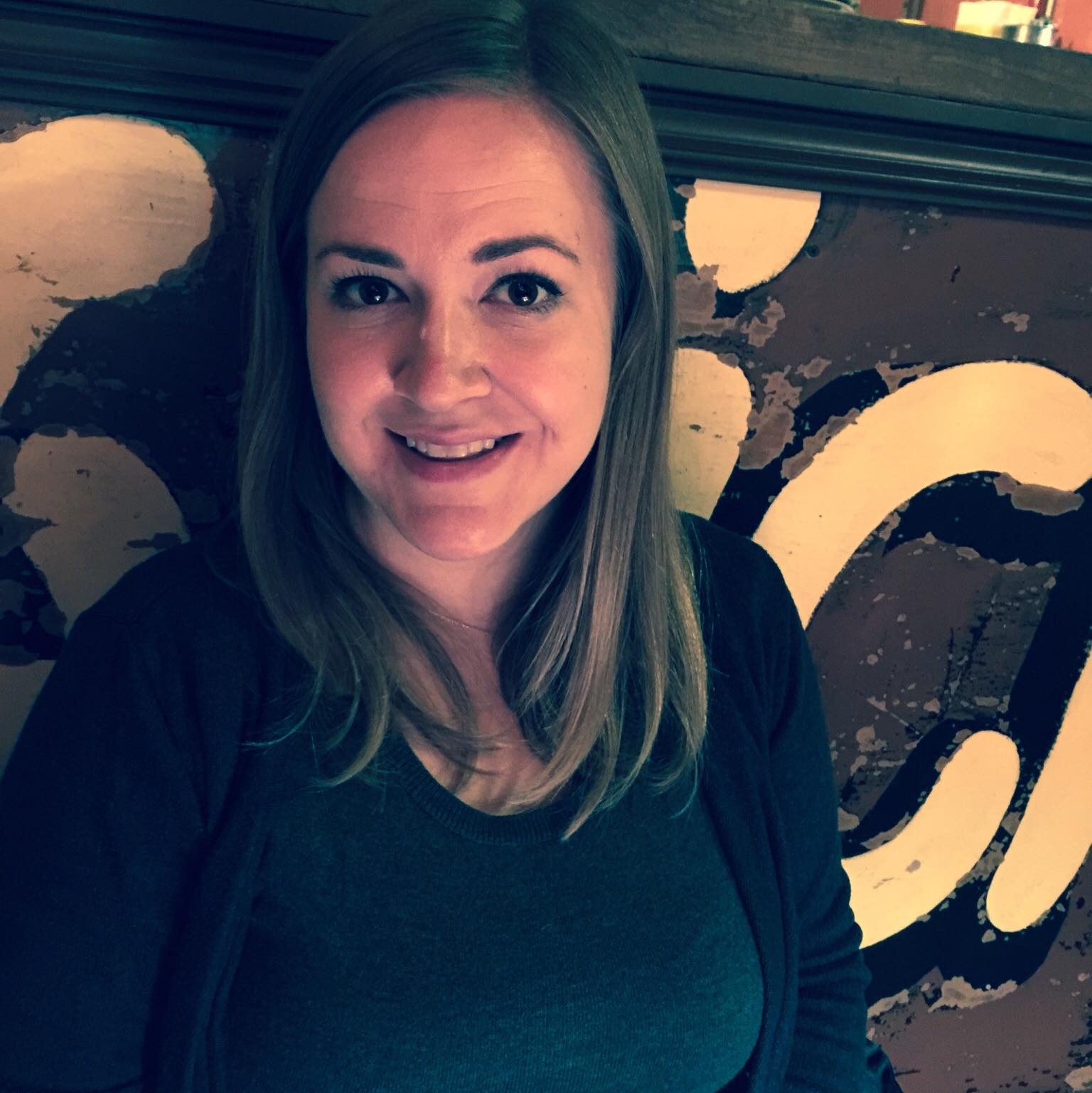 Kristy Norrell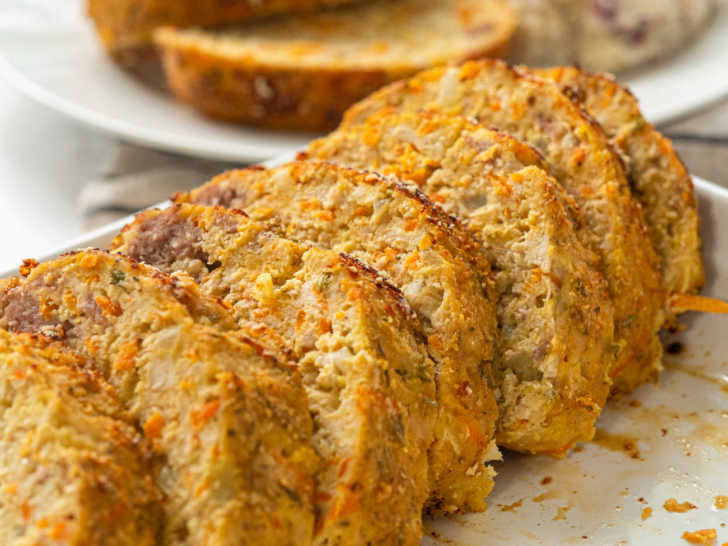 I discovered this recipe on a food blog over a decade ago and I've been making it regularly ever since. It's that good. The blogger says it's a tribute to the greatest meatloaf she ever had but her tribute is truly the greatest turkey meatloaf I've ever had. While most turkey meatloaves are dry and kind of boring, this one is incredibly moist and so flavorful thanks to a medley of grannysmith apple, carrot, and Dijon mustard. I can tell you all about it and still not sing its praises highly enough – just trust me that it's a must try.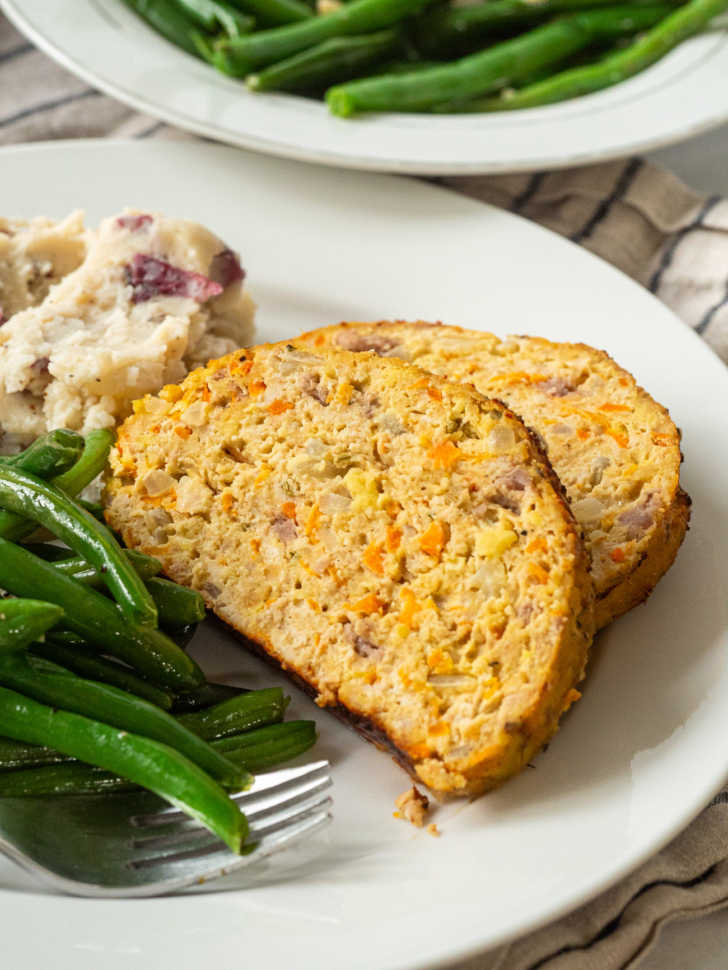 What sets this apart from other turkey meatloaves is the combination of flavors that's mixed into it. Rather than relying just on meat, eggs, breadcrumbs, etc, you cook down some grated carrots, green apples, onion, and fennel seed to add to the mixture. The tartness of the apple is a genius complement to the turkey – it brightens it up considerably.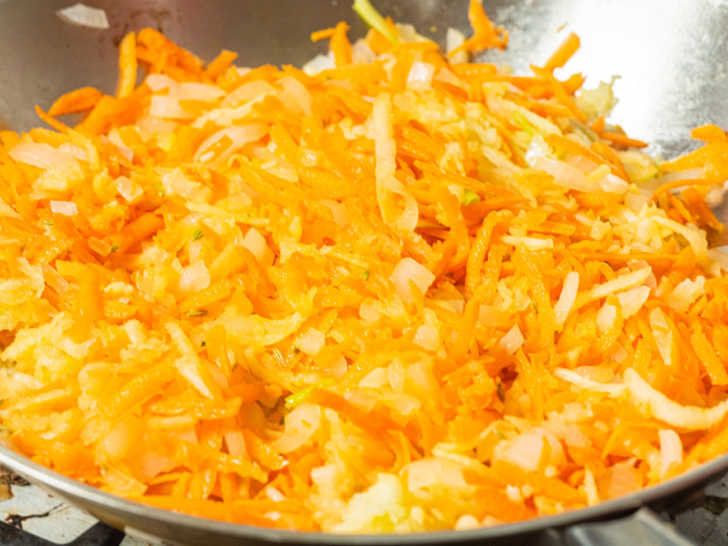 But that's not all that's genius here… The recipe also includes a bit of pork sausage in the mixture and that adds much needed fat and flavor to the turkey. So I guess you can't really say this is just a turkey meatloaf, but the ratio of turkey to pork is still high enough that it's a lean main dish.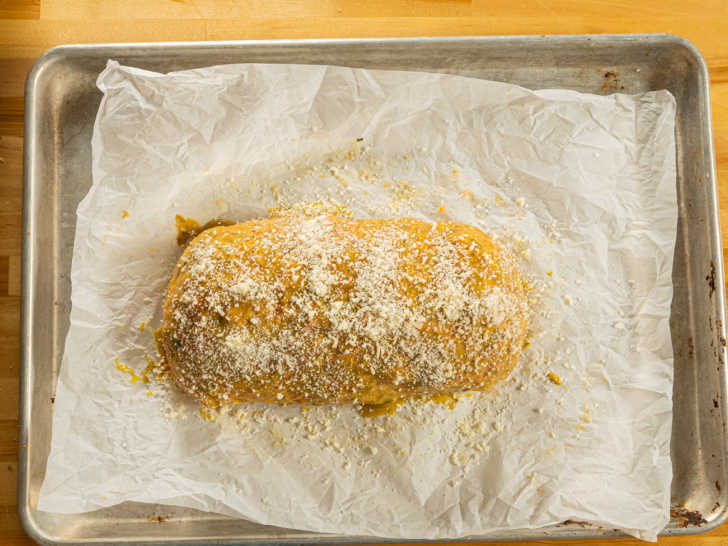 The original recipe calls for this to be baked in a loaf pan, but I've found that it's actually better to go with a free form baking method here – it allows some of the juiciness to evaporate so the liquid doesn't gather around the meat, which it tends to do in a loaf pan.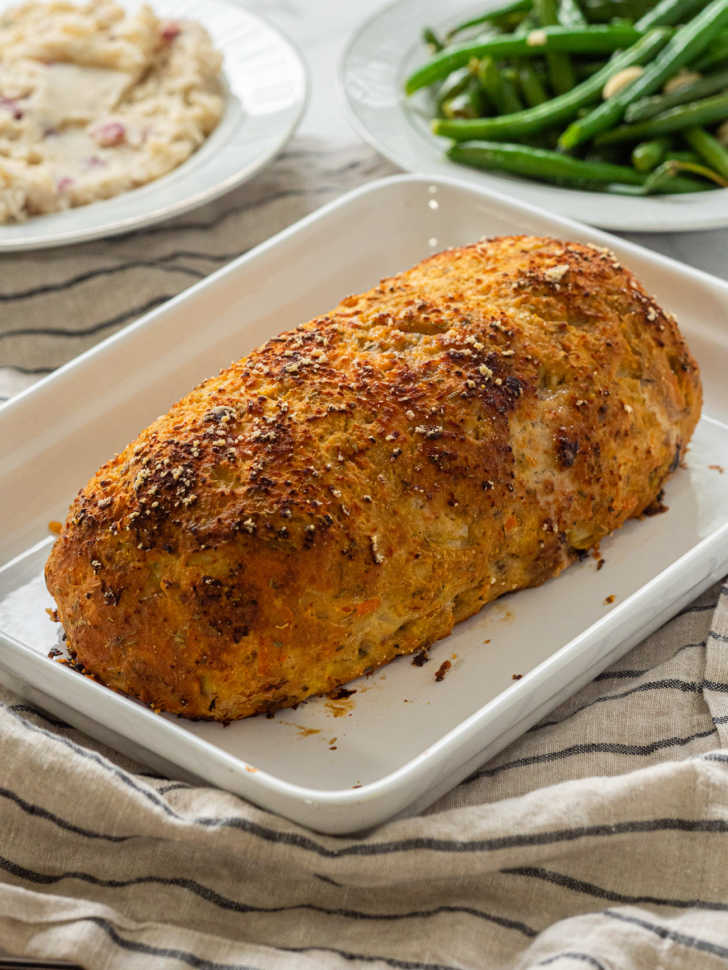 There's one more important component that makes this the greatest turkey meatloaf of all time, and that's the glaze. A far cry from the ketchup topping you might get with a classic meatloaf, this has a mixture of Dijon mustard, honey, thyme, and Parmesan cheese. It. Is. Delicious. (And pro tip: it's great on pork tenderloin or pork chops. Or chicken breasts. Or anything, really.)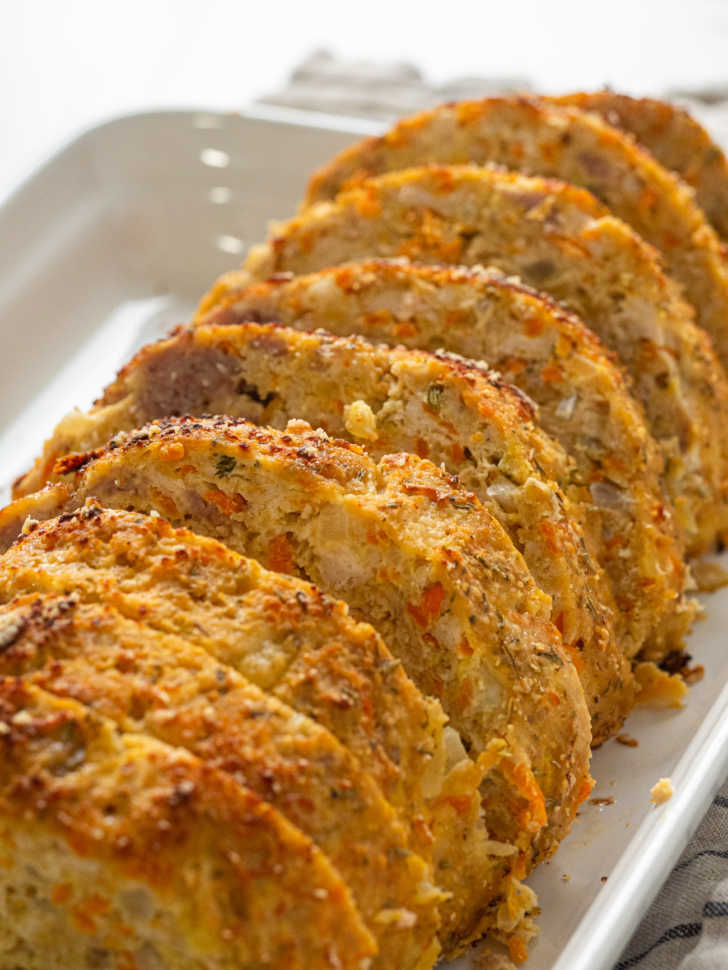 It's a meatloaf that's unlike any other I've ever had and it's been a family favorite of ours for a good long while now. I hope it becomes one of yours, too!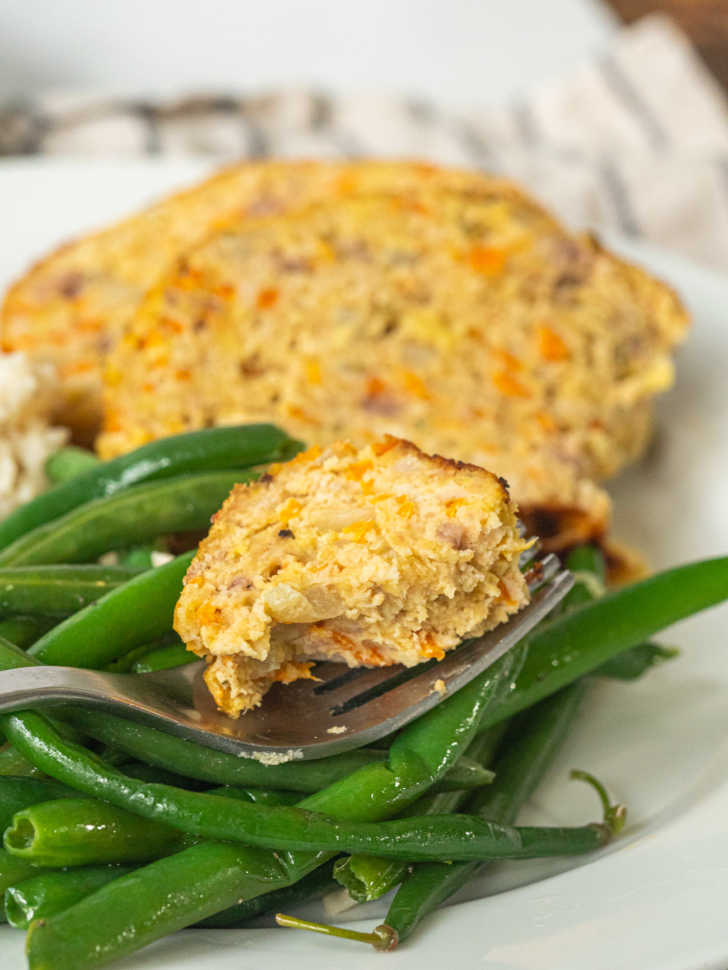 Apple Dijon Turkey Meatloaf
Serves 6
15m prep time
1h cook time
Ingredients
1 tablespoon olive oil
1 medium white onion, diced
1/2 teaspoon fennel seeds
1 large carrot, grated
1 Granny Smith apple, grated
2 cloves garlic, minced
1 1/2 lbs ground turkey
1/4 lb pork sausage
3/4 cup breadcrumbs
2 eggs, beaten
1/4 cup Parmesan cheese, grated
3 tablespoons Dijon mustard
1 teaspoon fresh thyme
Kosher salt and freshly ground black pepper, to taste
For the glaze:
1 tablespoon honey
2 tablespoon Dijon mustard
1/4 teaspoon dried thyme
2 tablespoons Parmesan cheese, grated
Preparation
Preheat oven to 350°F.
In a large skillet, heat the olive oil over medium-high heat. Add onion and sauce until soft, 3-4 minutes. Add garlic and cook 1 minute more.
Add fennel seeds, apple and carrot and continue cooking until liquid evaporates, about 4 minutes more. Remove veggies to a bowl and set aside to cool.
Once veggies have cooled a bit, add turkey, pork, breadcrumbs, eggs, cheese, mustard, and thyme to the bowl. Season with salt and pepper and mix to combine.
Line a baking sheet with parchment paper. Transfer mixture to middle of sheet and form into a loaf shape.
In a small bowl, stir together the honey, Dijon mustard, and dried thyme for the glaze. Spread over the meatloaf and top with parmesan. Spray lightly with cooking spray to encourage browning.
Bake for 45 minutes, then increase heat to 375°F and bake 15 minutes more. Temperature should read 165°F.
Cover with foil and let rest 15 minutes before slicing and serving. Enjoy.
Recipe adapted from Fennel Twist.
SKM: below-content placeholder
Whizzco for 12T