Making dinner for your kids can be such an exhausting task. It feels like it shouldn't be quite so tough, right?
But the simple fact that you have to do it every single day of your life without fail can make you routinely start asking yourself, "Do I really have to feed them again tonight?" Why yes. Yes, you do.
To make matters worse, kids can be picky. No — they can be downright ungrateful, complainy, and wretched when it comes to dinnertime. I can't tell you how many times I've worked away in the kitchen for an hour or more (after work, rushing to the grocery store, to school pick-up, and, if I'm lucky, home in time for a quick workout) only to have my little monsters, I mean cherubs, tell me that the dinner I just cooked for them (COOKED, not willed to magically appear before them on gold-trimmed plates) is freaking gross.
I generally try to be a pretty calm parent, but I've gotta say, that one really gets to me. Still, no matter how much they fuss, I refuse to cook different meals for every member of my family or let my kids eat whatever they want if they don't like what I made. OK, I may have broken out a box of sugary cereal a few times.
But the arguing gets old. You can't feed your kids cereal every evening. And you'll definitely go broke ordering pizza seven nights a week. So I've learned to rely on some standbys that my kids never complain about. These meals are reliable and are always in my kitchen rotation, not only because everyone in my house actually likes them and that saves my sanity about as much as yoga, therapy, and deep breathing combined, but they are all super quick and easy to make.
Here are 9 meals my kids never complain about that take me only about 20 minutes or less to make.
1. Turkey Sloppy Joes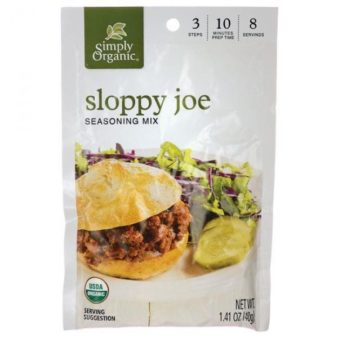 Turkey sloppy joes are a really yummy, quick, and easy meal that my kids love. But I don't make them the traditional way, using a traditional sloppy joe sauce. Instead, I brown turkey in a pan, then add a sloppy joe seasoning packet and a cup of water. I throw in some chopped onions and green peppers and saute them until they are nice and soft (but not too soft — they add a nice crunch). Then I toast a couple of whole-grain buns and plop a scoop on each side. We eat them with a knife and fork, and no one hollers about getting their hands dirty.
2. Pasta With Red Peppers and Chicken Sausage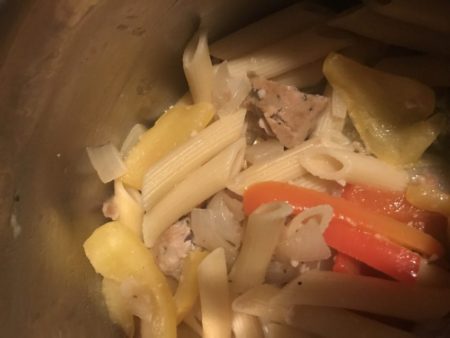 Penne pasta is a big thing in this house. I use it for tons of meals, but this one is definitely a favorite. I boil up some penne, then in a separate pot I brown some chicken sausage that is cut into bite-sized pieces in olive oil. I use chicken sausage because I have one child who loves pigs and therefore doesn't eat pork. Then I toss in some onions, red and yellow peppers, and, if I feel like it, something green. Of course, we top it with as much Parmesan cheese as we like.
3. Chicken Fajitas
It's as easy as 1-2-3. While I'm warming up tortillas in the oven, I cook chicken with olive oil in a pan, then add a fajita spice packet and a cup of water (if I had a little more time, I might experiment with making my own, but hey, the spice packet works great). When the chicken is cooked, I add onions and peppers and cook them until soft. I let my kids scoop their own fajitas and add fixings like plain Greek yogurt, salsa, and guacamole.
4. Taco Bowls
Taco bowls are basically rice bowls that you add Mexican ingredients to. There's no shortage of what you can add! You can make bowls as simple as rice, taco seasoning, and black beans or add things like green chilies, cheese, salsa, and even shredded chicken or ground turkey or beef. I like to make different variations and let my kids pick their toppings so we can all make our bowls the way we like them.
5. Fettuccine Alfredo With Broccoli
https://giphy.com/gifs/snl-saturday-night-live-aidy-bryant-ktpW9u30mwmY0
No, I don't make the Alfredo sauce from scratch — I buy it at the store, but feel free to do so! For this super-fast meal, I boil up some fettuccine and warm the sauce in a separate pan. Then I add veggies like broccoli and sometimes carrots (just until they're soft). It's a quick meal that my kids eat every single bite of and usually ask for more!
6. Make-Your-Own Pizza
It's healthier than ordering delivery, and it's definitely cheaper. I love using naan bread for the crust, then letting my kids choose how much sauce and cheese they want. This is especially helpful for picky eaters! It's all about control and allowing them to choose what goes on their food, which lets them take a little control back and feel like they're in charge (they're not). Then they can add the toppings of their choice or just stick to plain cheese pizza.
7. Veggie Quesadillas
This meal is so easy it almost feels like cheating. But the thing about quesadillas that's great for kids is that they get to feel like they're in control. You can add whatever they want to their individual quesadillas. I usually fill a bunch of tortillas (covered in butter, of course) with either black beans or red and green peppers, then brown them on each side until they are melty and delicious. I serve them with chopped-up avocados and Greek yogurt instead of sour cream, and it takes only about 10 minutes TOPS.
8. "Fancy" Mac and Cheese
It's not as fancy as the name lets on, but the fancy mac and cheese I make just means I don't make it from a box. I mean, of course I do that plenty, too, I just don't call it fancy. For my real mac and cheese, I cook up some penne pasta, toss in a pad of butter, a few handfuls of cheddar cheese, and a dash of milk. I give it a good mix, then pop it in the oven till it's crispy on top! Once in awhile, I'll throw some mushrooms and red peppers into the mix, too, but either way, "fancy" mac and cheese is a pretty scrumptious home-cooked meal that's ready in a flash.
9. Salmon and Sweet Potato Fries
Salmon is one of the least "fishy" tasting fish. Yes, my kids love it and have always loved it, and that's not a lie (don't @ me). Typically, I buy a bag of individually wrapped salmon in the freezer section of the grocery store and thaw three in the fridge before preparing it in a pan with a little butter and dill. Or I use my Instant Pot and plop them in frozen, slathered in butter and spices, and set the timer on manual for 3 minutes, and they are cooked to perfection.
For the sweet potatoes, I usually buy two, then cut them into thin slices and lay them on a cookie sheet drizzled in olive oil and garlic. They are done in 10 minutes. If a salad makes an appearance with this meal, all the better. But even though everyone loves them, sweet potato fries still count as a veggie! Chances are, the kids will eat every bite of this super-simple meal and maybe even get ice cream for dessert!
SKM: below-content placeholder
Whizzco for 12T