Summer is here, and with it comes all sorts of get-togethers, grill-outs, potlucks, and pool parties. When it comes to bringing side dishes to these events, it seems like I always see the same offerings – potato salad, macaroni salad, and deviled eggs. Not that I'm complaining about any of those, but it's nice to break out of the mold every now and then. Especially if you have amazing recipes like the ones below to try out.
Yes, traditional potato salad will always have a special place in our hearts, but why not shake things up and try dill pickle potato salad? Or Cajun potato salad? You might not go back to your old potato salad recipe ever again!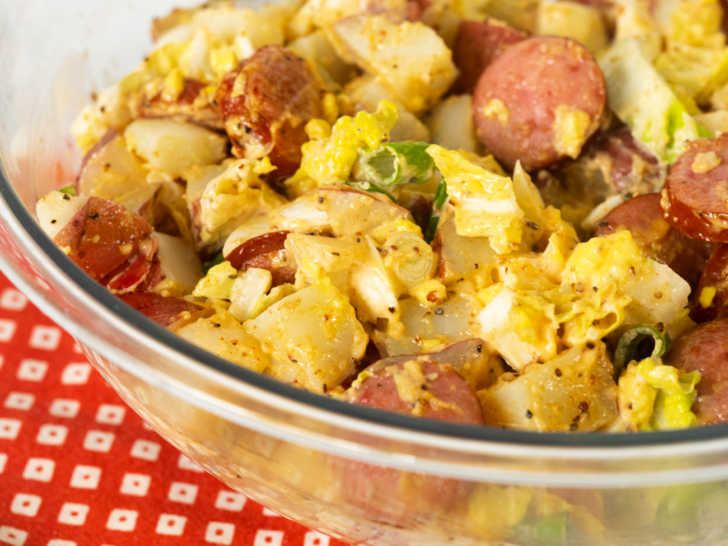 When you picture your perfect potato salad, you probably envision something with tender potatoes, a creamy dressing, and a slight vinegary bite. This potato salad has all of those things going for it but it also offers a whole lot more – like smoky kielbasa sausage, crunchy cabbage, and a dressing that's good enough to eat straight off the spoon.
Red potatoes are the perfect choice here, because they hold together when tossed with the other ingredients and lend a little sweetness to balance the savory kielbasa. As the potatoes cook, you'll want to brown the sausage quickly, it intensifies the flavor and only takes a minute! Get the recipe here!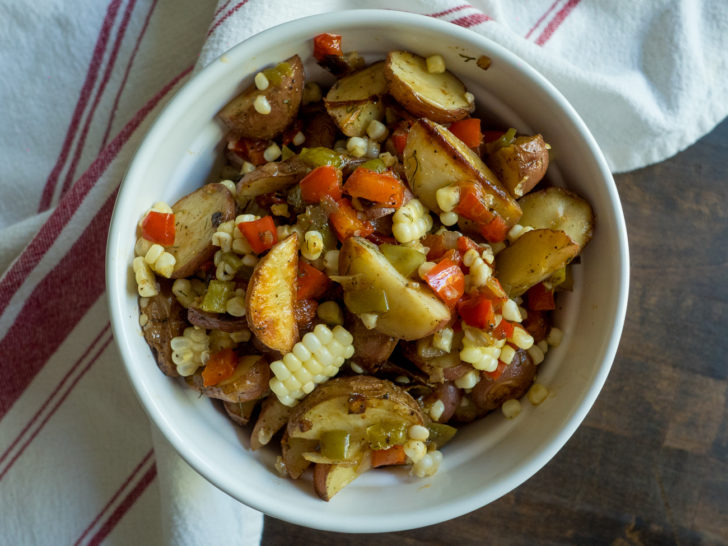 This is a roasted potato veggie salad that blows everything else out of the water. Perfectly roasted potatoes – we love those browned bits that have all the flavor – sweet corn, onions and bell pepper, tossed in oil and spices, making this a fresh and flavorful choice that we've been loving.
Even if you've got some resolute, classic potato salad lovers in your life, you've gotta get them to try this version and see what they think. Roasted veggies are, in our humble opinion, the best way to enjoy fresh produce, and this recipe gives them their due time in the spotlight. This is ridiculously good, you'll see! Get the recipe here!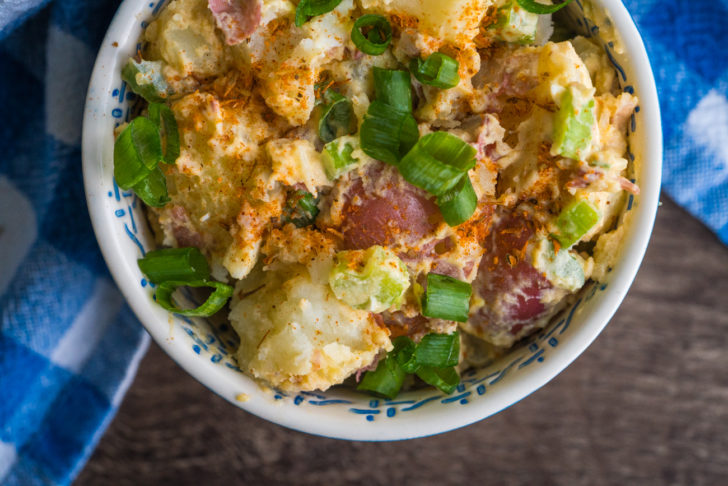 No one likes a dry potato salad, and this one is anything but. The combination of mayo and sour cream keeps things so creamy, but not too heavy, while a dollop of Dijon mustard keeps a subtle tang running throughout.
The most important player here though is the Creole seasoning. It adds a smoky, herby quality that's singular to this potato salad recipe. It brings it leaps and bounds above the basic spuds you're used to. Get the recipe here!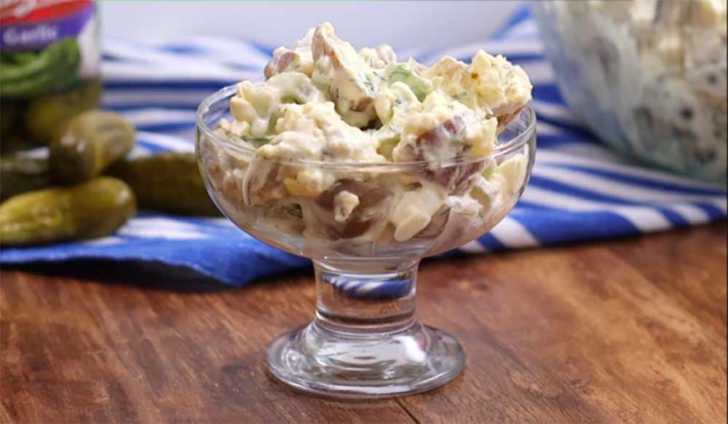 Summertime barbecues require a potato salad as a side dish. Every family has a coveted potato salad recipe and sometimes the different ingredients can stir up some real family drama! A cool, crisp potato salad a source of great pride and a good recipe will have everyone lining up for seconds, even thirds!
We can't have a barbecue without serving up one of our favorite takes on potato salad, and our dill pickle potato salad is just about perfection. We love the combination of flavor and textures in this dish, from creamy potatoes to cool mayonnaise, then great crunch from celery and dill pickles. Each forkful is a bite of potato salad heaven! Get the recipe here!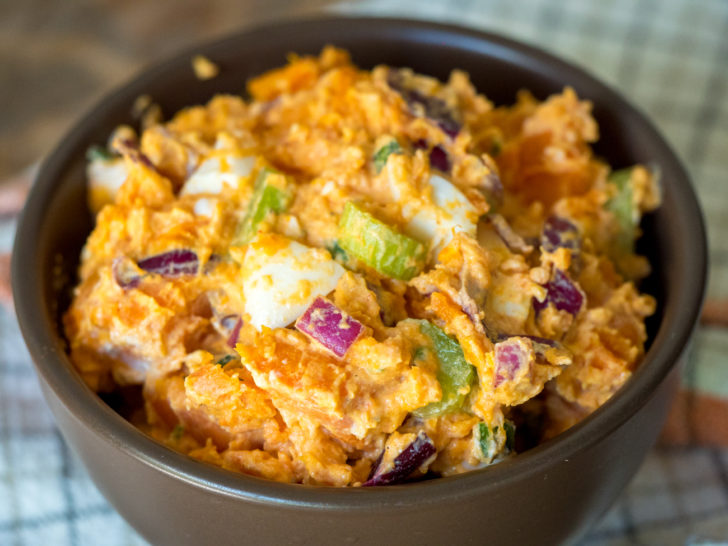 As much as we love the original, we also enjoy finding creative ways to put a fresh spin on an old recipe, and our sweet potato salad is just what we're looking for. It stays true to its roots, but with healthier choices, like sweet potatoes and Greek yogurt. We can't have a barbecue without this on the menu, but we like offering a slightly healthier option that still has great flavor. Here's how we did it.
Sweet potatoes are more nutrient rich than their russet counterparts, although both are packed full of great nutrition. High in fiber and vitamin A, sweet potatoes offer not only a slightly higher health benefit, but their natural sweetness means we're in for a flavorful treat. We've taken out the mayo and instead use Greek yogurt; classic ingredients, like hard boiled eggs, celery, and onion still remind us of our favorite potato salad. A dusting of paprika adds a pop of color while green onions give the whole salad a nice bite. The whole salad is hearty, creamy and fresh. Get the recipe here!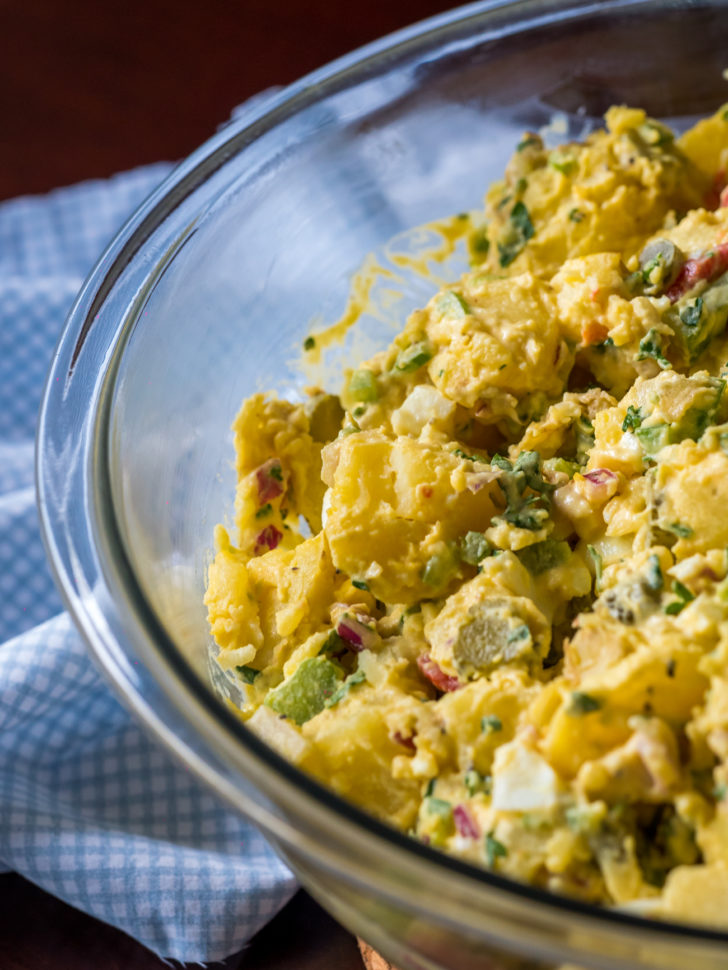 Shout Hallelujah Potato Salad. Now that's a name for a dish that you definitely need to try if you haven't already. Regular potato salad is great, we're not brushing it off, but shout hallelujah potato salad?? It's amazing. Looking at the ingredient list might seem a little daunting, but don't even worry about it. Once you've got all your ingredients on hand, you just throw everything together and you're good to go!
What are some these ingredients that make the list so long, you ask? Well they all play a hand in making the finished result what it is, so there's that. We've got celery, red onion, green bell pepper, pimientos and sweet pickles in there, along with hard-boiled eggs (added flavor and texture), then we've got mustard, lemon juice, Worcestershire sauce and all sorts of seasonings to round out the whole dish. While you could skip any ingredients you don't like, we really love how everything blends together, and find that, once it has a little time for the flavors to build, it's a powerhouse dish that people can't seem to get enough of. Get the recipe here!
SKM: below-content placeholder
Whizzco for 12T