I love potatoes in every single form. Fried, baked, mashed, in a salad, as a side, as the whole dang meal! I've yet to meet a potato I didn't like. I'll admit, however, I love twice-baked potatoes quite a bit. Maybe even more than hashbrowns and French fries, which is saying something.
There's just something about having a whole little meal packed into a potato that warms my heart (and fills my belly). Plain twice-baked potatoes with butter, salt, pepper, and maybe a few chives if you're feeling fancy, are good enough on their own. But why stop with just the basics? Why not push that baked potato envelope just a bit? If you're in the mood for potatoes (and really, who isn't?) then check out this list!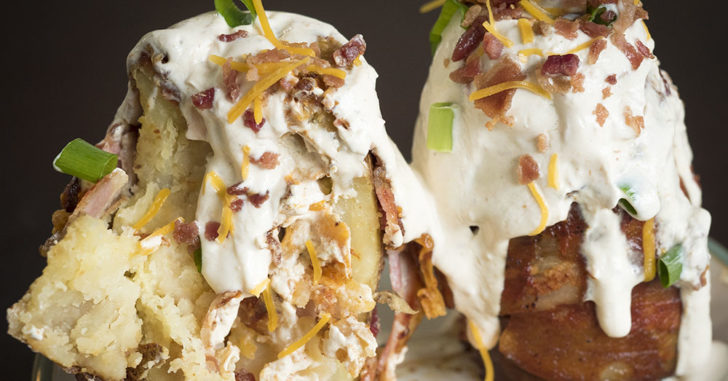 Oh yes, we're starting off strong with this one. A little creativity goes a long way, and these potatoes show how some imagination can take food to another level. We hollowed out the baked potato, stood it on its end, and filled it with all kinds of goodness. To make it even more volcanic, we added barbecue sauce poured over the sides in an epic lava flow of flavor. Then a "snow capped" topping of sour cream (jazzed up with a little hot sauce for some heat) and we've got an impressive potato peak that explodes with flavor. Whether it's for the big game or for a fun way to jazz up a weeknight dinner, our volcanic baked potatoes are definitely a hit. You've probably never had tots quite like this before! Get the recipe here!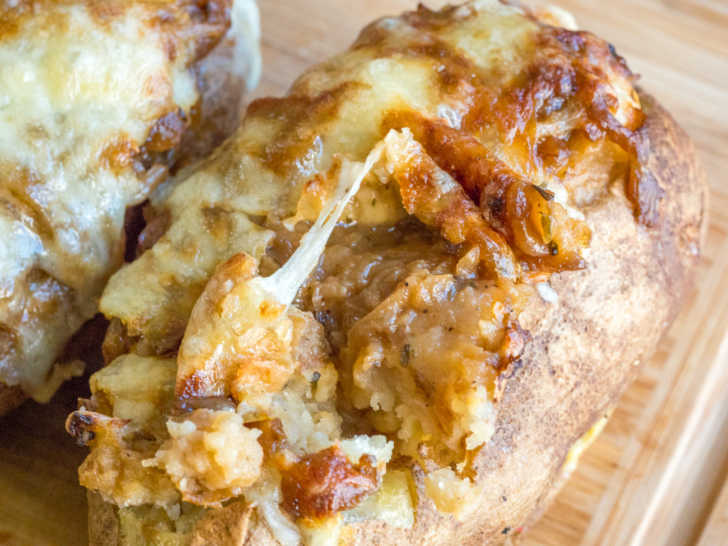 You could make a basic baked potato, sure. Or, you could take all of the things that make French Onion Soup great – sweet, savory, brothy caramelized onions, nutty Gruyere cheese – and tuck it into a baked potato and make it SO much more than basic. I think I'll go with the latter, thank you very much. While these stuffed baked potatoes are maybe a bit much for every day, they're so well worth the small amount of effort they take. A fluffy potato turns out to be a natural companion to rich and hearty French onion flavor, making for one seriously yummy mashup. Get the recipe here!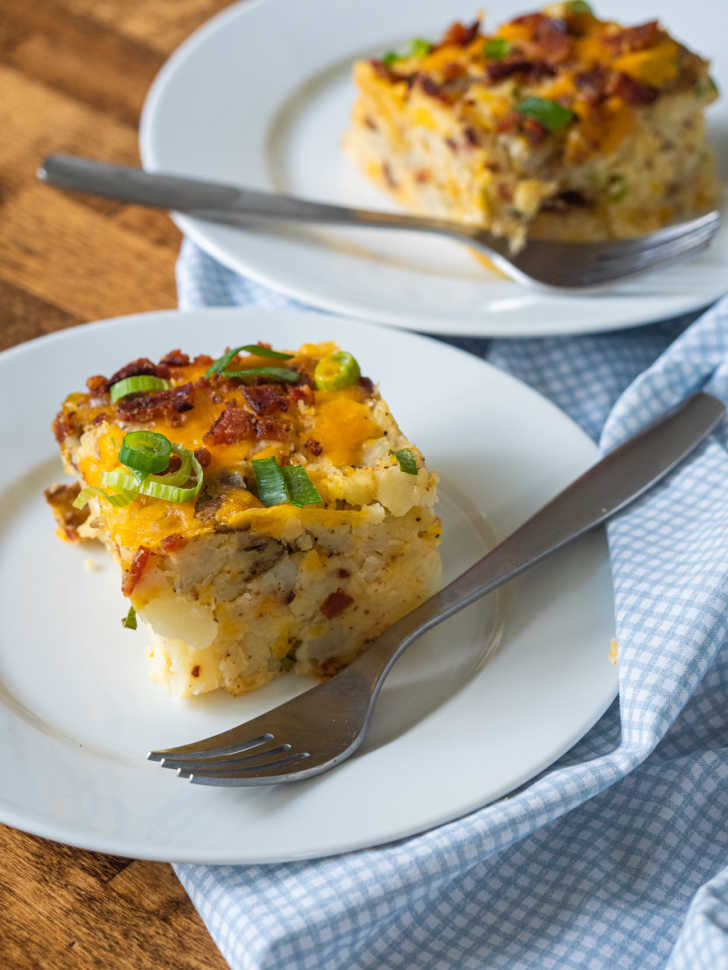 This casserole starts with baking some whole potatoes, just like you would with a traditional twice-baked potato, but here you just have to chop the potatoes up when they're cooked. There's no scooping and refilling to be done, so the process is a little easier. The chopped potatoes get mixed with some mayo and sour cream, as well as some grated cheddar, green onion, and crispy bacon before they head into the casserole dish. More cheddar and bacon go on top… because this is still supposed to be an indulgent meal, okay? Get the creamy, delicious recipe here!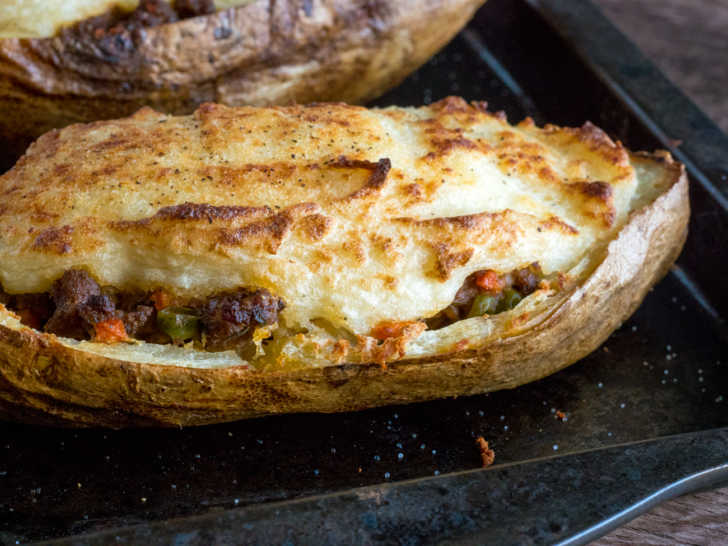 I have always loved Shepherd's Pie because, well, what's not to love about a mashed potato topping that's been browned until it's golden? Plus, there's some hearty beef (or lamb if you're being totally traditional) to go along with it, except it's been cooked into a simple but savory delicious gravy complete with a couple of veggies. There's not a lot to improve upon! But these Shepherd's Pie Twice-Baked Potatoes take the dish to a whole new level. You get a personal portion of meat and mashed potatoes that are baked right into the potato skin so it really feels complete (and comforting too). Get the recipe here!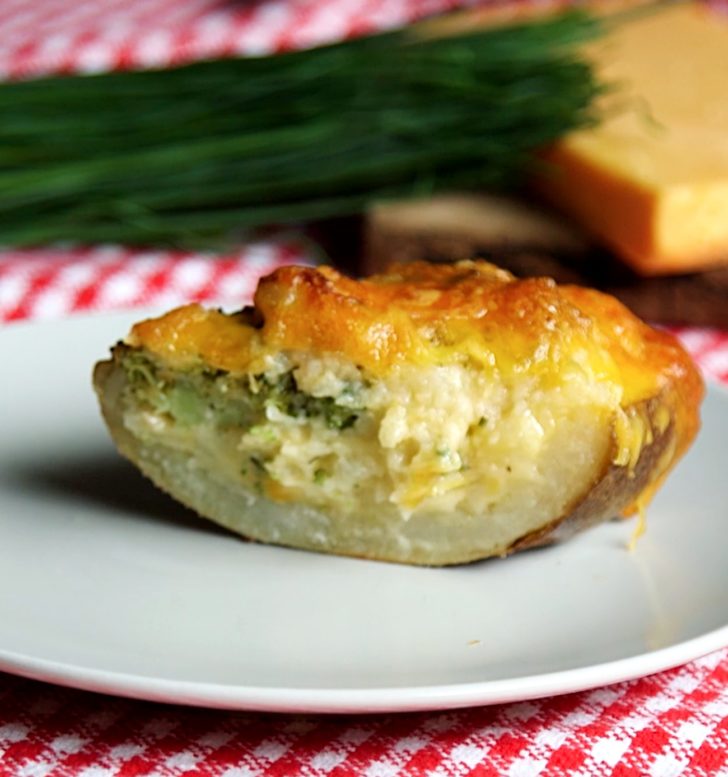 To make a twice baked potato, all you need to do is bake the potato, slice it in half and scoop out the insides, and then mix the potato fluff with any number of delicious things. These particular ones have butter, Greek yogurt, cream, broccoli, cheddar, and some delicious seasonings. The spice combo is maybe the real winner here; the paprika and dill take the flavor over the top. We're pretty impartial when it comes to eating potatoes, but this is definitely one of our favorite ways to do it. Get the recipe here!
SKM: below-content placeholder
Whizzco for 12T