It's no secret that we love desserts here on 12 Tomatoes, especially cake! From classic white cake to ice cream cake, we've done it all. While I love a good layered cake or icebox cake, sometimes I long for simpler recipes. Simple, but no less tasty. That's where my love of sheet cake comes in.
Sheet cakes are typically easy to throw together and make enough to feed a crowd. Or, to feed yourself for the week. No judgment here! If you're looking for an easy dessert to feed the masses, check out one of our favorite sheet cake recipes below!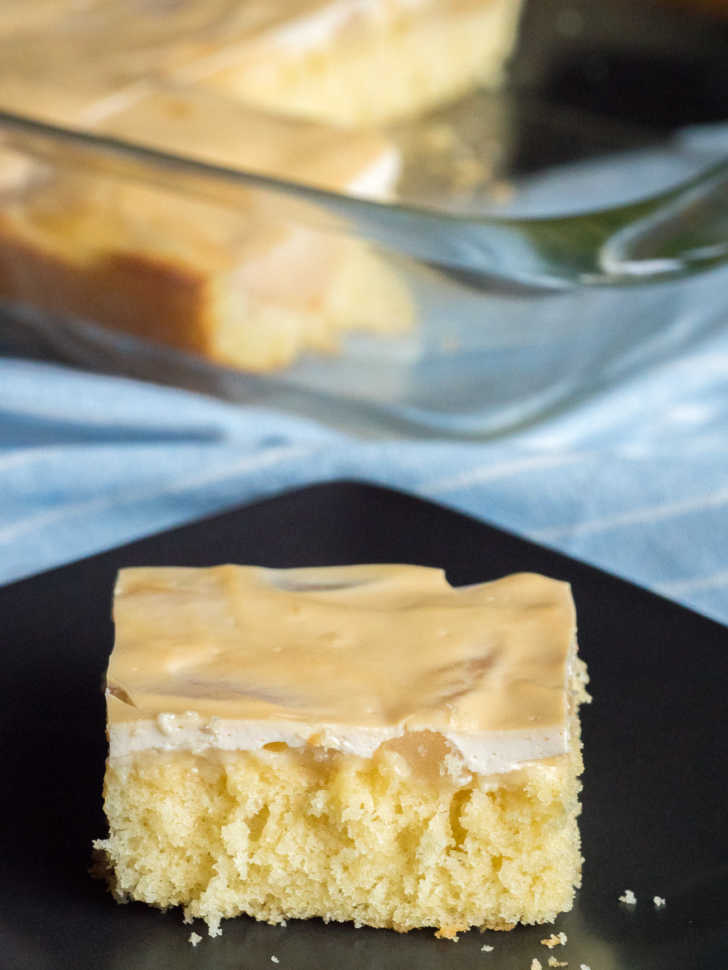 While I love all kinds of cakes, I have a special fondness for simple, casual cakes that are single-layer and fuss-free. And that is exactly how I would describe this Pear Sour Cream Sheet Cake. Its vanilla-scented sweet pear flavor and brown sugar/sour cream topping are positively delicious, but it's no trouble at all to make, which makes it the ideal thing to bake when you just want to have a little something sweet hanging around in your kitchen to cut a slice of when the mood strikes. You don't need a birthday or a party to justify it – it's sweet and special, but it's everyday fare. Get the recipe here!
Mississippi Mud Sheet Cake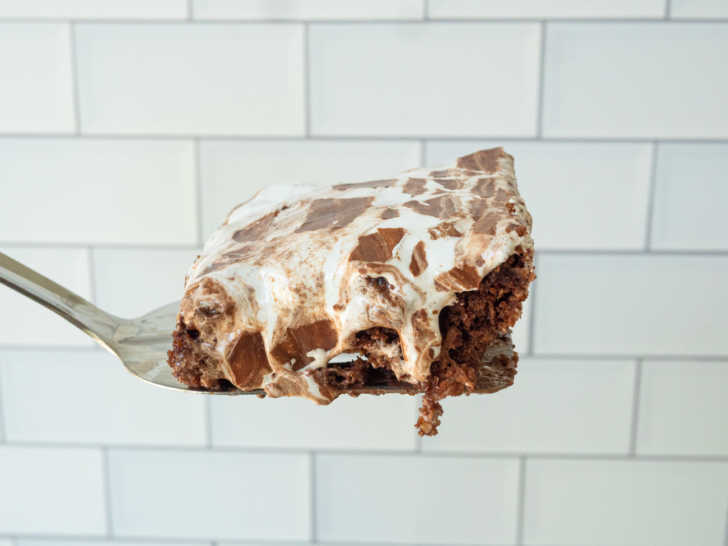 Like me, you might be more familiar with Mississippi Mud Pie than you are Mississippi Mud Cake, but rest assured that our sheet cake version has a similar mash-up of chocolatey layers and textures that's every bit as delicious. While there's no crunchy cookie crust, there is plenty of fudgy, rich chocolate and also a dreamy marshmallow and chocolate swirled frosting to top it all off. It's a rich indulgence, but it's one that's very easy to make. Get the recipe here!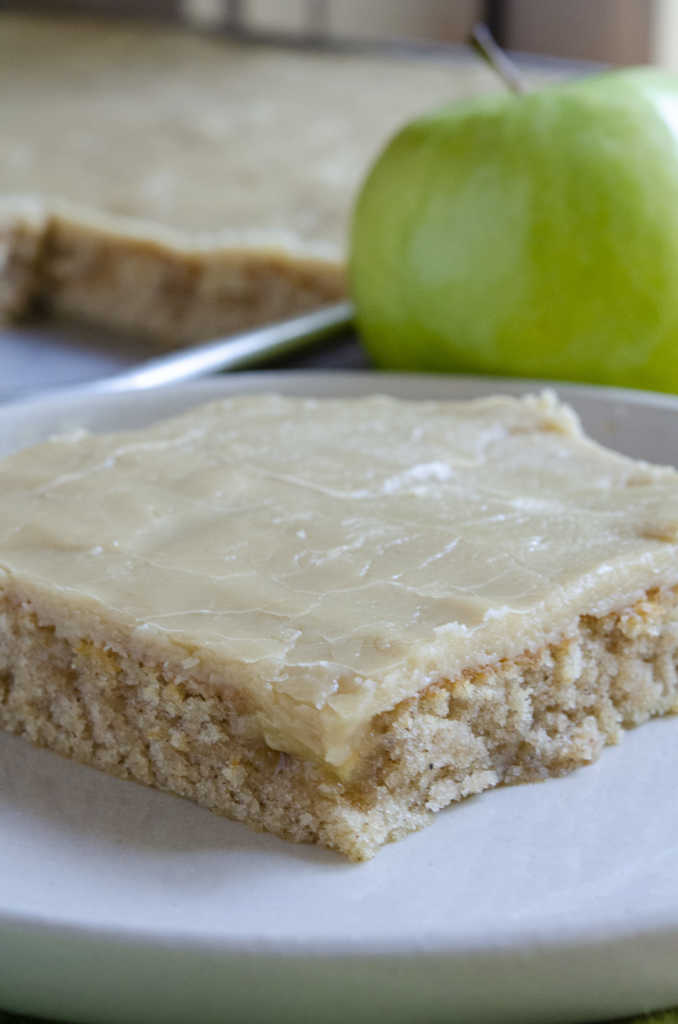 A caramel apple is a simple thing, but it sure proves the point that simple is often best. That sweet crisp bite of apple under a sticky blanket of caramel… it's basically heaven on a stick. But with this easy sheet cake, you can have that same flavor in cake form too! Our Caramel Apple Sheet Cake features a soft, spiced crumb studded with tender apples that sit under an easy buttery caramel icing. (In other words, it's something to really get excited about.) Get the recipe here!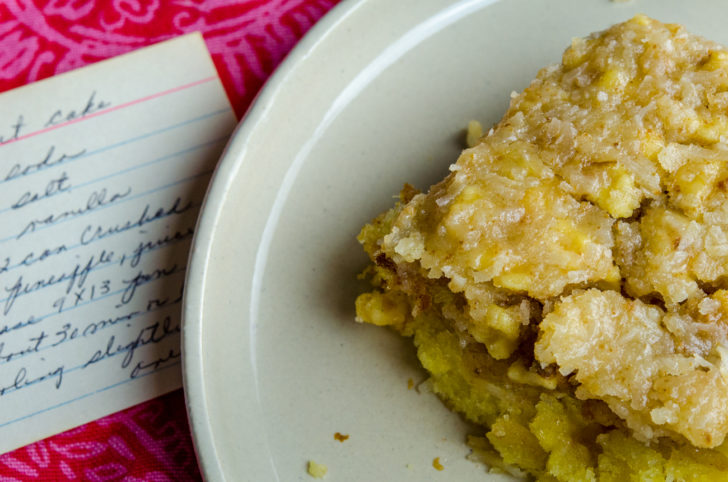 While this recipe didn't come from my grandma, it made me think of her when I found the old recipe card. It's likely from the same era and would work well as a kind of 'everyday' cake that's still special enough to feel like a treat. With a moist crumb, a lovely boiled frosting, and plenty of pineapple flavor, it's simple but sweet and totally delicious. Get the recipe here!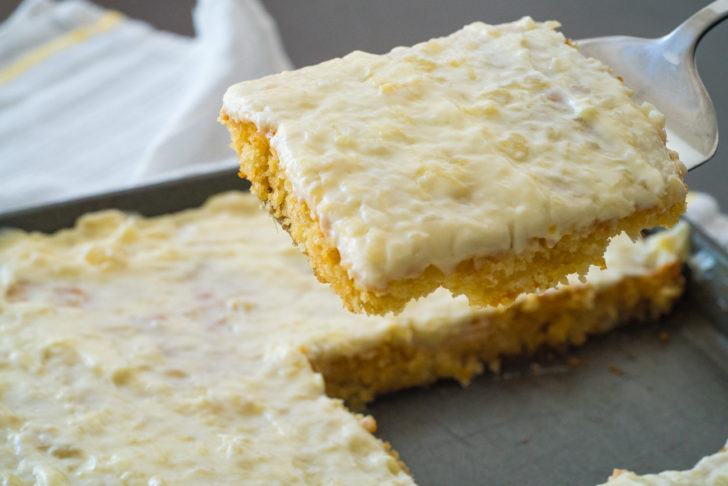 We thought we'd already found the summer cake to end all summer cakes, but this pineapple sunshine cake just snuck right into our hearts and bellies and stole the show. It's not a showboat, and doesn't look like the best, grandest cake out there, but once you take the first bite, you realize it's hiding in plain sight and it's actually the yummiest cake out there, perfectly light and moist and amazing for summer. You could easily dress this cake up with some pineapple chunks arranged on top, but we figure, why mess with what isn't broken – this is great just as is! Get the recipe here!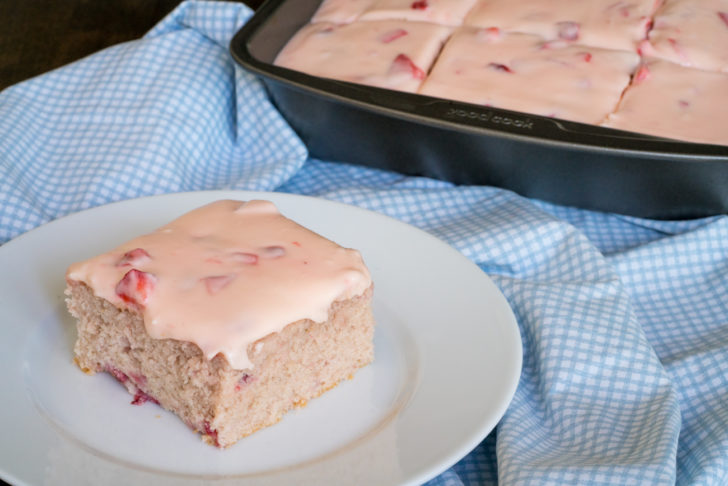 While we've been know to use a package of our favorite jello mix here and there – they add great flavor, color and usually a nice, thick texture – there's something really refreshing about going back to basics and making a cake from scratch. Specifically, a lovely, summer strawberry cake. This one bakes in a 9×13 pan, with lots of fresh strawberries tucked into both the cake batter and the frosting. Nothing fake to be found here, just real flavor (and color) from real fruit! We love this and you will too, promise. Get the recipe here!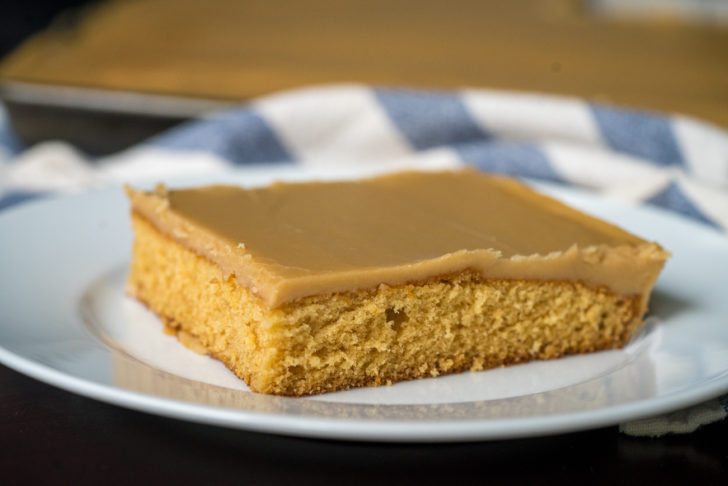 How do we begin to describe a cake that tastes this good? We're not kidding, we almost couldn't wait for the frosting to cool before we dove in and gobbled it all up! Admittedly, we did sneak some of the batter and, okay, maybe a little icing (you know you've done it too), but that was when we knew that we had a winner on our hands! It was that salty, sweet mixture of brown butter and caramelized sugar that had us at hello. Get the recipe here!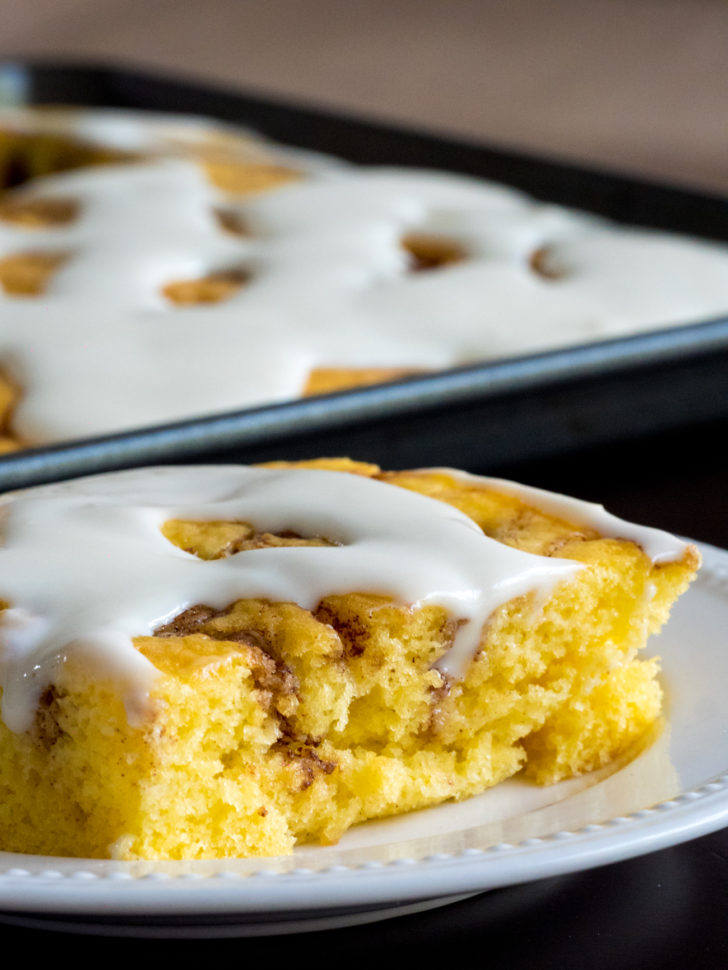 Do you love cinnamon rolls with every fiber of your being, but don't feel quite ready yet to tackle making them from scratch? We totally understand that. While they're actually easier to make than you'd think, we've got a different dessert for you today that is actually ridiculously easy to throw together, that gives you the same cinnamon roll satisfaction with half the effort. Cinnamon roll sheet cake! That's right, all the cinnamon-swirl goodness we love about the original, plus, some seriously decadent icing, all wrapped up in one sheet cake that can easily serve a crowd…or just a couple of really hungry people (- each with a really intense sweet tooth). Get the recipe here!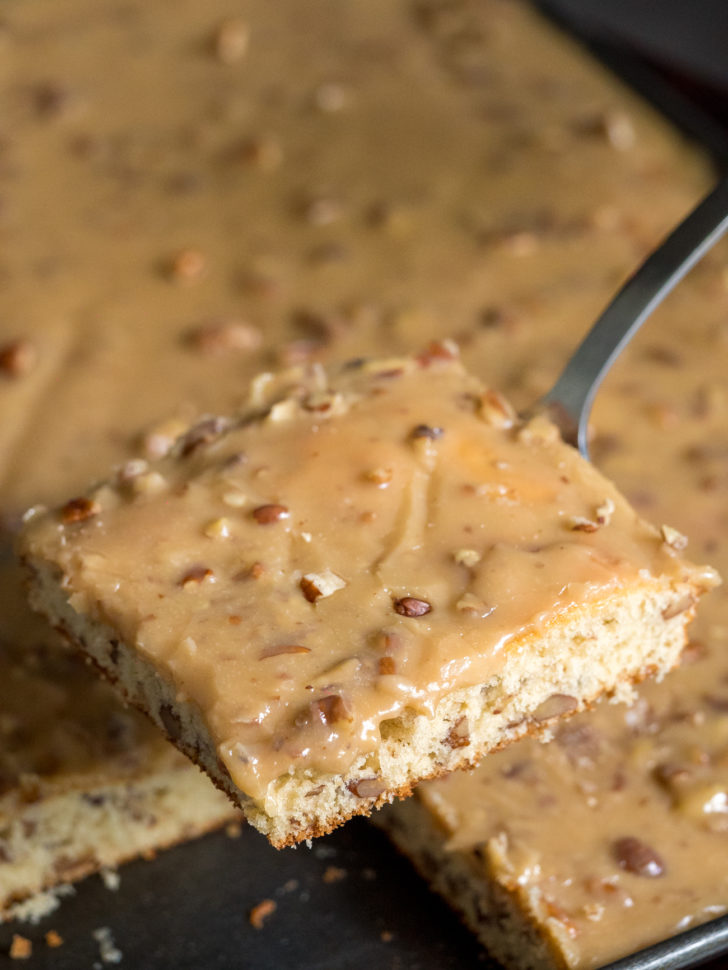 For all you nut lovers out there, there's one flavor combination that we think just does not get the attention it deserves. It's salty and sweet and perfectly delicious, so why don't more people realize how great butter pecan treats are?? Don't worry, we're here to give it the love it deserves and to convince previously-non-butter-pecan-lovers that it is truly amazing. The way we're going to do that today is with this butter pecan sheet cake. Get the recipe here!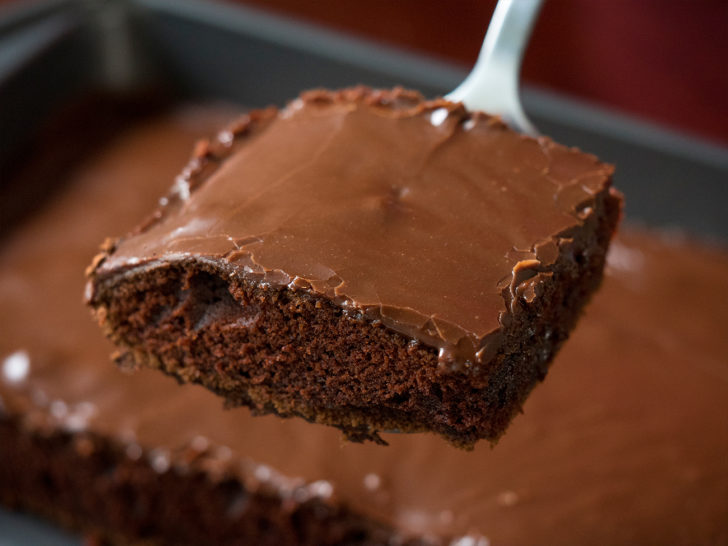 We feel pretty confident about our chocolate sheet cake; it's a tried-and-true dessert recipe that we practically know by heart. And when you're sitting on a great chocolate cake recipe, we generally live by the mantra: if it ain't broke, don't fix it. But we do like to enhance and embellish whenever we can. So, we took our favorite and most delicious chocolate cake recipe and decided to add a little something special to make it even more amazing: Baileys liqueur. Yes, this creamy, chocolatey coffee libation is just right for our classic chocolate sheet cake recipe. Get the recipe here!
Want more easy dessert ideas? Check out our favorite 3-ingredient desserts!
SKM: below-content placeholder
Whizzco for 12T