Not everybody complains about the price of Christmas trees but in some areas, they are getting quite expensive. On average, a Christmas tree costs $76.35 and the price increases every year.
A study was conducted by the National Christmas Tree Association, just as it is every year. The price for a Christmas tree in 2017 was $75 on average and in 2018, it came in at $76. That doesn't seem like much of a price increase, but when you consider what the price was just a few years ago, it's a big jump.
If you go back to 2015, the average price of a Christmas tree was only $50.82. In 2014, you would have paid $39.50.
Some years tend to be more affordable than others. For example, in 2012, you would've paid $41.30. The price went down in the following two years.
There are a variety of scapegoats as far as the price is concerned. The great recession of 2008, a shortage of trees, and other factors may contribute to the rise in prices. During the difficult years, fewer trees were likely planted and since they take about a decade to grow, there weren't as many available.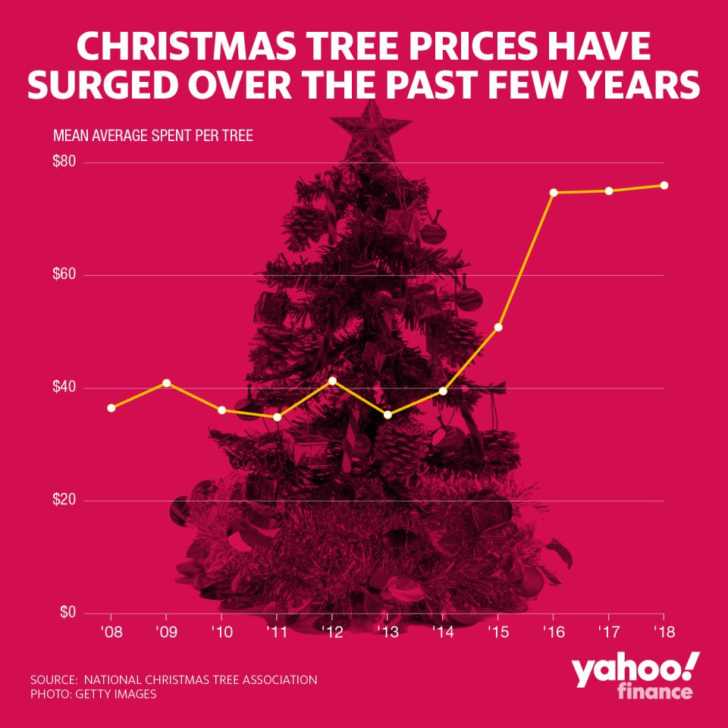 With the dwindling supply, the spike in prices between 2014 and 2019 makes sense.
Demand is also on the increase, especially with the strong economy and the boost in consumer confidence. Even though the supply has dwindled, the sales of trees are up 20% between 2017 and 2018. Even the sale of fake trees improved, with a 12% growth year-over-year according to the data from the National Christmas Tree Association.
It's All About Timing
The prices may be fixed by the vendor at some sellers by writing the number on the tag with a sharpie. Timing also has a lot to do with the pricing as well.
When the average price was marked down on a calendar by the National Christmas Tree Association, something interesting came to light. The most expensive day to buy a tree is on cyber Monday. You would end up paying $83.92 on average on that day.
If you want to save money on a tree, try buying one on Christmas Eve when the price averages $50.34. Even if you only wait until the week before Christmas, you will likely see a 29% drop in the prices to $56.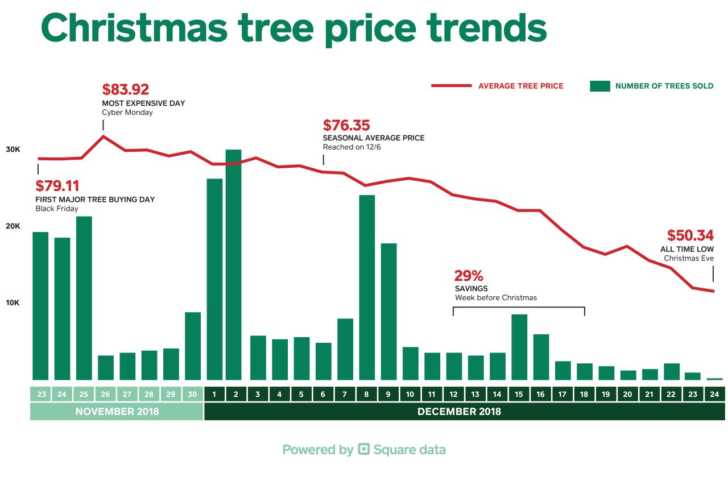 If you want to avoid the crowds, try shopping for a Christmas tree on the second weekend in December. It's the least popular time to buy a tree.
You might also want to travel to buy the tree. Buying a tree in Wyoming or Vermont will save you money because the tree will cost an average of $40.
On the other hand, Texas charges an average of $110 per tree with Tennessee falling at a close second at $108 per tree. Hawaii and Louisiana are also expensive but haven't cracked the $100 mark.
SKM: below-content placeholder
Whizzco for 12T