This recipe will make you crave your veggies.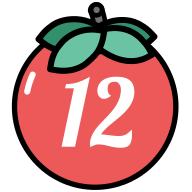 Victoria Brittain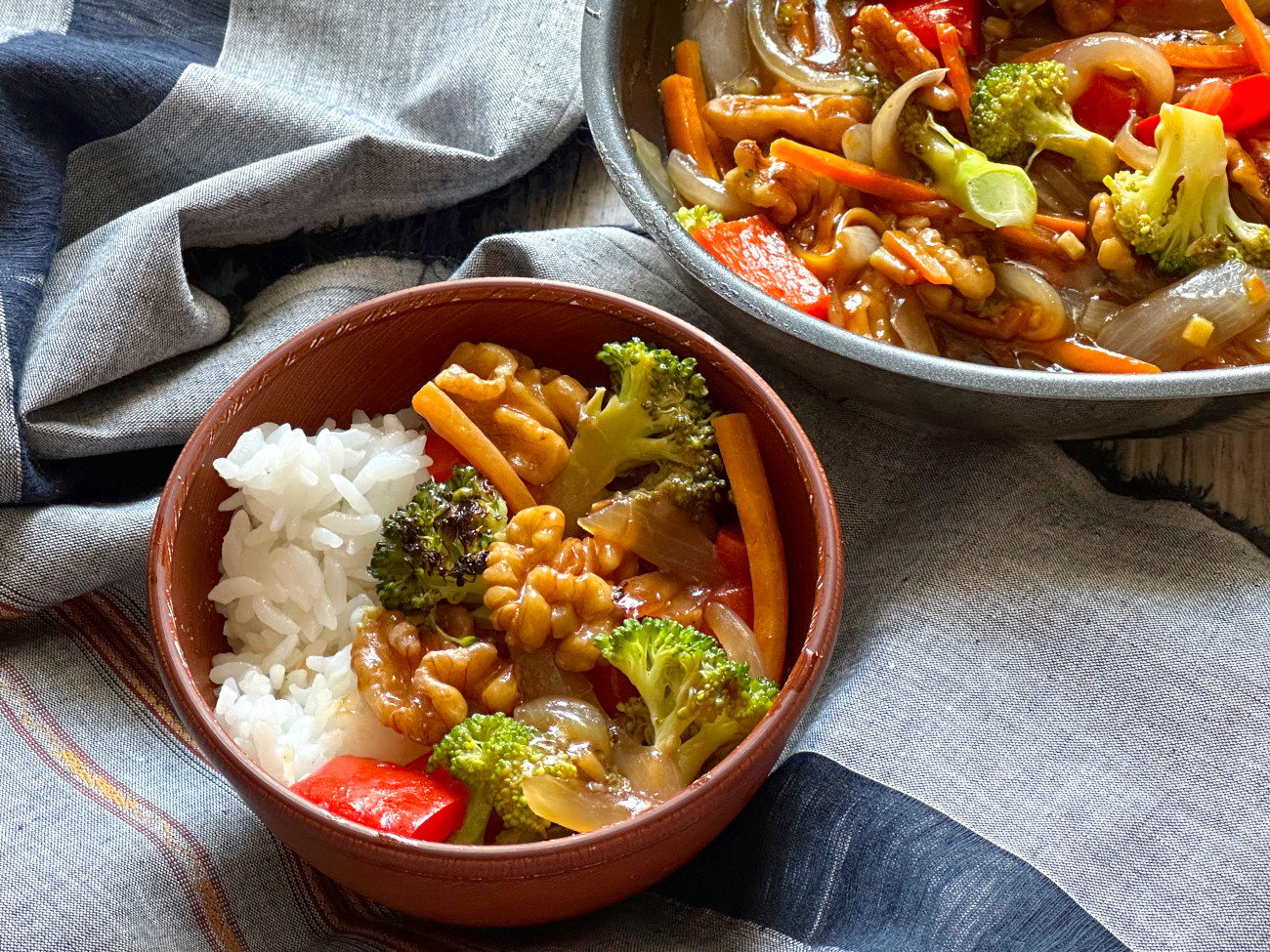 Something is emblematic about those white folded takeout cartons with the thin wire handle. Whether it be a quick pick-me-up meal after work or an impromptu party with friends, Chinese American takeout food is comfort food just as much as mashed potatoes and gravy. Here, this Walnut Broccoli Stir Fry is the side dish of your cravings but made homemade and healthier. Loads of veggies and a homemade sauce put you in control of what goes in, but that doesn't mean it is bland. Packed with umami-rich ingredients and a sidekick of heat, this medley of deliciousness will make anyone eat their vegetables.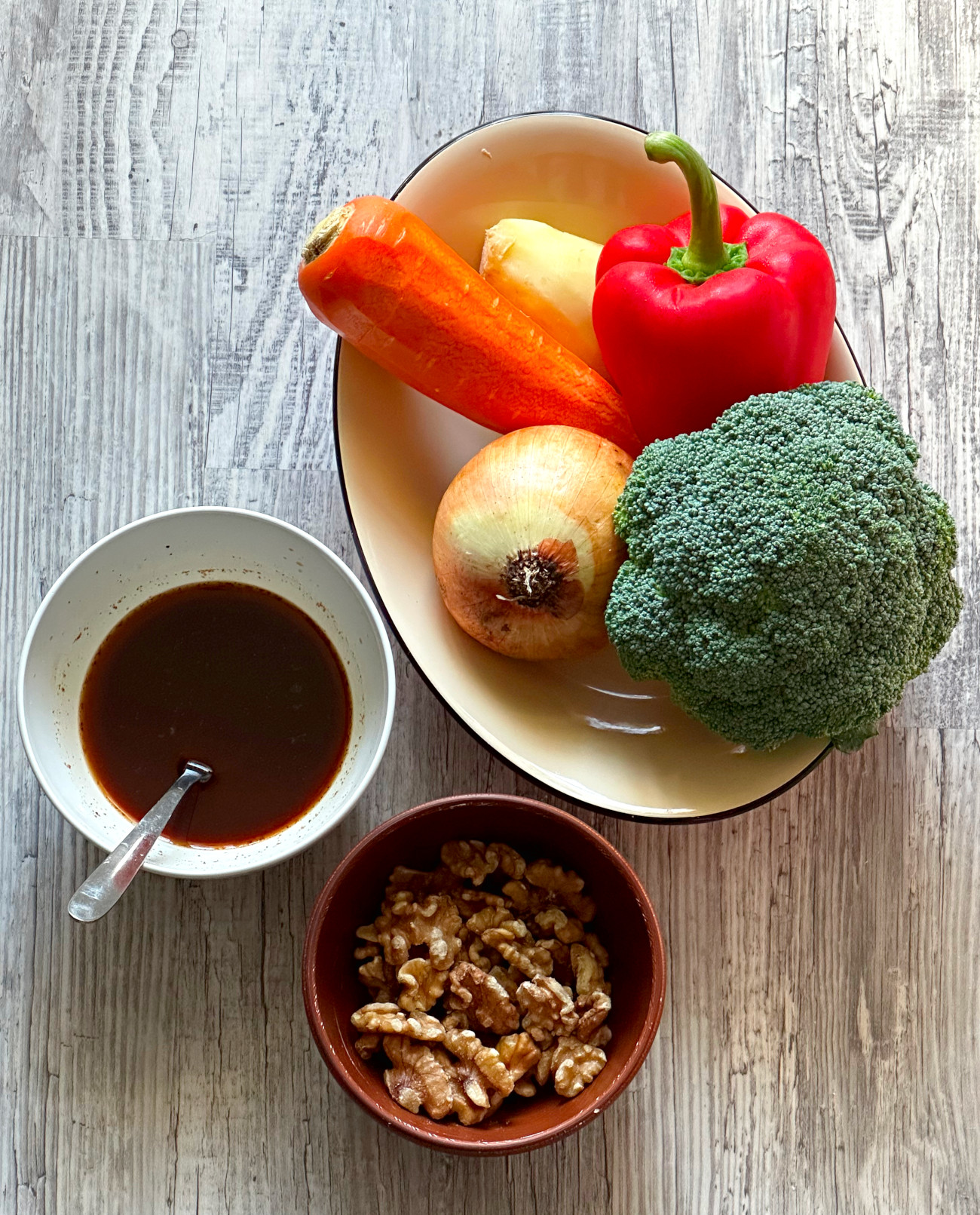 While you may not think of walnuts and Chinese American takeout, you might want to add them to your cooking repertoire, especially when you want some meatless meals. Unlike almonds or cashews, walnuts have a little more (but just enough) fat and fiber to make you feel satisfied. Their earthy flavor lends itself to savory dishes like meatless meals. This Walnut Broccoli Stir Fry acts as a side dish for four people, but you can easily make this a meatless main dish for two (or double the recipe if you need four full-sized portions).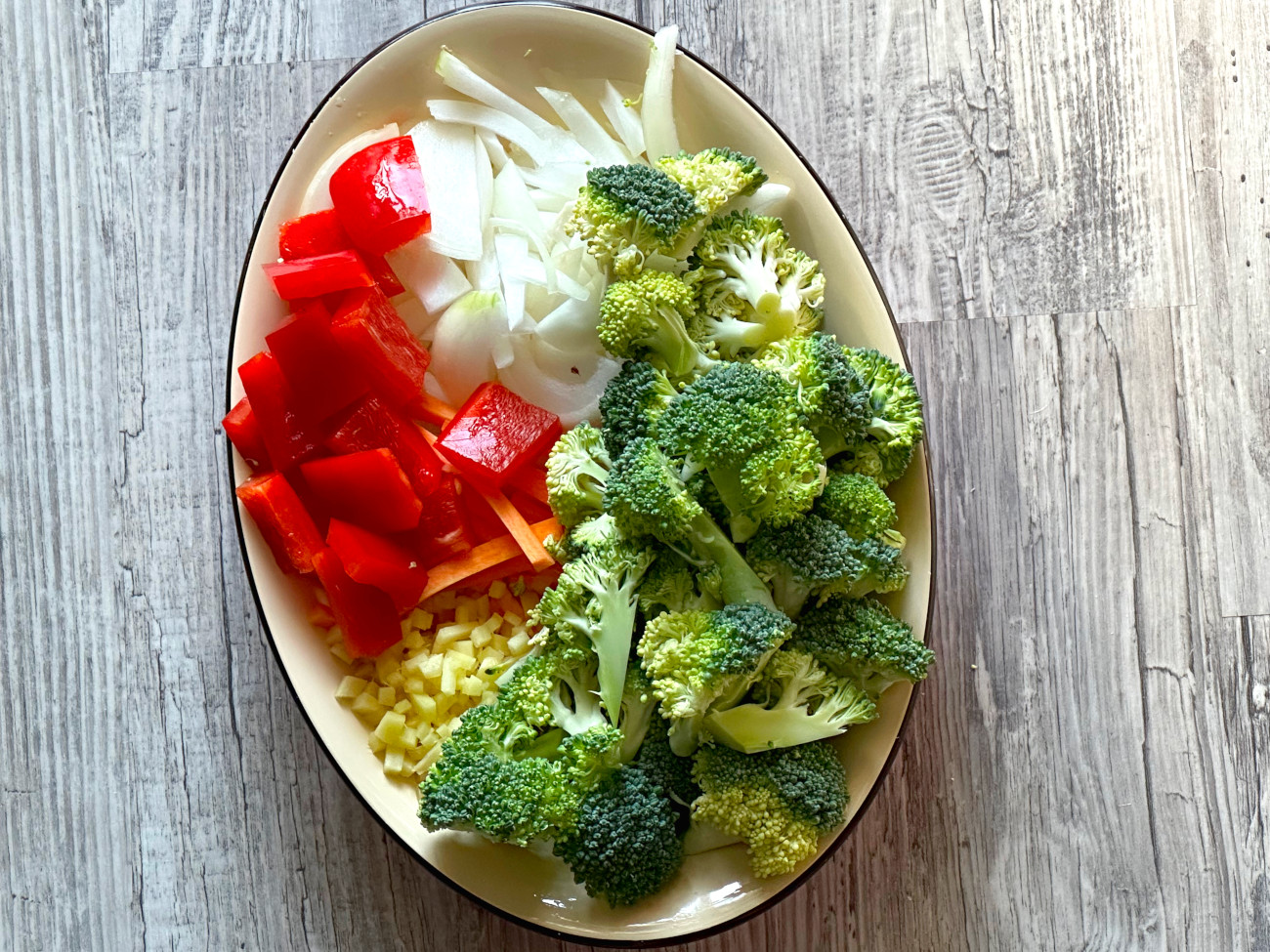 The magic of this dish comes from the slurry. Start by whisking soy sauce, mirin, and rice wine in a small bowl. Once fully combined, you'll add in a bit of cayenne pepper and a few teaspoons of cornstarch. This cornstarch is the crucial binding element for the sauce. It'll both thicken it and give it a nice sheen.
Prepping your veggies is the second step. Cutting the vegetables into small, even sizes makes for fast cooking.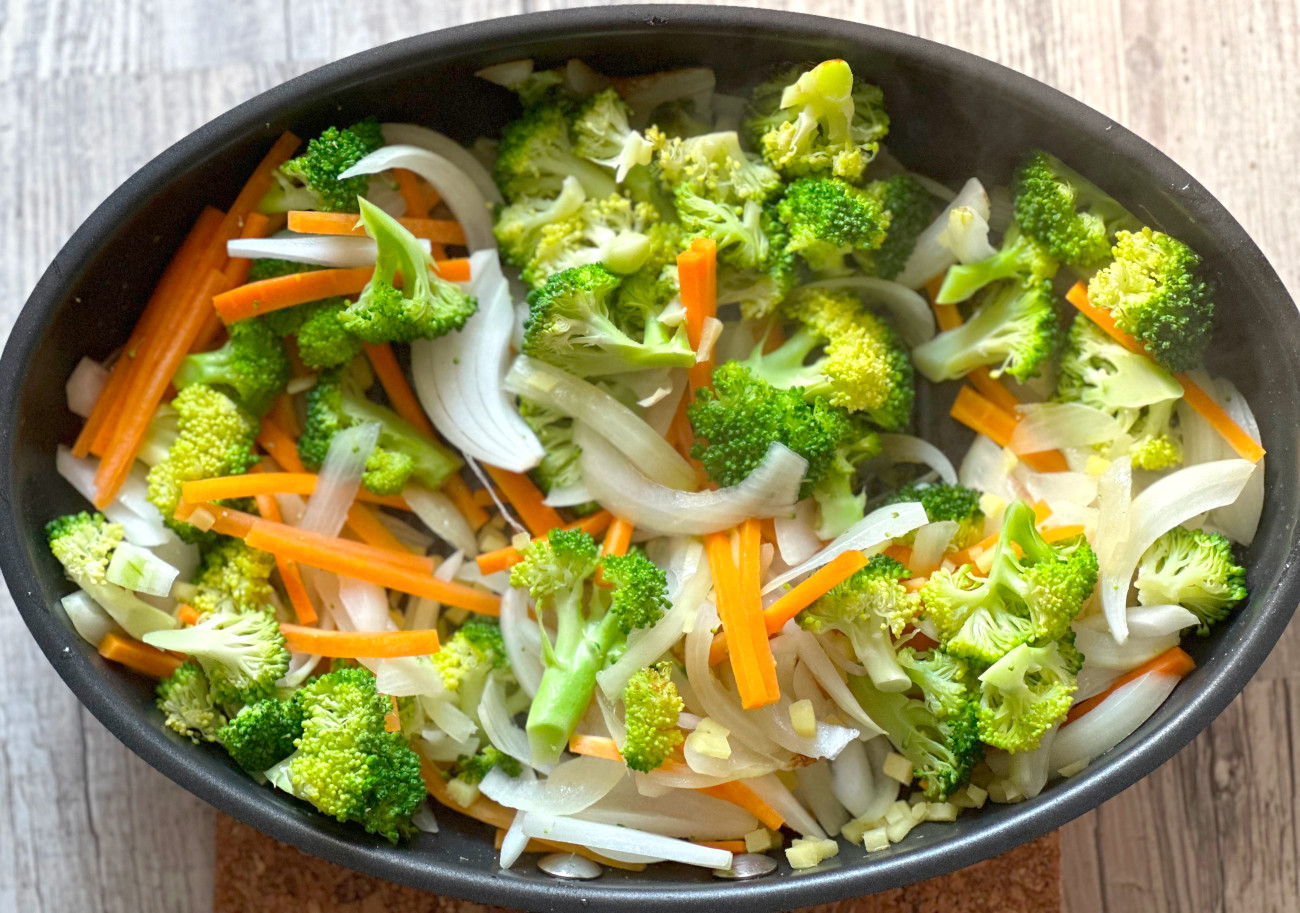 Next, get to cooking the vegetables. While walnuts and broccoli are the main stars, there are a bunch of other side characters that add flavor and bulk to this dish. Onions, carrots, and red bell pepper support the walnuts and broccoli in this stir fry. Ingredients, like ginger and garlic, also hop into the dish, creating a great backbone of flavor.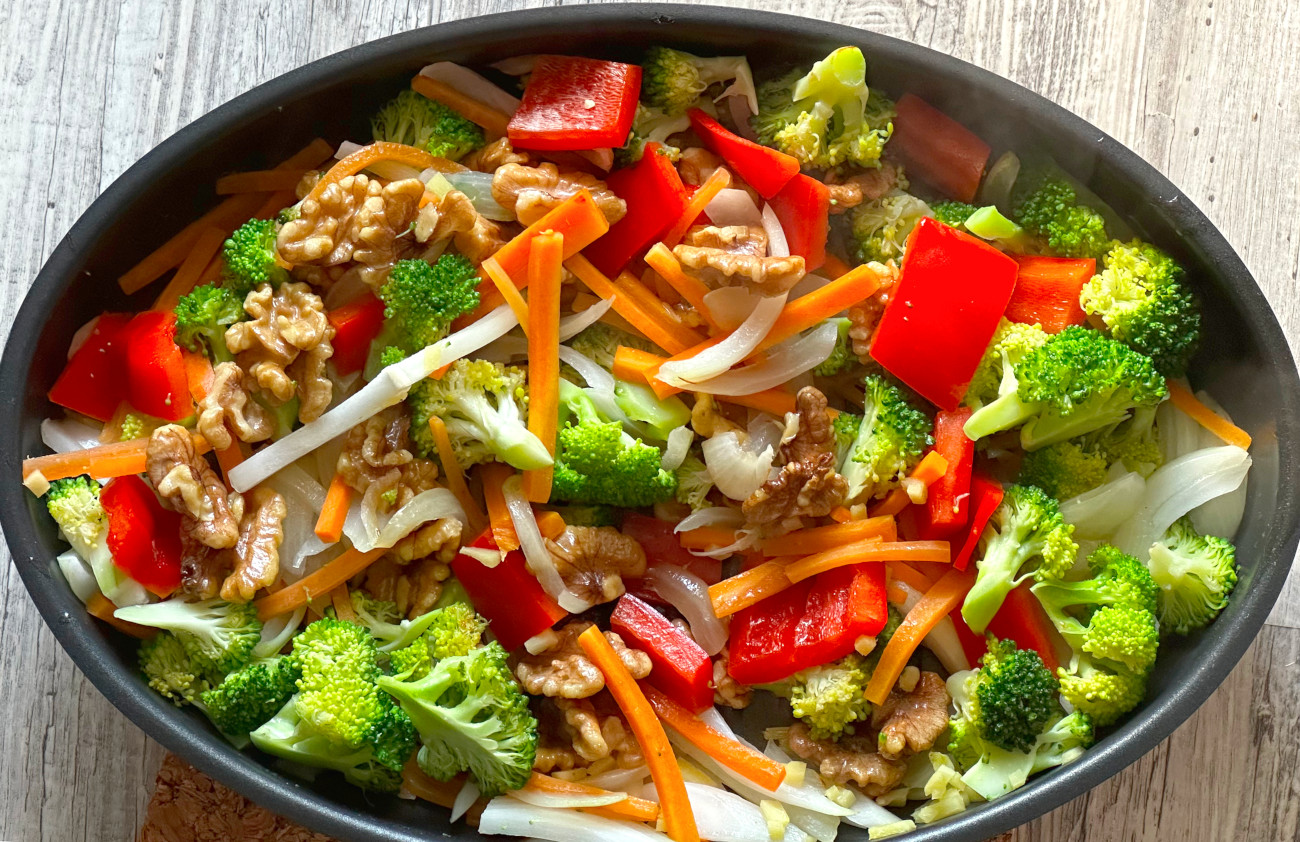 Toast the walnuts in the pan with a bit of sesame oil. Once you start to smell the oil and the walnuts, remove them from the pan. Into the same pan, add in the remaining oil and sauté the vegetables with a bit of chicken stock. This will soften the vegetables without making them mushy.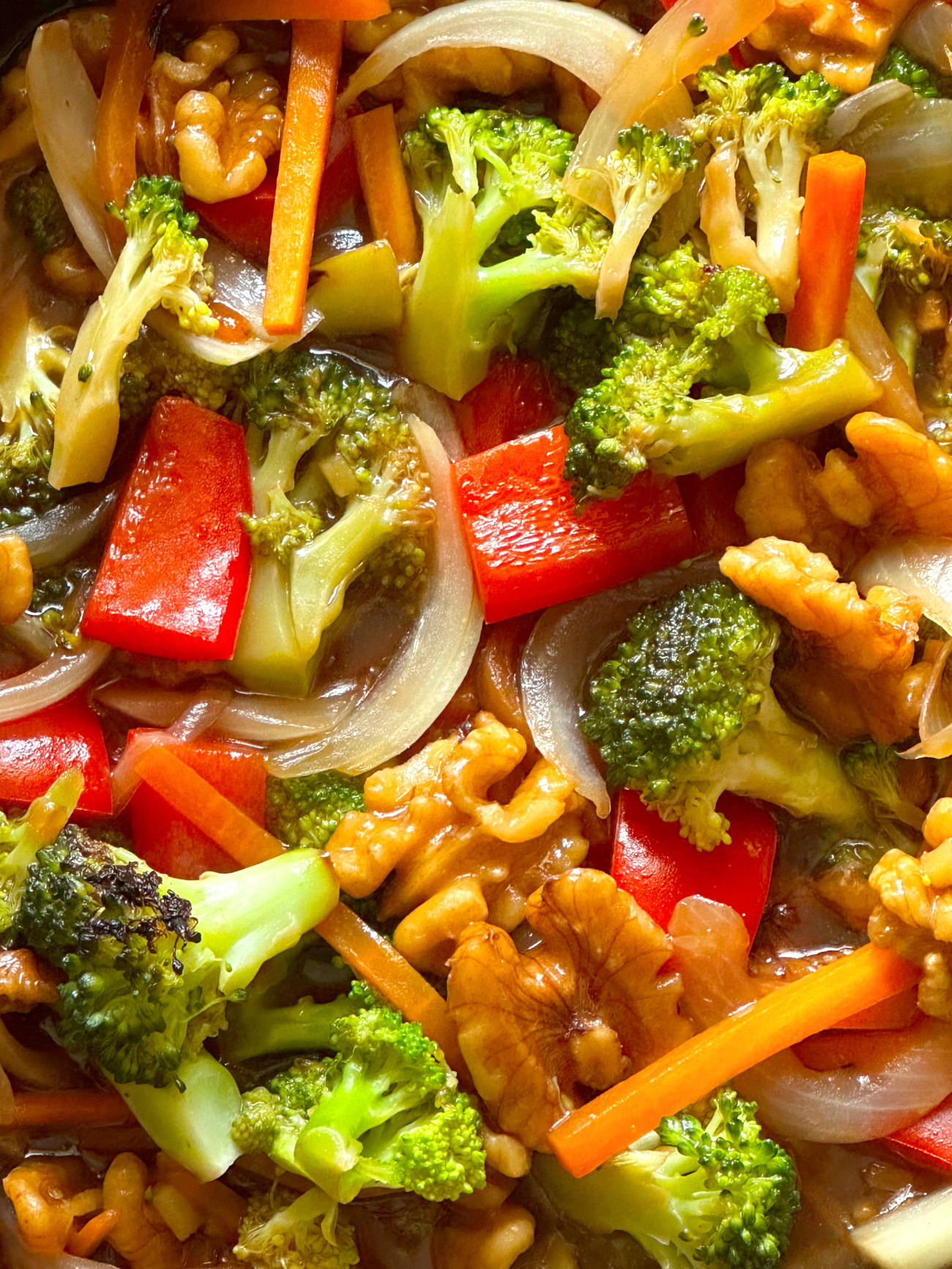 When you start to see the broccoli getting green, stir in the garlic and red peppers. Adding these two ingredients later prevents them from overcooking and getting an off-taste. After a few minutes, add in your slurry, stirring to make sure everything gets cooked by the sauce.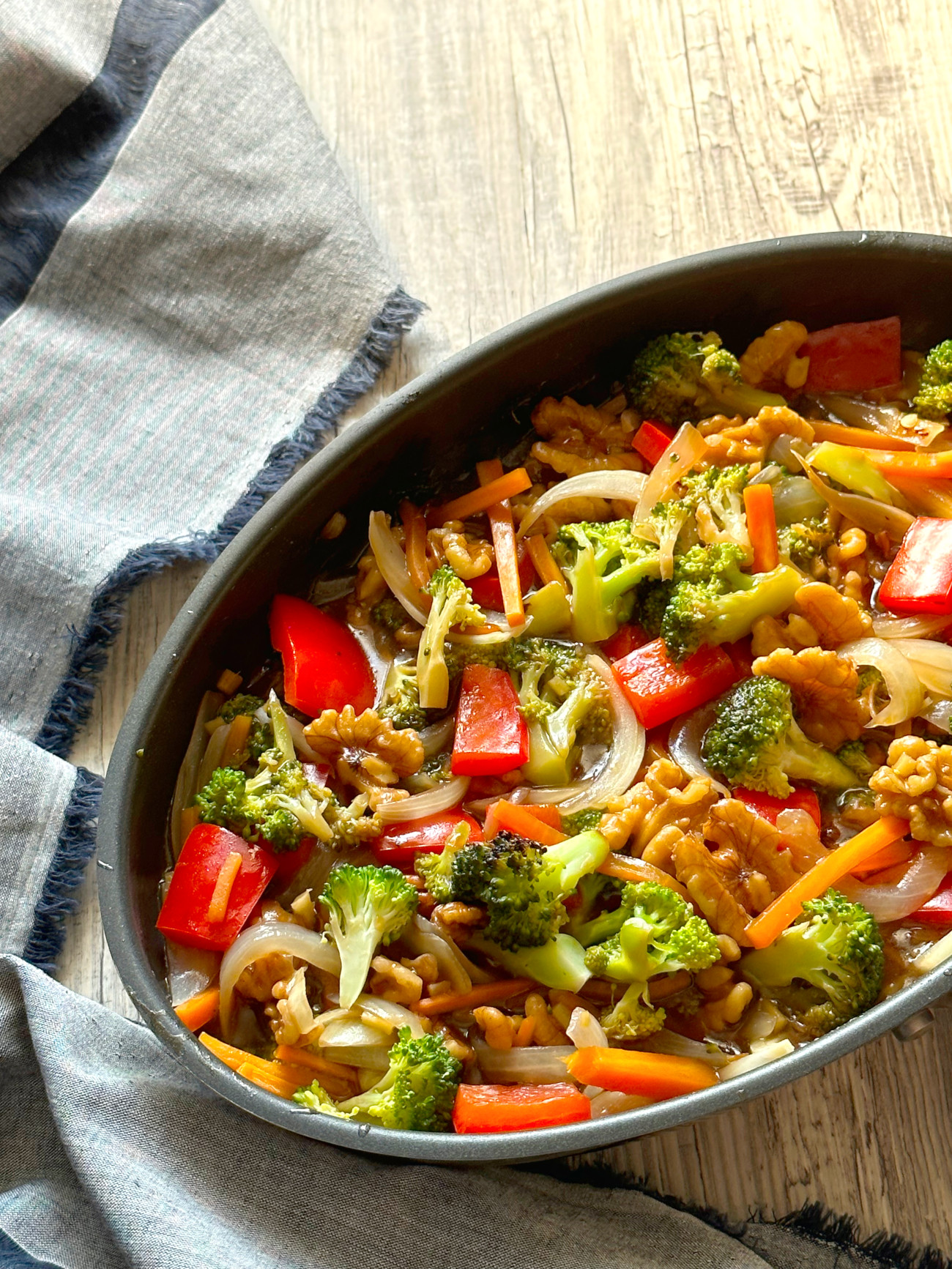 It'll only take a few minutes for the sauce to come together and once it does, you'll want to serve the dish immediately. Here, I served it over a bed of steamed rice, but it'd taste just as good over noodles as well.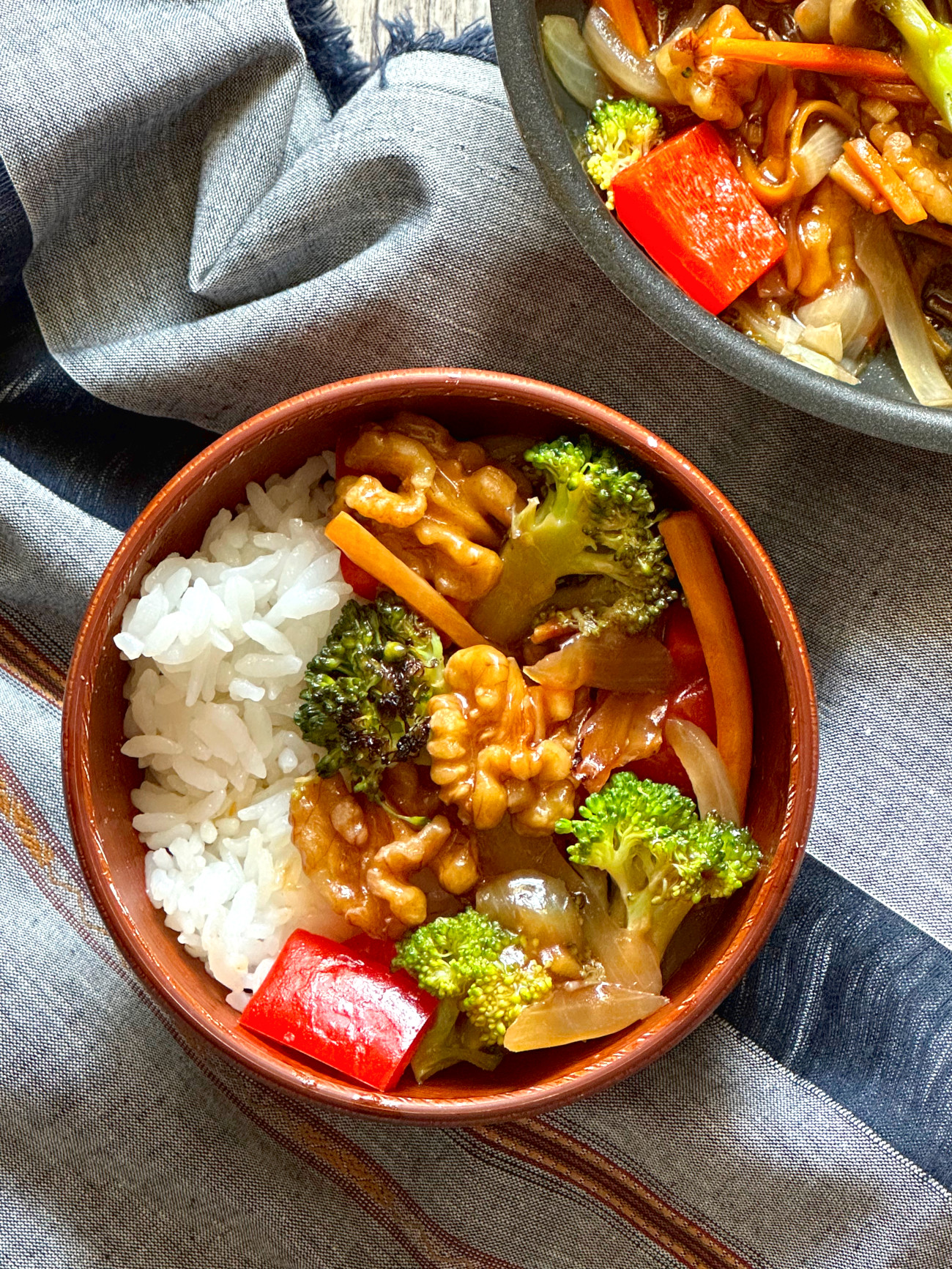 If you're not into meatless meals, you can easily add some seared chicken or thin slices of beef to the mix. Either way, you'll be satisfied with this Walnut Broccoli Stir Fry. Unlike takeout, you can control the amount of sodium and sugar that go in making it a healthier option that will still squash your takeout cravings! The variety of textures and flavors from the vegetables, the added crunch of the walnuts, and the sweet, salty, and spicy sauce make this a satisfying side or main dish.
Walnut Broccoli Stir Fry
Serves 4
15m prep time
17m cook time
Ingredients
2 tablespoons soy sauce
1 tablespoon mirin
2 teaspoons rice wine vinegar
2 teaspoons cornstarch
1/4 teaspoon cayenne pepper
2 tablespoons sesame oil, divided
1 cup halved walnuts
1 small onion, cut into 1-inch strips
1 tablespoon ginger, minced
1 small carrot, thinly sliced
1 small head broccoli, cut into small florets
1/2 cup chicken broth
1 red bell pepper, cut into 1-inch pieces
1 teaspoon garlic, minced
Kosher salt and freshly ground black pepper to taste
Instant rice, cooked according to package directions
Preparation
In a bowl whisk together chicken broth, soy sauce, mirin, vinegar, cornstarch, and cayenne pepper. Season for salt and pepper and set aside.
In a large skillet, heat 1 tablespoon sesame oil and toast walnuts until fragrant, about 4 to 5 minutes, remove from skillet.
Add remaining sesame oil to skillet and on medium heat, sauté onions, ginger, carrots, and broccoli.
Add in chicken stock and stir frequently (about 8 to 10 minutes) and once the broccoli turns a bright green color, add in the garlic and bell pepper, cooking for an additional 2 minutes.
Slowly pour in the sauce and cook stirring constantly until the sauce is thickened, about 3 to 4 minutes.
Serve over prepared rice and enjoy.
Recipe adapted from Delish
SKM: below-content placeholder
Whizzco for 12T