As a society, it is time that we progressed past the idea that salads have to be bland or boring. Any salad has the potential to be delicious, it just needs to have the proper ingredients. Choose wisely and you'll be enjoying a healthy meal that also tastes great. All you need to do is customize the salad to your liking, which includes choosing a delicious (and healthy) dressing, of course.
Luckily, TikTok user @moresaltplease is a vegan blogger who shared her simple 2-ingredient salad dressing recipe and the results are creamy, nutritious, and incredibly easy to replicate. She's got nearly 120,000 subscribers on YouTube and it's easy to see why. With videos like this one, she is making our dinnertime preparations even simpler than ever before.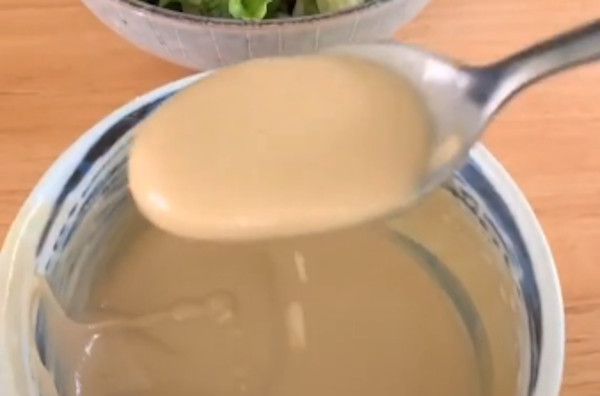 All you need for her salad dressing? Hummus and a smidge of pickle juice. Many of us have access to these ingredients without even having to leave the house. Her method can be followed by anyone, as it doesn't require any fancy or skills or kitchen tools. All you have to do is grab some plain hummus, add it to a bowl, and mix it together with a spoonful of pickle juice.
Once it's mixed, it should resemble a creamy salad dressing.
The dressing she created has a perfect consistency. We can tell that her salads were filling and thick. The plain hummus offers the perfect muted flavoring and once the pickle brine is added, the dressing will have the proper amount of tangy. The best part of all is that you can customize as needed with all sorts of different types of hummus. Garlic is a great choice, as is roasted red pepper.
If you're not a big fan of oil-based dressings, this is a wonderful alternative. The salad dressing is very easy to make, too.
SKM: below-content placeholder
Whizzco for 12T