Our turkey and cabbage lasagna is just about as good as it gets!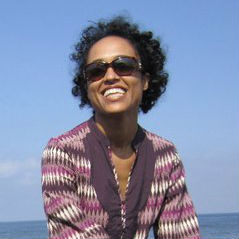 Sarah Cool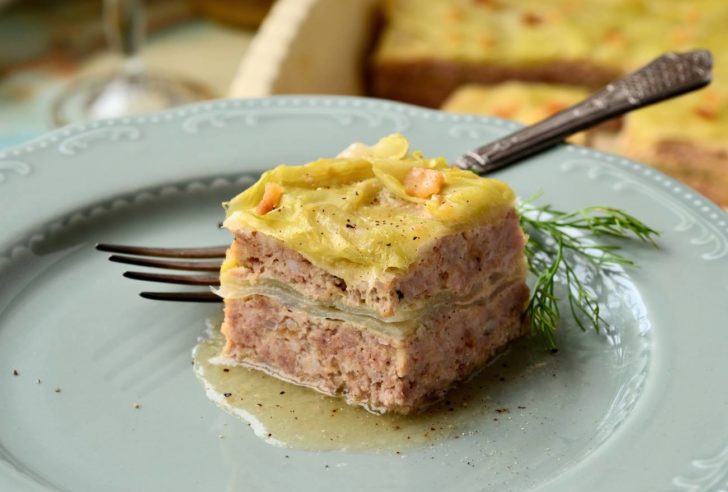 We've taken a classic twist on a classic dish, turning one of our favorite comfort foods into another favorite comfort food. Our turkey stuffed cabbage rolls get a baked lasagna twist and the result is pure genius. If you've not tried cabbage rolls in lasagna form, then you must give our version a go. There's nothing particularly different other than the layering process, which takes no time at all and is really much less intensive than folding up individual cabbage rolls! Comfort food is always going to be a hit, but fun twists on comfort food classics are a great way to breathe new life into our usual routine.
Cabbage rolls are an old-world dish and many families have their own beloved recipes for preparation. We've decided to skip the tomato element in ours so we can really emphasize the turkey and cabbage. And who can say no to a meal that is baked with bacon sprinkled over the top?! This really is the crowning glory of the dish, and a great way to add delicious flavor. Flavor in a dish like this is really important, otherwise, you're left with a meal that is rather bland and unappetizing. We make sure to add flavor wherever possible, that's where the sautéed onions make a big difference, as well as the herbs and of course the bacon.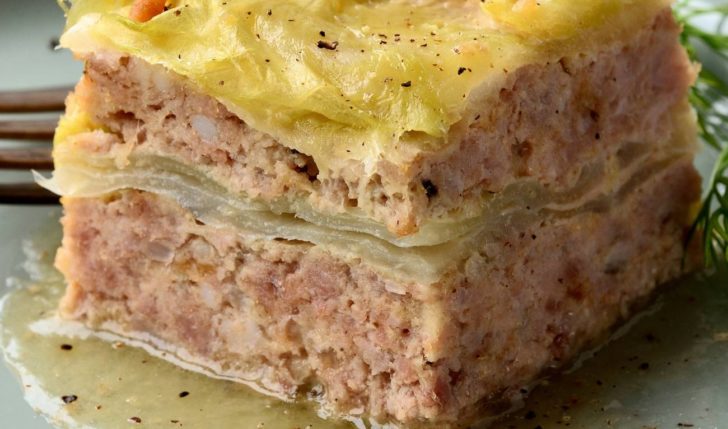 As this bakes, the whole kitchen will be filled with an amazing aroma, making bellies growl as everyone eagerly awaits dinnertime. But before you can dig in, a few minutes of rest time post-baking are essential to the success of this dish. We like to serve this as we would our lasagna, and when everything is too hot it all falls apart so a few minutes of rest time will help everything set up nicely and keep the turkey nice and juicy. Our turkey and cabbage lasagna is just about as good as it gets!
Turkey and Cabbage Lasagna
Serves 6
30 minutes active; 1 hour 30 minutes inactive
Ingredients
2 pounds lean ground turkey
1 head green cabbage
2 cups rice, cooked
1 small yellow onion, minced
½ cup seasoned bread crumbs
4 cloves garlic, minced
2 eggs
2 teaspoons kosher salt
1 teaspoon black pepper
1 tablespoon olive oil
4 slices bacon, diced
Preparation
Fill a large stock pot with water and bring to a boil.
Cut core out of cabbage head and place directly into boiling water, 3-5 minutes. Remove from water and gently separate cabbage leaves, using tongs. Set cabbage leaves to side.
Heat olive oil in a skillet on medium-high. Add onion and sauté until softened.
Mix turkey, cooked rice, bread crumbs, egg, garlic, salt, pepper in a large bowl until just combined. Do not over mix. Add sautéed onion and fold into meat mixture.
Lightly coat a 9x9-inch casserole dish with cooking spray. Place two layers of cabbage leaves on bottom of casserole dish. Scoop ½ of turkey mixture over cabbage and spread evenly. Add two more layers of cabbage leaves over top of turkey. Add remaining turkey mixture and top again with two layers of cabbage. Tuck any overhanging leaves into dish. Top with diced bacon pieces.
Cover with aluminum foil and bake for 1 hour 30 minutes. Uncover and bake for 10-12 minutes to lightly crisp bacon pieces.
Remove from oven to rest for 10 minutes before cutting into slices to serve. Enjoy!
Recipe adapted from Art and the Kitchen.
SKM: below-content placeholder
Whizzco for 12T