By now, you've probably at least heard of TikTok. This video-based social media app has taken the world by storm, bringing us viral dances, heartwarming moments, funny bloopers, and of course, lots of life hacks! Today I'll focus on some brilliant cleaning hacks. Some of these are super clever, while others I can't believe I didn't know about before. Let's take a look at the best cleaning tips found on TikTok!
Window Cleaning Hack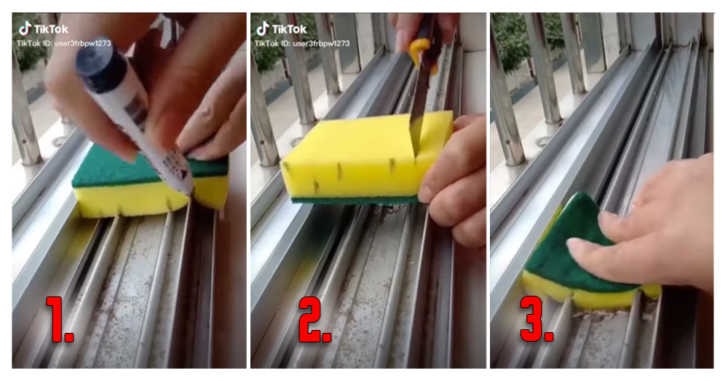 This cleaning hack absolutely blows my mind! I'm sure you've felt the pain of scrubbing the little grooves and guides of your windows. It seems almost impossible to get all of the grime out, and when you do, the dirty water lingers in corners and cracks. That's where this hack comes in handy!
Take a sponge and mark off the raised grooves where they meet the sponge. Then, cut shallow slits. Next, just dunk the sponge in some soapy water and wipe everything clean!
Laundry Hack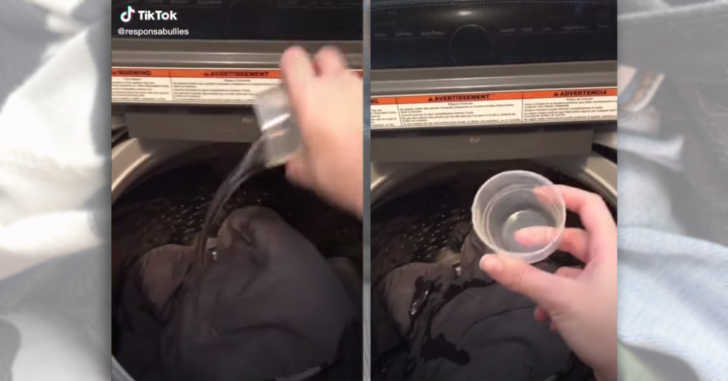 Here is another game-changing cleaning hack… one you'll probably kick yourself for not figuring out sooner. If you use liquid laundry detergent, you're all-too-familiar with the cup you pour the detergent into. While it helps portion out the soap, the cup itself ends up coated in the stuff, which usually ends up drying on the lid or becoming a sticky mess.
What if I told you there was another way? Go ahead and measure out the soap using the cup. Once you've poured the soap into the washer…toss the cup right in with it! This plastic cup can go right in the washer for an easy, mess-free way to do laundry.
Makeup Cleaning Hack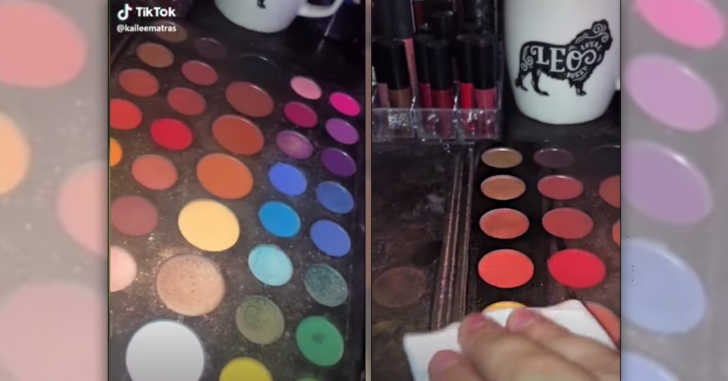 I love this! Eyeshadow trays and other makeup containers are notoriously difficult to clean, especially one like the tray pictured above. You can't just wipe it down, otherwise all the colors will blend and mush together. Instead, place a flat, round object in a tissue and slide it across. The flat object will keep the tissue from dragging through the colors while still tidying up the plastic surrounding the individual colors.
Calcium Buildup Hack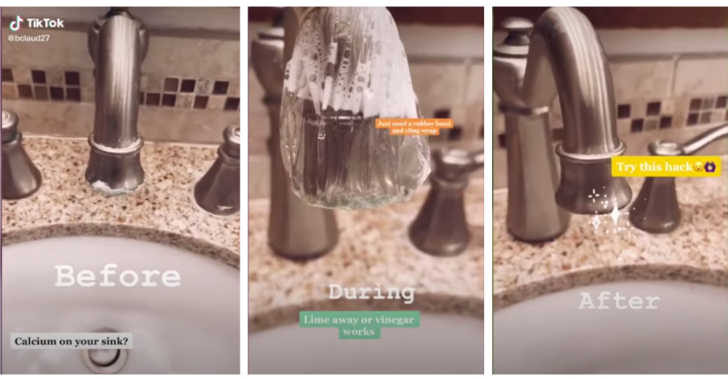 I could really use this cleaning hack! Calcium build-up is often found on showerheads and faucets and is tough to remove with elbow grease alone. Try this hack instead! Using a sponge, scrub a bit of vinegar or Limeaway onto the faucet. Then, wrap in cling wrap and secure with a rubber band. Let it sit for a while and then scrub clean.
See more cleaning hacks in the video below!
SKM: below-content placeholder
Whizzco for 12T