The Titanic will forever be one of the great tragedies of the 20th century. A steamship -touted to have been the very latest in technology and comfort- turned out to have been a death trap for so many of the ship's passengers. A lucky few were able to make it onto the ship's lifeboats, which were not nearly enough in number to hold all the people aboard.
When it came down to it, the ship was neither unsinkable nor was even it all that comfortable for anyone not traveling in first class. Case in point are the menus from the infamous ship. The Titanic now lies at the bottom of the ocean, but mementos like the ship's menus that were either unused copies (or were sent by passengers to loved ones), have survived as souvenirs of this ill-fated voyage.
There were 3 different menus printed for each class of passenger: first, second, and third. And, you better believe there are quite a few differences between each of them!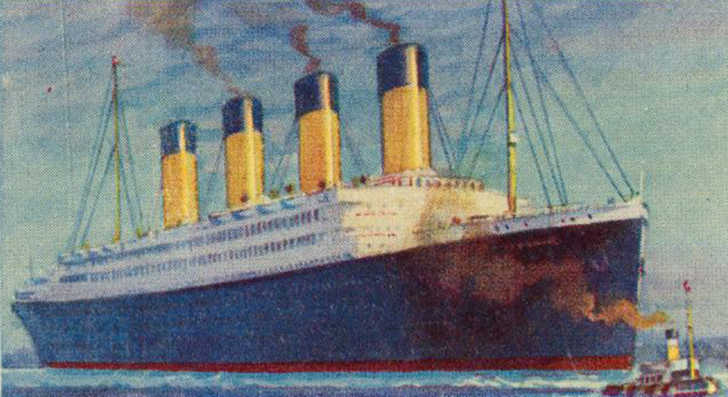 First Class Menu
Nothing but the finest would do for those in first class. These passengers had paid a much higher ticket price and as such, they expected larger rooms, better outdoor deck spaces, and a higher caliber of food to be served them. At the time only the wealthiest could have afforded a ticket so expensive and the crew was tasked with meeting their expectations in every way. By some estimations a first class suite ticket would have cost 100 times what a third class passenger paid for their place in steerage.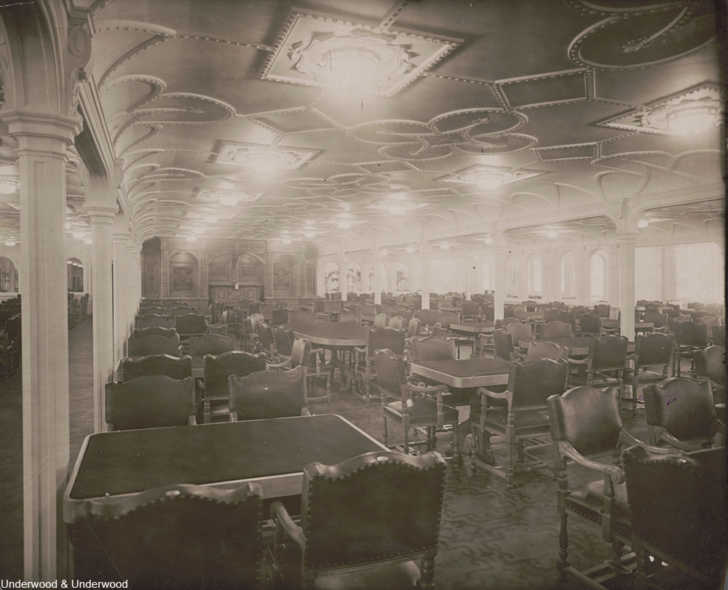 The dining rooms aboard the Titanic were different based on who they were for. The first class dining room had carved wooden chairs, smaller dining tables for intimate meals, and elegant decor that spoke of wealth and luxury.
The menus for first class were printed for each meal, so there were 3 each day. The plans included a buffet as well grill items and an offering of cheeses.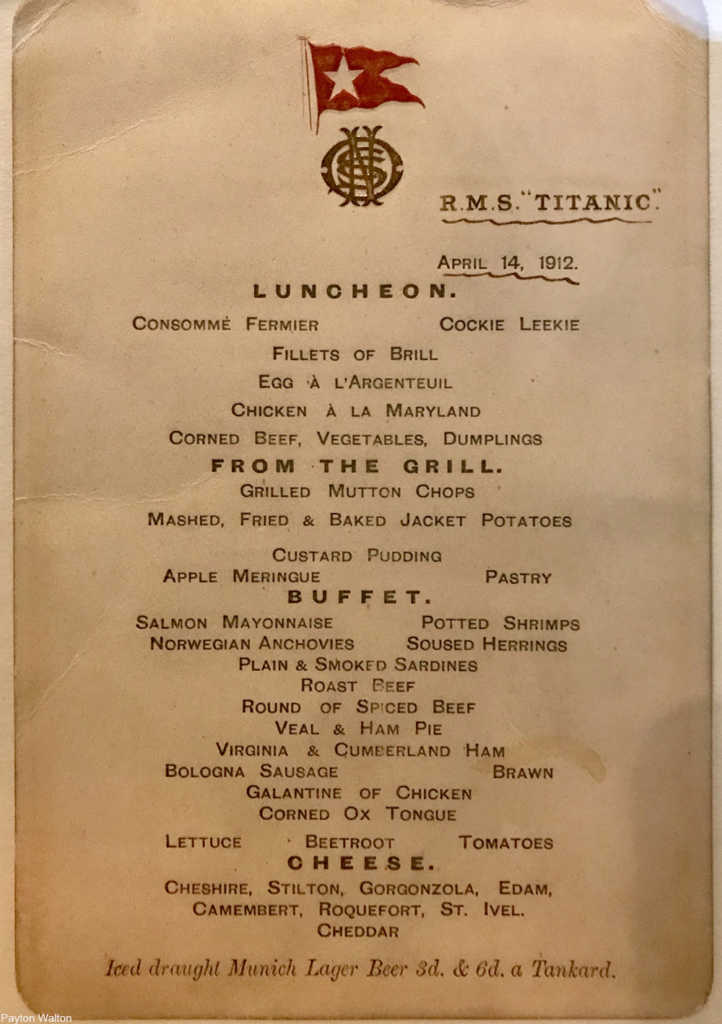 Above is a first class lunch menu from April 14th, 1912, one of the last meals served in first class aboard the ship. Among the menu items for this privileged group were a clear consommé, cockie leekie (a traditional Scottish leek and cock's comb soup), fish fillets, chicken á la Maryland (which is a fancy name for fried chicken), corned beef, dumplings, and a variety of grilled meat items. For dessert there was custard pudding, apple meringue, or pastry.
If that wasn't enough, there was also a buffet filled with potted shrimp, salmon mayonnaise, Norwegian anchovies, smoked herring and sardines, roast beef, veal and ham pie, galantine of chicken, and ox tongue among other delights.
But, we're not done yet because there was also a cheese course with the choice of Cheshire, stilton, gorgonzola, edam, camembert, roquefort, St. Ivel, or good old cheddar.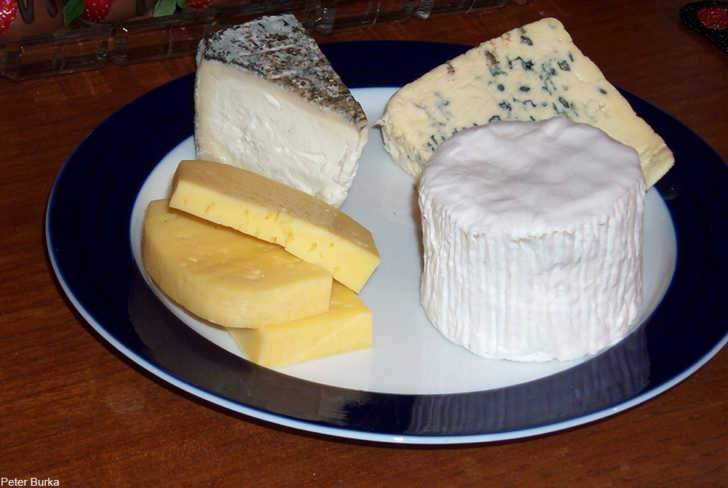 And, if all that cheese made you thirsty, frosty cold beer was available as well, served by the tankard for an extra price of sixpence or threepence depending on the origin.
Second Class Menu
The second class dining room was quite serviceable, but had long tables which were shared more in a cafeteria style.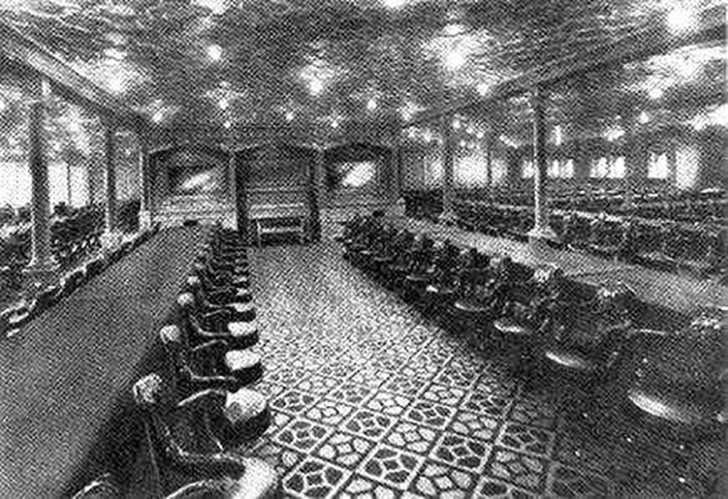 While the digs may have been different, the menu still had quite a lot of choices to offer the second class traveler. This was the mid-grade ticket price range, and standards erred on the side of quality when compared to third class (we'll get to that in a minute).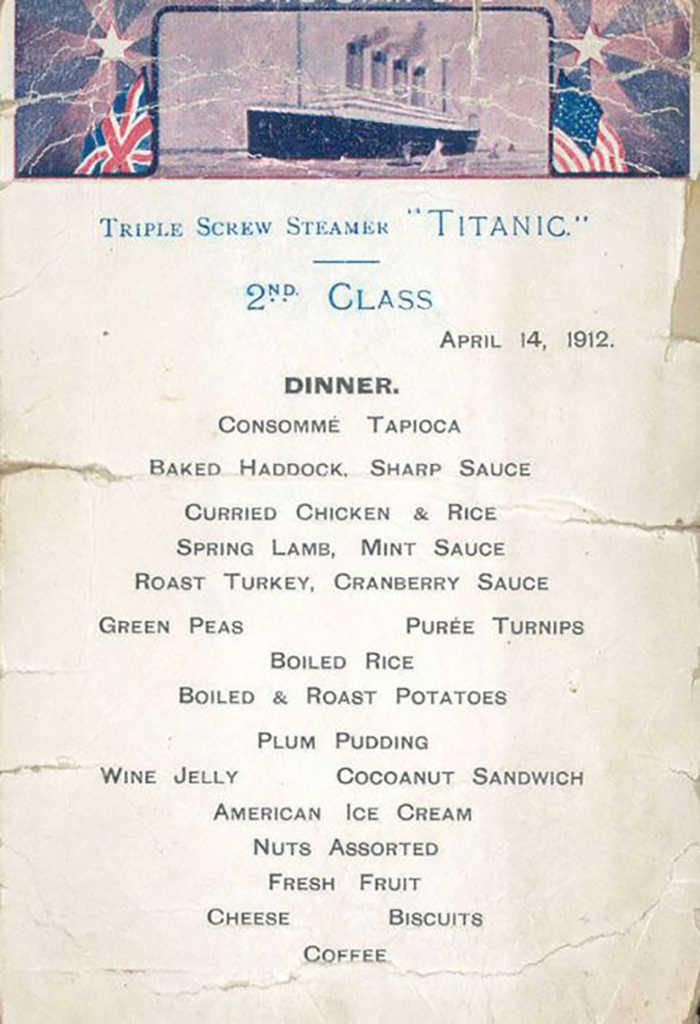 For the would-be dinner in second class on April 14th, the menu offered consommé with tapioca, baked haddock in a "sharp" sauce, curried chicken with rice, roast turkey with cranberry sauce, green peas, puréed turnips, rice, and both boiled and roast potatoes.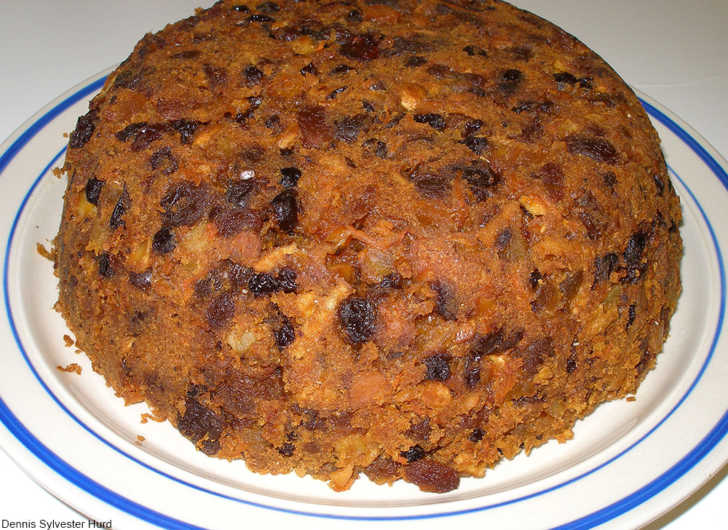 For dessert there was plum pudding, wine jelly, "cocoanut" sandwich cookies, American ice cream, assorted nuts, and fresh fruit. There was also coffee, cheese, and biscuits available. Unlike first class there was no beer listed on the menu.
Third Class (Steerage) Menu
The third class dining room was even more like a cafeteria, with many of the decorative trappings omitted. Notice the very low and functional ceilings. It was a signal to all who entered that only the bare minimum had been paid for.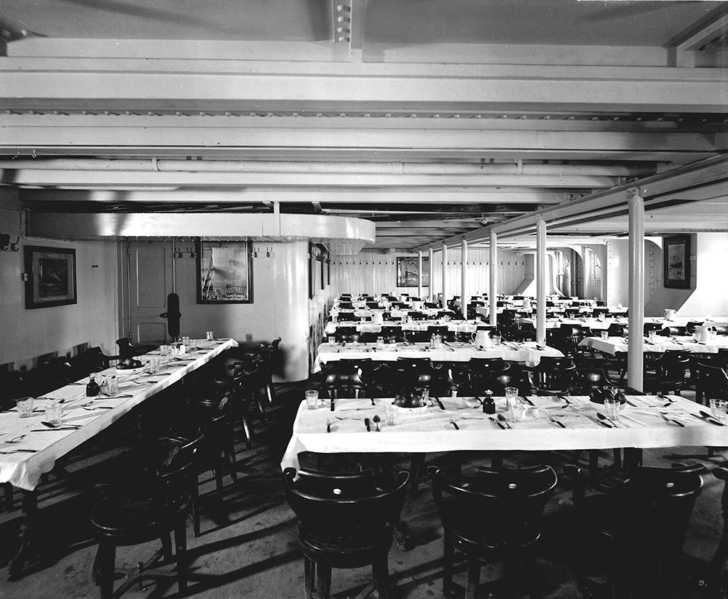 The third class menu for the 14th of April was so short that the whole day fit onto one sheet of paper: breakfast, lunch, and dinner.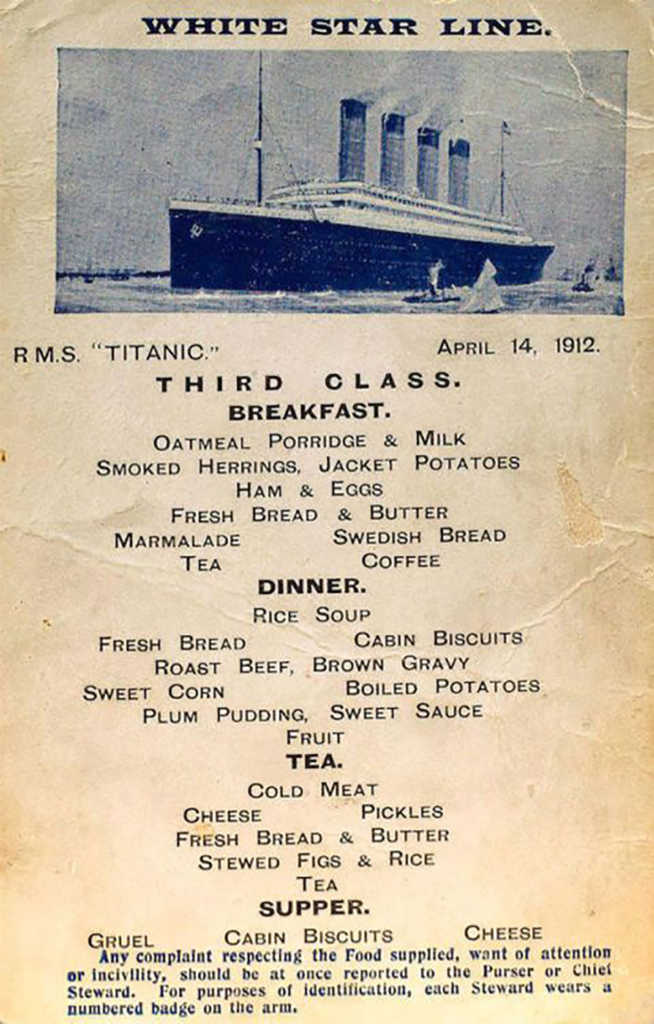 For breakfast there was oatmeal with milk, smoked herring, jacket potatoes, ham and eggs, fresh bread with butter (this was probably a free side dish in first class and not even mentioned on their menu), marmalade, and Swedish bread (like a sweet rye bread)- all served with tea or coffee.
"Lunch" is not listed, instead the working class term of "dinner" is used. This illustrious meal was to be comprised of rice soup, bread, cabin biscuits (which are glorified crackers), roast beef with gravy, sweet corn, boiled potatoes, and a choice of plum pudding or fresh fruit for dessert.
The supper meal was referred to as "tea" and contained cold meat, cheese, pickles, stewed figs with rice, and tea. The dinner meal, resembling a late snack, was called "supper" and consisted of more cabin biscuits, cheese, and gruel. It's hard to imagine gruel listed as a menu item on a world class ship, but here it is. No beer was on offer for this group.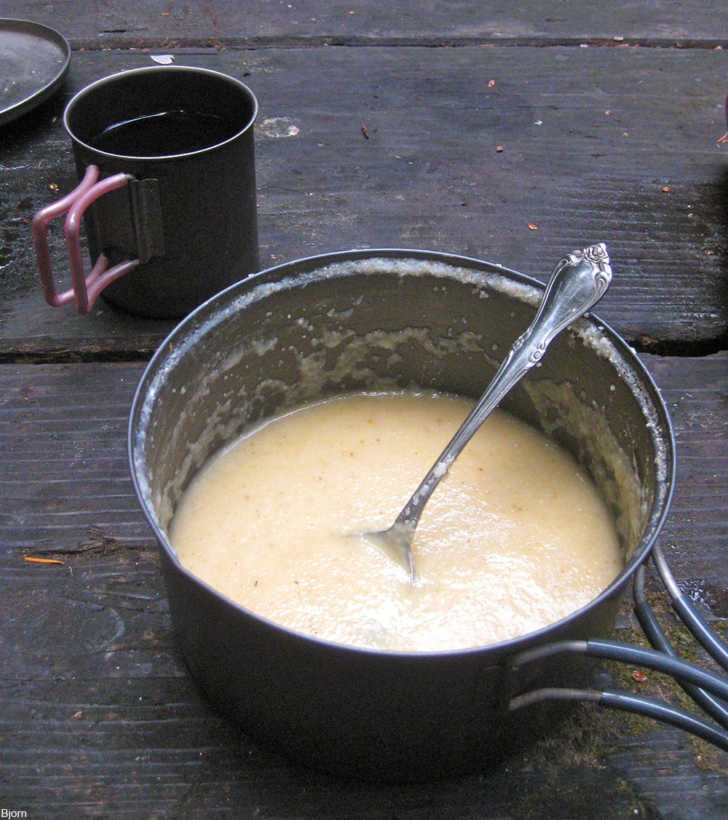 The bottom of this menu, unlike the other two menus, contains a note about those who wished to decry the poor food in third class, "Any complaint respecting the Food supplied, want of attention or incivility, should be at once reported to the Purser of chief Steward. For purposes of identification, each Steward wears a numbered badge on the arm."
SKM: below-content placeholder
Whizzco for 12T