TikTok hacks are the spice of life. We seem to come across a new one on a daily basis at this point. The latest hack that you are about to see is incredible, though. TikToker olivares.barce originally posted this garlic peeling hack, but we must warn you! You are going to need a bit of elbow grease to handle this task. Don't worry. We have the utmost faith in you.
If you have ever had to peel garlic before, you know how arduous this task can be. That's what makes this hack so crucial. Instead of wasting all of the usual time and effort, you have can your peeling done in a moment's notice. It will definitely slice a lot of time off your cooking expeditions. All it takes is a quick cut and a swift peel to have you all set up.
People have been doing duet clips with the original on TikTok to show off how awesome it is. To get started, you'll want to slice the bulb of garlic horizontally. Once the bulb has been sliced horizontally, it is time for that aforementioned elbow grease. Grab a giant knife and smash the bulb with the flat and smooth side.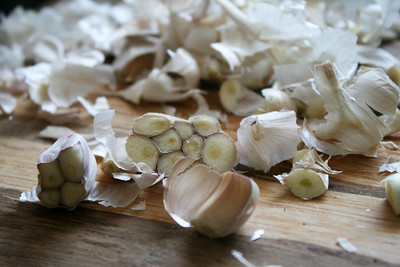 The motion needs to be as forceful as possible. Those who have handled this step properly should be able to swiftly remove the peel without any further issues. People in the comment section have pointed out that the video appears to be edited. The garlic clearly moves as soon as the knife has been lifted up. TikTok users tried the hack themselves once the editing situation was made clear.
TikToker buannldsma is one of the lucky ones who had no problems. There are some who are still not buying in because of the editing. The comments are an absolute goldmine, too. "As a chef, I'm starting to think what common knowledge I thought I had are actually hacks," wrote one person. Others confirmed that they are already utilizing this hack on a consistent basis.
As with anything that you see online, some minds are going to be blown and others won't be as easy to impress. We haven't used this hack before and we were pleasantly surprised by the clip. Maybe the clip will change your life or maybe it will serve as a refresher course.
SKM: below-content placeholder
Whizzco for 12T