TikTok is often considered a place for people to upload silly dance videos, in an attempt at going viral. While this is certainly true, TikTok has more to offer to the world than the latest "Renegade" clip or a "Toosie Slide" video. There are so many hacks to be found on TikTok, you will barely have time to go through them all. It's not an exaggeration when we say that this app will change your life.
At long last, TikTok has solved one of the biggest mysteries that has been plaguing us for some time now. McFlurry lovers always find themselves wondering why they are not able to drink out of the spoon. It would make the most sense, wouldn't it? The spoon provides a clear opening and the ice cream has a perfectly soft texture. Thanks to this clip, we now know more.
We are being given a behind-the-scenes look from a McDonald's employee and, at long last, the American people are being given the straight scoop on these spoons and why we are not able to drink out of them. The video begins by asking the question that is on everyone's minds.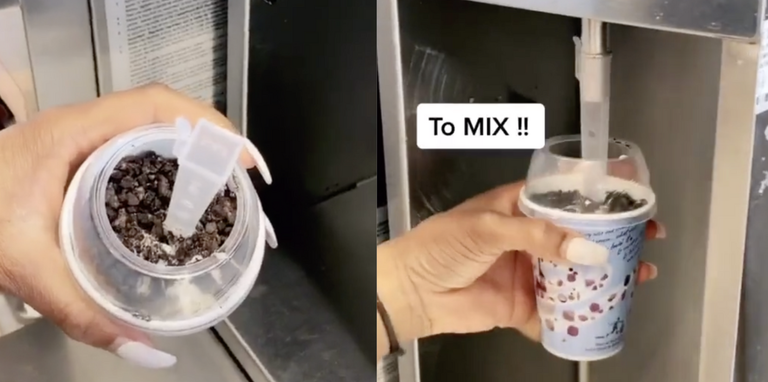 From there, the McFlurry is made. Since the Oreo bits have yet to be mixed throughout the treat, it does not look like the McFlurry that we all know and love yet. This is where the spoon is going to come into play. Instead of being used as a straw, the spoon is supposed to be used to mix in the candy or cookies that we have chosen to put on our delicious frozen treat.
Once the toppings and ice cream are in the cup, a special machine is used to mix them all together. Since we do not possess these types of machines at home, we are grateful to McDonald's for helping us out by providing this spoon.
TikTok is always filling up our brains with random facts and we are also grateful to the people who provide us with this information. Thank you so much for this hack, marzpire!
Check out the video:
SKM: below-content placeholder
Whizzco for 12T