An entire authentic restaurant-quality meal, and we'll show you every step.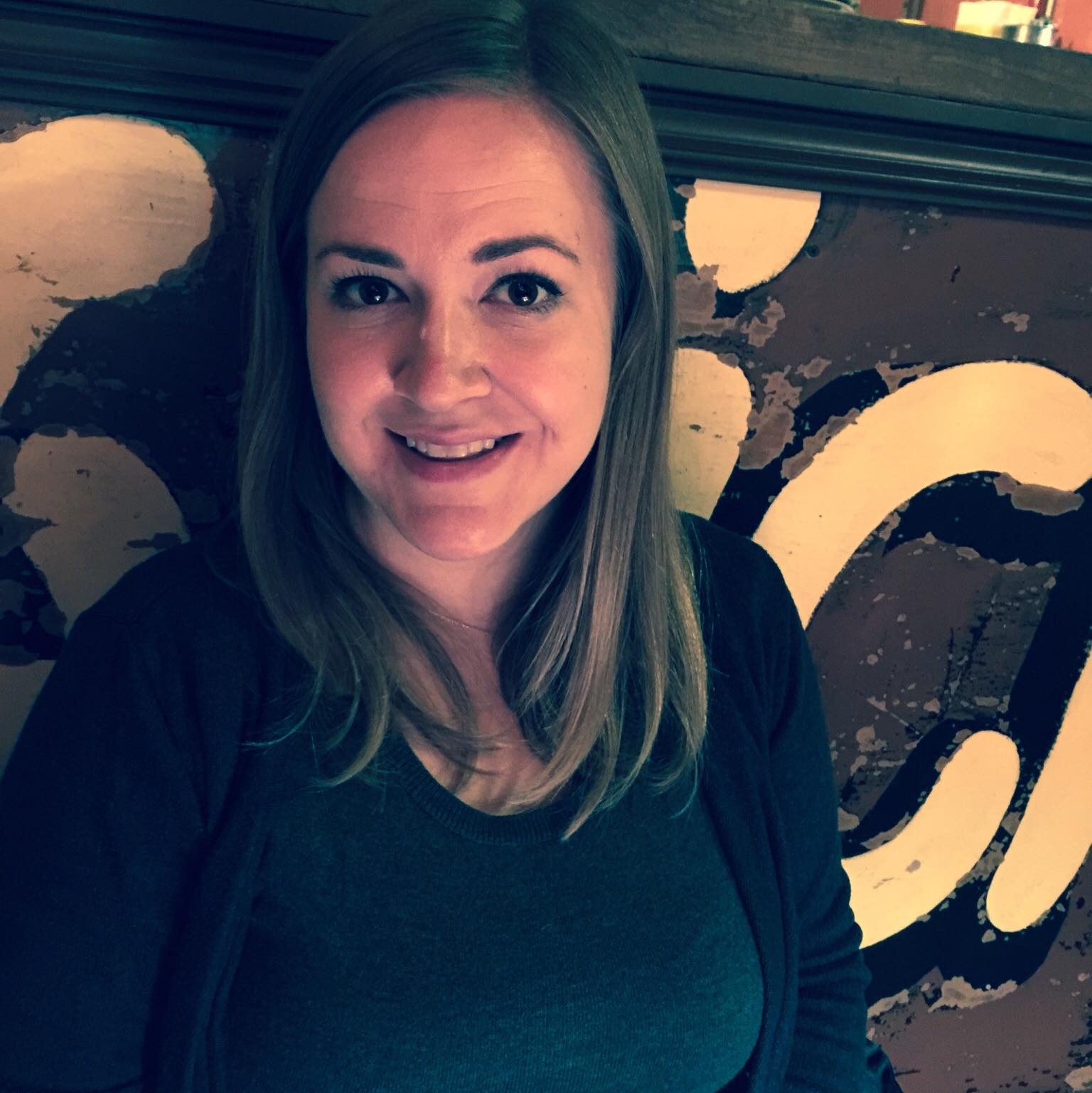 Kristy Norrell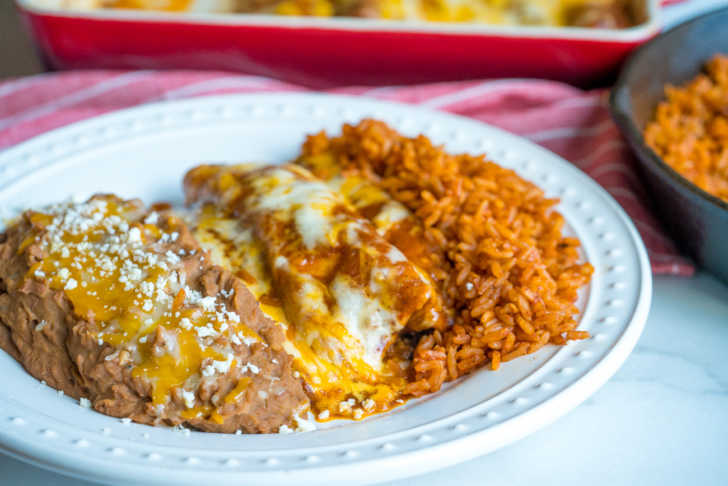 One of my all-time favorite restaurant meals is Tex-Mex Enchiladas and I'm sure I'm not alone there, but there's no reason you can't make a restaurant-quality yourself at home. It turns out that enchilada sauce is a very simple thing to make, and as we've learned time and time again, homemade flavor beats canned or jarred any day. Here, we'll show you how to make an entire authentic Tex-Mex enchilada meal from scratch – the beans, the rice… you might say it's the whole enchilada!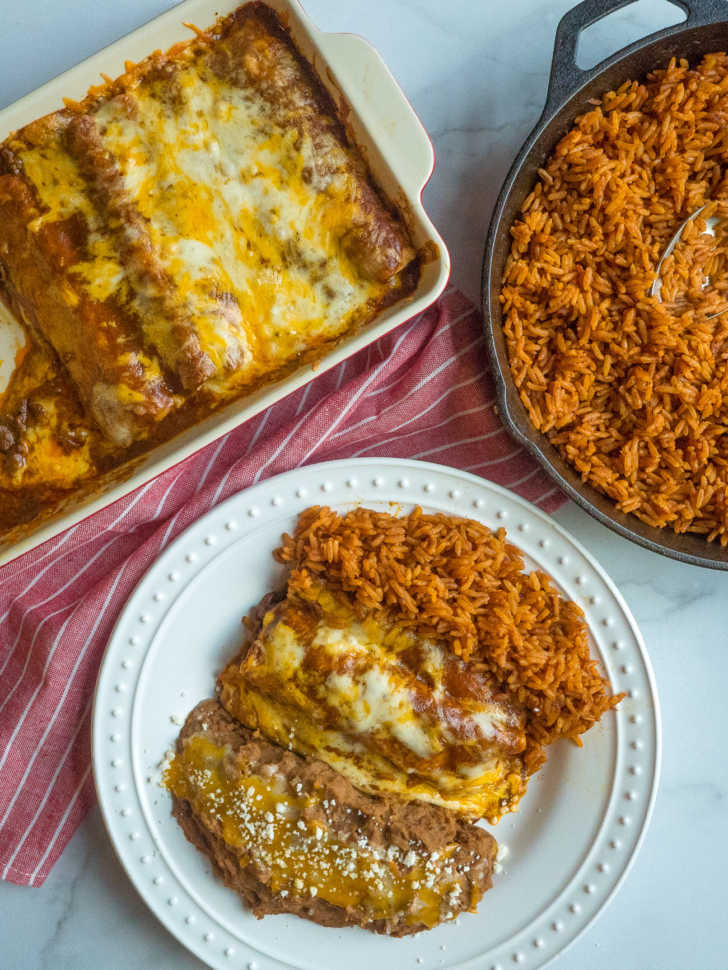 This might feel like a lot of components, but there isn't really anything complicated about any of them and the video above will show you how to do every single step. The nice thing is the rice and the beans can simmer away on their own while you assemble and bake the enchiladas – no one thing needs too much of your attention.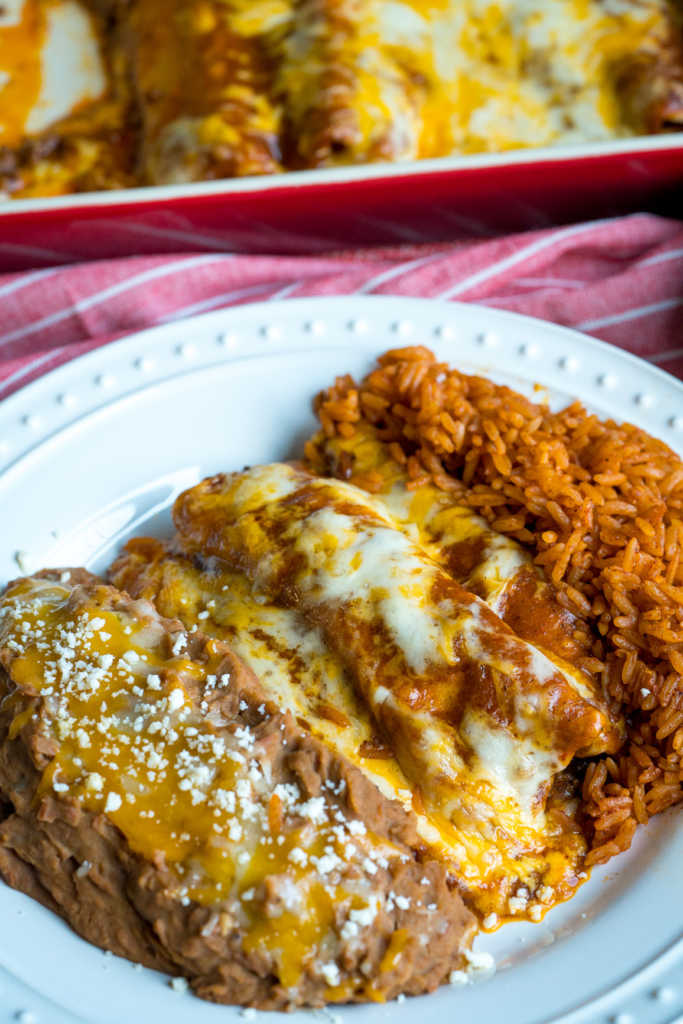 There are some keys here to getting that authentic restaurant flavor, things like sauteeing the rice and the use of tomato bouillon, but it's all easy to do. The enchilada sauce is smoky, rich, and so delicious – you're going to love it!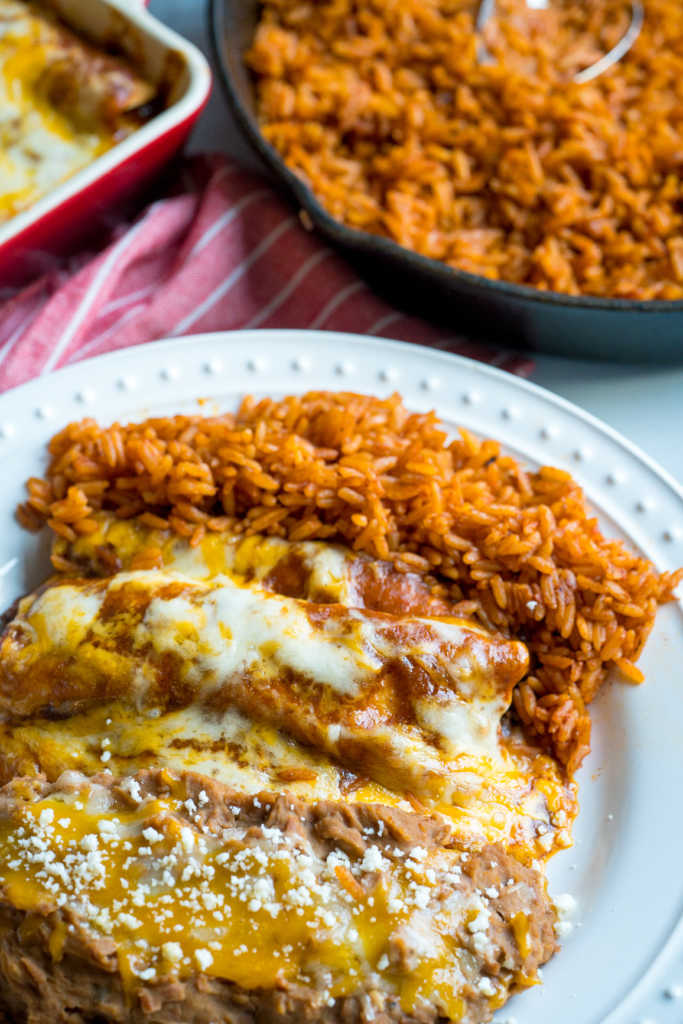 Authentic Tex-Mex Restaurant Enchilada Plate
Serves 4
5m prep time
25m cook time
For the Mexican rice:
2 tablespoons vegetable oil
1 cup dry long-grain white rice
8 oz canned tomato sauce
2 1/2 cups warm water
1 teaspoon chili powder
2 teaspoons Calde de Tomate tomato bouillon
2 cloves garlic, minced
Salt, to taste
For the refried beans:
2 tablespoons lard or canola oil
3 garlic cloves, peeled
2 (15 oz each) cans pinto beans
1 teaspoon cumin
1 teaspoon chili powder
1/2 teaspoon dried oregano
Salt, to taste
1/2 a lime, juiced (optional)
For the enchiladas:
3 tablespoons olive oil
3 tablespoons all-purpose flour
1 tablespoon chili powder
1 teaspoon ground cumin
1/2 teaspoon garlic powder
1/4 teaspoon dried oregano
1/4 teaspoon salt, or more to taste
Pinch of cinnamon
2 tablespoons tomato paste
2 cups chicken broth
1 teaspoon apple cider vinegar or distilled white vinegar
Freshly ground black pepper, to taste
1 lb lean ground beef
2 teaspoons chili powder
1 teaspoon cumin
1 teaspoon garlic powder
1 teaspoon onion powder
1/2 teaspoon smoked paprika
1/4 teaspoon salt
2 cups Monterey Jack cheese, grated
1 cup cheddar, grated
8 6-inch white corn tortillas
For topping: cotija cheese, sour cream, cilantro
For the rice:
Heat oil in a skillet over medium-high heat. Add rice and cook, stirring constantly, until rice begins to turn golden in color.
Pour in warm water followed by tomato sauce and stir. Stir in chili powder, Calde de Tomate, minced garlic, and salt. Bring to a boil. Once boiling, cover and reduce to low. Simmer until all water has been absorbed, about 20 minutes.
Remove from heat. Fluff up rice and cover. Let sit for 5-10 minutes before serving.
For the beans:
In a skillet over medium heat, heat oil or lard. Add garlic and cook until browned on both sides. Smash cloves with a fork.
Stir in beans, chili powder, cumin, and salt, and cook until beans are heated. Smash bean mixture with masher until desired texture is reached.
For the enchiladas:
Preheat oven to 350°F.
In a medium-sized pot, warm the oil over medium heat. Once hot, whisk in flour, chili powder, cumin, garlic powder, oregano, and salt. Cook until fragrant and darkened in color while whisking constantly. Add tomato paste and broth. Whisk until fully mixed and without lumps.
Raise heat to medium-high. Bring mixture to a gentle simmer, adjusting the heat as necessary. Simmer, whisking often, until sauce has thickened, about 5 to 7 minutes.
Remove from heat. Whisk in vinegar and season to taste with salt and pepper. Set aside.
Heat a large skillet over medium-high heat. Add ground beef and all seasonings. Cook until beef is browned. Add 1/2 cup of the enchilada sauce to beef and stir to combine.
Pour a thin layer of enchilada sauce into a baking dish. Fill corn tortillas with a few spoonfuls of beef, roll tightly and place seam side down in baking dish. Cover with remaining enchilada sauce. Top with Monterey Jack and cheddar and bake until golden brown and bubbly, 25 minutes.
Recipe adapted from Cookie and Kate, Yellow Bliss Road, and All Recipes.
SKM: below-content placeholder
Whizzco for 12T