Fully loaded and twice-baked is the formula for one amazing meal.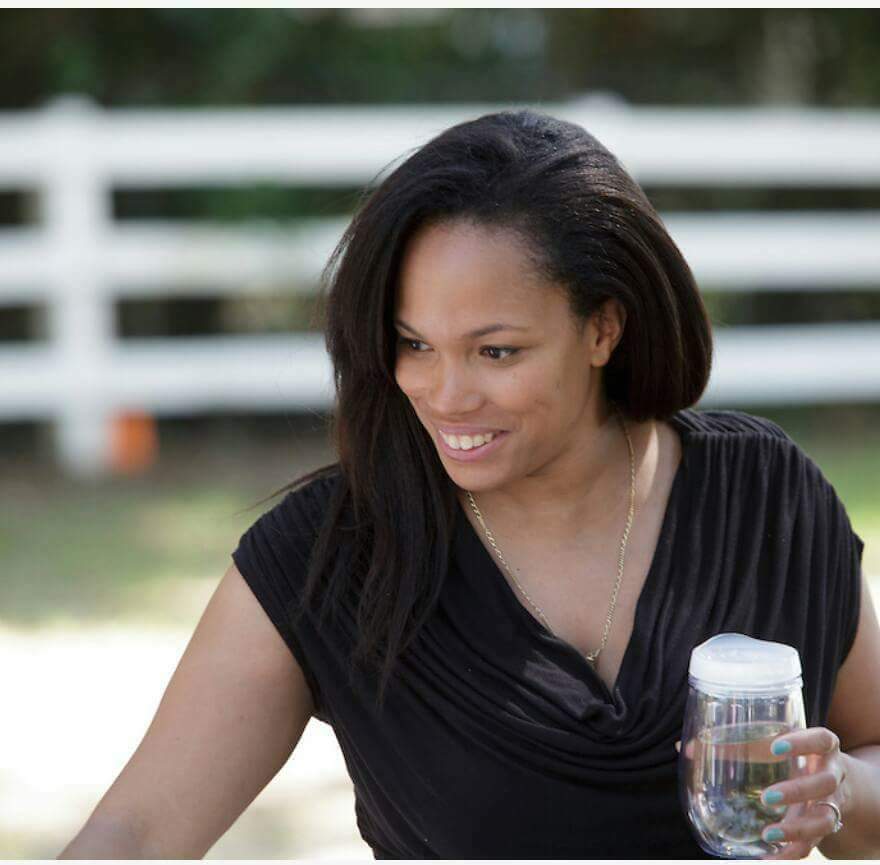 Ajza Case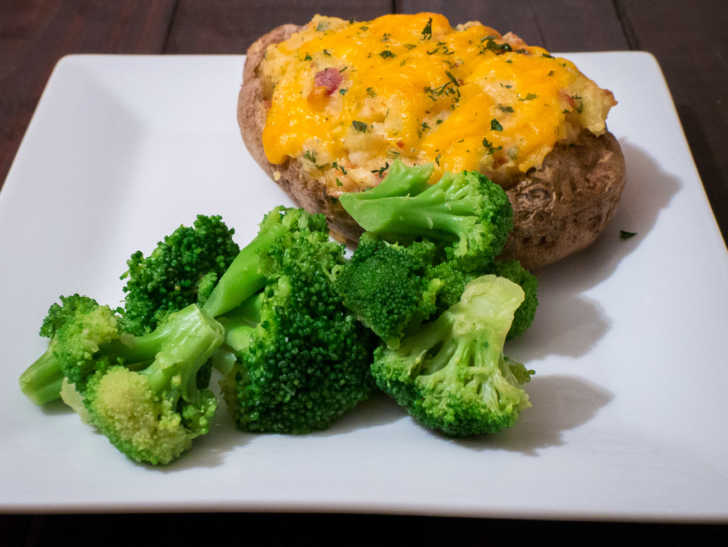 I love a classic baked potato. I love, even more, a twice-baked potato. And, if I take it one step further, I triple-love a steak-stuffed twice-baked potato. This fully-loaded, steak filled baked potato will absolutely knock your socks off. Layer upon layer of goodness, flavorful steak, creamy mashed potatoes, sharp cheddar cheese, and bacon! We all know that bacon makes all things great. So, here we are, transforming a humble potato into a grand – no, epic feast.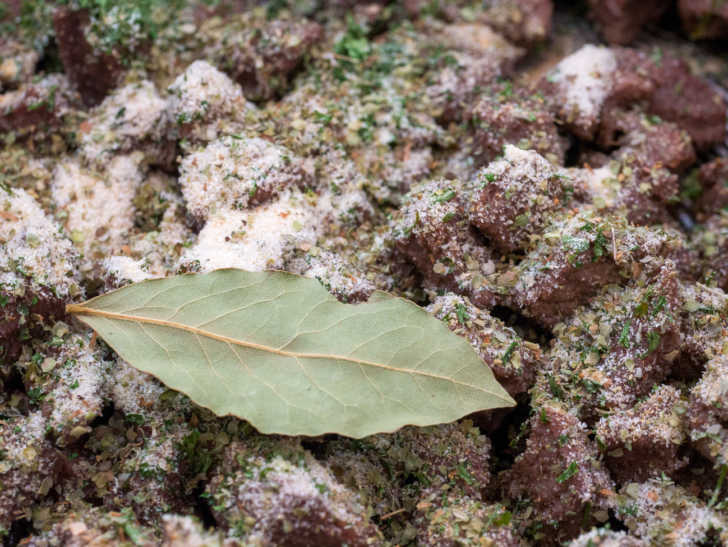 A baked potato itself is really quite simple to make, I'm just putting a little extra effort to turn the potato into a rich and hearty meal. It starts with the beef, diced into bite-sized bits that are slow-cooked until rich and flavorful. I've made sure to season the beef well, of course with salt and pepper, but I've got some nice herb and savory seasonings to make the beef mouthwatering. The beef broth will later go on to create a rich, flavorful gravy. After about an hour, I'll prep my potatoes so that the beef and the baked potatoes will finish at about the same time.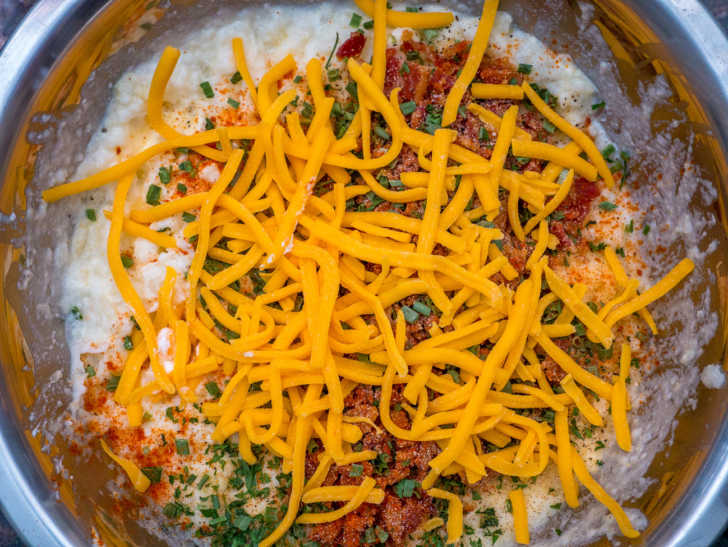 The potatoes speak for themselves, mashed with sour cream, milk, and sharp cheddar cheese, and there's no way I'm not using the holy grail of ingredients: bacon. I also like to use chives in the mashed potato mixture. The peppery bite of fresh green onion gives what is an admittedly heavy dish a little lightness.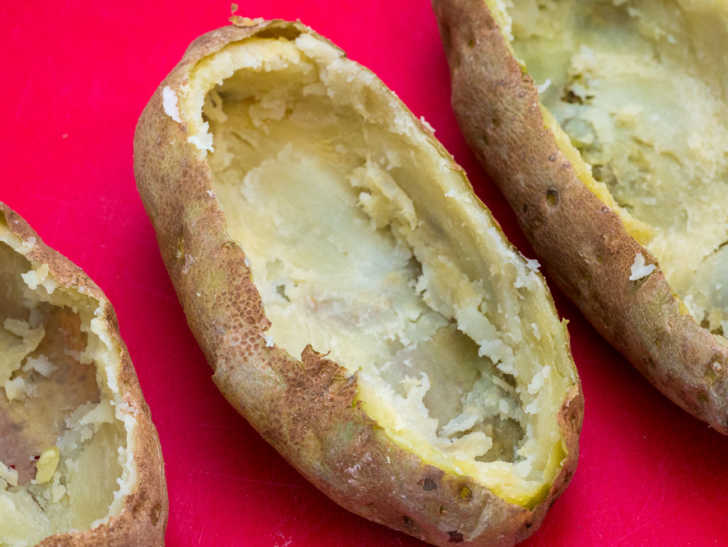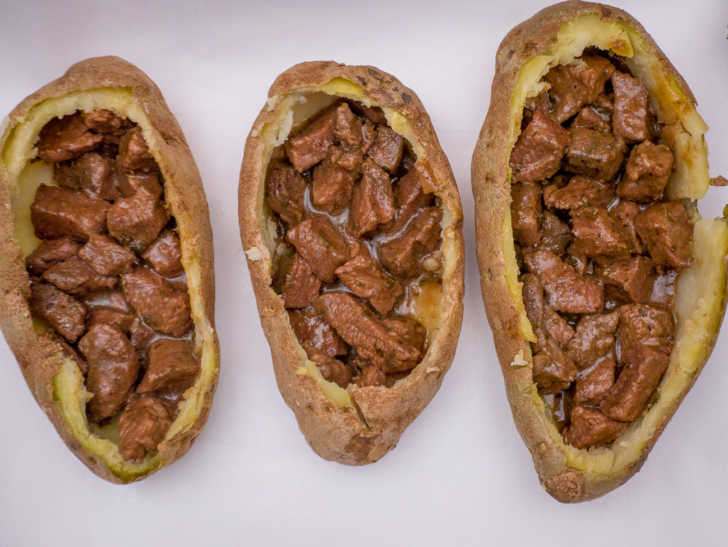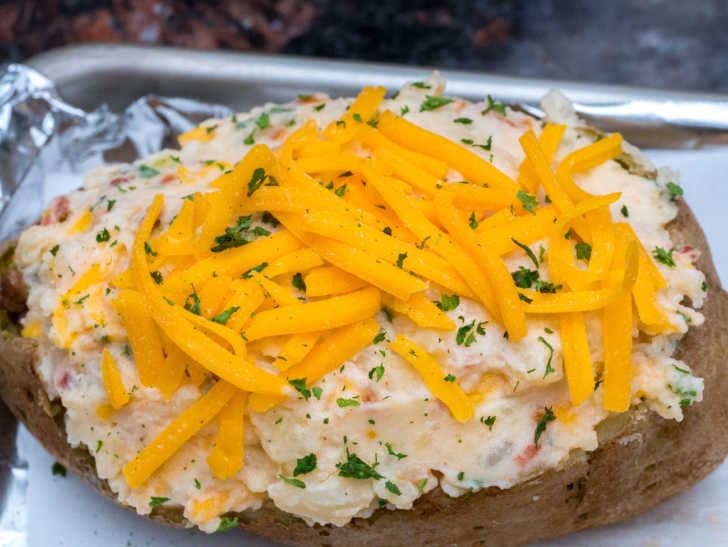 As promised, these are twice baked, so I fill each of the hollowed potatoes with the steak bites and the mashed potatoes, which are then topped with more cheese and baked again – hence the "twice-baked" part of this recipe. Once taken from the oven, it's super important to let the potatoes cool slightly before serving, that way you can enjoy the potato without a scorched tongue! But patience will be difficult, as this smells so amazing and tastes equally so. Steak-stuffed twice-baked potatoes are a truly satisfying, epic feast.
Steak-Stuffed Twice Baked Potatoes
Serves 4-6
40m prep time
3h cook time
Ingredients
5 slices thick cut bacon, cooked and chopped
Beef Cubes
2 1/2 lb chuck tender roast (fat cap removed), cut into 1" cubes
1 tablespoon olive oil
2 teaspoons dried parsley
1 1/2 teaspoon garlic powder
1 1/2 teaspoon onion powder
1 1/2 teaspoon dried marjoram
1/2 teaspoon rosemary
3 1/4 cups beef broth, divided
1 bay leaf
1 1/2 teaspoon corn starch
Potatoes
3 large Russett potatoes
3/4 cup milk
1/4 cup unsalted butter
1/2 cup sour cream
1/2 teaspoon garlic powder
1 tablespoon chives
1/2 teaspoon onion powder
1/4 teaspoon paprika
2 teaspoons kosher salt, divided
1 teaspoon black pepper, divided
2 cups shredded sharp cheddar cheese, divided
1/4 cup chopped fresh parsley
For the beef:
Heat olive oil in a heavy-bottomed stockpot. Add beef cubes and cook till brown.
Add spices and 3 cups of the beef broth. Bring to a boil. Turn down to medium-low and let simmer for 2 - 2 1/2 hours.
Mix together 1/4 cup beef broth and 1 1/2 teaspoon of corn starch. Add to beef about 15 minutes before it's finished to thicken the gravy.
For the potatoes:
Preheat oven to 425°F.
Scrub potatoes. Pokes holes in the potato with a fork. Drizzle olive oil over each potato. Season with 1 teaspoon kosher salt, and 1/2 teaspoon black pepper. Wrap each potato in aluminum foil and place on a baking sheet or in a shallow casserole dish. Bake for 40-50 minutes. Cool before handling. Lower the heat of the oven just slightly, to 400°F.
Once cool enough to handle, cut the potato in half, on the horizontal. Hollow out the potato from the inside, leaving the skin intact. Place the "insides" of the potato into a bowl. Add butter, sour cream, and milk. Use a potato masher to mix until well combined.
Add bacon, garlic powder, chives, onion powder, paprika, salt, pepper, parsley, and cheddar cheese. Stir to mix all of the ingredients together.
Fill the hollowed-out potato about 3/4-full with the steak tips. Then top with potato mixture. Place the stuffed potatoes onto your baking tray or casserole dish. Sprinkle the remaining 1 cup of shredded cheddar cheese over the top of each potato. Bake at 400°F for 15 - 20 minutes. Cool slightly before serving.
SKM: below-content placeholder
Whizzco for 12T