We love it because it's healthy, filling, and easy on the wallet!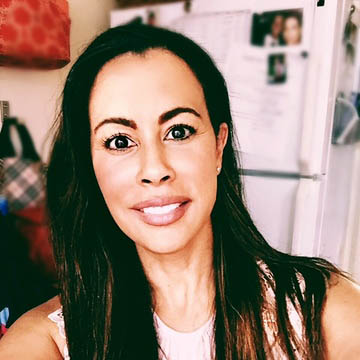 Melissa Maxwell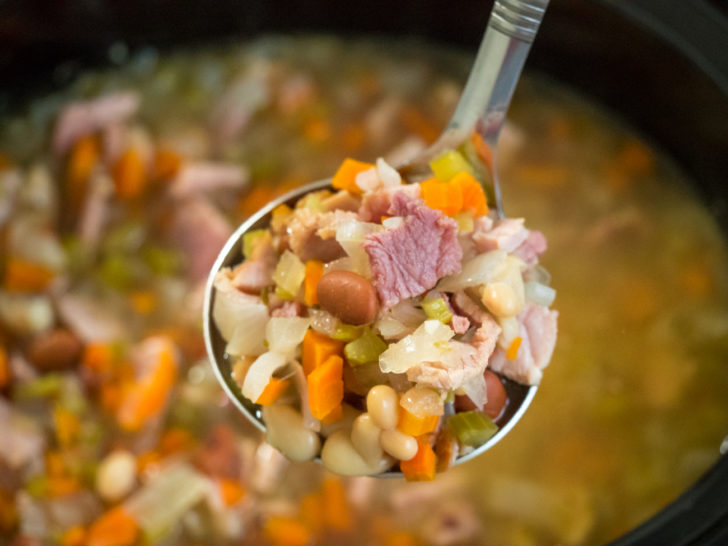 When it comes to making dinners, we're all about coming up with meals that are filling, flavorful and that don't take up too much of our time or attention, letting us enjoy a meal with our family and friends without having to stress over it. You know we love to have a fully-stocked arsenal of recipes to turn to when we're in a little rut wondering about what to make, and this slow cooker soup earned its place in said arsenal long, long ago. Ah, the beauty of the slow cooker, allowing us to go on with our day while our meal quietly cooks away without any stovetop babysitting-duty requirements, ready to serve when we are. Hearty ham and bean soup, this recipe is packed with flavor and is such a nice way to fill and warm up on a cold day. It's got ham and beans in it, obviously, along with all the other soup staples you would expect to find: carrots, onion, celery, garlic and plenty of herbs. Oh, and one other important ingredient….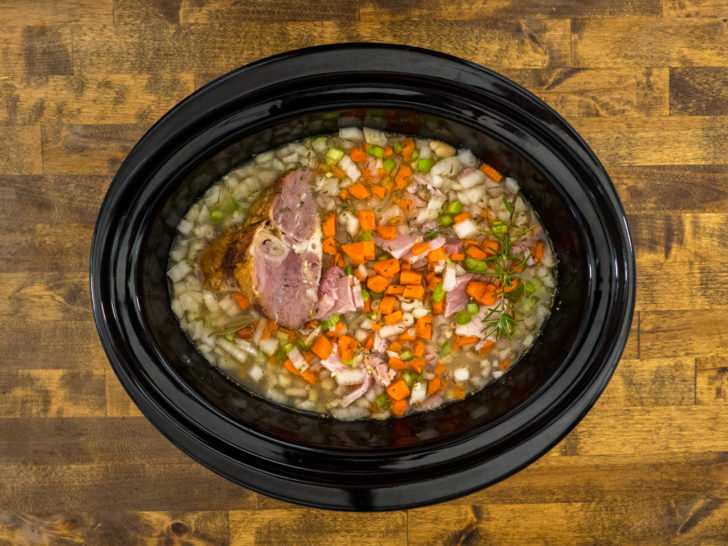 For those of you who occasionally make your own soup stocks, you know just how much flavor bones can give your dish. Which is why we added a ham bone to our ham and bean soup. We used a pork shank, but feel free to use anything you can find – you'll still get great flavor from it. There are multiple benefits to this recipe and this method: the bone adds TONS of flavor and really takes the soup to a new level; ham bone is inexpensive and this puts to use an ingredient that might otherwise go to waste; it's healthy and filling and so easy to make. Keep in mind that you can always freeze a leftover ham bone or turkey leg for later; we are all for stretching meals and our money, making something both new and delicious from wholesome ingredients that never go out of style!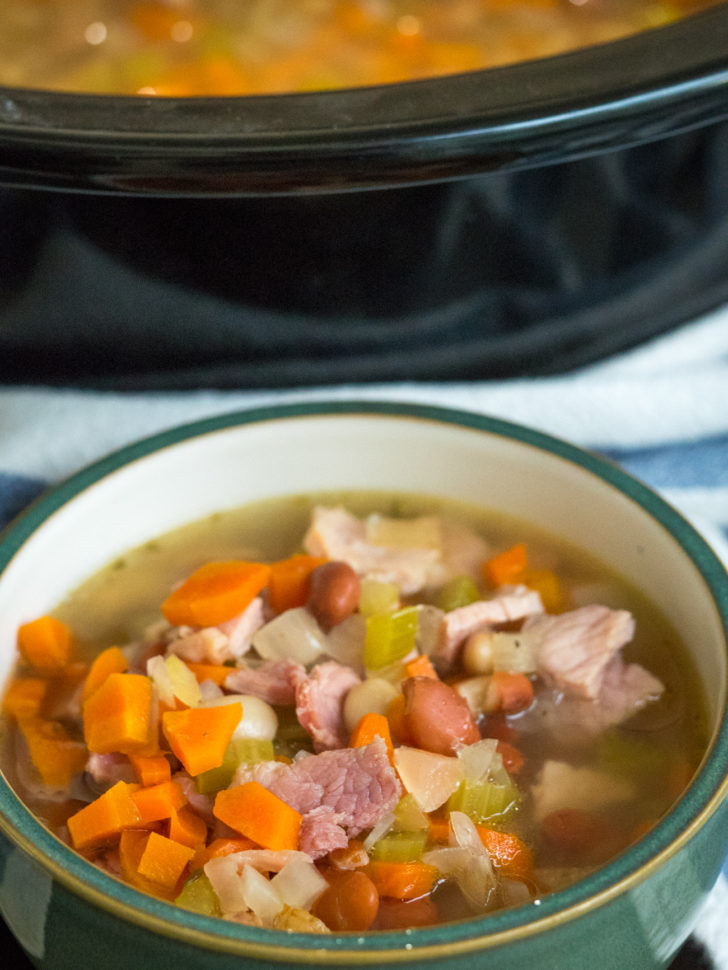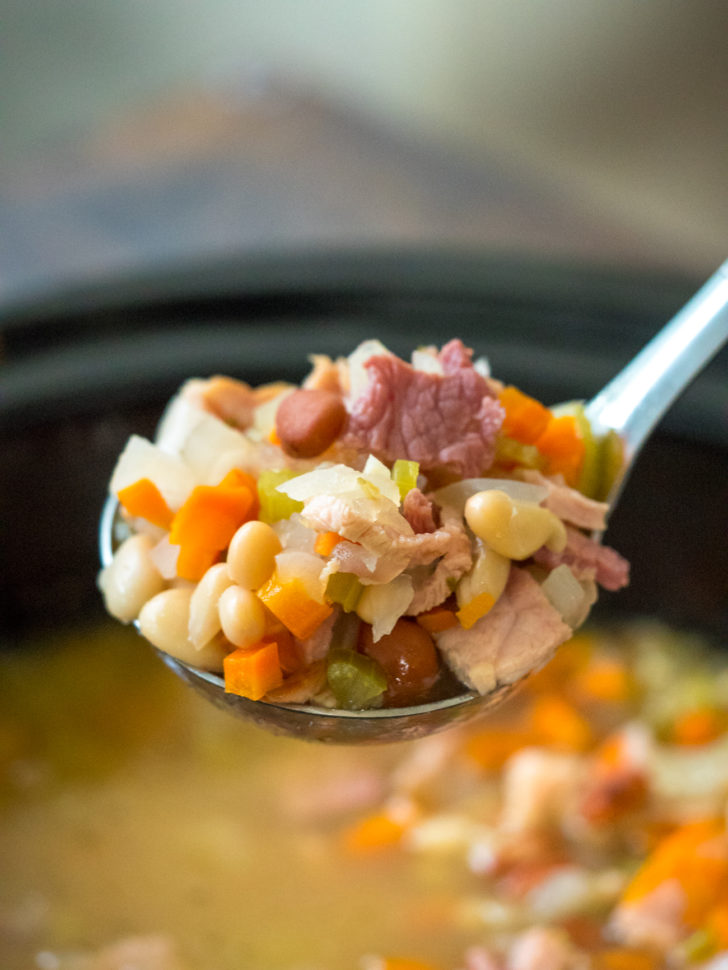 The finished result here is a soup that's chock-full of ham, along with even more flavor from the pork shank, and a yummy mix of beans and veggies – we used pinto and cannellini beans, since we like the flavor and texture they add. This isn't a creamy soup to start with, but if you were feeling something a little thicker or creamier you could always take 1-2 cups of soup, excluding the ham, if possible, and blend it in a food processor or blender before adding it back into the main mixture.
It more than stands on its own as is, but we love having options! Once you get your veggies prepped for this, let your slow cooker take over and do the work. Then you can kick back and relax while it cooks!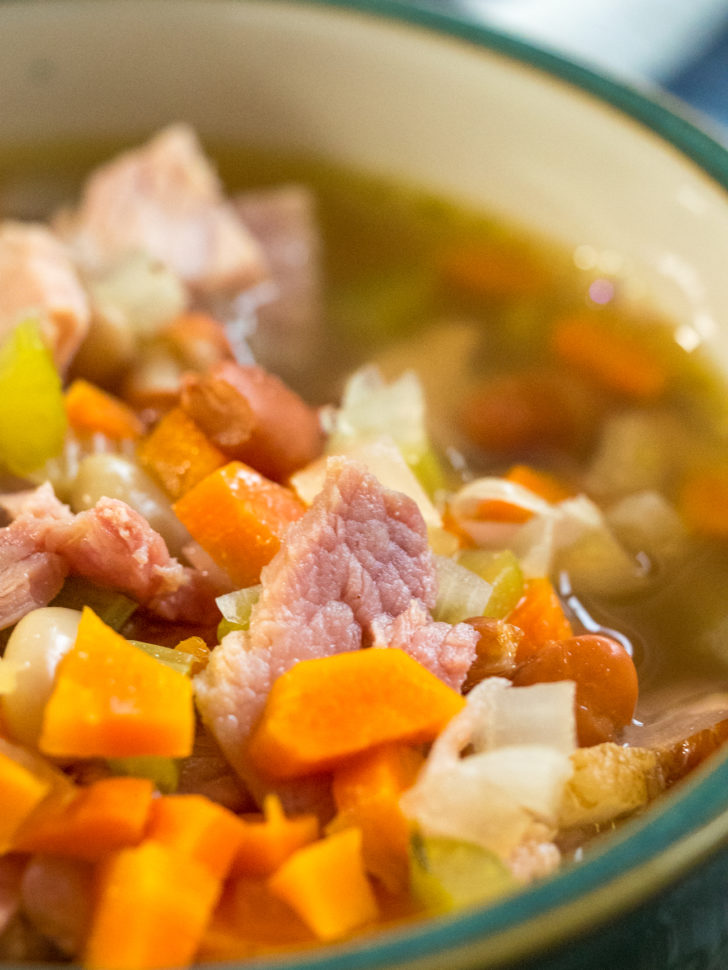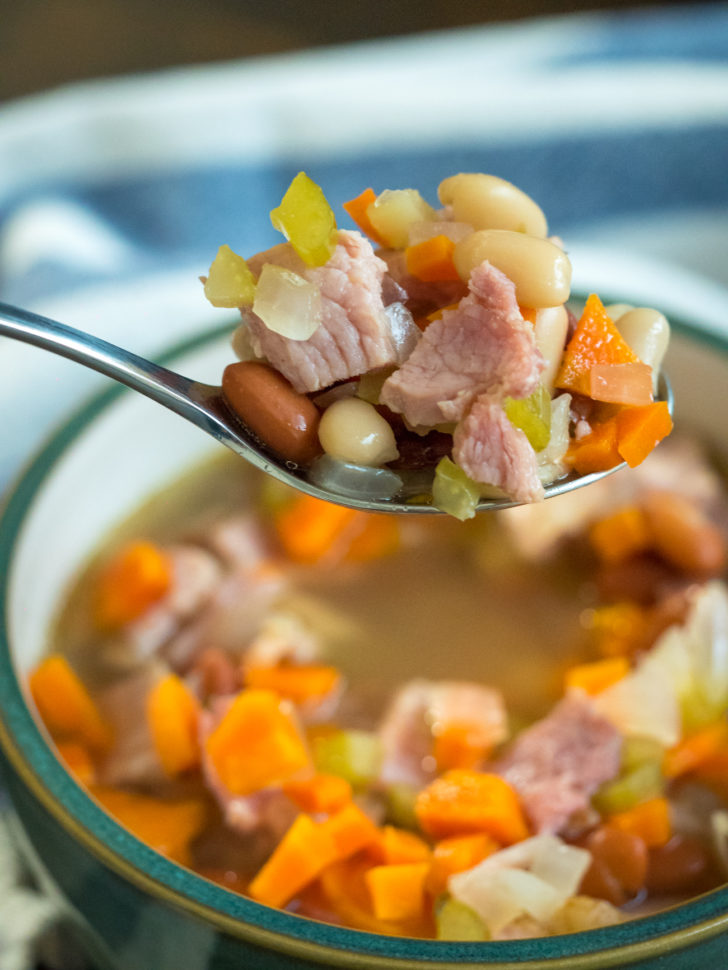 Slow Cooker Ham Bean Soup
Serves 12
15 minutes active; 3+ hours inactive
Ingredients
1 ham bone, optional
1 (32 oz.) package low-sodium chicken or vegetable stock
1 (15 oz.) can cannellini beans, rinsed and drained
1 (15 oz.) can pinto beans
3 cups cooked spiral cut ham, diced
4 cloves garlic, minced
1 yellow onion, diced
2 carrots, peeled and diced
2 ribs celery, diced
1 bay leaf
1 sprig rosemary
1 teaspoon dried thyme
1/2 teaspoon dried oregano
2 tablespoons fresh parsley, minced
kosher salt and freshly ground pepper, to taste
Preparation
Place cannellini beans and pinto beans in slow cooker and top with diced ham.
Add garlic, onion, carrot and celery on top of ham and beans, then season with thyme, oregano, salt and pepper.
Top with bay leaf and rosemary sprig, then pour chicken stock over the top. Optional: add ham bone and stir everything together.
Cover and cook on high for 3-4 hours, or on low for 6-8.
Remove ham bone, rosemary sprig and bay leaf, then transfer to serving bowls and serve hot.
Enjoy!
Recipe adapted from Dinner Then Dessert
SKM: below-content placeholder
Whizzco for 12T