Confession: I love green bean casserole. And I don't mean the fancy twists that we've featured on 12 Tomatoes before, even if they do have delicious cheese (because who doesn't love cheese?). No; I mean the easy-peasy Thanksgiving staple featuring canned soup, dehydrated onion straws and frozen vegetables. It's delicious and requires minimal work.
So when a friend said she made green bean casserole for Thanksgiving, my first thought was "duh," until she explained that she did everything by hand – the beans, the onions…it's all from scratch. And I was blown away when I finally saw it.
This is a new way to enjoy one of my favorite dishes, and I'm going to be all over it!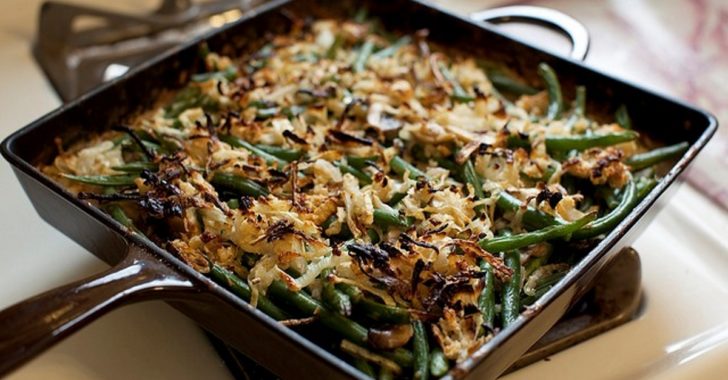 Creamy Green Bean Casserole with Hand-Breaded Onions
Yields approximately 8 servings
Ingredients
Oven "Fried" Onions

– 1 large onion
– 1/2 cup all-purpose flour
– 3/4 cup Panko-style bread crumbs
– 1/2 tsp salt
– 1/4 tsp ground black pepper
– 1 large egg
– 1 tbsp milk

Green Bean Casserole

– 1 tbsp + 1 tsp salt, divided
– 1 lb fresh green beans, rinse, trimmed and halved
– 2 tbsp unsalted butter
– 8 oz mushrooms, sliced
– 1/2 tsp ground black pepper
– 2 cloves garlic, minced
– 2 tbsp all-purpose flour
– 3/4 cup chicken or vegetable broth
– 1-1/4 cups half-and-half
Directions
Preheat the oven to 475°. Line a large baking sheet with parchment paper or a silicone baking mat. Set aside.
For the onions: Thinly slice the onion. Pour flour in one small bowl, Panko + salt + pepper into a medium bowl, and whisk the egg and milk together in another small bowl. To bread the onion slices, you'll want to use one hand for dry and one hand for wet. It helps things move a little quicker and easier. First, dip a few slices into the flour. Then into the egg mixture. And finally, give them a nice dunk into the Panko and coat them well. Place onto baking sheet. Repeat with the rest of the onions. Bake onions until golden brown, about 25 minutes. Flip them twice during this time. Set them aside. Reduce oven to 400°
For the green beans: While onions are baking, bring a gallon of water and 1 Tablespoon of salt to a boil in a large saucepan. Add the beans and blanch for 5 minutes. Drain and immediately place into a large bowl filled with ice water to stop the cooking process. Drain again and set aside.
Put it together: Over medium-high heat, melt the butter in a large 10 – 12 inch ovenproof skillet. Add the mushrooms, 1 teaspoon salt, and the pepper. Cook, stirring occasionally, until the mushrooms begin to give off some of their moisture– about 5 minutes. Add the garlic, stir, and cook for another 2 minutes. Sprinkle the flour on top and stir until combined. The flour will soak up all the moisture. Add the chicken broth and simmer for 3 minutes. Decrease the heat to medium-low and add the half-and-half. Stirring occasionally, cook until the mixture is thick– about 10 minutes or maybe more if you prefer a thicker sauce.
Remove from the heat and add 1/4 of the onions and all of the green beans. Give it a nice stir, combining the sauce and beans. Top with remaining onions and bake until bubbly, about 10-15 minutes. Remove from the oven and enjoy!
Notes and Tips
Leftovers keep well in an airtight container stored in the refrigerator for up to 4 days. Reheat and enjoy whenever you like!
Make ahead! You can prepare everything as directed, except turn oven off after the onions are done, do not heat to 400°. After the sauce is finished and the casserole is assembled, set aside and allow to cool. Cover tightly either in the skillet or carefully transfer to another dish. Refrigerate overnight. The next day, bake for 15-20 minutes at 400° until bubbly
SKM: below-content placeholder
Whizzco for 12T