A complete skillet meal with all the goodness of the classic.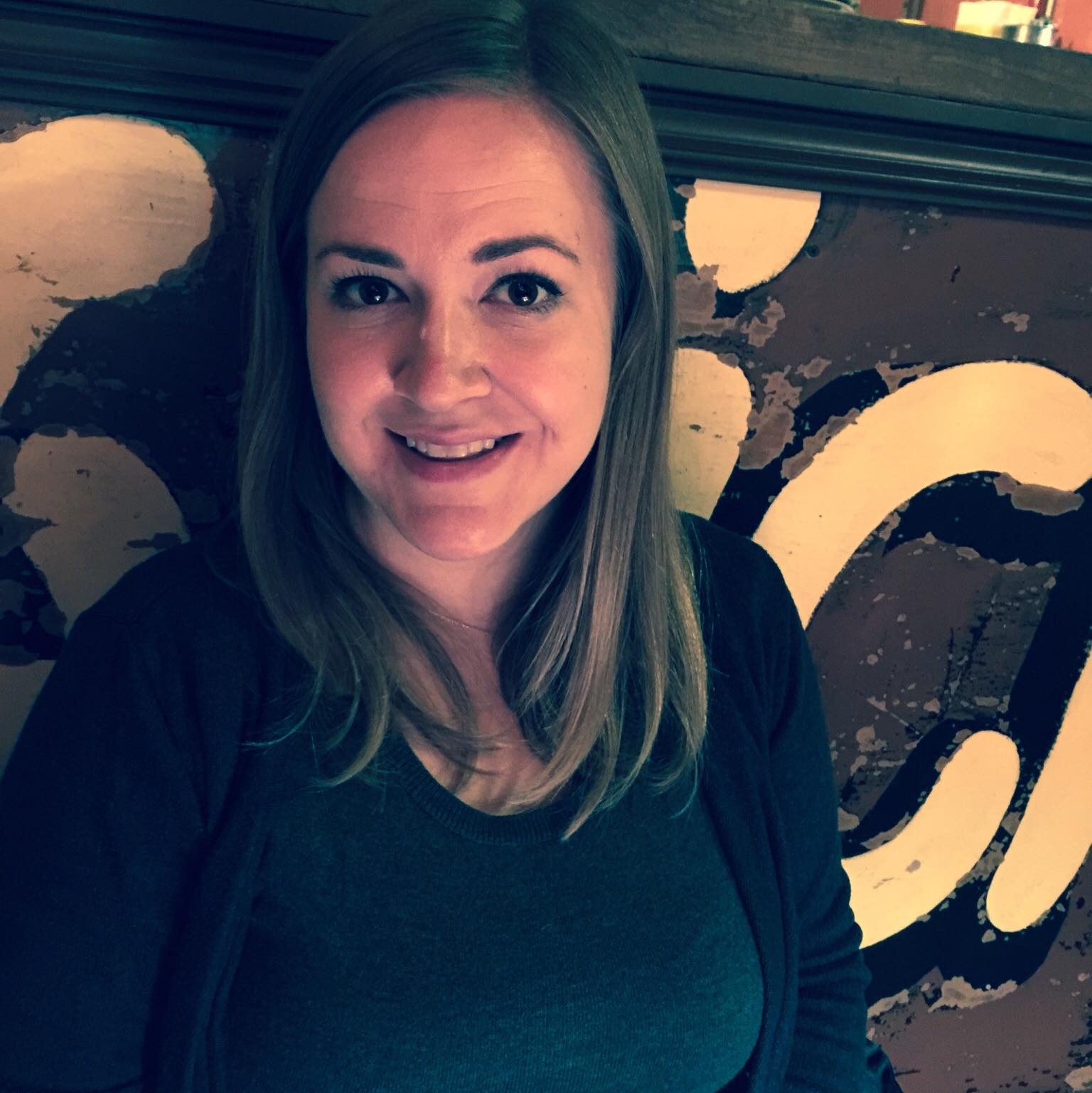 Kristy Norrell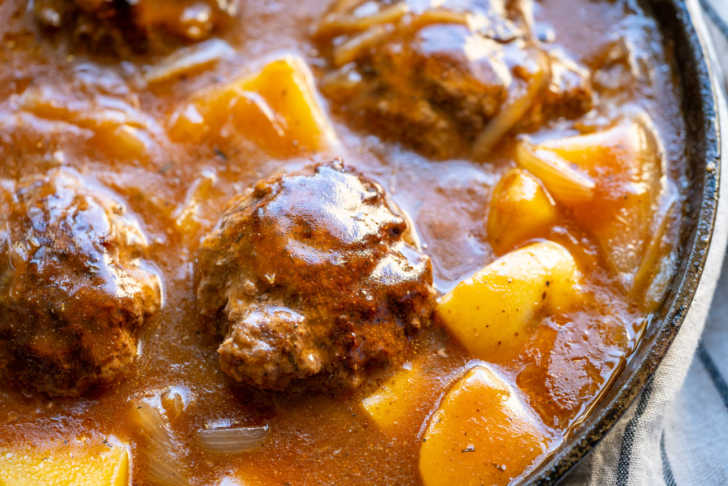 Salisbury Steak is well-loved, clearly. And what's not to love? It's delicious. But that's not all that it has going for it – it also has a long-standing tradition as a hearty dish that's economical too. So why change it at all – isn't it already perfect? Well, we thought that the only thing missing from all that meat… was potatoes. So we did the dish one better and added them right in for a Salisbury Steak complete meal in a single skillet. (Or nearly complete, a side salad would add some greens to the picture. And that's probably not a bad plan.)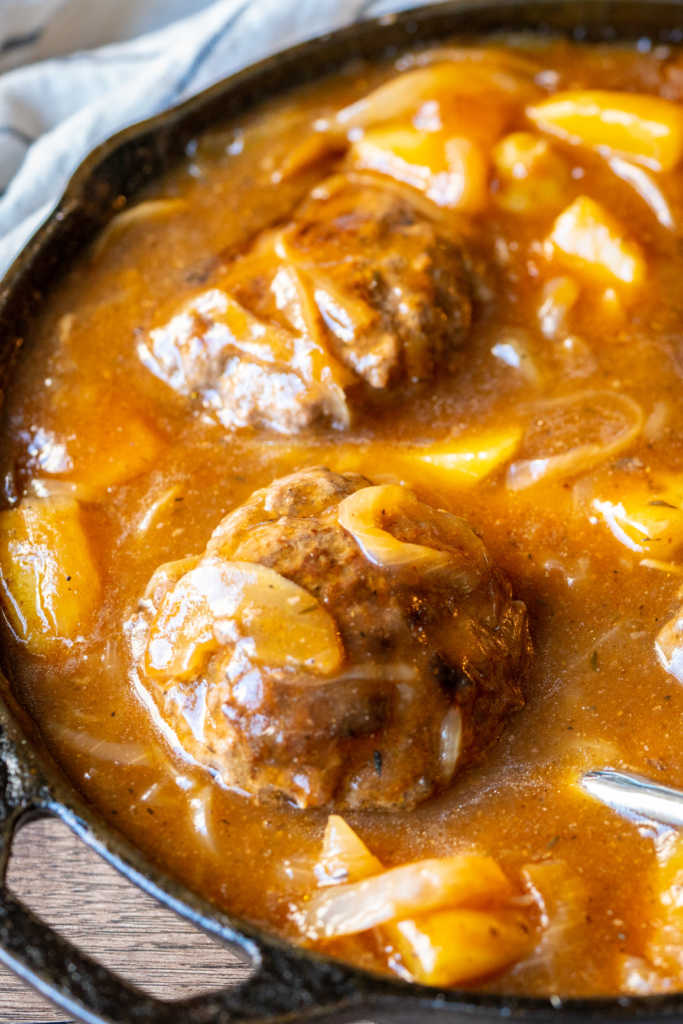 This is just as easy as traditional Salisbury Steak, or at least very nearly so. The only additional effort is in cleaning and chopping the potatoes, and also in the key step to making this work as a quick meal – popping them in the microwave for a head start. Five minutes in the microwave cuts down on the stovetop cooking time for those spuds but you could always start and finish them on the stovetop if you don't mind a longer simmering time.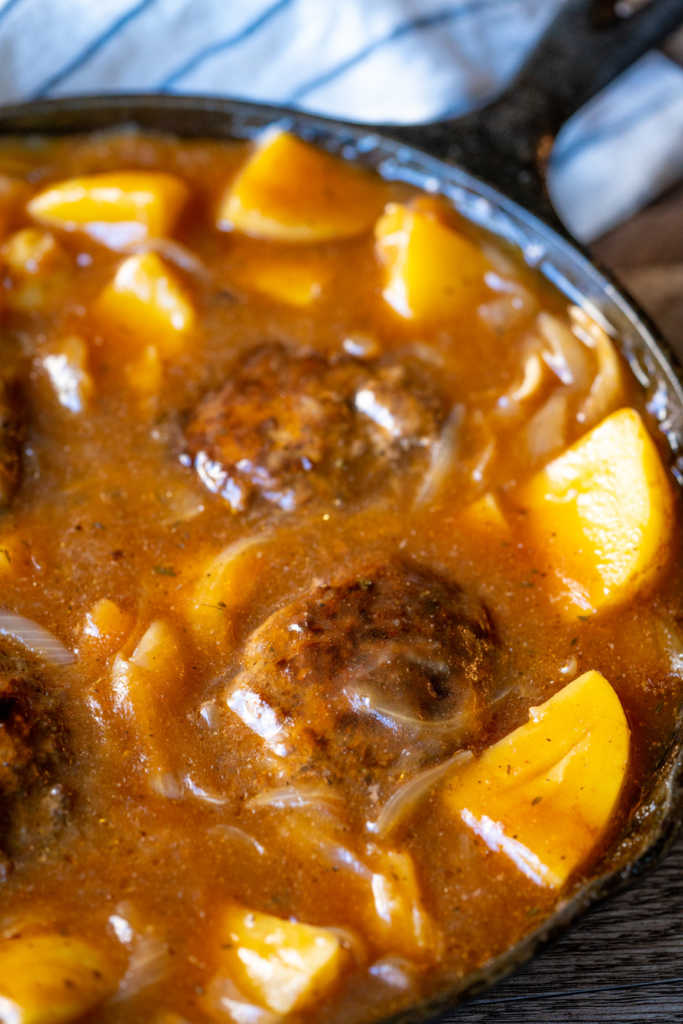 There's a bit more liquid here than you might find with your basic Salisbury Steak recipe, both to simmer the potatoes to perfection and to make a beautiful oniony gravy to spoon over them and the beef patties. But you're not going to mind have extra opportunities to use that gravy, I promise.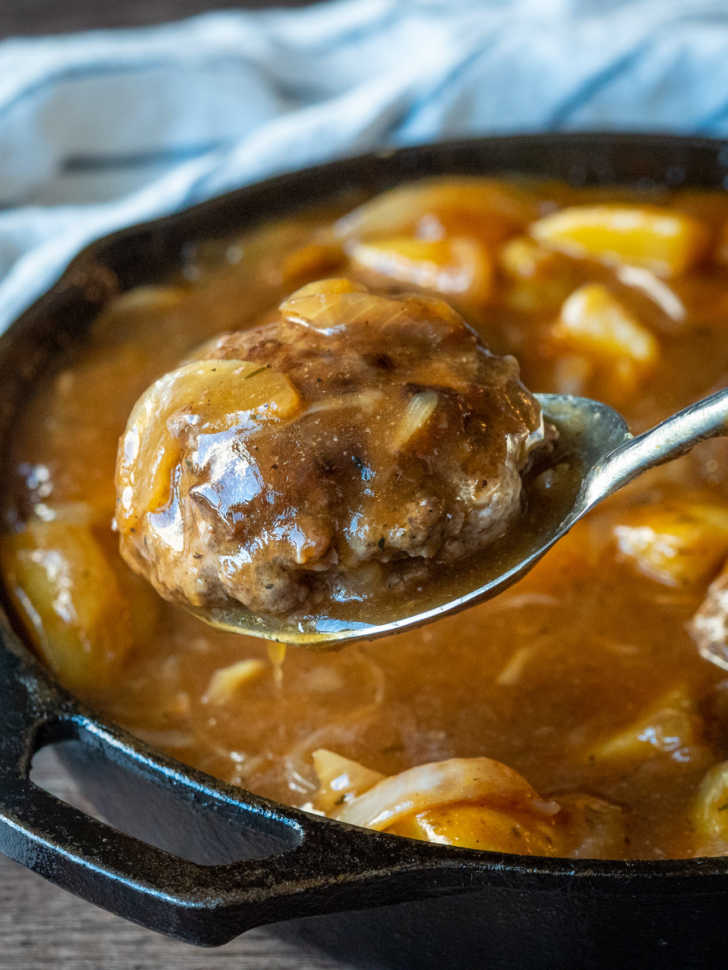 Nothing satisfies quite like meat and potatoes so it's a no-brainer to go ahead and make them up in the same skillet, and even better if it has a delicious savory gravy to go with it.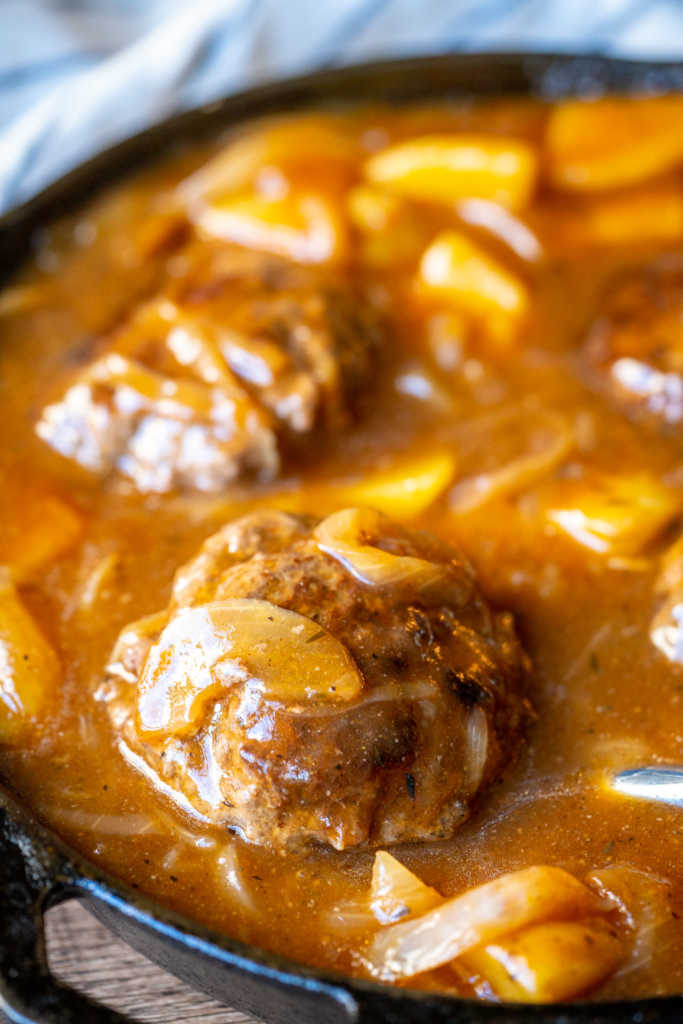 Salisbury Steak and Potato Skillet
Serves 4
10m prep time
30m cook time
Ingredients
2 tablespoons olive oil
1 lb ground beef
1 white onion, halved and sliced
4-6 medium Yukon Gold Potatoes
3 cups beef broth, divided
2 tablespoons ketchup
4 teaspoons Worcestershire sauce, divided
1 teaspoon garlic powder, divided
1/4 teaspoon dried thyme
3 tablespoons cornstarch
Kosher salt and freshly ground black pepper, to taste
Preparation
In a medium bowl, combine ground beef, 2 teaspoons Worcestershire sauce, 1/2 teaspoon garlic powder, salt, and pepper, and mix to combine. Shape into four equal-sized patties about 1/2-inch thick.
Heat olive oil in a large skillet over medium-high heat. Brown patties on each side, then remove to a plate and set aside.
Meanwhile, pierce each potato with a fork a few times, then microwave for 5 minutes. (This is to lessen the cooking time in skillet.) Once cool enough to handle, chop into 1 1/2 inch pieces.
Add onions to the same skillet you browned the beef in, season with salt and pepper, and cook until soft, about 5 minutes.
Add chopped potatoes and 2 cups broth to skillet. Bring to a simmer and let cook until potatoes are tender, about 5 minutes.
Stir together the remaining 1 cup of beef broth, ketchup, Worcestershire sauce, garlic powder, thyme, and corn starch. Pour into skillet and cook, stirring frequently, until mixture thickens.
Reduce heat to low, return patties to skillet and let cook until patties are hot and cooked through. Season gravy to taste with salt and pepper and enjoy!
Recipe adapted from South Your Mouth.
SKM: below-content placeholder
Whizzco for 12T