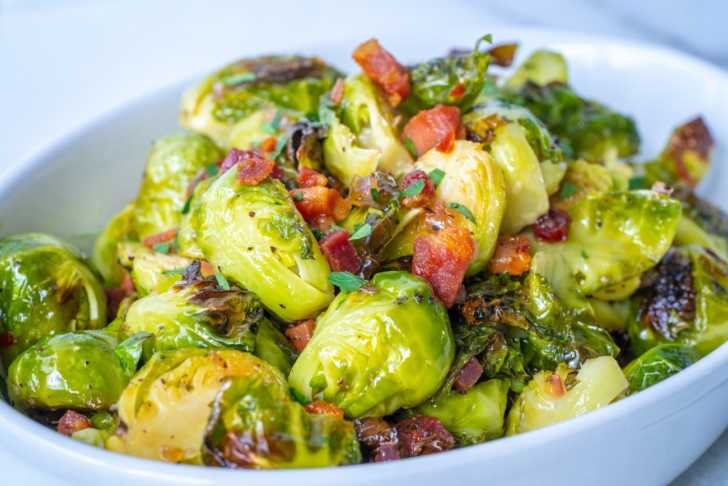 Brussels sprouts are back! Bolder and more beautiful than ever before. We're all familiar with the bland and blah-boiled Brussels sprout as the stuff of childhood nightmares. We've recovered our senses today, and roasting these cruciferous beauties is all the rage. I want to elevate this side dish even more by making a warm vinaigrette to toss them in, topped with – are you ready – crunchy pancetta bits (this is fancy bacon). YUM! I love Brussels sprouts and I really love to find more ways to make them into something irresistibly desirable.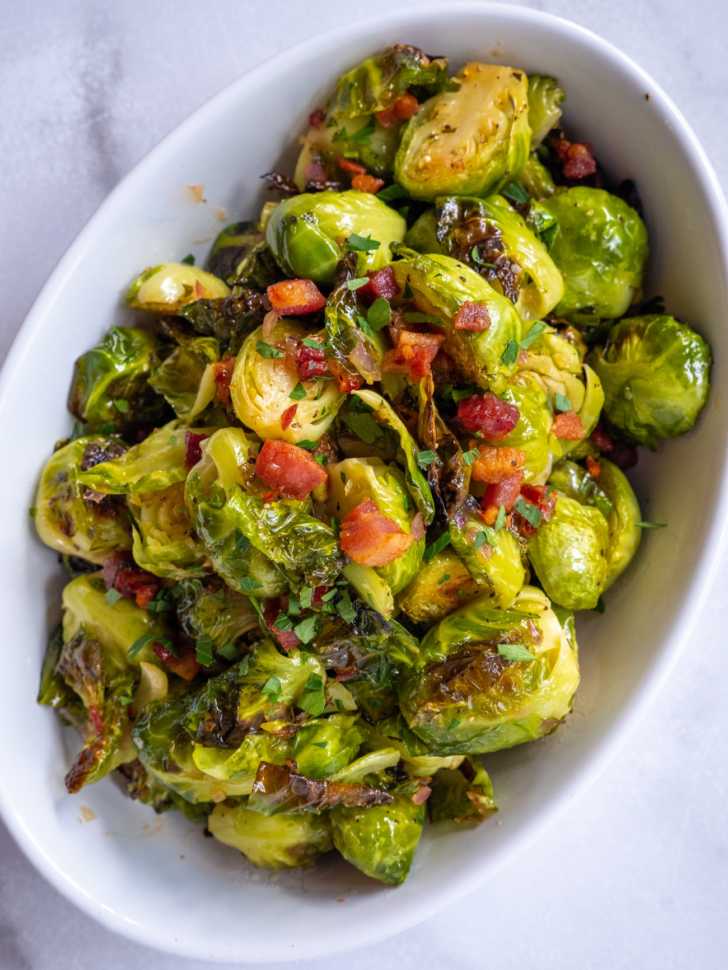 I've made this as simple as possible without compromising elegance and flavor. Of course, anything tossed in warm bacon fat is going to be amazing. First, the Brussels sprouts; simply rinse these gnarly green bulbs in water, then trim the fibrous ends and cut in half lengthwise. Toss the sprouts onto a baking sheet and then drizzle them with olive oil, kosher salt, and black pepper. Using the best tools in my kitchen – two clean hands – I toss the seasoned sprouts and spread them evenly over the baking sheet. These will roast for about 20 minutes until they being to caramelize.
While those are in the oven, I work on this amazing vinaigrette. It starts with those bits of salty pancetta that release delicious juices as they become crispy. Next, shallot and this is one of my favorite onion varieties. It's smooth and rich in flavor, not overly oniony, and pairs beautifully with the pancetta. The pepper jelly is going to give just a hint of heat and kick, nothing that will blow your hair back but will certainly render a little warmth in flavor. Once the Brussels sprouts are done roasting, I'll toss them with this warm vinaigrette.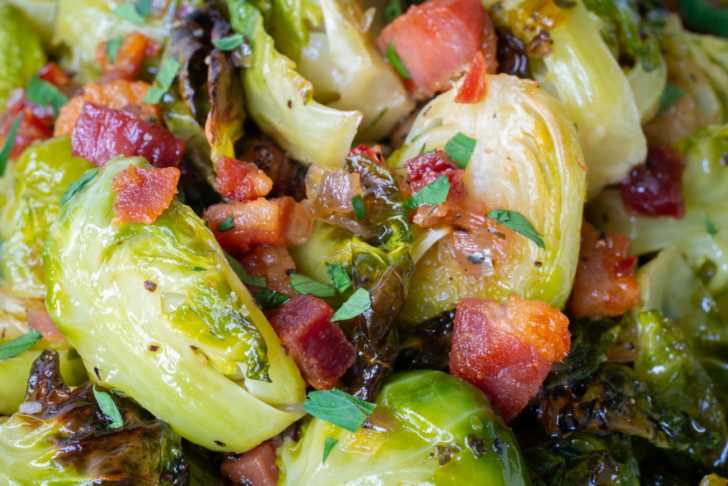 To finish, a scattering of the pancetta chunks and a quick toss to mix it all together. If there's any way to make Brussels sprouts beautiful it's definitely with bacon fat. The once coarse Brussels sprout have been softened by roasting and made even more desirable by this simple yet dynamic vinaigrette. Everyone will eat their veggies and probably come back for seconds!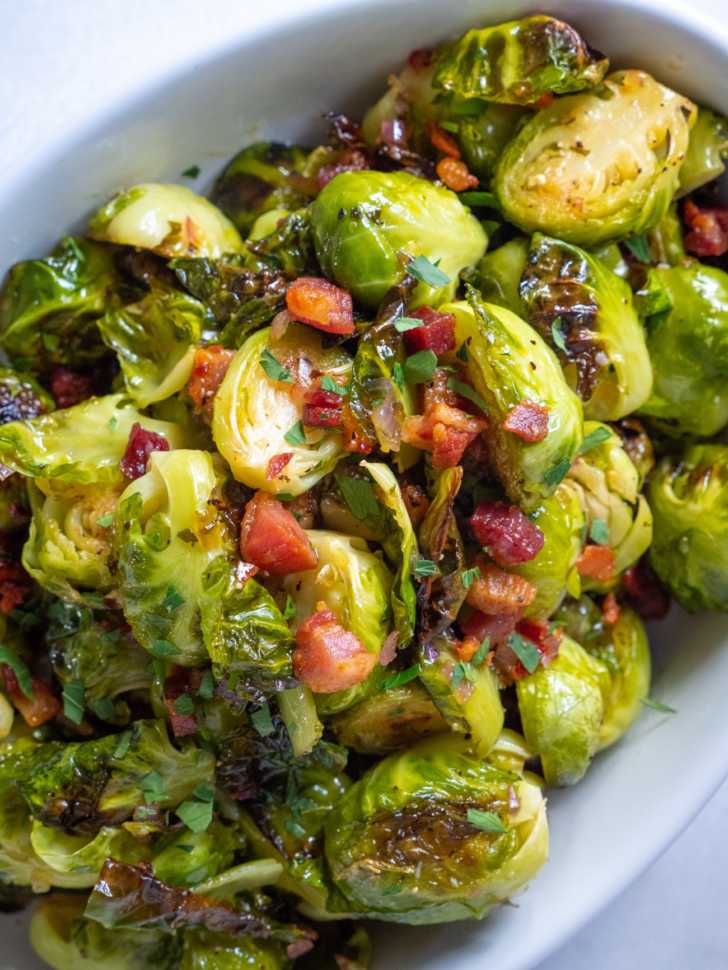 Roasted Brussels Sprouts with Crispy Pancetta and Pepper Jelly Vinaigrette is a part of the Table for 12 Venetian Dinner menu. It was served with Caramelized Radicchio Risotto, Rolled Beef Braciole in a Slow-Roasted Tomato Sauce, and a Blood Orange Campari Cake.
Roasted Brussel Sprouts with Crispy Pancetta in a Pepper Jelly Vinaigrette
Ingredients
2 lbs. Brussel sprouts, trimmed and halved
1/4 cup olive oil, plus 1 tablespoon for vinaigrette
5 oz. pancetta, cubed
1 tablespoon reserved pancetta fat
1 shallot, finely diced
2 tablespoons apple cider vinegar
3 tablespoons spicy red pepper jelly
1 tablespoon olive oil
1 tablespoons fresh parsley, minced
Kosher salt and freshly cracked black pepper, to taste
Preparation
Preheat the oven to 450°F.
Toss the Brussels sprouts with 1/4 cup of olive oil, salt, and pepper on one sheet pan. Roast for 18 - 20 minutes or until softened and caramelized.
Render the pancetta on medium-low until crispy and remove. Reserve 1 tablespoon of pancetta fat in the pan and sauté the shallots in it for 1 to 2 minutes.
Add in the vinegar, jelly and remaining olive oil, then remove from heat. Season with salt and pepper.
Toss roasted Brussels sprouts in the vinaigrette and top with the crispy pancetta and fresh parsley.
This recipe is from the Table for 12 Venetian Dinner menu.
SKM: below-content placeholder
Whizzco for 12T