Okay, it's no secret: some fast food is absolutely amazing. We said it. While it's certainly not the best food for you, sometimes these fast-food chains really know a good thing when they see it (or make it). We just can't help but crave these tender, juicy — yet still crispy and crunchy — chicken breast sandwiches!
We found that adding the extra time by brining the chicken is the best way to retain juiciness when frying your chicken, and we think we've found the best way to batter something so you get the perfect crust. While a little bit labor-intensive, these sandwiches truly taste like the real deal, and you'll be impressed with yourself that you were able to make them on your own!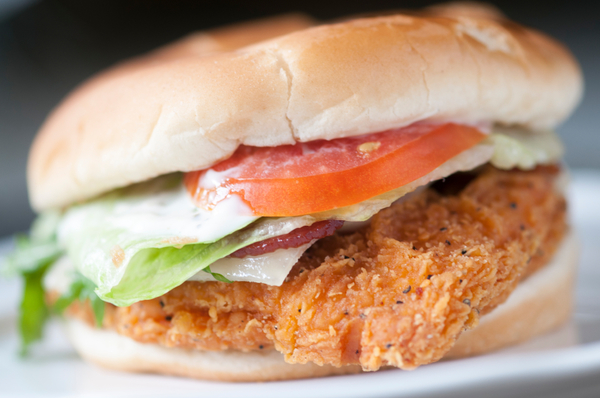 Fried Chicken Sandwiches
Makes 6 servings
Ingredients
For chicken patties:
3 large boneless, skinless chicken breasts, halved into cutlets
3 eggs
2 cups all-purpose flour
1 cup milk
1/2 cup buttermilk
3 tablespoons powdered milk
3 1/2 tablespoons black pepper
4 teaspoons salt
3 teaspoons paprika
1 1/2 teaspoon baking powder
1 teaspoon cayenne pepper
1 teaspoon sugar
peanut oil or vegetable oil, for frying
For brine:
1/2 cup sugar
3/4 cup kosher salt
1 1/2 quart water
For sandwich (optional):
lettuce
tomato
cheese
mayonnaise
ketchup
6 hamburger buns, toasted and brushed with butter
Directions
Begin by preparing your brine ahead of time. In a large, Ziploc bag, dissolve 3/4 cup kosher salt and 1/2 cup sugar in 1 1/2 quart water, then add chicken cutlets. Refrigerate for 8 hours or overnight.
In a small bowl, sift together your seasoning: black pepper, 3 teaspoons salt, paprika and cayenne. Set aside.
In a medium bowl, whisk together buttermilk, milk, and eggs to create a batter.
In another medium bowl, combine flour, milk powder, baking powder, 1 teaspoon salt, 1 teaspoon sugar and 3 tablespoons of seasoning. Mix until the entire mixture is incorporated and there are no pebble-like pieces. Using a spoon, pour in 3-4 tablespoons of milk batter and, using your hands, mix until consistency is like that of wet sand.
In a large Dutch oven or deep fryer, heat 2 1/2 quarts peanut oil to 350º F.
Remove chicken cutlets from brine and pat dry with paper towels.
Season chicken cutlets on all sides with remaining seasoning mixture and dip into the remaining milk and egg batter. Coat thoroughly.
Transfer cutlets to flour mixture and press firmly on both sides so mixture adheres. Sprinkle flour into spaces that aren't covered enough. Continue with the rest of the cutlets.
In a pan or skillet, butter hamburger buns and toast for 2 minutes, until golden and crispy.
In batches, slowly and carefully place chicken in frying oil and cook for 4-5 minutes, flipping occasionally, until golden brown and cooked through.
Remove chicken from oil using a slotted spoon and transfer to a paper towel-lined plate. Let rest for 5 minutes
Place chicken cutlets in hamburger buns and garnish as desired. Serve hot.
Recipe adapted from Serious Eats
SKM: below-content placeholder
Whizzco for 12T