Sushi is often considered the pinnacle of Japanese cuisine in the US, but the island nation has so much more to offer. Their food is robust and complicated with interesting takes on foods introduced to them by other countries. Take tonkatsu: a pork cutlet breaded and fried. This thoroughly Japanese dish is actually a variation on European cuisine that was introduced during the Meiji Restoration (Late 19th century to early 20th).
Katsudon (a breaded pork cutlet over rice) is incredibly popular in Japan. It's a combination of tonkatsu (the pork cutlet) and donburi (Japanese rice bowl dish). It's a dish commonly eaten for good luck on the night before a major test because katsu is a homophone for the verb katsu in Japanese, meaning "to win" or "to be victorious".
Read on to learn how to make this delicious recipe…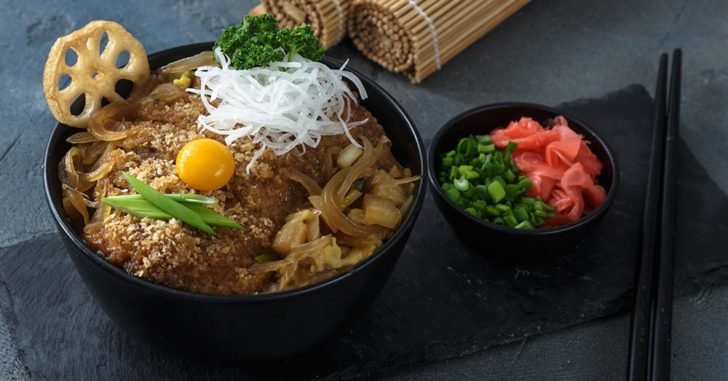 Homemade Katsudon Recipe
(makes 4 servings)
Ingredients:
Basics
7 cups steamed short-grain white rice
3 green onions, sliced thin
3 small onions sliced thin
vegetable oil (for frying)
4 boneless center cut pork chops pounded thin (should be about 1″ thick before pounded out)
salt and pepper to taste
Worcestershire sauce (optional)
Breading
3 tablespoons flour
1 egg, beaten
1 cup Japanese breadcrumbs (Also known as panko)
Broth
1 cup dashi broth (available in the international aisle but use water if you can't find any)
6 tablespoons soy sauce
6 tablespoons sugar
4 tablespoons mirin (Japanese rice cooking wine)
3-4 eggs beaten
Directions:
Heat vegetable oil in a 1-inch deep frying pan or wok until it's at 340F or until a few breadcrumbs dropped in the middle of the oil surface immediately.
Remove extra fat and silverskin from the sides of the pork cutlets then pound them out until they are about 3/4″ thick.
Salt and pepper the pork cutlets, then dust first in flour, dip into the beaten egg, then into the panko.
Fry the cutlets in the oil (1 at a time so the oil doesn't overflow) until light brown (about 4 or so minutes per side)
Drain the pork cutlets onto paper towels the cut into 1″ strips.
Mix the broth ingredients except for eggs together in a bowl.
Add oil to a hot frying pan, then add onions (not the green onions).
Saute until the onions are fragrant and start to turn translucent.
Pour the dashi mixture over the onions, then nestle the pork cutlets into the onions.
Drizzle the 3-4 beaten eggs over everything in the pan then sprinkle with green onions.
Cover with a lid and cook until the egg is mostly set (about 1 minutes)
Split the rice between four large bowls, then top each with a pork cutlet and the egg.
Serve immediately with Worcestershire sauce on the side optionally.
Enjoy!
Recipe adapted from No Recipes.
SKM: below-content placeholder
Whizzco for 12T