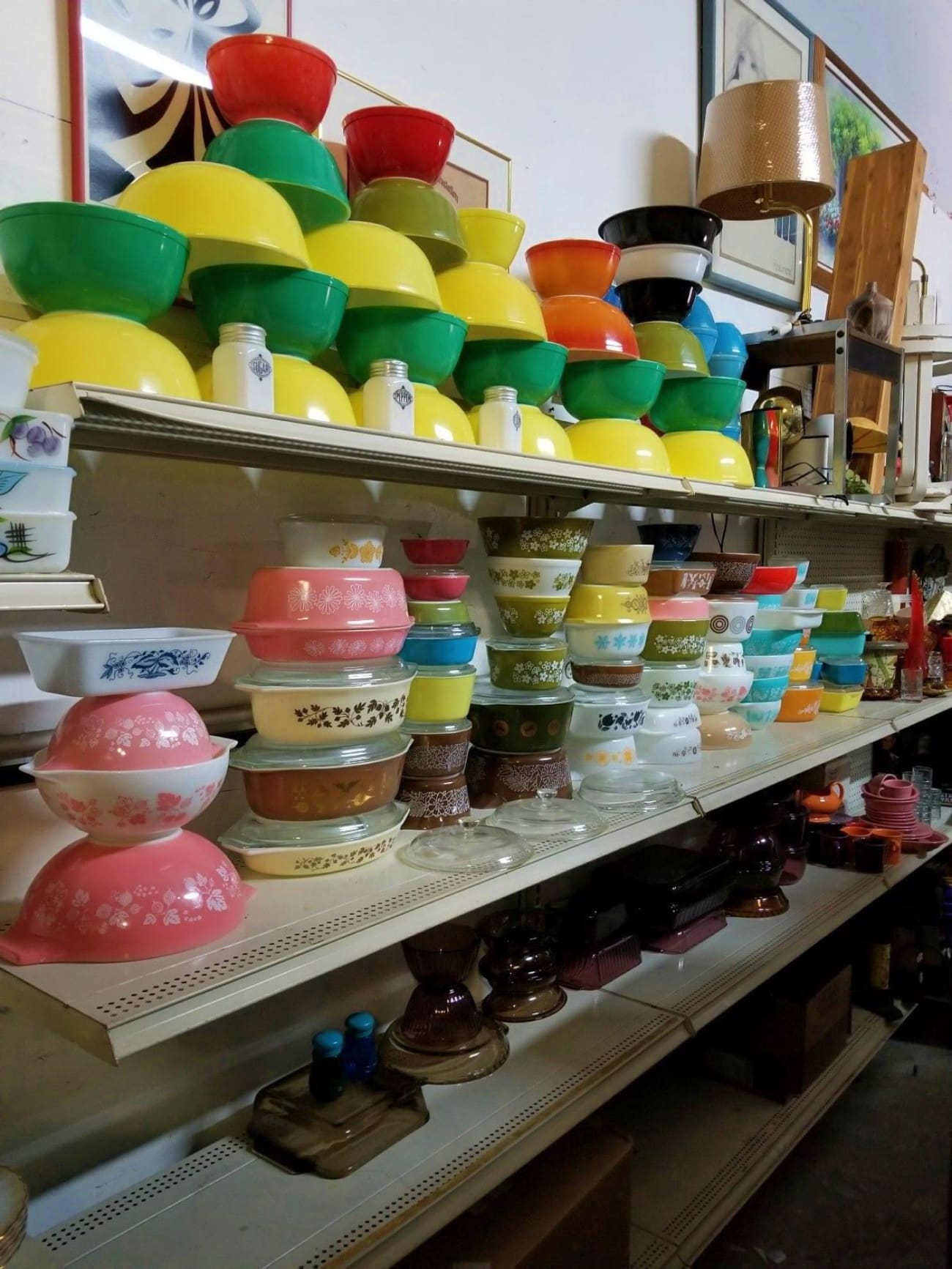 Pyrex has been popular in kitchens everywhere for over a century. It's incredibly durable, can withstand heat and cold, and comes in absolutely adorable colors and patterns. It's a kitchen workhorse that's been improving cooks' lives for decades, but did you know it can also be worth some serious cash?
While it can be pretty easy to find Pyrex pieces at affordable prices in thrift stores and at yard sales, some of the rarer pieces can get up to asking prices of hundreds of dollars… and sometimes even more! Whether out of a sense of nostalgia or just pure love for the utility and beauty of the pieces, there are plenty of obsessed Pyrex collectors out there. And from retro sunbursts to delicate florals, there's a pattern out there for everyone to love. Here are 10 of the most sought-after Pyrex patterns, in no particular order. Take a look and see if you have anything in your cupboards that might be worth a pretty penny!
[sc name="content-ad-horiz-1″]
1. Atomic Eyes
Current ebay asking price: $149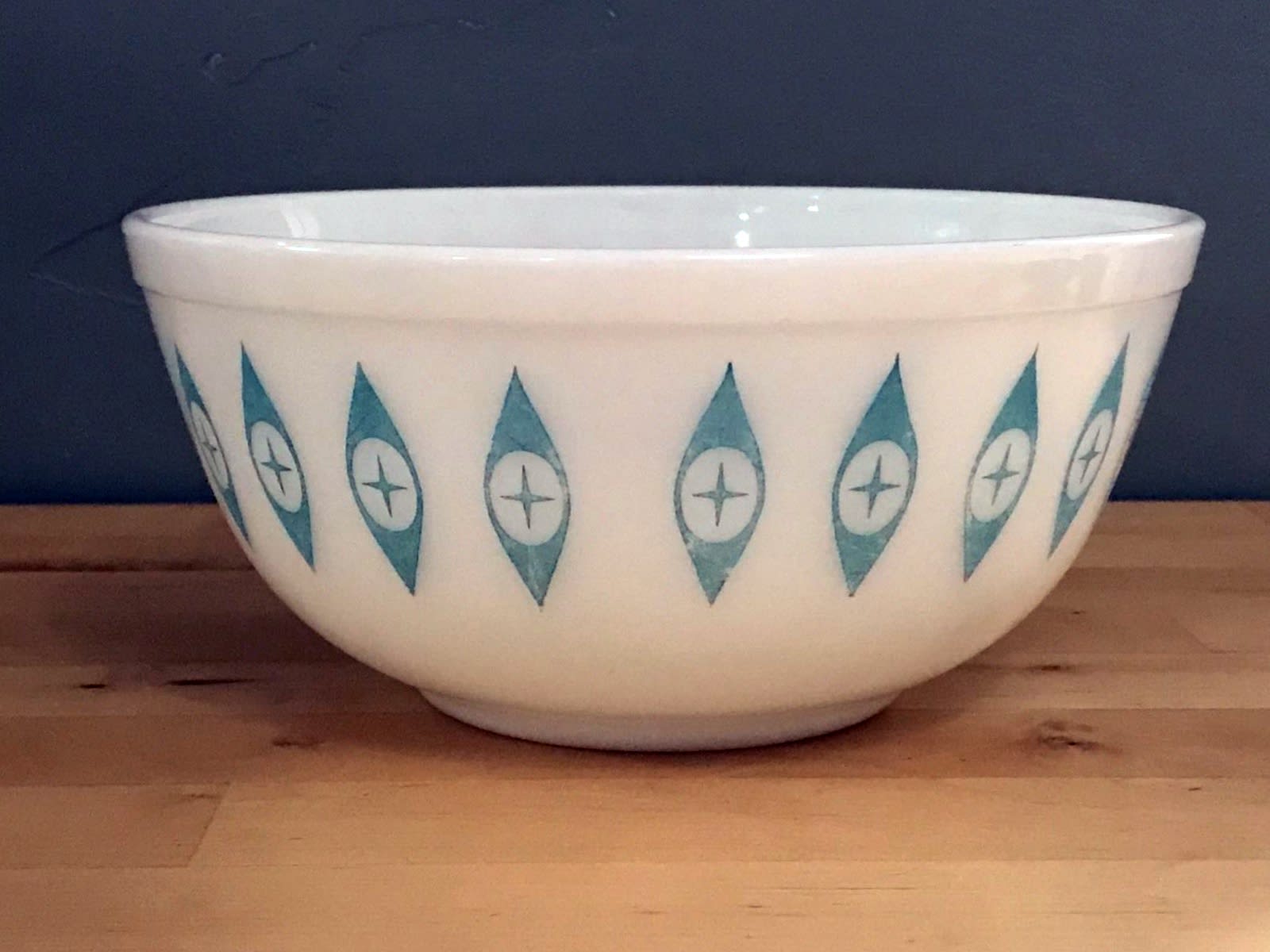 This pattern is known as "Eyes" or "Atomic Eyes" and was originally produced as a chip and dip set from 1950 through 1959. The original set consisted of a larger bowl with a special metal bracket that held a smaller dip bowl over it. A complete set in great condition can go for over $600. Not all Atomic Eyes bowls have a Pyrex marking on the bottom, but you'll know it by its distinct pattern and turquoise color.
2. Balloons
Current ebay asking price: $215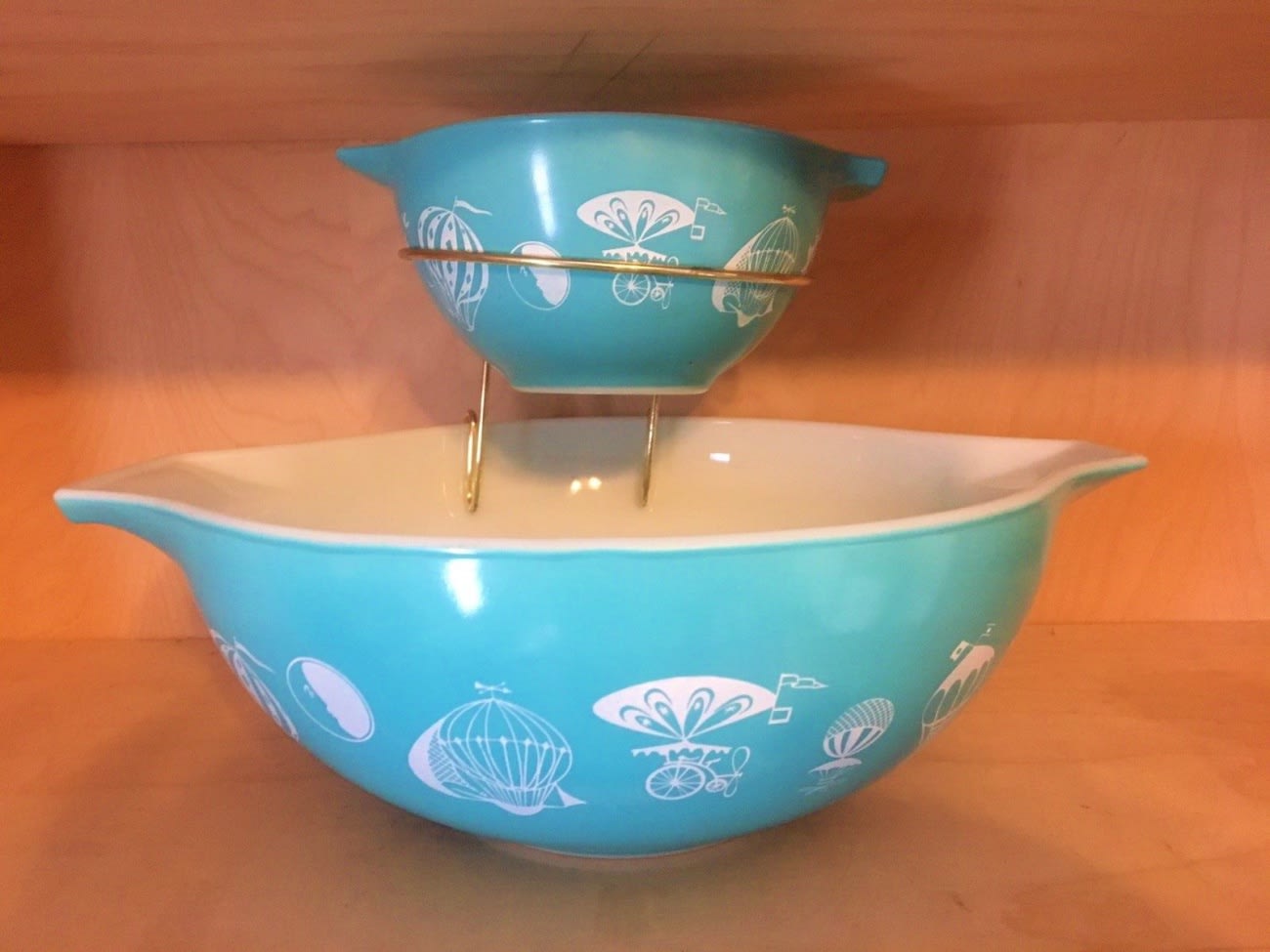 Balloons is another turquoise and white pattern that came in a chip and dip set, though this one was just produced in 1958. The cute pattern featured pictures of hot air balloons and some other celestial images. Though it was only produced for a short time as a promotional pattern, it's one of the most popular Pyrex collector's items today.
[sc name="content-ad-horiz-2″]
3. Butterprint
Current ebay asking price: $600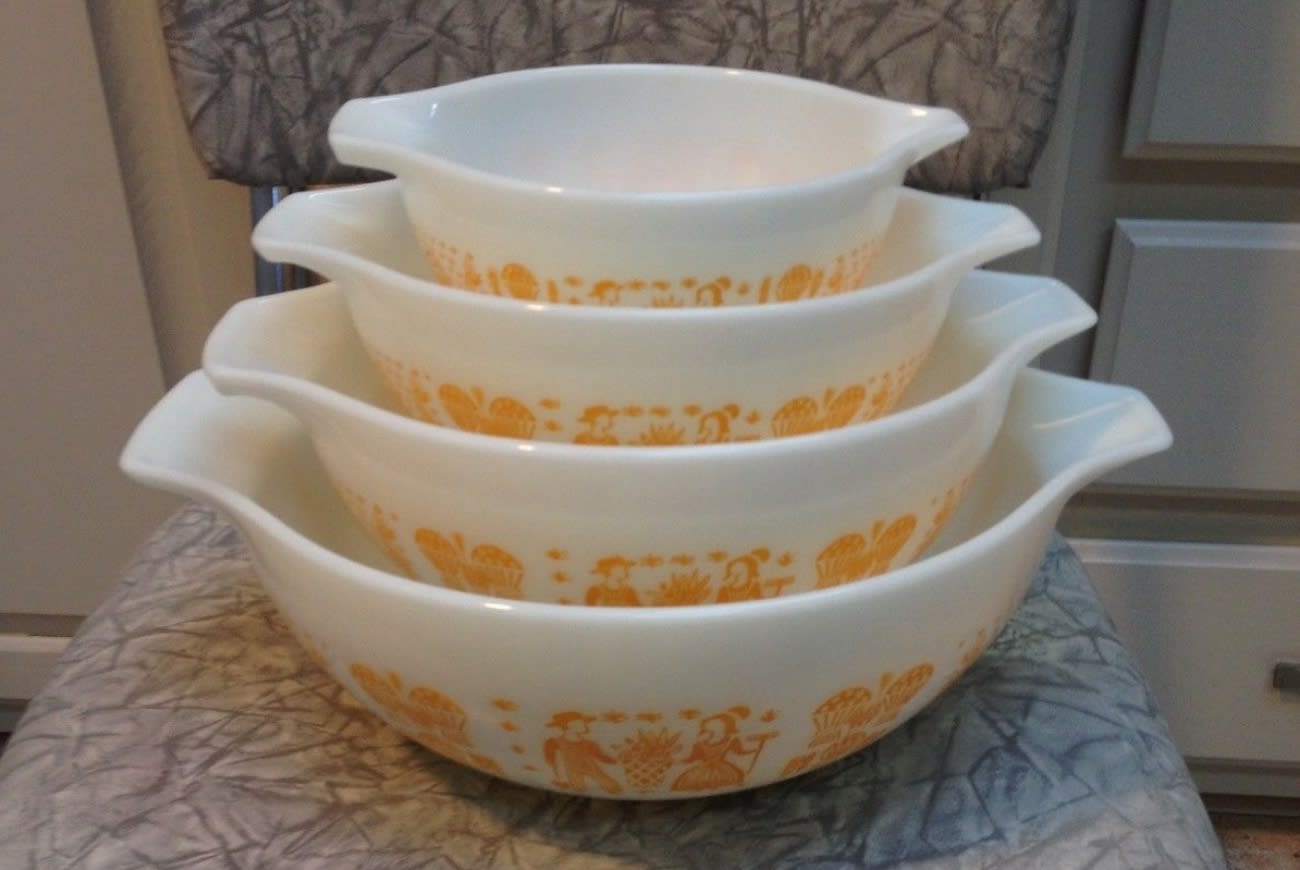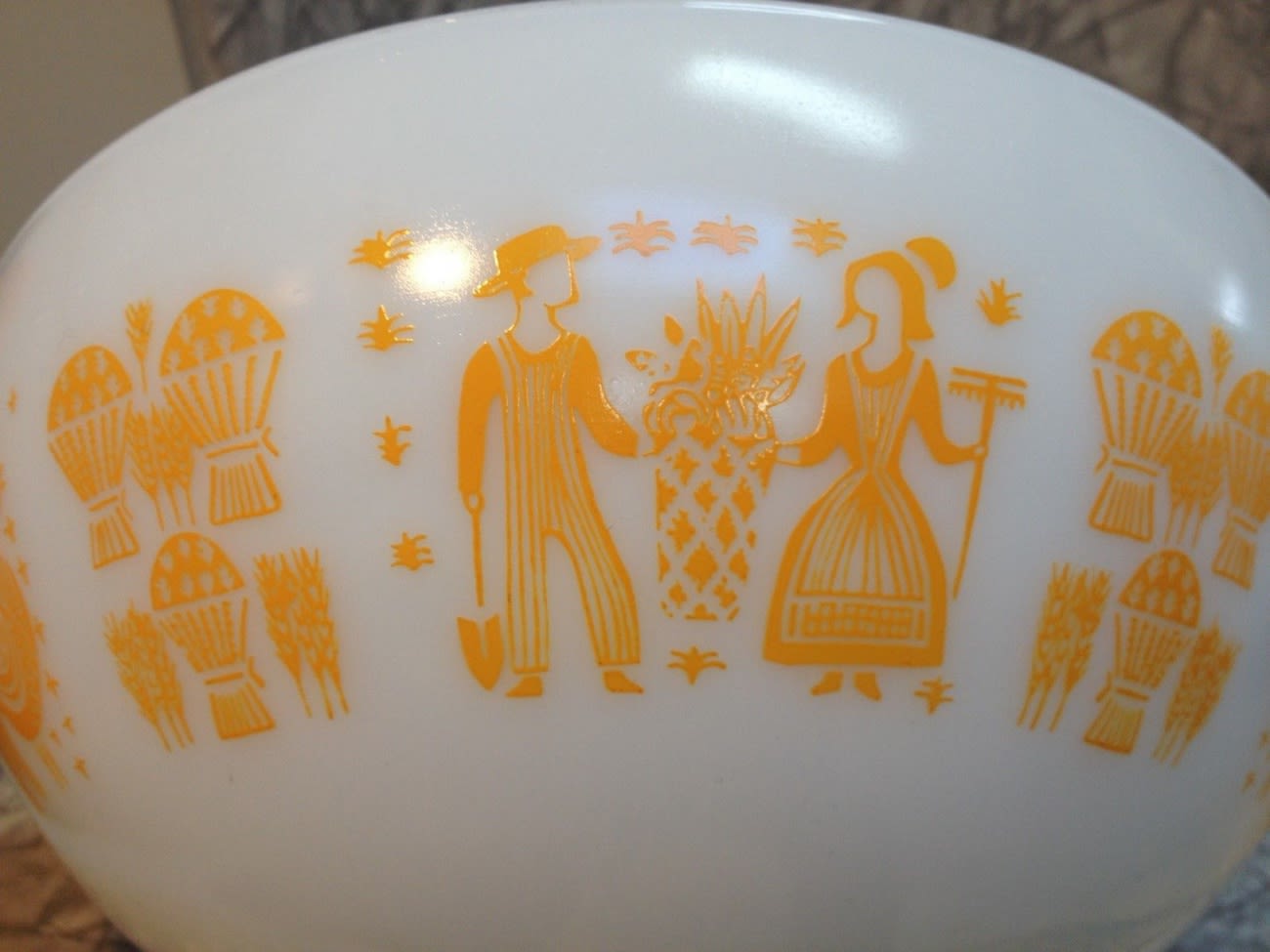 The Butterprint pattern is one that goes by many names. It's also sometimes known as Amish, Farmer & Wife, Buttercup, or Rooster & Corn. Turquoise and white was the most common color scheme for this pattern, though it was also produced in orange on white and pink on white. The pattern features a farmer and his wife holding a bushel of crops, and it was one of the earlier Pyrex patterns; it showed up in 1957. Orange Butterprint is fairly rare and highly sought after; this Cinderella mixing bowl set has an asking price of $600!
4. Pink Stripes
Current ebay asking price: $185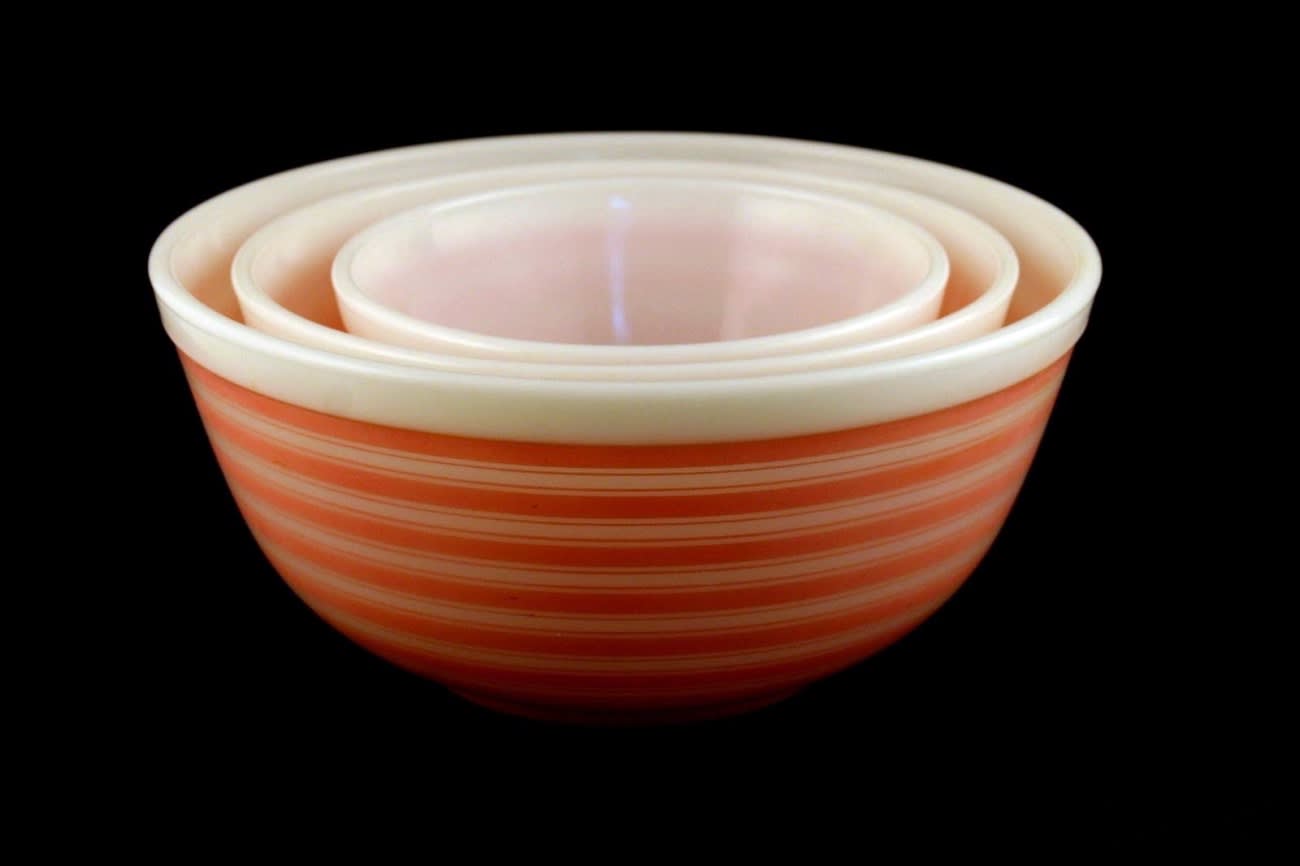 The Stripes pattern was produced from 1965 to 1987 in four colors: blue, pink, sandalwood, and yellow. Though it was originally released in single color sets, later it was released in a combination of blue, pink, and sandalwood, with the larger yellow bowl available for purchase separately. Since the bowls were available to be purchased as a set or separately, it is pretty easy to mix and match and create your own set, even today.
[sc name="content-ad-horiz-3″]
5. Primary Colors
Current ebay asking price: $150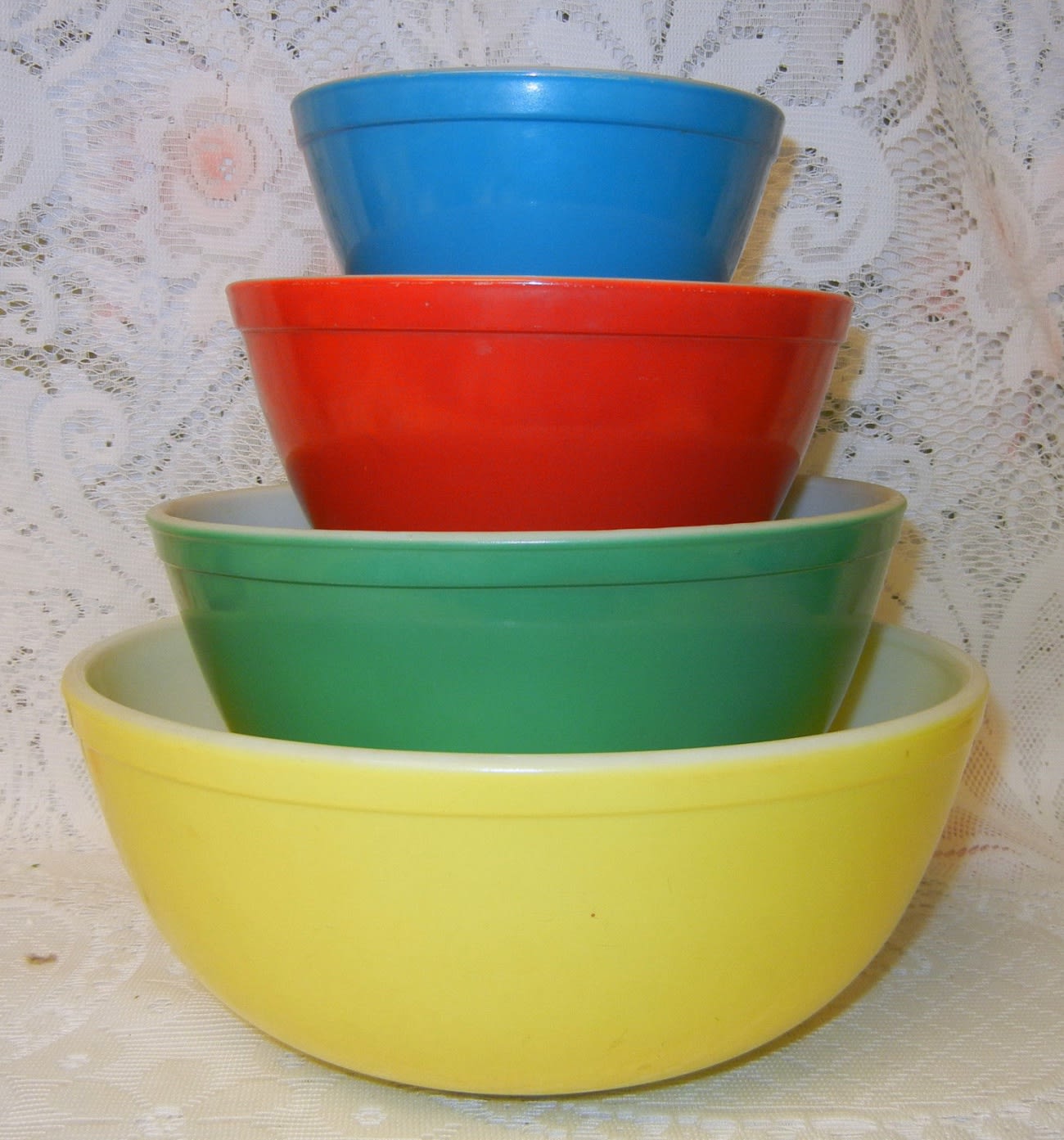 The Primary Color mixing bowls are the quintessential Pyrex collectors item. They were first produced in the 1940s, but today they are still incredibly popular. Though there were some variations in sets, they were generally sold as a 4 quart yellow bowl, a 2 1/2 quart, green bowl, a 1 1/4 quart red bowl, and a 1 pint blue bowl. These days, it's pretty easy to find individual bowls for sale at estate sales or thrift stores. Complete sets aren't too hard to come by either, but prices vary widely depending on the age of the set.
On the next page, you'll find the rarest, most sought-after Pyrex piece of all. Have you ever seen it in person? We haven't!
SKM: below-content placeholder
Whizzco for 12T