Matzoh ball soup is a Jewish dumpling soup, and for those who aren't familiar with it– it's just plain delicious!
To create our favorite matzoh ball soup, we chose chicken stock to act as the base of the soup. It is a very familiar flavor to most, and fairly easy to work with. For flavoring, we simply added carrots, a bay leaf, parsnips, and a few other simple vegetables. when it comes to making the matzoh itself, there are a few schools of thought: heavier "sinker" matzoh balls, and the lighter "floater" balls. We generally prefer the latter. In the end, this dish was a wonderfully simple and delicious way to enjoy a dinner for the holiday.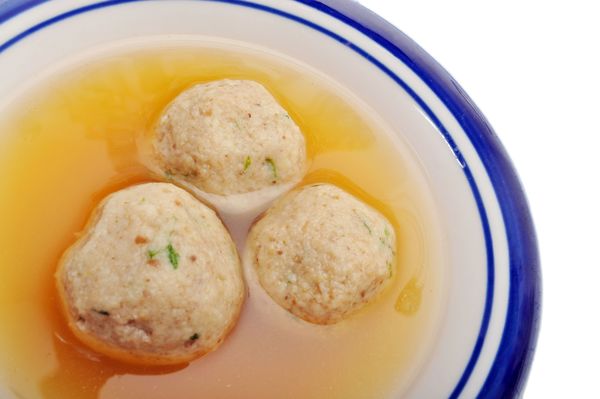 Matzoh Ball Soup
(makes about 3 quarts of broth)
Ingredients
MATZOH BALLS
3/4 cup matzoh meal
1 teaspoon baking powder
1/4 teaspoon salt
1/4 teaspoon garlicp owder
1/4 teaspoon onion powder
1/4 teaspoon white pepper
3 large eggs
3 tablespoons rendered chicken fat (available at butcher shops or in meat markets) or grapeseed oil
1 tablespoon minced fresh dill
SOUP
10 cups chicken stock
2 large carrots, peeled and sliced
2 stalks celery, peeled and sliced (including leaves)
1 yellow onion, sliced
1 parsnip, scrubbed and cut into big chunks
1 tablespoon fresh chopped parsley
2 tablespoons fresh chopped dill
3 cloves garlic, minced
2 whole cloves
2 bay leaves
kosher salt
1/4 teaspoon saffron threads
Directions
In a medium bowl, whisk together the eggs and chicken fat until combined. Whisk in 1/2 cup water and salt. Add the matzoh meal, baking powder, salt, garlic powder, onion powder, dill, and pepper and whisk until combined. Cover and refrigerate the batter until firm (about 2 to 4 hours).
Line a baking pan with parchment. Bring the chicken stock to a boil in a large, wide saucepan, and reduce the heat to a simmer.
Form 2 heaping tablespoons of batter into a 1 1/2″ ball, careful not to compress the mixture too much. Place the ball on the baking pan. Repeat the process with the remaining batter.
Use a large spoon to slide the matzoh balls into the simmering stock. Once all the balls have been added, cover and cook 10 minutes. Add the remaining soup ingredients and cook for 20 to 25 minutes, or until the vegetables are tender and the matzo balls are cooked through. Serve hot.
Enjoy!
Recipe adapted fromThe Shiksa
SKM: below-content placeholder
Whizzco for 12T