One skillet and 30 minutes to saucy, smothered chicken.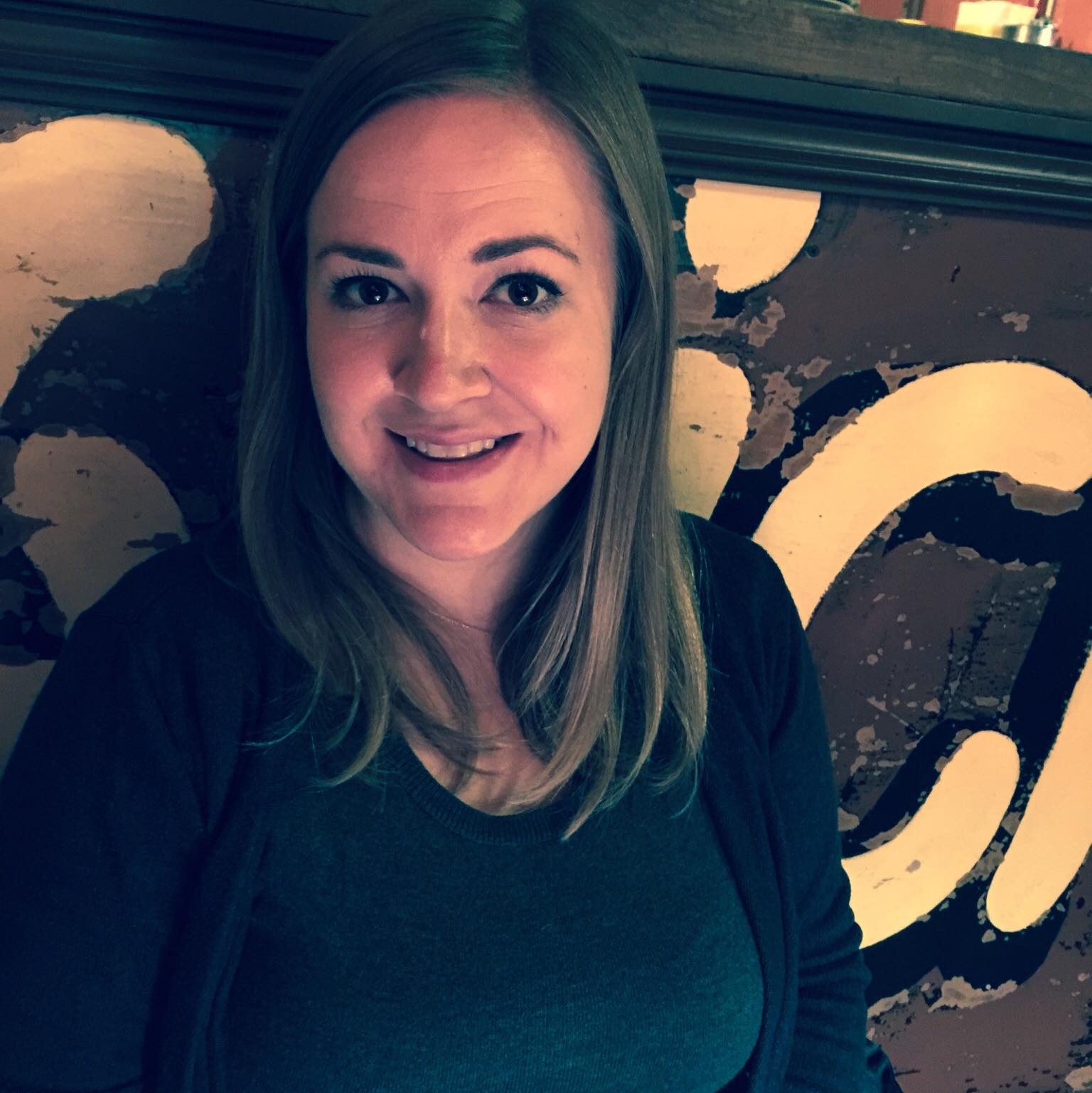 Kristy Norrell

When you share or print a 12 Tomatoes recipe,
you're making mealtime meaningful.
100%
of the Share to Care sponsor fees fund meals for families in need.
Learn More
CLICK ANY LINK BELOW TO JOIN OUR CAUSE!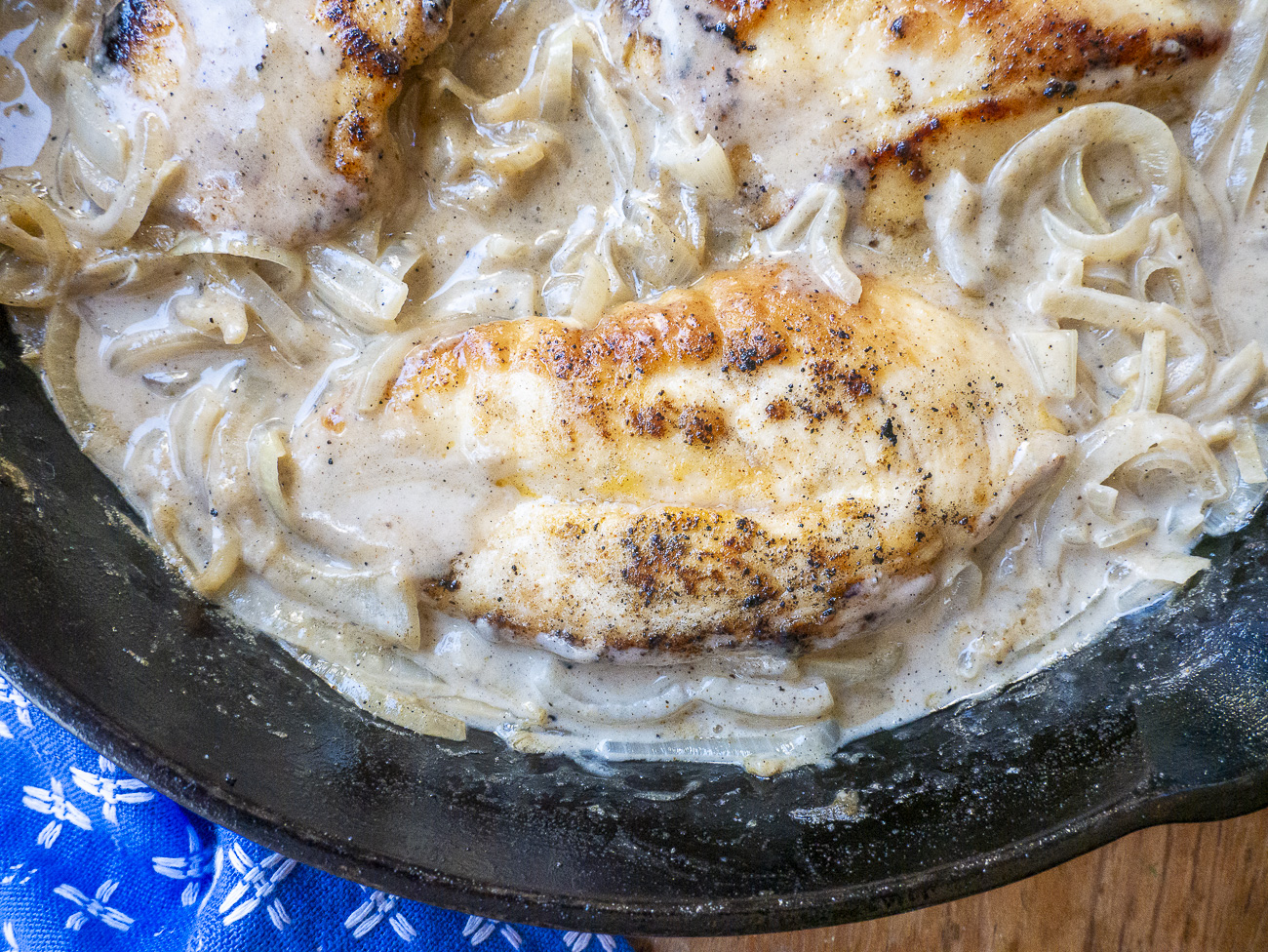 Us food bloggers sometimes try to draw you in with a personal story or some food nostalgia, but today I'm just going to start with this: Imagine a one-pan dish where chicken is simply seared and then nestled into a creamy onion gravy where it simmers through to juicy, flavorful perfection. That's Onion Smothered Chicken, a.k.a. the answer to your weeknight dinner dreams.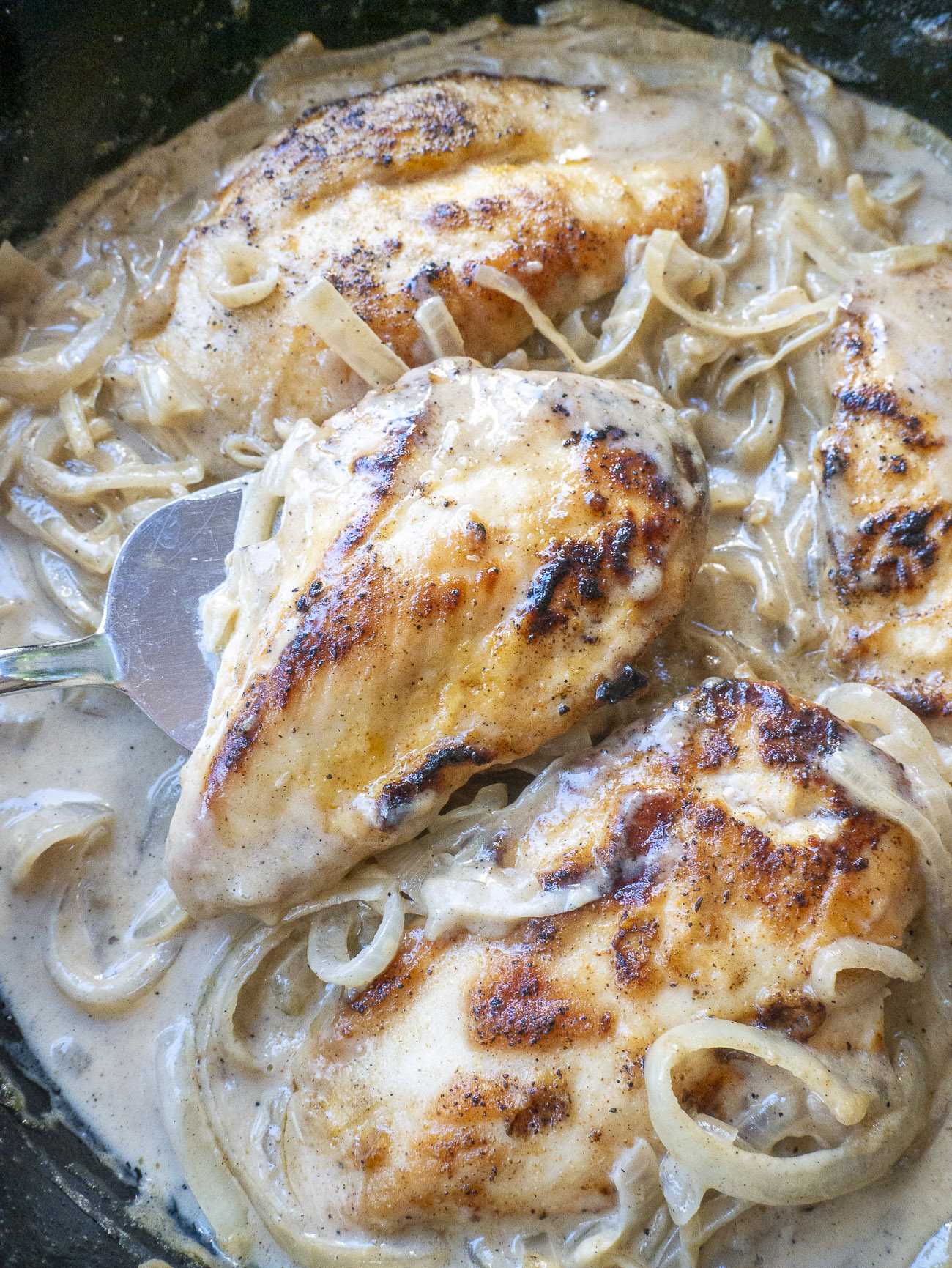 You want to work with thin pieces of chicken here and the easiest way to make that happen is to take two thick chicken breasts and cut them in half lengthwise. Voila, four thin chicken breasts. Then, you're going to dredge those thin pieces of chicken in a seasoned flour mixture and brown them in some olive oil. Easy peasy.
You don't need to worry about cooking them through, as they'll finish cooking in the sauce later. So take the chicken out of the pan and then add a nice heaping portion of thinly sliced onions. (And butter, of course.)
Be patient with the onions and keep them on medium-low heat. You don't need to fully caramelize them, but about fifteen minutes will give them some nice color and sweet, mild flavor.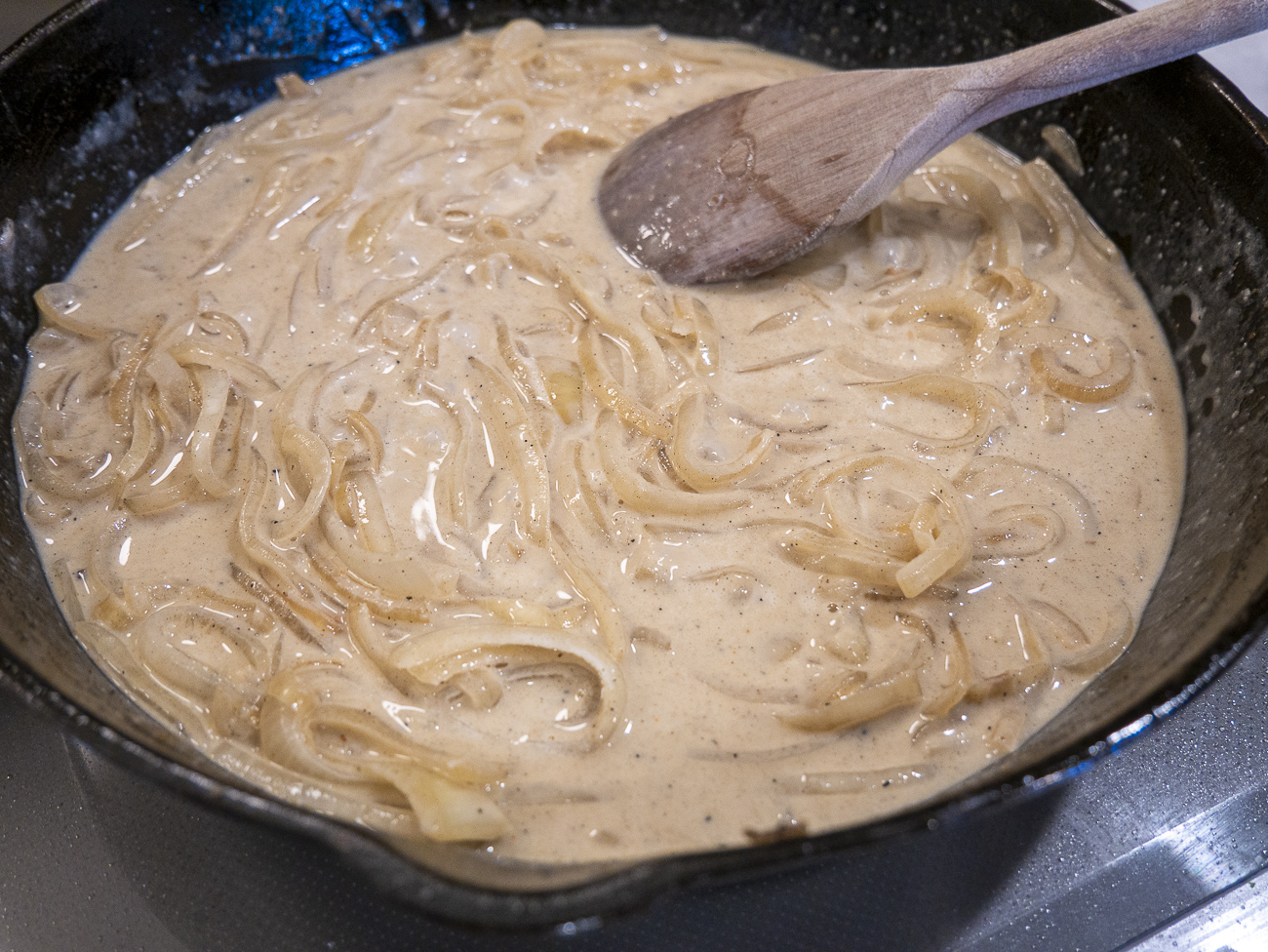 Then you'll whisk in some of the seasoned flour from earlier, followed by some chicken broth and some cream.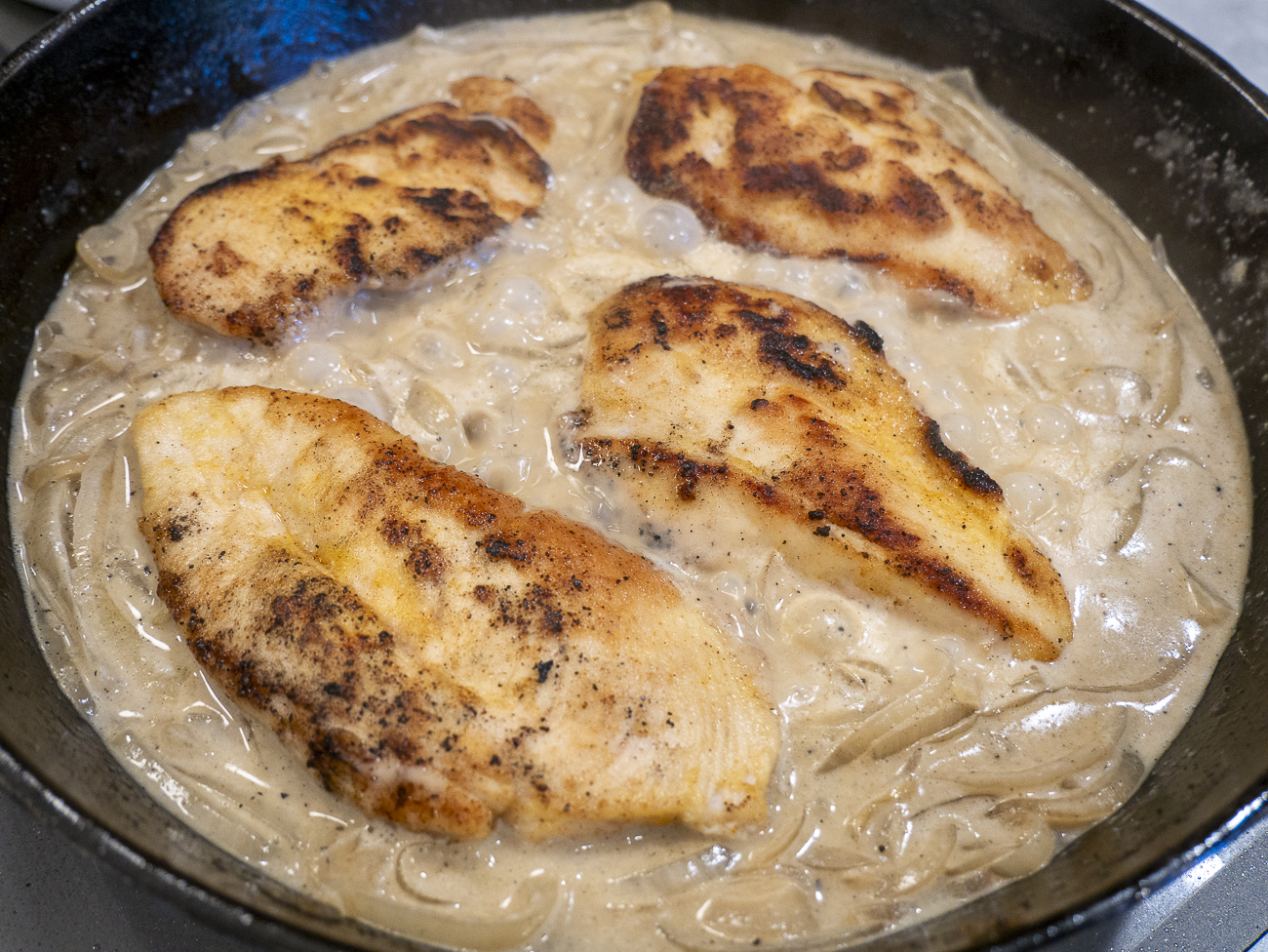 That's the flavorful mixture that your chicken gets to finish cooking through in. Lucky chicken.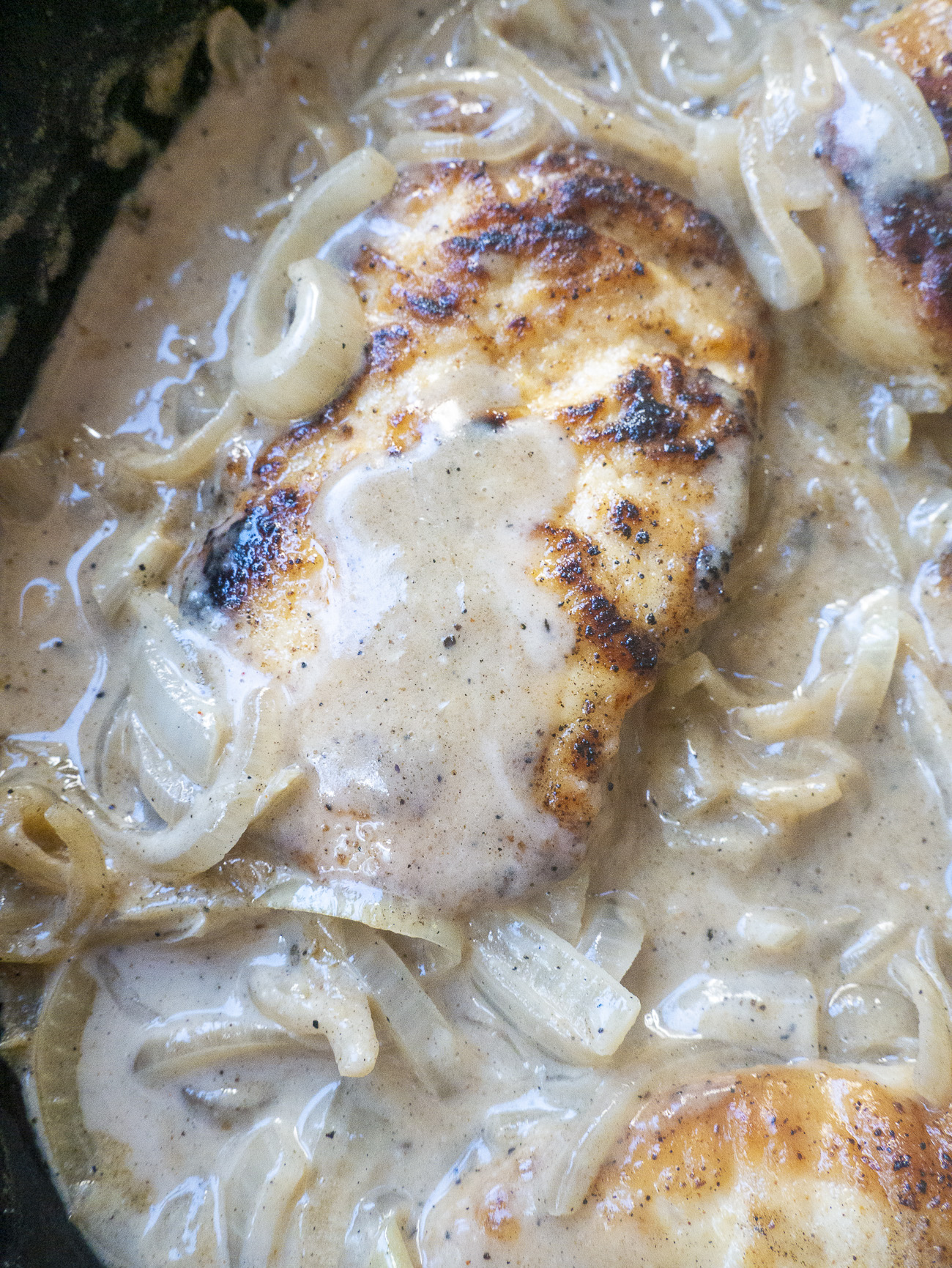 The chicken will cook through until it's nice and juicy and it will also take on some of that sweet onion flavor, while the sauce will thicken to gravy status. I don't know about you, but I love gravy status.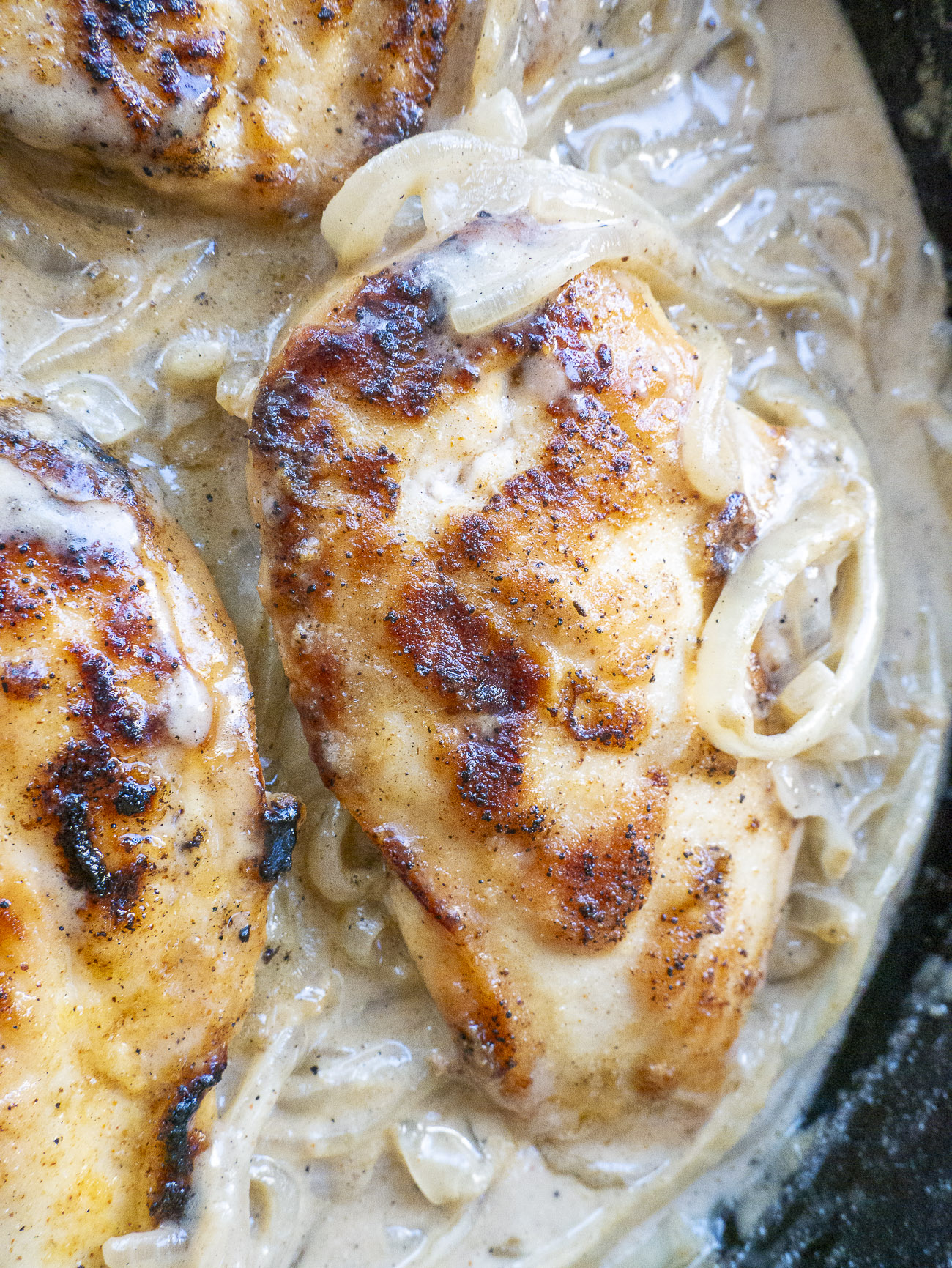 You can spoon it over mashed potatoes, you can serve it over rice, you can just eat it just as it is. You're going to be happy any way you do it. Because here's what I know — chicken breasts are a mighty fine dinner option but they can get kind of boring. But chicken and a creamy, savory onion gravy? Well, that's a level up if I've ever seen one.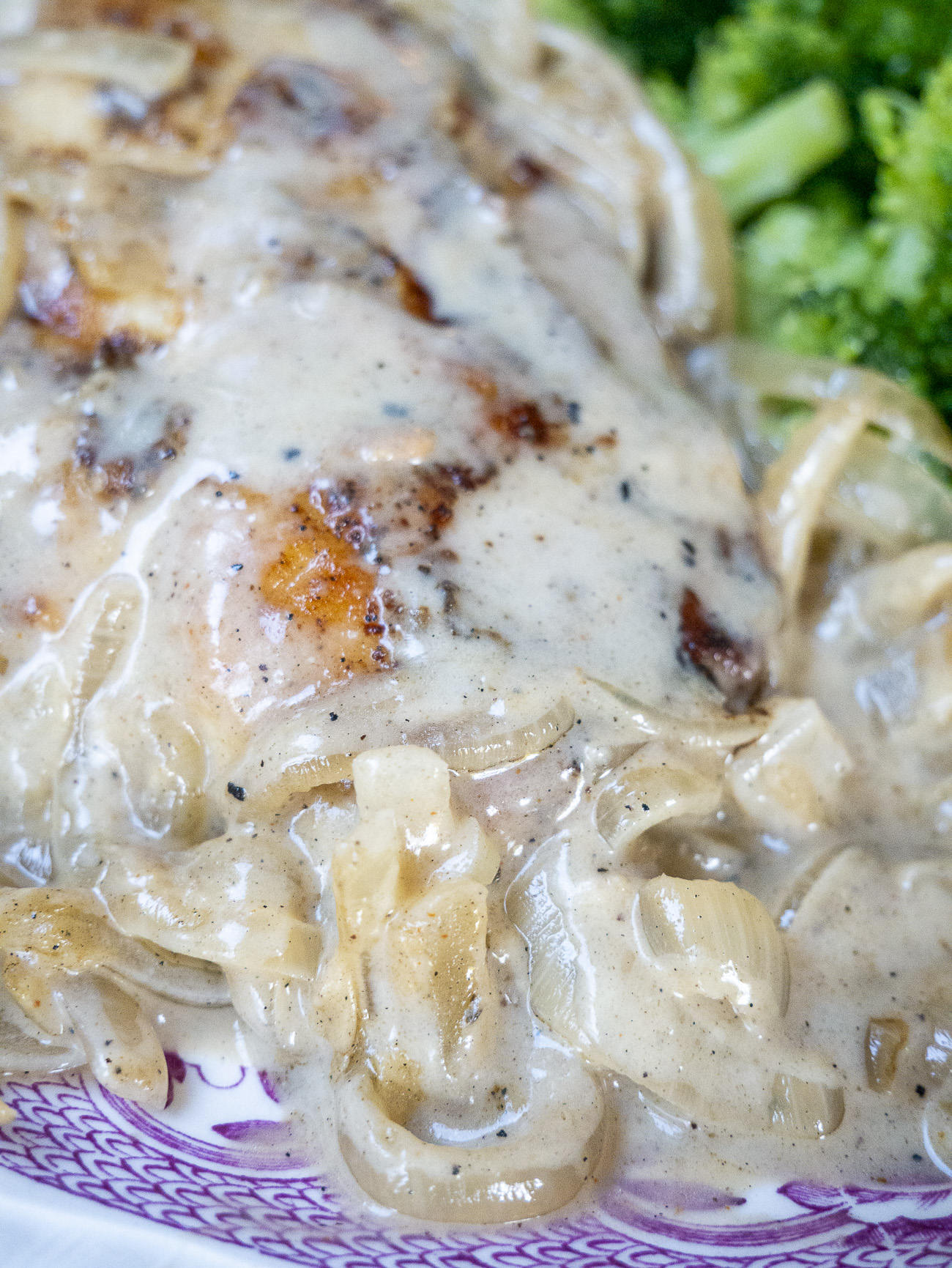 Onion Smothered Chicken
Serves 4
10m prep time
20m cook time

When you share or print a 12 Tomatoes recipe,
you're making mealtime meaningful.
100%
of the Share to Care sponsor fees fund meals for families in need.
Learn More
CLICK ANY LINK BELOW TO JOIN OUR CAUSE!
Ingredients
2 large boneless skinless chicken breasts
1/2 cup all-purpose flour
1 tablespoon garlic powder
1 tablespoon onion powder
1/2 tablespoon paprika
1/4 teaspoon cayenne pepper
2 tablespoons olive oil
2 tablespoon butter
1 medium yellow onion, thinly sliced
1 cup chicken broth
1 teaspoon Worcestershire sauce
1/3 cup heavy whipping cream
Kosher salt and freshly ground black pepper, to taste
Preparation
Slice each chicken breast in half lengthwise so you have four thin chicken breasts. Set aside.
In a shallow bowl, stir together the flour, garlic powder, onion powder, paprika, and cayenne pepper. Add salt and a generous amount of pepper and stir again. Remove 2 tablespoons of the flour mixture to a separate bowl and set aside to use for the roux.
Add oil to a large skillet over medium-high heat.
While oil heats, dredge chicken in flour mixture on both sides, shaking off the excess.
Add chicken to skillet and brown on both sides until golden but not cooked through, about 5 minutes per side. Remove to a plate.
Reduce heat to medium-low and stir in butter. Once melted, add onions and cook until soft and golden in color, about 15 minutes. Stir often and reduce heat if needed if onions are browning too quickly.
Sprinkle the 2 tablespoons of reserved flour mixture over the onions. Cook for just 1 minute, stirring constantly.
Stir in chicken broth and Worcestershire sauce, scraping up any browned bits from the bottom of the pan.
Stir in cream, then add chicken back to the pan and let cook until chicken has cooked through, 5-7 minutes more.
Season to taste with salt and pepper and enjoy!
Recipe adapted from Salt and Lavender.
SKM: below-content placeholder
Whizzco for 12T