Chicken Tikka Masala (and really every other Indian dish) always seems so complex when we order it a restaurant, that we never thought it would be something we could make in our own kitchens, let alone something that could be made using just one burner and one pot! This is such a great recipe to have on hand when you get that Indian food craving, but don't want to go out to a restaurant; it most likely requires a trip to the grocery store to stock up on spices, but once you have them, it'll be easy to make this amazing dish again!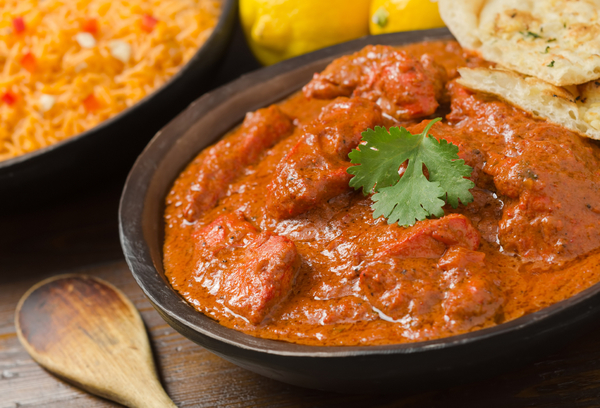 Easy Chicken Tikka Masala
Serves 4
Ingredients
For the Marinade:
1 pound chicken boneless, skinless chicken thighs, cubed
2 1/2 tablespoons plain, Greek yogurt
1 small lemon, juiced
1/2 teaspoon turmeric powder
1/4 teaspoon black pepper
1/4 teaspoon garam masala (Indian spice found at supermarket)
1/8 teaspoon cayenne pepper
1/8 teaspoon salt
For the Masala:
1 (14.5 oz.) can diced tomatoes
2-3 cloves crushed garlic
1 large white onion, diced
1 cinnamon stick
1 cup of water
2-4 tablespoons heavy cream
2 tablespoons tomato paste
1 tablespoon vegetable oil
1 tablespoon butter
1 tablespoon brown sugar
1 tablespoon garam masala, divided
salt, to taste
cilantro, garnish
Directions
Combine marinade ingredients in a large bowl. Mix and refrigerate for 1-2 hours.
In a large saute pan, heat oil and butter over medium heat (the oil raises the burning temperature of the butter) and add the diced onion, salt, cinnamon stick and 1 teaspoon garam masala.
Cook until onion is translucent and lightly browned, and spices are fragrant.
Add garlic and cook for 1-2 minutes. Then add 1 more teaspoon garam masala, tomatoes and tomato paste, and cook until sauce has thickened and reduced slightly.
Take marinated cubed chicken out of the fridge (if you have not already done so) and add it to the sauce. Cook until the outsides are no longer pink and chicken is almost cooked through.
Pour in remaining garam masal, brown sugar, and enough water that chicken is completely covered.
Reduce heat to medium-low and cook for 30 minutes. Chicken should be cooked through and very tender. Remove cinnamon stick.
Turning heat down to low, simmer the mixture and add in heavy cream. Taste and adjust seasoning, if necessary.
Garnish with chopped cilantro and serve hot, with basmati rice or naan.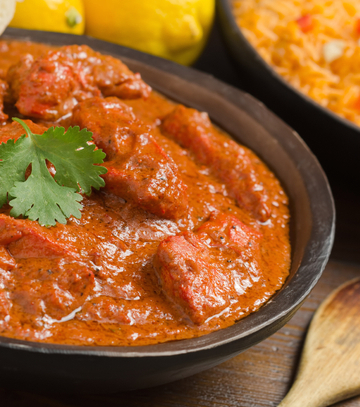 Recipe adapted from Jaali Bean
SKM: below-content placeholder
Whizzco for 12T