A one-pan wonder – two side dishes in one with top-notch flavor.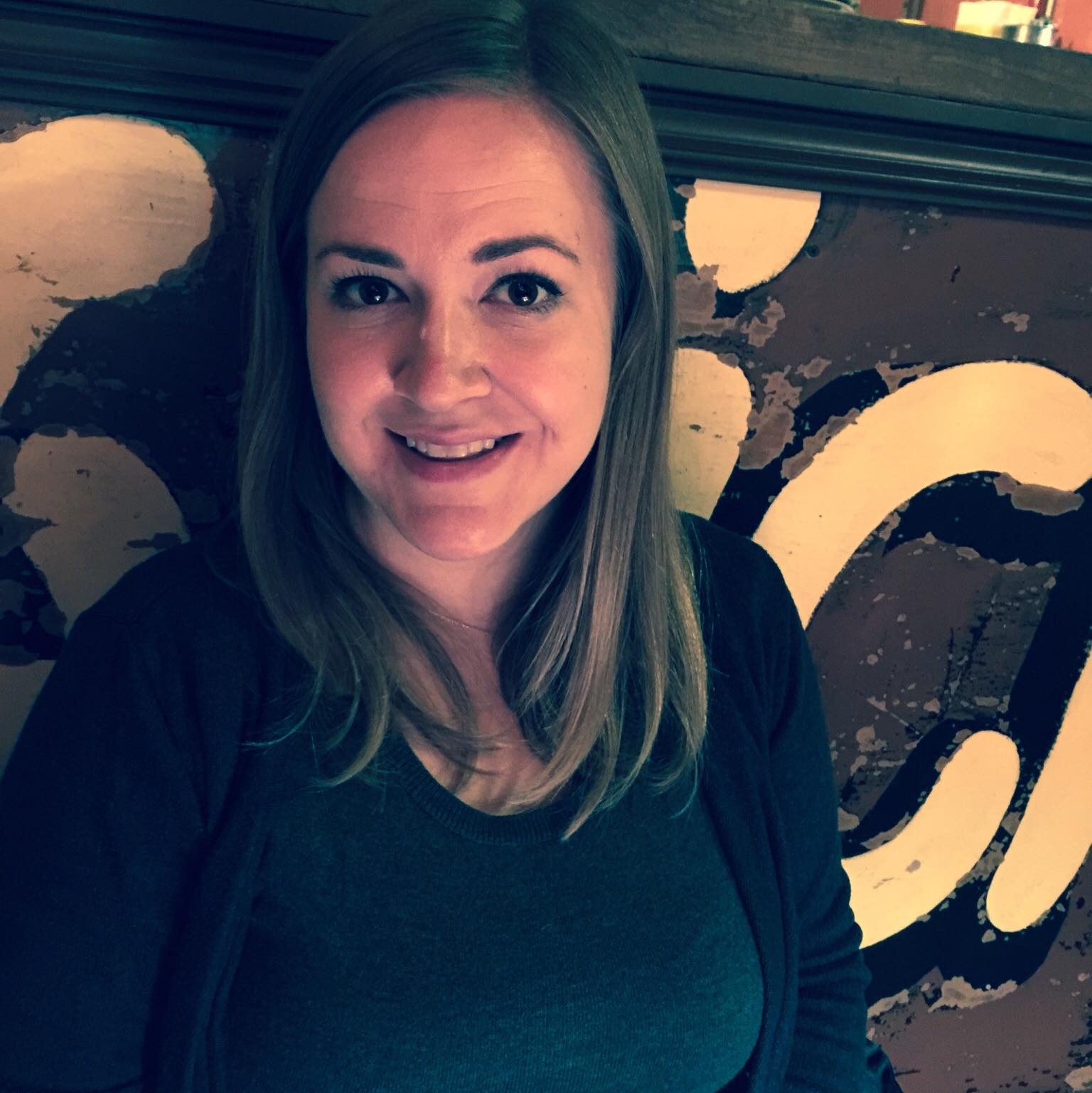 Kristy Norrell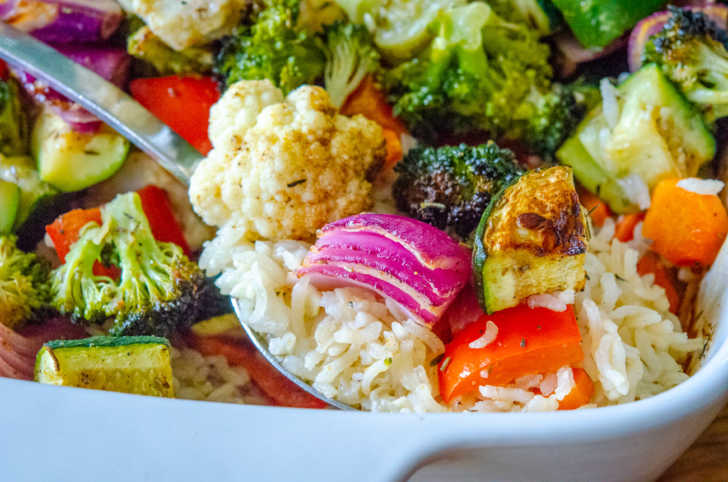 Gone are the days where you need to stress over coming up with two delicious side dishes, because this genius recipe gives you both rice and veggies out of a single pan. And they're not just any rice and veggies, they're flavorful herb-kissed roasted veggies and fluffy, tender rice. Not all shortcut methods deliver on results and flavor, but this one totally does. The first time I made it, my daughter said, "Mom, I like everything in this!" and since it's chock full of vibrant veggies that's pretty much all I needed to hear. Making it every week now.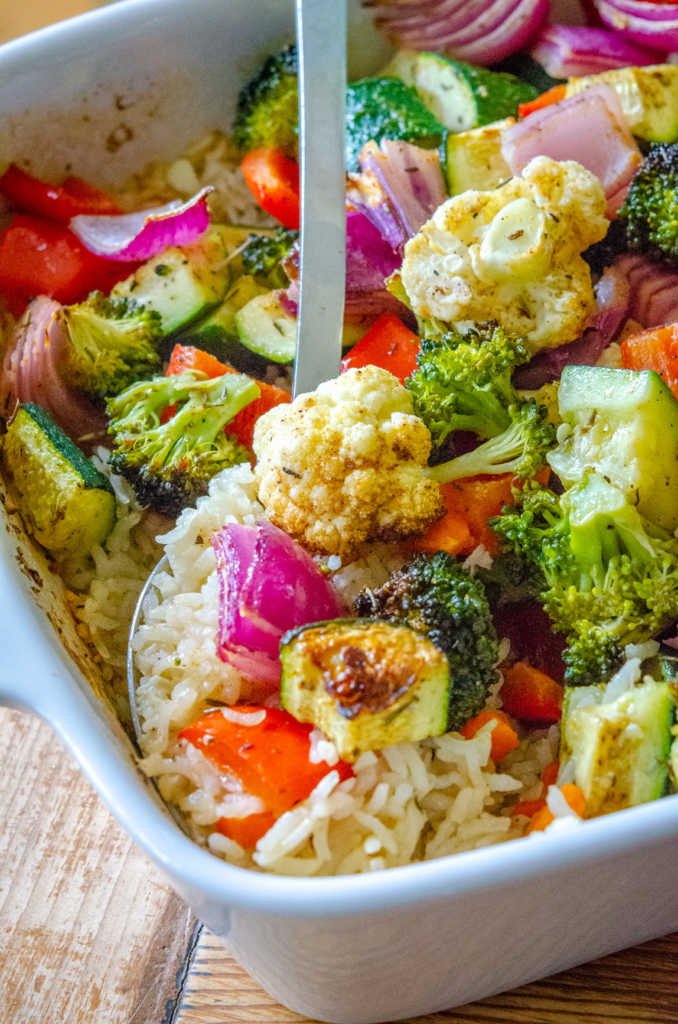 Just to be clear, you don't have to cook the rice on the stovetop and then bake it with the veggies. No, no, no, the oven does all the work for you here. You just stir together some uncooked rice, chicken broth, carrots, and some seasoning, top it with butter, cover it, and pop it in the oven.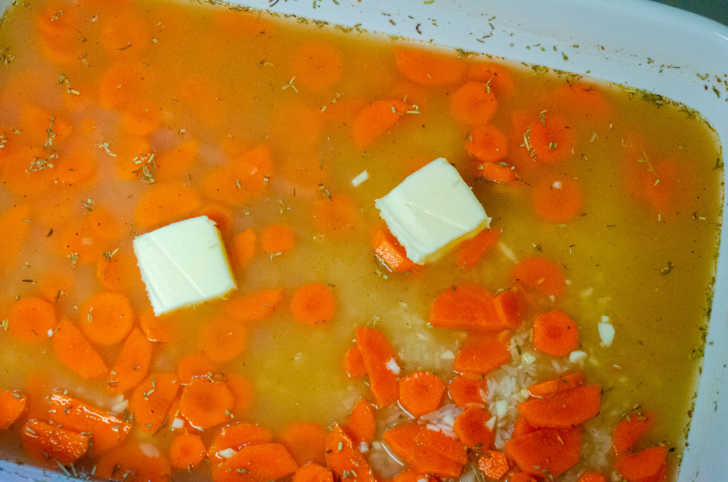 The carrots go in with the rice because they need a little head start cooking compared to the other veggies, but that extra oven time gives you a chance to work on chopping everything else. The mixture I've used is red onion, broccoli, cauliflower, zucchini, and bell pepper, but I could see some mushrooms, asparagus, yellow squash, or green beans subbed in there too. It's a forgiving method, so use what works for you.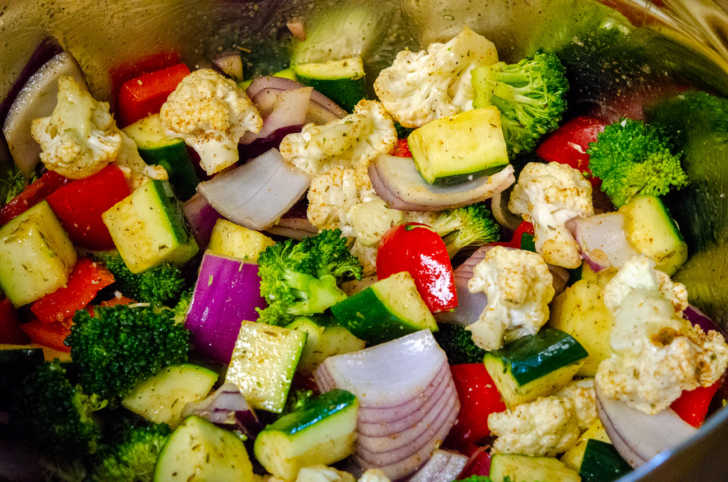 The veggies are tossed in a quick seasoning mixture of garlic powder, paprika, thyme, rosemary, and salt and pepper (and some olive oil too). That might not sound all that exciting, but let me tell you, that herby-garlic flavor really permeates everything so you're not just eating these "to get your veggies in," you're eating these and thinking, "holy cow, these are tasty veggies!" (Good news, that seasoning mix is in the rice too.)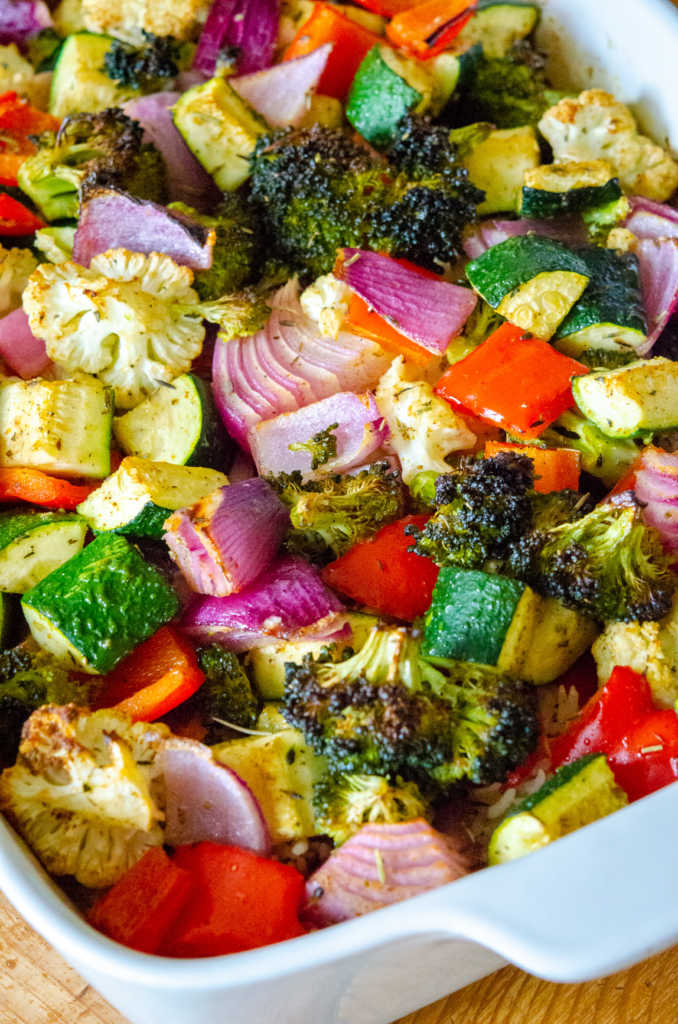 After twenty minutes you'll uncover the rice and scatter the seasoned veggies over the top. The rice will still look pretty liquidy at this point, but don't fret, it will all work out. You'll raise the heat of the oven for the last leg of cooking time, and that gives the veggies more of a roasted flavor and some lovely browned edges.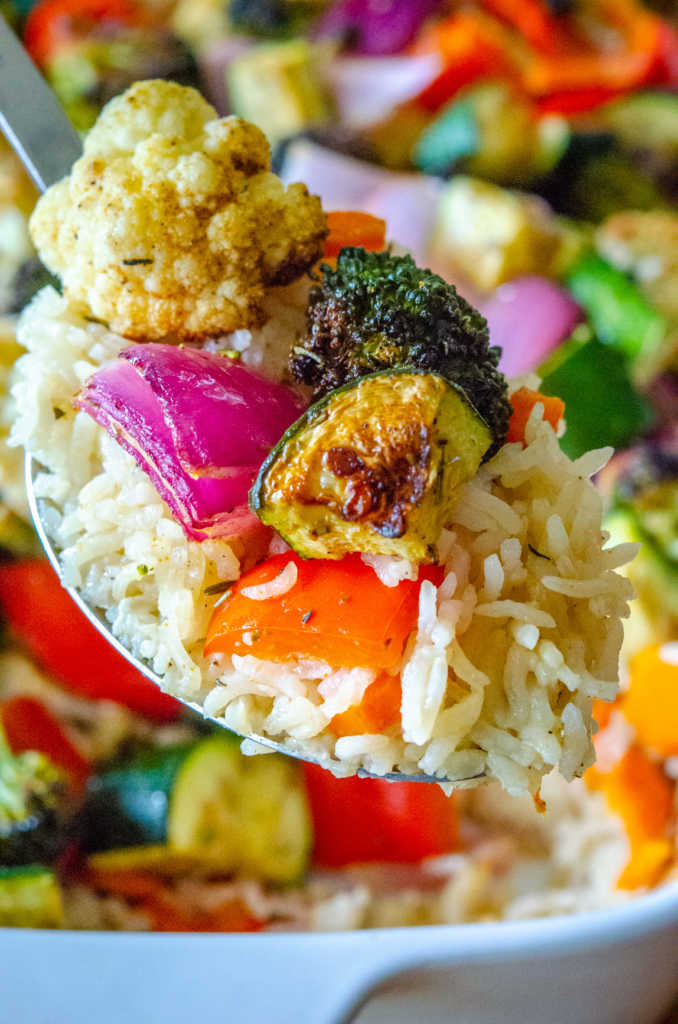 The rice comes out just perfect, fluffy and soft and full of flavor from the seasoning mix, the butter, and the juices that all those delicious veggies have released. This is great alongside a roasted chicken, a steak, you name it – whatever you choose as your main you only have to worry about one side dish to round out the meal. And it's a fantastic one.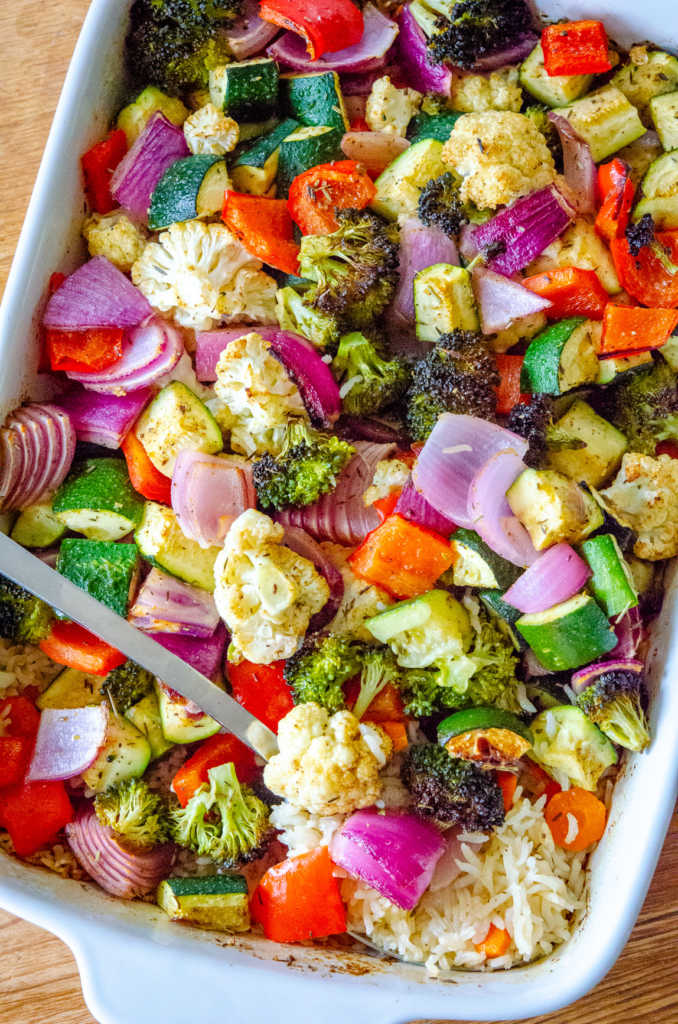 One-Pan Baked Rice and Vegetables
Serves 4
10m prep time
50m cook time
Ingredients
1 1/2 cups jasmine rice, uncooked
1 1/2 cups chicken or vegetable broth
1 1/4 cups water
3 garlic cloves, minced
2 medium carrots, thinly sliced
2 tablespoons butter
For the vegetables:
1 red onion, halved and cut into wedges
1 bell pepper, chopped into 1-inch pieces
1/2 head cauliflower, chopped into florets
1/2 head broccoli, chopped into florets
2 zucchini, cut into chunks
1/4 cup olive oil
For the seasoning mix:
1 teaspoon paprika
1 teaspoon dried thyme
1 teaspoon dried rosemary
1 teaspoon garlic powder
1 teaspoon salt
1 teaspoon black pepper
Preparation
Preheat oven to 400°F and set aside a 9x13-inch baking dish.
In a small bowl, stir together the paprika, thyme, rosemary, garlic powder, salt, and pepper. Set aside.
To the baking dish, add the rice, broth, water, garlic, sliced carrots, and butter. Add 1 1/2 teaspoons of the seasoning mix and stir to combine.
Cover tightly with foil and bake 20 minutes.
Meanwhile, add red onion, bell pepper, cauliflower, broccoli, zucchini, and olive oil to a large bowl. Add remaining spice mix and mix well.
Remove rice from oven and increase heat to 425°F.
Uncover dish and arrange vegetables on top of the rice. Drizzle with more olive oil and season with salt and pepper, if desired.
Bake, uncovered, for 30 minutes. Push vegetables to one side, fluff rice with a fork, then toss the two together. Enjoy!
Recipe adapted from Recipe Tin Eats.
SKM: below-content placeholder
Whizzco for 12T