The coronavirus continues to be an ongoing problem that is sweeping across the nation. People are frightened for their health and the health of their loved ones. There are also certain groups of people who have an even greater need to worry.
The elderly are some of those who are at the most risk for complications associated with COVID-19. Pregnant women can also be included in the group to be concerned about. Perhaps they're wondering if they can have their support partner with them when they're going through labor and delivery or will they be separated from the baby shortly after birth?
One of the concerns of many pregnant women is how the newborn will be protected from the virus seeing as how their immune systems have not yet developed fully. No new mother wants to see their child gets sick, especially when it comes to the coronavirus.
In the United States, extra precautions are being taken, such as getting new parents in and out of the hospital as quickly as possible. In Thailand, extreme measures have been taken and some newborns are being provided with miniature face shields to help protect them from the virus.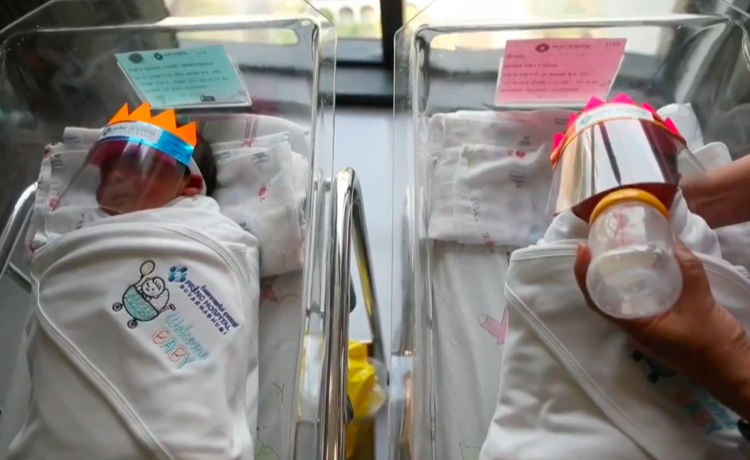 The masks form a barrier to protect the face of the newborn, stopping any droplets that may come from a potentially infected person. Many experts feel that the coronavirus is spread primarily through droplets from one person to another, so this measure was taken to stop the spread.
They don't have to wear the face shields 24 hours a day but it does offer an opportunity for extra precautions and helps to give mothers a little peace of mind. They are especially beneficial when driving home from the hospital with the newborn in the car.
In the pictures, nurses and mothers are wearing masks as they are holding babies, who are wearing miniature shields.
So far, only a few babies have been confirmed with coronavirus and nobody is really sure how they got it. "A very small number of babies have tested positive for the virus shortly after birth," the CDC stated. "However, it is unknown if these babies got the virus before or after birth."
This is CDC also recommends that if you have a child over two years old, a facemask should be worn when you are out in public. Children may be asymptomatic carriers and could spread the disease without knowing it.
You should not have any baby under two wearing a mask because it may increase the risk that they suffocate. That is why these miniature face shields are an obvious solution.
The video below will show you more about why Thailand is taking the steps and will show you additional pictures.
SKM: below-content placeholder
Whizzco for 12T