Moroccan chicken is perfect for a dinner party or as a family weeknight meal.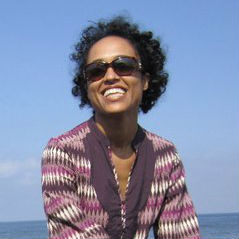 Sarah Cool

When you share or print a 12 Tomatoes recipe,
you're making mealtime meaningful.
100%
of the Share to Care sponsor fees fund meals for families in need.
Learn More
CLICK ANY LINK BELOW TO JOIN OUR CAUSE!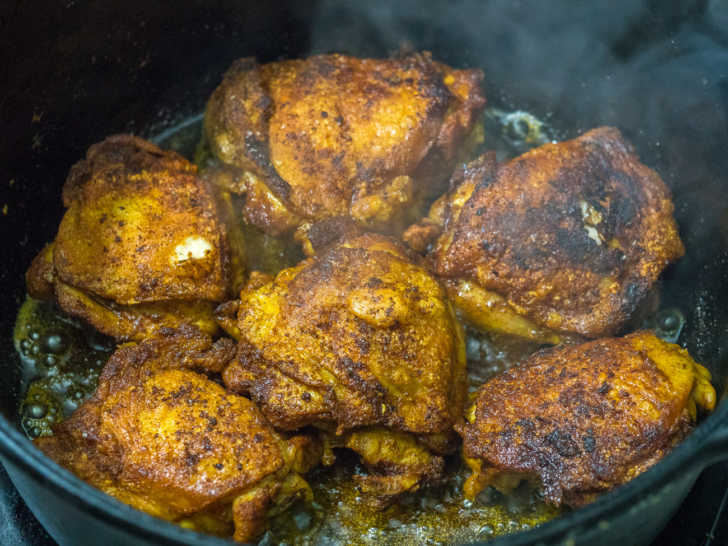 Chicken doesn't have to be plain, boring, and dry. How we treat our chicken in the preparation process makes all the difference in each of these three areas. I like to think of chicken as a blank canvas, ready to take on whatever flavors that I choose, like sweet, spicy or savory. For tonight's dinner, I'm going into my spice drawer for a little North African inspiration. I'm looking for spice, savory, and citrus with this combination of seasonings. And to combat that terrible chicken dryness, I'm going to marinate, sear, and slow cook this chicken to absolute perfection.
The flavor begins by using chicken thighs. The darker meat is packed with natural richness and generally tends to be much more tender meat. I also prefer to keep the skins on my chicken thighs because there's just no replacement for that incredible flavor. I just adore the absolutely gorgeous colors that this particular spice blend offers. Bronzed turmeric, ruby red paprika, rust-colored cinnamon, earthy green coriander, and golden ginger are going paint a stunning picture on the blank canvas of my chicken.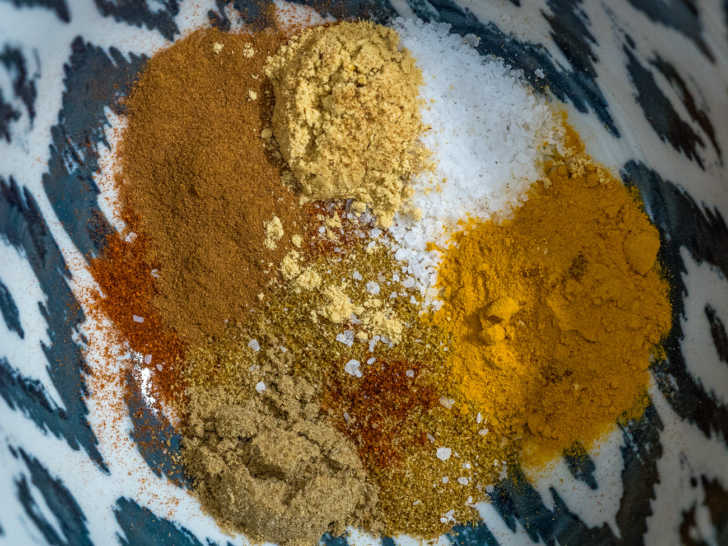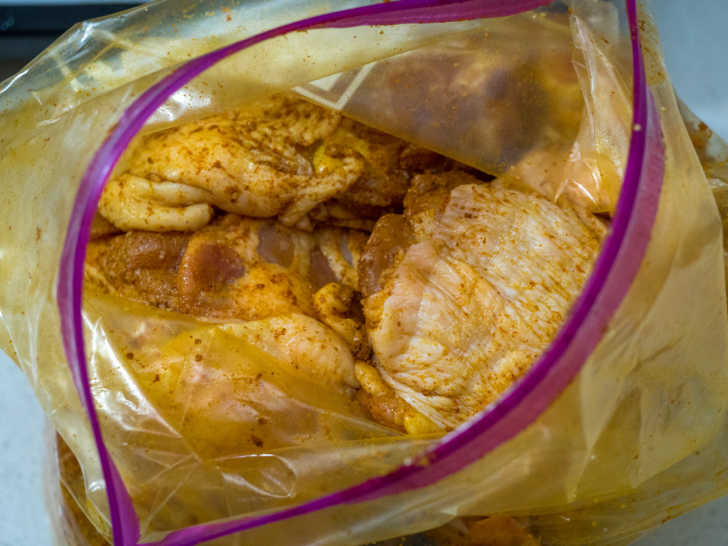 My Moroccan spice blend is rubbed over the chicken meat and then is, ideally, left to marinate in the refrigerator for at least an hour. If time allows, please marinate this for longer, even overnight for a truly delicious experience.
Now, the chicken is ready to become dinner, and I first sear both sides of the meat to lock in those critical juices and to create flavor. Onions, cilantro, and lemon are added to the dish, bringing sweetness, savory herb, and bright acidity. I also have three must-haves to add to really give this a Moroccan twist: green olives, raisins, and dried apricots. These last three ingredients are family favorites in this dish but are optional for you if any of them isn't your favorite.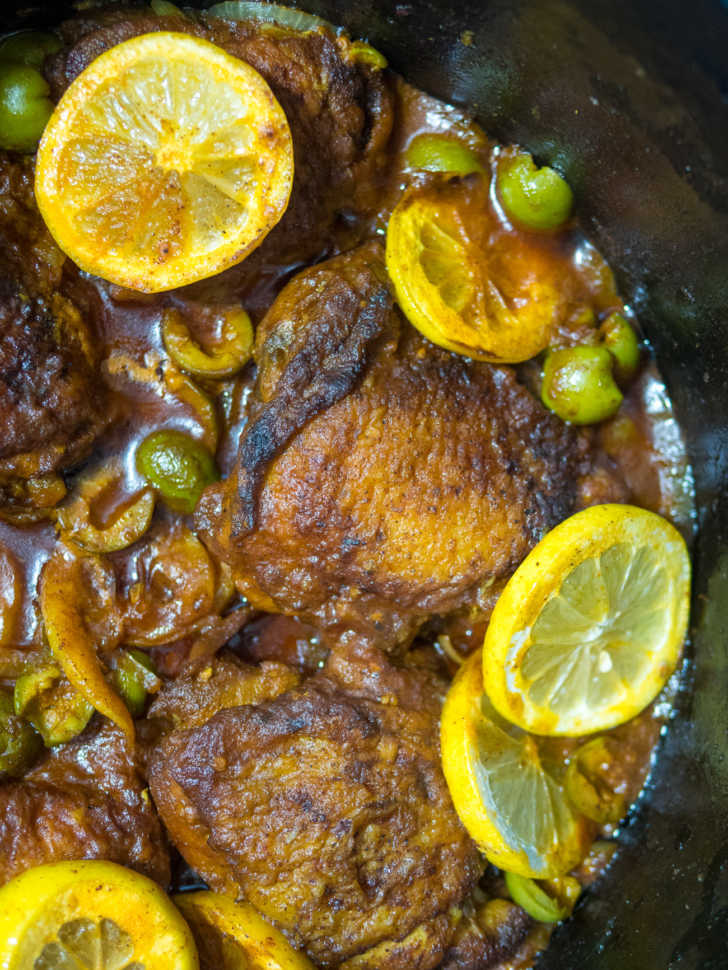 30 minutes on medium-low and my one-pan Moroccan chicken is ready to eat! The tender chicken is surrounded by the most amazing flavors. To serve, I like to prepare pearled couscous and rest the chicken on top, then to drizzle the sauce over the top. So good! My family loves this Moroccan chicken and I love to make it!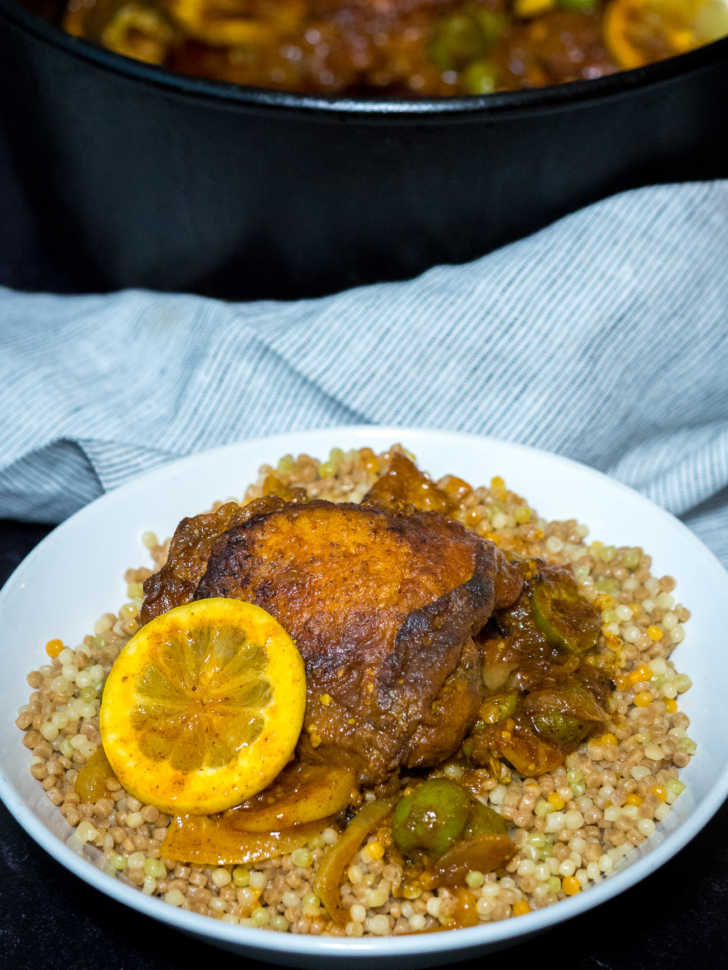 Moroccan Chicken
Serves 4
10m prep time
30m cook time

When you share or print a 12 Tomatoes recipe,
you're making mealtime meaningful.
100%
of the Share to Care sponsor fees fund meals for families in need.
Learn More
CLICK ANY LINK BELOW TO JOIN OUR CAUSE!
Ingredients
½ cup garlic-infused olive oil
2 teaspoons ground paprika
1 teaspoon ground cumin
1 teaspoon salt (or to taste)
½ teaspoon ground coriander
½ teaspoon ground cinnamon
1 teaspoon ground turmeric
½ teaspoon ground ginger
¼ teaspoon cayenne pepper, optional
2 lemons, sliced (preserved or fresh)
1 yellow onion, halved and cut into ¼ inch slices
4 garlic cloves
3 tablespoons tomato paste
1 ½ cup chicken broth
¾ cup pitted green olives halved
1 (20-ounce) package boneless chicken thighs
Optional: ¼ cup raisins and ¼ cup dried apricots
Preparation
In a small bowl, whisk together all dry ingredients for spice rub (paprika, cumin, coriander, cinnamon, turmeric, ginger, cayenne). Transfer mixture to a gallon ziplock bag or glass container with a lid.
Pat chicken dry, season on all sides with salt then rub in dry mix. If keeping the skins on, make sure to add spice rub under the skin as well. Seal and marinate the chicken for at least an hour but ideally 8 hours (or overnight). If left to marinate in the fridge, let the chicken return to room temperature for a few minutes before cooking.
When ready to eat, heat 2 tbsp garlic oil over medium-high heat until shimmering but not smoking. Add chicken (skin side down, if you kept skin) and brown for 5 minutes. Turn over and brown on the other side for another 3 minutes or so.
Lower heat to medium-low and add onions, garlic and cilantro. Cook for 2-3 minutes or until onions begin to become translucent. Mix in tomato paste and chicken broth. Next add lemon slices and olives. For a more festive fall dish, now is when the apricots and raisins are added.
Bring to a simmer and continue to cook on medium-low for about 30 minutes or internal temp reaches 165°F. To keep the skin crispy, finish under the broiler for 3-5 minutes. Make sure to keep an eye on the skin in order to avoid burning the delicate chicken skin.
Recipe adapted from Fun without FODMAPS.
SKM: below-content placeholder
Whizzco for 12T