The best fast-food breakfasts can be tough to replicate, right? That's why we always try to haul our butts to McDonald's before they stop serving breakfast each day. Anyone who has ever had a craving for McDonald's breakfast (only to show up too late) can relate to this one. It can be hard to get the flavor just right, but this hack is here to save the day……once and for all!
One TikTok user, @allyb1216, has created copycat McGriddles and the way she did it is genius. Now, we no longer have to leave the house or rush against time to enjoy a delicious McGriddle.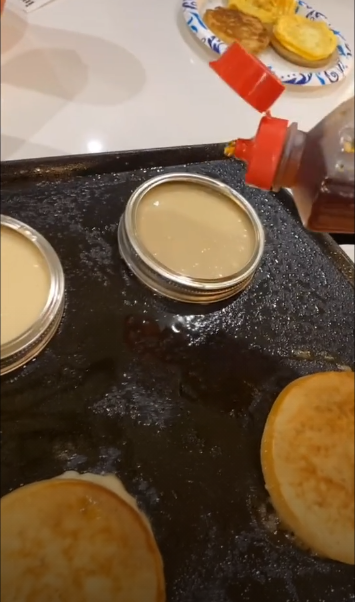 McGriddles are a delightful sandwich because they allow us to enjoy pancakes as buns. That's half the charm! The pancakes that McDonald's uses are perfect. The syrup is collected in the little pockets, so diners get a hint of sweetness in each bite. We have been wondering how these pancakes are made for a long time now, and at long last, the mystery is solved.
Anyone who is familiar with mason jars knows every jar has its own circular ring at the top. It screws on tightly, ensuring maximum freshness. Allyson uses these rings to create a mold for perfect McGriddle pancakes. Of course, the pancakes could get stuck if you are not careful. Take a moment to coat the ring with some cooking spray firs to avoid this problem.
Take the coated ring, place it on the griddle, add the pancake mix, and wait. Once the pancake starts to get a bit crispier, the syrup can be added next. This keeps the syrup from having a chance to escape. As soon as the pancake is flipped, the syrupy bits are all baked in for you.
Some might decide that they would like to eat the pancakes as is. Others may want to start adding eggs, cheese, and sausage. Either way, it's one of the best ways to start your morning. What's not to love?
SKM: below-content placeholder
Whizzco for 12T