How often does this happen to you: finding yourself at a family gathering, you ask your loved ones to help you make some macarons only to find out that they have filled the kitchen with coconut! Or how about those times when you ask your favorite baker for a macaroon and are presented with a handful of tiny, adorably colored cookies! How many times have you screamed to the heavens above, "Is it macaroon or macaron?! WHY WHY WHY?!" We've solved this problem for you and come up with the ultimate guide to these two delectable deliciousities!
Check out our recipes and tips on how to make the ultimate macarons…and macaroons!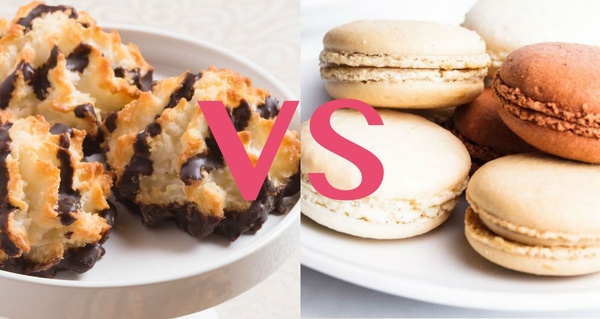 History: A Family Affair
This battle is actually one over ancestry, believe it or not. When broken down into their constituent ingredients, macaroons and macarons are very similar. The base of macaroons are made from flour, sugar, salt, and egg whites while the wildly different "macaron" is made from flour, sugar, salt, and egg whites. So what's the difference between these two other than an extra "o" ? The legends (there are several) are surrounded in ambiguity but the common thread is as follows:
These cookies came from Italy, where they were made from almond paste and called "amaretti." Bakers began to substitute the almond paste for shredded coconut, which the Jewish community loved because they were great, unleavened treats at Passover. They were named from the Italian word "maccarone,"said to mean "a paste."
French royalty allegedly discovered the cookie through Catherine de Medici and used almond flour instead of almond paste, creating very tiny, delicate cookies that became very popular in Paris. Then in the 20th century, Pierre Desfontaines came up with the idea to sandwich two cookies together with ganache. Thus the macaron and the macaroon were separated by birth only to see their distant sibling from across the boundaries of coconut and frosting. Whichever version of their history you believe, you can't deny how good these two cookies taste!
---
Recipes
There are several ways to make macaroons and macarons. But there are some tricks to these recipes you should know first!
Due to the light and fluffy nature of meringue (which acts as the dough in a macaron), creating cookies that match can be tricky. And matching cookies is important if you're sandwiching them together between luscious buttercream or sweet jam. We suggest you pick up a macaron kit here, which comes with the tools to control your meringue and also with a specialized baking tray to help keep your cookies consistent. It makes a huge difference!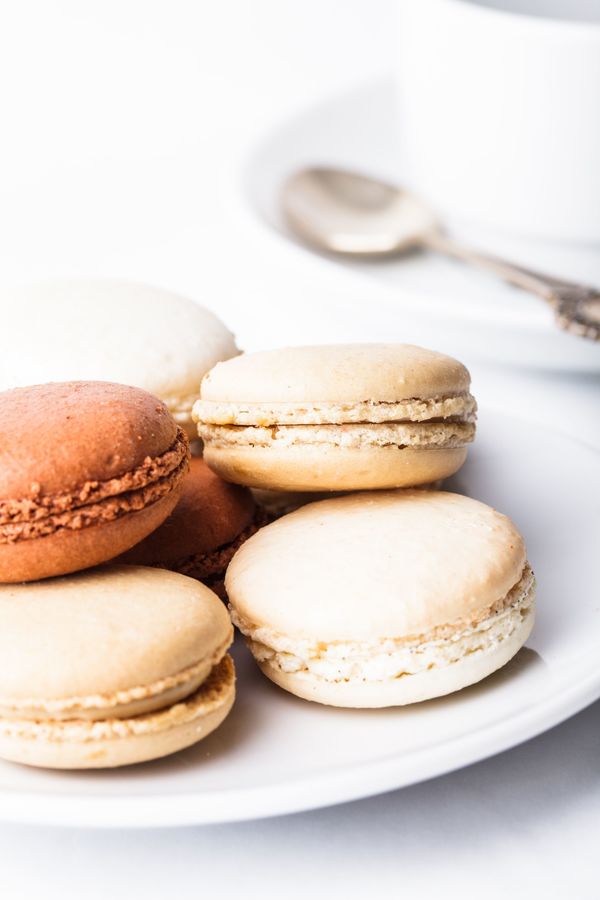 Also, before you start cooking, consult with your baking buddies about which kind of treat you're making. Both macaroons and macarons have countless styles! You can chocolate dip or chocolate chip your macaroons as well as adding different fruits for flavor. With macarons, the big debate is over which color to make them. Although color does not affect directly affect your taste buds, choosing a good color to compliment the flavor of your macarons can make a big difference and get peoples' mouths watering before their first bite.
Check out our recipes!
---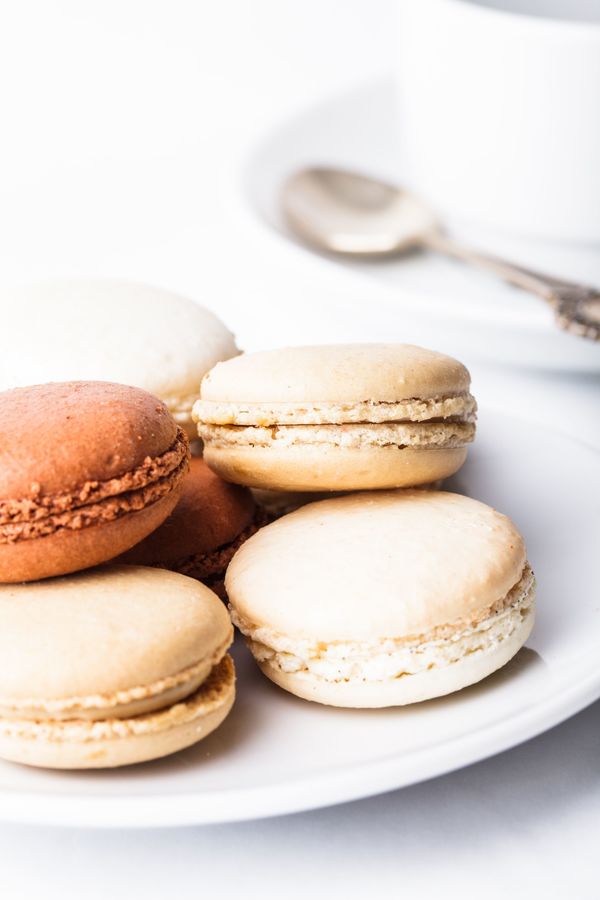 Almond Macarons
Yields 3 dozen cookies
Ingredients
Cookies:
1 cup powdered sugar
2/3 cup almond flour
3 egg whites
3 tablespoons sugar
1 teaspoon vanilla extract
1/2 teaspoon kosher salt
Buttercream:
2 cups powdered sugar
2/3 cup unsalted butter, room temperature
2 tablespoons heavy cream
1 teaspoon almond extract
1/4 teaspoon vanilla extract
Directions
Preheat oven to 300º F and line 2 baking sheets with parchment paper or non-stick mats.

Optional: use a 1 1/2-inch cookie cutter dipped in flour to mark you cookie outlines.

In a medium bowl, sift together your powdered sugar and almond flour. Repeat and set aside.
In a large bowl or mixer, beat together your egg whites, sugar and salt on medium, for 3 minutes.
Turn speed up to medium-high and beat mixture for another 3 minutes, before turning speed up to high and beating for another 3.
Pour in vanilla extract and beat mixture on the highest speed for 1 minute. (You should be beyond stiff peaks now, as mixture should be a dry meringue that sticks in the center of the mixer.)
Pour dry ingredients into the meringue all at once and use a rubber spatula to fold it in.

Note: Incorporating the two together should take 35-40 strokes and you'll want to deflate the egg whites as you do it. Just don't over mix and make the mixture runny. Test by taking a spoonful of batter and dripping it back into the rest; after 15-20 seconds it should be reincorporated.

Take the bowl and hit it hard against the counter to release air bubbles in the batter.
Transfer mixture to a piping bag and, keeping the tip of the bag on the baking sheet, pipe the batter into the marked circles. Leave a border, as they will expand.
Firmly tap the baking trays on the counter 2-3 times to release any remaining air bubbles.
Place trays in oven and bake for 18-20 minutes, rotating trays in the middle. Cookies should easily come away from parchment paper.
Remove from oven and let cool completely.
For the frosting: cream together the butter and powdered sugar for 3-5 minutes, or until fluffy and smooth.
Beat in heavy cream, vanilla extract and almond extract. Continue mixing until desired consistency is reached.
Using a piping bag or a knife, spread a quarter-sized amount of frosting on the flat side of half the macarons, then top with the remaining of cookies, keeping the flat sides together.
Refrigerate 20 minutes before serving, or store in an air-tight container, refrigerated for up to 5 days.
Recipe adapted from Brave Tart
---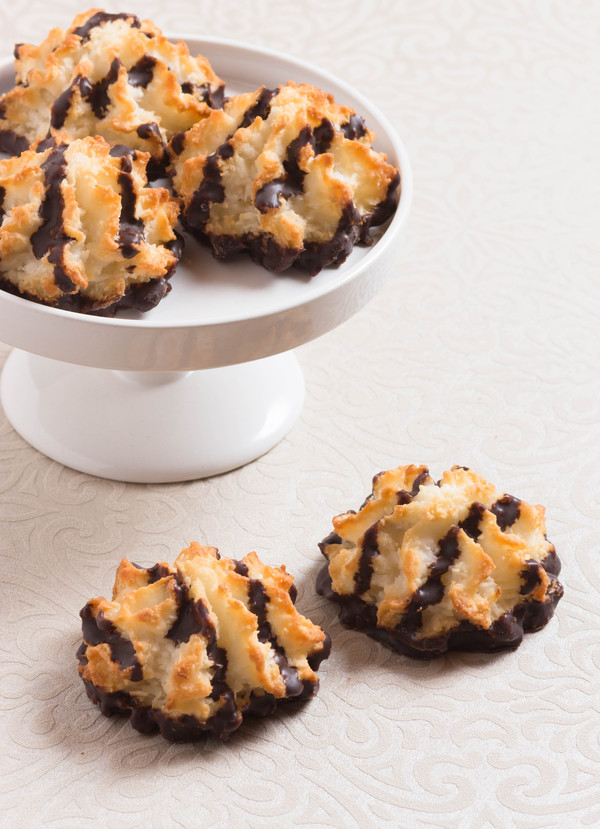 Mouthwatering Chocolate-Dipped Macaroons
(serves 3-4)
Ingredients
1 3/4 cups shredded coconut
2 large egg whites
1 cup chocolate chips
5 tablespoons sugar
2 tablespoons of almond flour
1/2 teaspoon almond extract
1/2 teaspoon vanilla extract
1 orange
1/8 teaspoon salt
Directions
Preheat oven to 350° F.
Line a baking tray with parchment paper and lightly grease with butter.
Combine egg whites, almond extract, vanilla extract, and sugar in a mixing bowl. Whisk for about 3 minutes until the mixture is light and full of air (like shaving cream).
Zest half of your orange.
Fold coconut, almond flour, sugar, salt, and orange zest into your whipped egg white mixture until the ingredients are well combined but there is still air in your ingredients.
Transfer your mixture to the baking sheet in small balls. You can make your macaroons whichever size you like but we recommend they have a base diameter of 1 12 inches.
Bake for 15 minutes until the edges of the macaroons become golden brown.
Remove them from the oven and let cool.
Heat chocolate in a microwave safe bowl at high heat for 15-second increments until all of your chocolate chips have melted and have an even consistency.
Line a new baking tray with parchment paper.
Take macaroons and dip them, bottom first, into the melted chocolate, placing them on the new baking tray until all of your macaroons have a chocolate-coated base.
Drizzle remaining chocolate over the tops of your macaroons.
Place sheet of macaroons in the refrigerator for 30 minutes or until the chocolate has hardened.
Serve at room temperature.
Recipe adapted from Dessert For Two
---
Attention do-gooders!
Looking to help someone through your baking? There is cooking swag out there that helps feed the hungry! From measuring cups to dragonfly aprons, each purchase helps fund organizations such as Mercy Corps, Food Recovery Network, Millennium Promise, Partners in Health, and Mae Tao Clinic. Whether it's a macaroon or a macaron, you can make a difference, one dish at a time!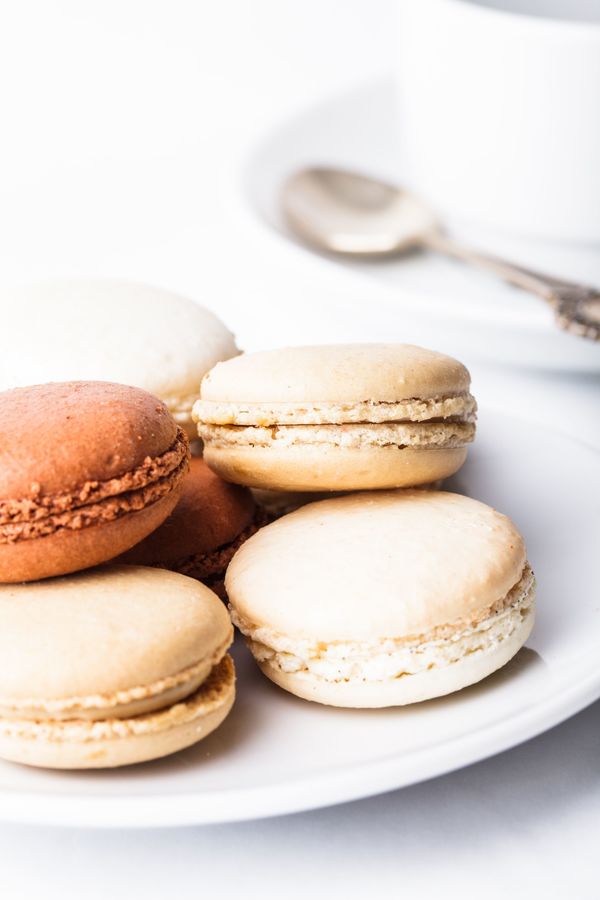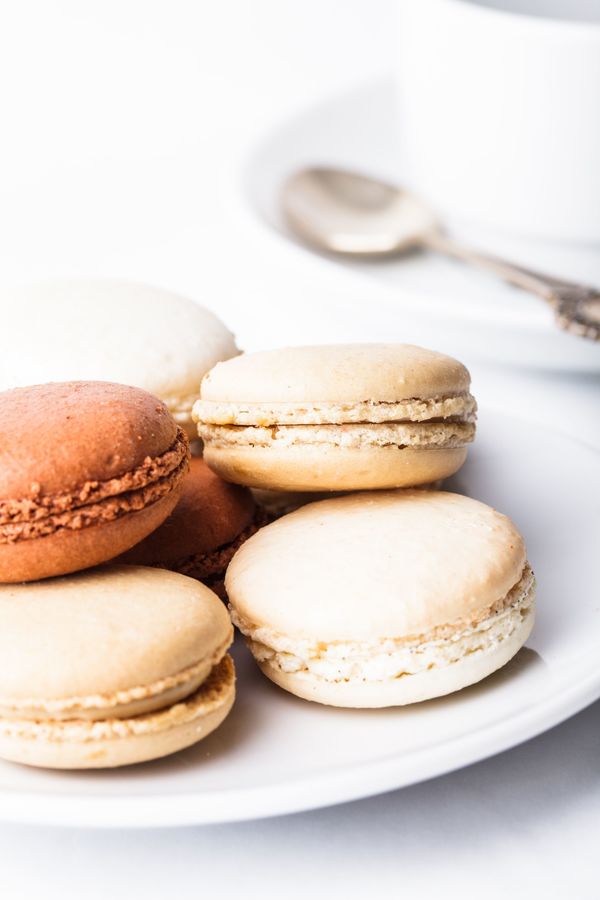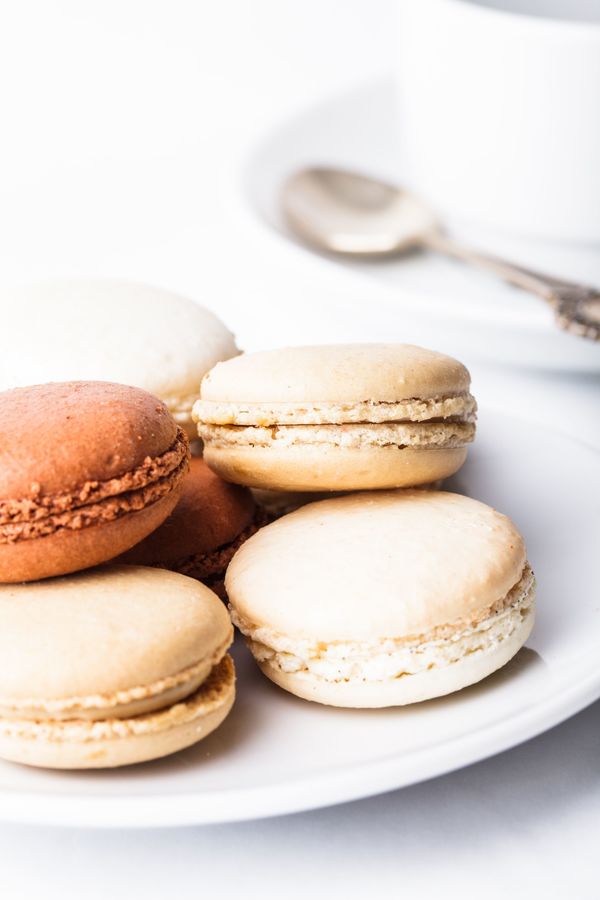 What is your favorite type of macaroon / macaron?
Happy baking!
SKM: below-content placeholder
Whizzco for 12T