TikTok is changing our lives in a number of ways and we cannot wait to see what they come up with next. And one of the only upsides of quarantine life is having all of the time in the world to check out the latest clips. The hack that you are about to see just might be the best one we have come across.
After all, one thing is for sure: our process of juicing lemons is never going to be the same again. You will no longer have to worry about those pesky lemon seeds or cutting the fruit up. If you are anything like us, you are tired of all the steps that go into this process. Who wants to take the time to locate a cutting board and a knife that is sharp enough to get the job done?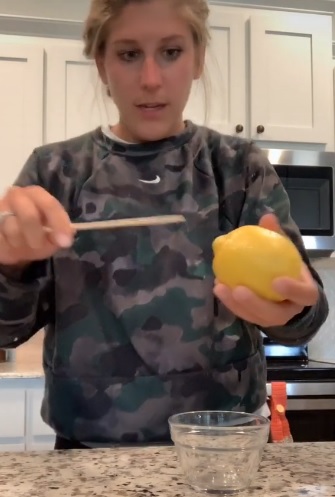 Plus, once you have accomplished those steps, you still have to get rid of all the seeds. TikTok users have heard your complaints and they are here to make life simpler. The best part of all? You do not need any additional tools to handle this task. As long as you have a skewer on the premises, you are good to go. Kebab skewers tend to work best for this hack in most instances. But if you have any sharp objects that can serve a similar purpose, they can be subbed in.
As soon as you have your sharp object, take a moment to puncture the lemon. One hole will do the trick. Choose an end to place the hole in and make sure that the skewer does not go all the way through.
Now all you need to do is squeeze the lemon once the hole has been made. It is really that easy. The lemon's juices will come right out and you no longer have to worry about the pulp and seeds getting into the glass. The term "genius" is thrown around a bit too loosely these days, but we are pretty sure that this hack qualifies.
The Internet is not trying to play any sort of trick on you, either. The trick is tried, tested and true. Your life is forever changed, especially those of us who love a good lemon juice. When life hands you lemons, all you need to do is poke a hole in them and the rest will take care of itself.
SKM: below-content placeholder
Whizzco for 12T