Comforting, classic, and made with leftovers! A win-win-win!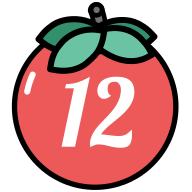 Conscious Eats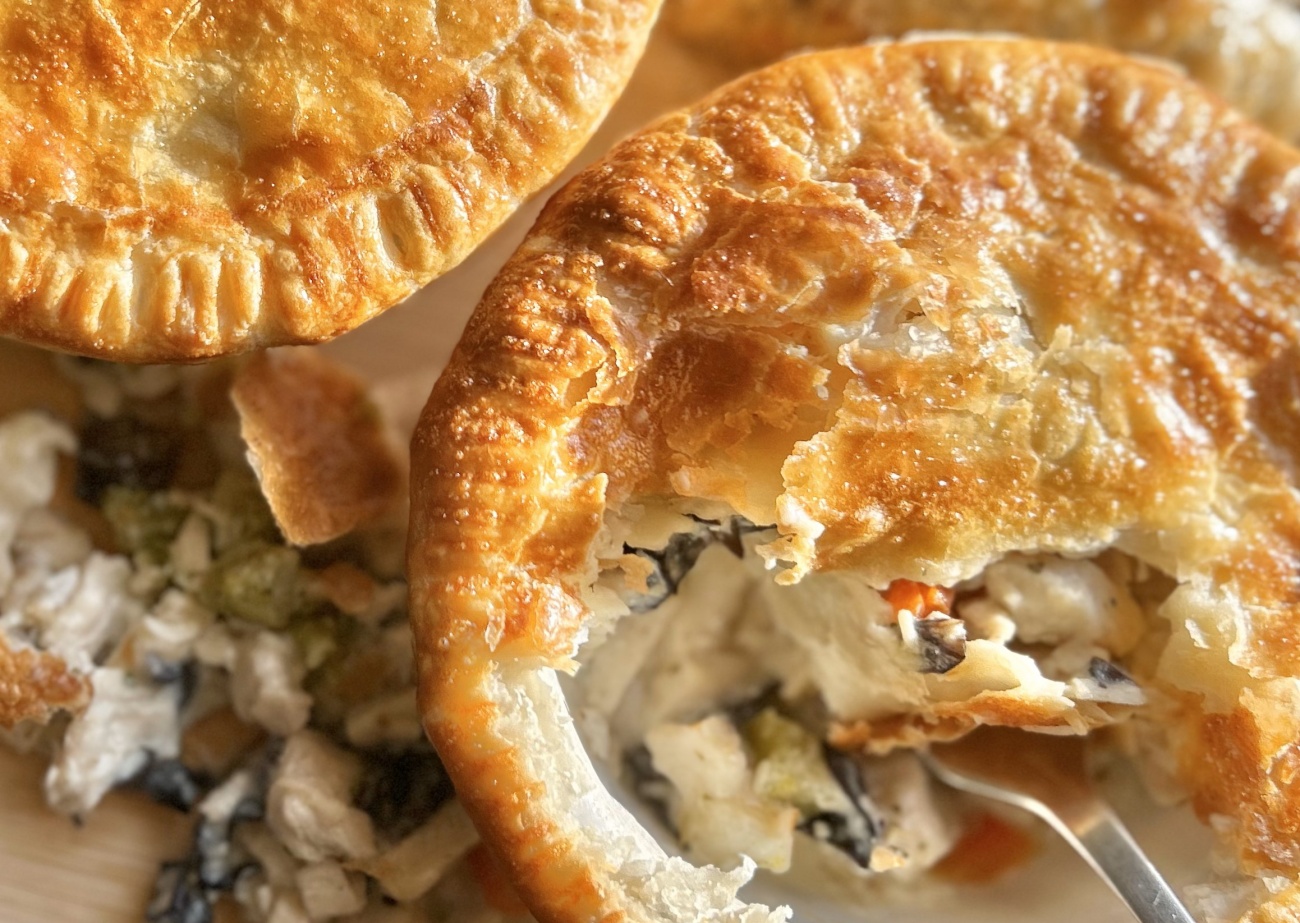 As my grandmother, a wise woman of the kitchen, often said, "Why do things the hard way when you can make them easier without sacrificing taste?" And she was right! I used store-bought pastry for this pot pie recipe and the results were stunning. You see, whenever I roast a big turkey, beef, or lamb for the Sunday family gathering, I'm always left with a whole heap of meat and vegetables. There is always enough food prepared to feed an army! Luckily, I've got a perfect solution, this Leftover Pot Roast Pie.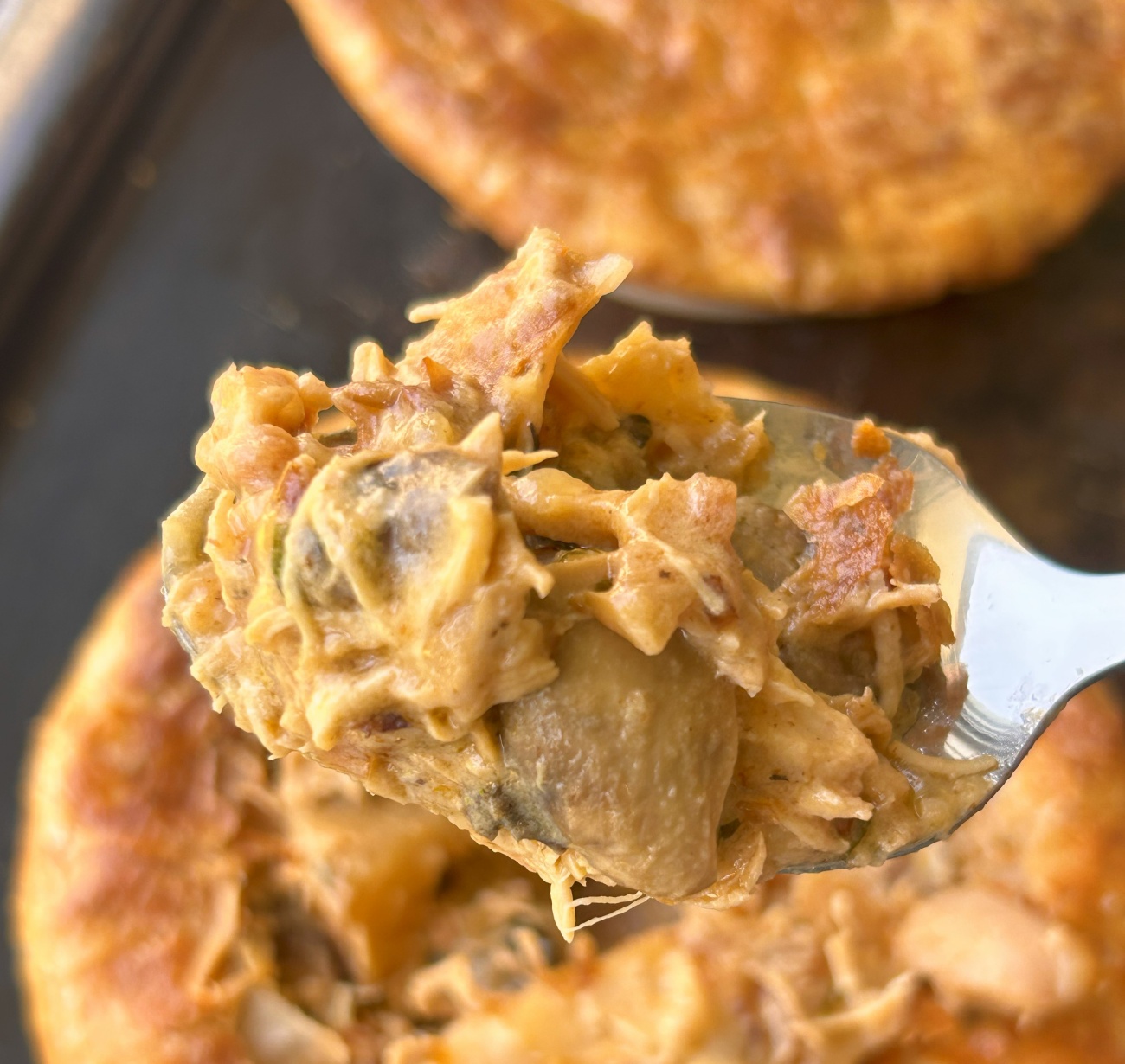 It's our family's secret weapon. All that leftover juicy tender meat gets shredded up and tossed with crispy bacon, caramelized onions, and roasted vegetables and then the whole dish is covered with puff pastry and baked in a preheated oven until the top turns golden, brown, and delicious. Yum.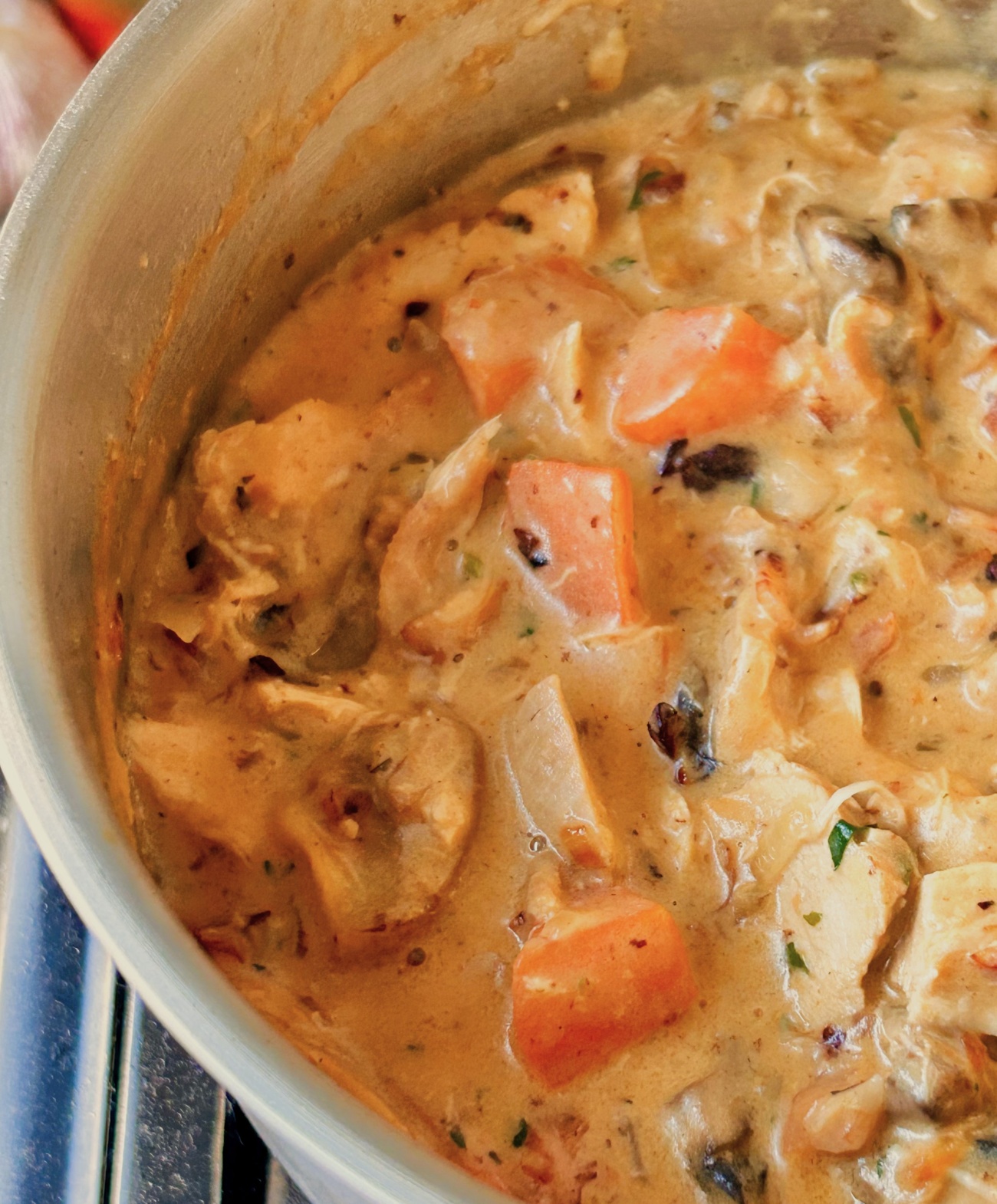 Before we get too far into it, I will let you in on a little secret: Brush the top of the pastry with lightly salted, beaten egg yolks just before baking. This step will elevate the whole dish to restaurant-quality status. That golden, glistening flaky pastry on top is a sight to behold!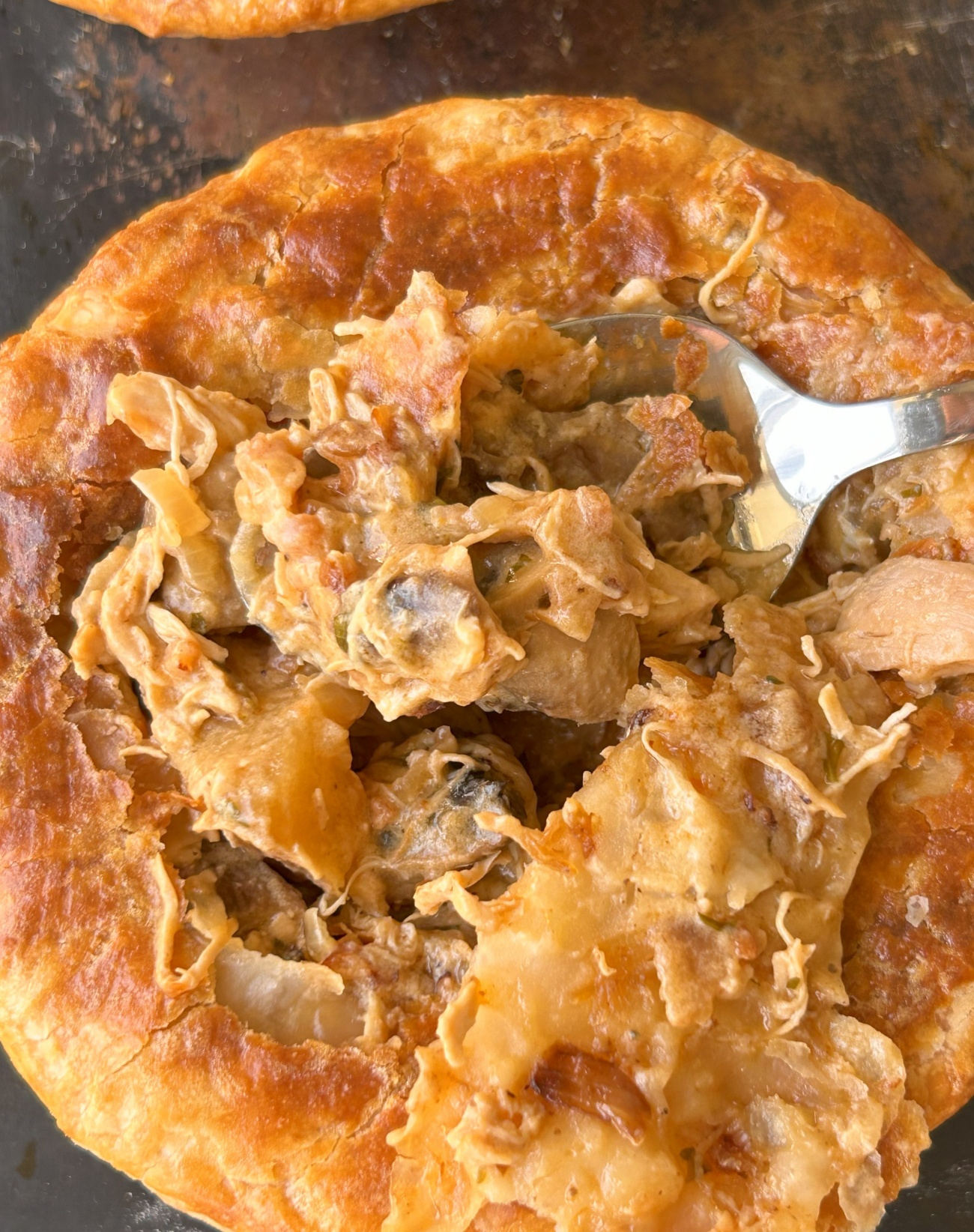 Another clever technique to note is the creation of the white sauce — this sauce binds the ingredients together and imparts a rich, velvety texture to the pie filling. What makes this process even better is that the sauce is prepared in the same pot as the other ingredients, allowing for a wonderful intermingling of flavors (and one less dish to wash).
Don't be afraid to try different ingredients — you can substitute the meat with any leftovers of your choice, and if you don't have leftovers, simply cook up some minced or chopped up meat and season with salt and pepper to taste. Ensure that the meat is fully cooked before adding to the mix. You can also add different vegetables, again ensuring that the vegetables are tender before incorporating with the pie filling.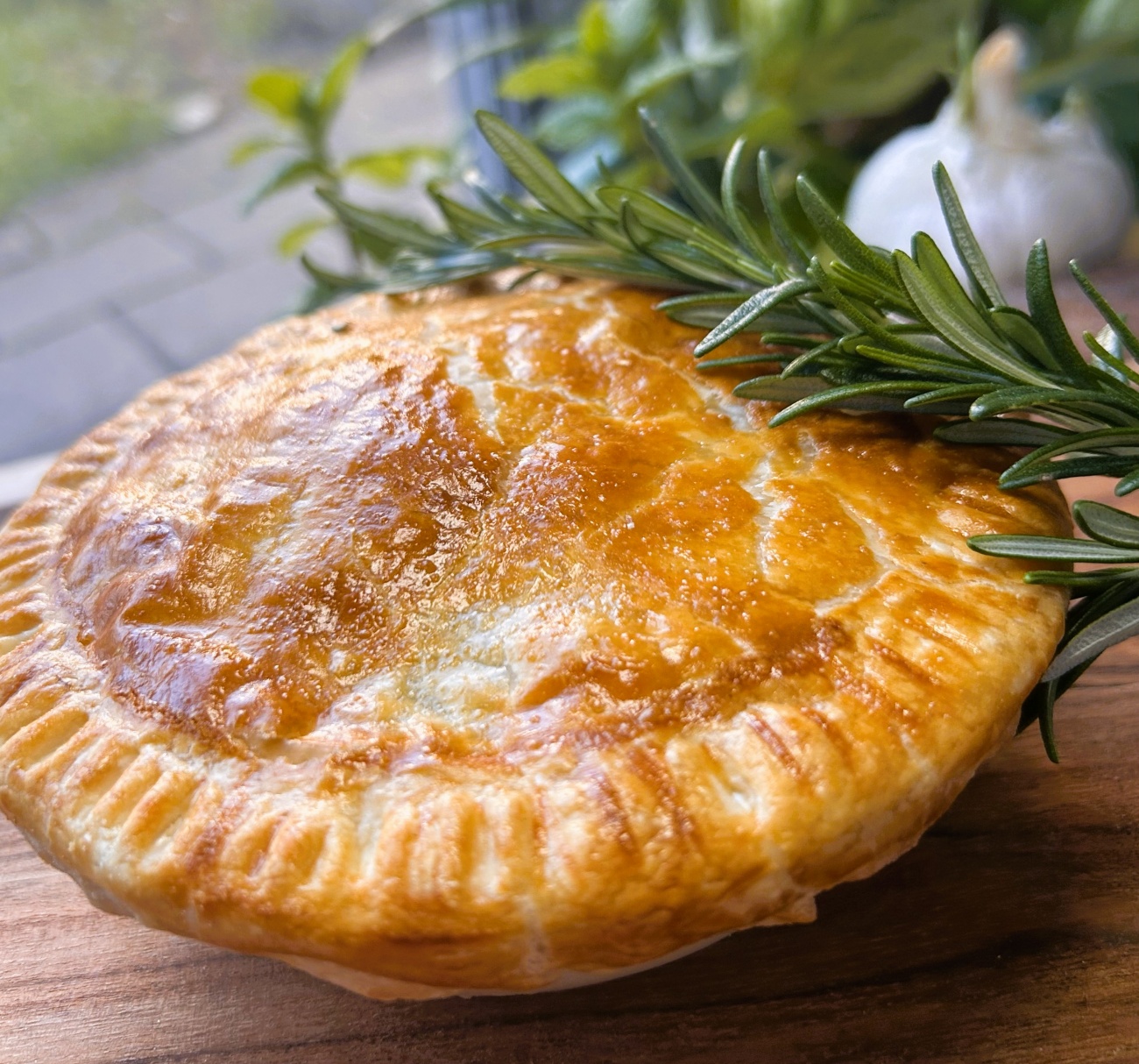 My only advice is that you make enough. There's nothing more delightful and comforting than the aroma of freshly baked pies permeating through the house. Believe me, once you crack into that flaky pastry, you're guaranteed to be hooked.
Happy cooking!
Leftover Pot Roast Pie
Serves 4
20m prep time
30m cook time
Ingredients
2 cups shredded meat (we used turkey)
2 cups roasted vegetables (roughly chopped carrots, potato, mushrooms)
2 tablespoons olive oil
5 oz bacon rashers, chopped
1 medium size onion, finely chopped
2 cloves garlic, minced
2 tablespoons butter
2 tablespoons all-purpose flour
4 cups milk
Kosher salt & black pepper, to taste
2 x 10" puff pastry sheets
1 egg yolk, beaten & lightly salted
For the pie filling:
Set a heavy-based pot on the stove over medium heat. Heat up the olive oil and sauté bacon, onions, and garlic until they start to soften. Scrape all the browned bits from the sides as you stir the pan. Once it starts to brown, push the entire mixture to one side of the pan and turn the heat to low.
Add the butter, keeping it to one side of the pan, away from the mixture. Add 2 tablespoons of flour to the melted butter and cook until it turns into a foamy paste, stirring constantly. Cook until the paste starts to turn brown and smell like freshly baked butter cookies.
Still keeping to one side of the pan, gradually add in the milk and simmer until the sauce reaches the consistency of a creamy soup. Mix in the other ingredients then fold in the cooked shredded meat and chopped roasted vegetables. Add more milk if you find the mixture too thick, season with salt & pepper to taste, and set aside to cool.
For the pie:
Preheat oven to 375°F, fan-forced. Lay a sheet of pastry on a lightly floured surface. Cut out a circle, roughly an inch wider than your chosen pie dish. Fill the dishes with the pie mixture and drape the prepared pastry over the top. Seal the sides, trim any excess and use a fork to crimp the sides.
Brush the top of each pie with beaten egg yolk and bake at 375°F for 20-25 minutes, or until it turns golden brown and delicious.
Allow to cool slightly before serving.
SKM: below-content placeholder
Whizzco for 12T