You can actually use any poultry you'd like.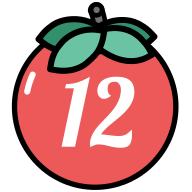 Sedrak Mamulyan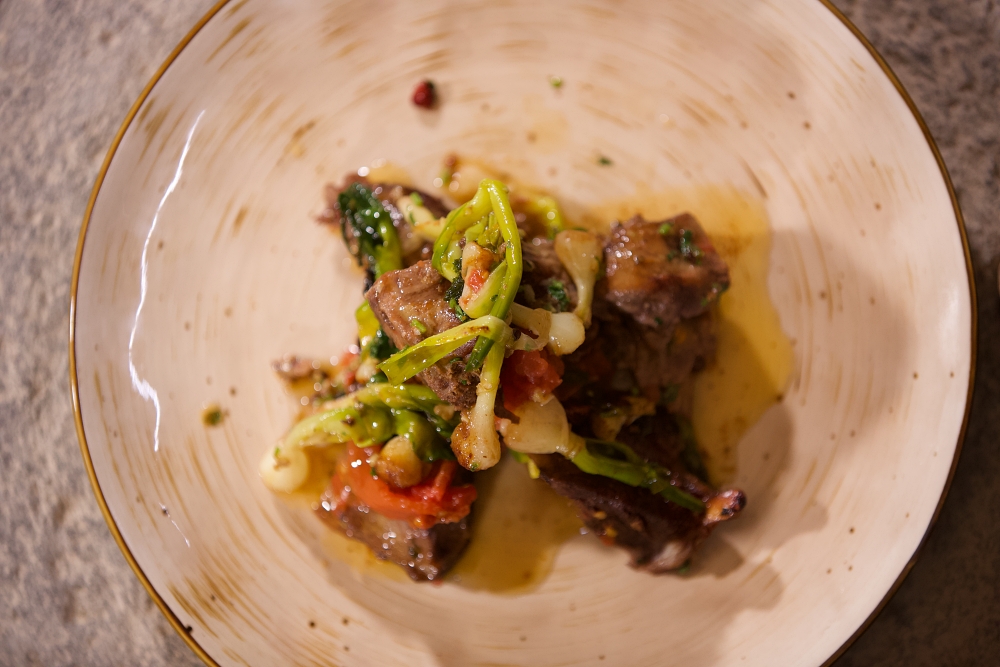 Duck has long been considered one of the most delectable meats available. With the looks of red meat despite being poultry, duck has a thick layer of fat thanks to their long migration flights that secure them with a need for excess fat. When pan-seared this fat renders into the pan for a flavorful sauce, but also crisps up on the outside for a wonderful texture. This Armenian recipe for khokhob (pronounced like "hoe-hope" which means "poultry") is duck with tart berries in a garlic walnut sauce. The recipe gets a hit of brightness from green onions and is a special dish that will impress your guests.
To begin making this recipe you'll need one duck weighing about 30 ounces. You can buy these frozen now in many supermarkets, especially as the holiday season approaches. If using frozen you'll need to let it thaw.
You can also use chicken for this recipe, but you'll need to adjust the cooking times. For instance if using chicken breasts cook on medium-high heat for 10-14 minutes instead, flipping once for doneness. Turkey would work wonderfully with cranberries as well, so use whichever poultry suits your taste and purpose.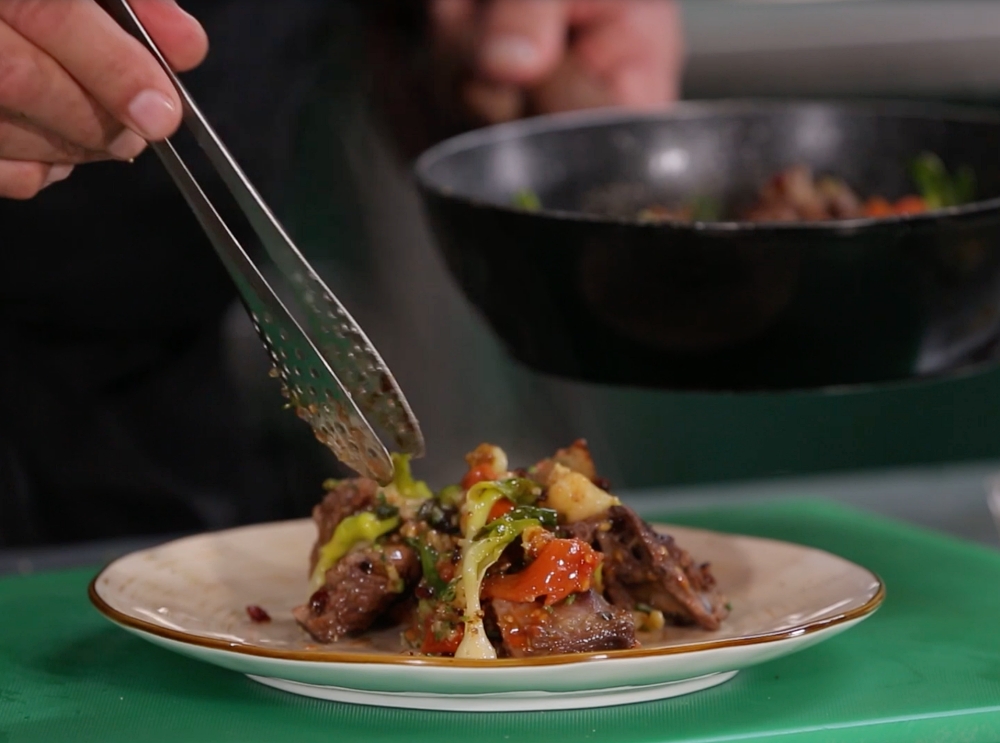 Cut the duck into pieces 2-3″ wide so that it can cook evenly in the pan. Heat your skillet to low-medium. The trick to cooking duck in the pan is to keep the heat low. The meat should cook for 15-20 minutes, flipping part way through cooking for even doneness.
While the duck is cooking chop your vegetables, herbs, and walnuts. Much like stuffing, the nuts serve as a nice counterpart to the rich duck meat. This recipe gets a lift from the freshness of cilantro for an herbal infusion to the other ingredients as well.
A special ingredient in this recipe is khmeli suneli, a spice blend common in areas across Eastern Europe. This mix usually contains coriander, which is the seed of the cilantro plant, as well as fenugreek, paprika, thyme, dill, marigold, and sometimes other herbs and spices, too. If you can't find it in stores, you can make a simplified version using this recipe.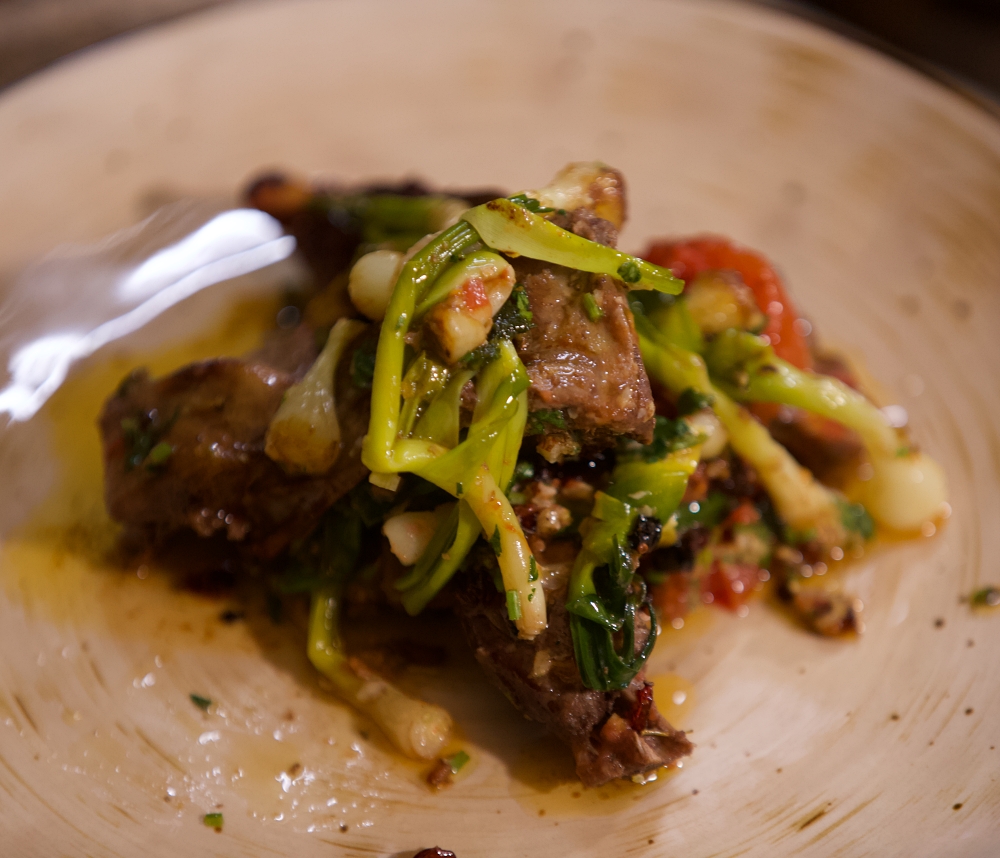 Once the duck is mostly done add some of the garlic and spice mixture to the pan and then follow with sliced tomatoes and roughly-chopped green onions. Then add dried barberries (or cranberries) and cover the meat and allow to cook for another 20-30 minutes on low.
Barberries are more common in Europe, but are grown in the US as well. If you can't find them some unsweetened, dried cranberries will work just as well.
Once it's finished slow-cooking add the rest of the spices and butter to finish. Serve with bread, potatoes, or pasta and let the sauce coat your carb of choice.
Khokhob (Duck with Berries)
Serves 4
20m prep time
45m cook time
Ingredients
1 30-oz goose, thawed
1/4 cup dried barberries or unsweetened dried cranberries
2 bunches green onion (about 12-16 stalks)
3 medium tomatoes
1 cup walnut halves
3 cloves garlic
3 tsp salt
1 tsp khmeli suneli seasoning blend
1/2 bunch fresh cilantro
1/4 cup vegetable oil
3 Tbsp butter
Preparation
Cut the goose meat into 2" to 3" pieces and remove the skin. Heat the skillet on low-medium heat and add the vegetable oil.
Arrange the meat in the skillet and fry on one side. Add salt and fry the meat on the other side. Then close the lid and simmer the meat for 15 minutes.
Finely chop the cilantro, mince the garlic and walnuts, add salt, khmeli suneli and mix all these ingredients together with a knife to get a well-mixed spice mixture.
Stir the meat, add half of the spice mixture, again close the lid and continue simmering the meat.
Cut the tomatoes into wedges and cut the green onions into 3 pieces for each steam. Add to the meat together with the dried berries and cover. Simmer on low heat for 20 to 30 minutes.
Remove the skillet from the heat, add the rest of spice mixture and the butter and serve.
SKM: below-content placeholder
Whizzco for 12T