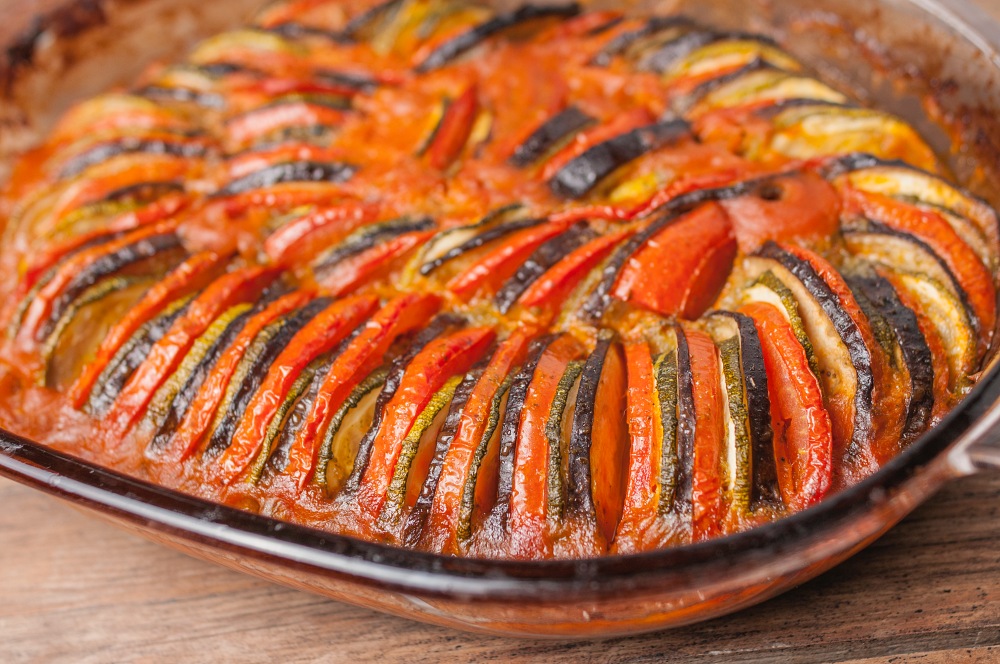 We're all familiar with the charmingly animated move, Ratatouille. But, how many of us have actually made this iconic dish at home? This recipe is very simple in terms of ingredients, but it packs a huge amount of flavor into one casserole dish. This is a nostalgic dish for many Europeans, but it brings the flavors of the garden to any table. Julia Child's version has been a staple in the cooking community for decades. Here we've added a light twist on her original: the baking time and the usage of tomatoes have been changed to make it both easier and more colorful.
To begin making this recipe you'll need to select your veggies. To get that classic striped effect you'll need to choose vegetables of relatively equal size. If all you can find are big eggplant then you'll want to select larger sized zucchini and tomatoes as well. If you can only find small eggplant then the smaller veggies will go with them better.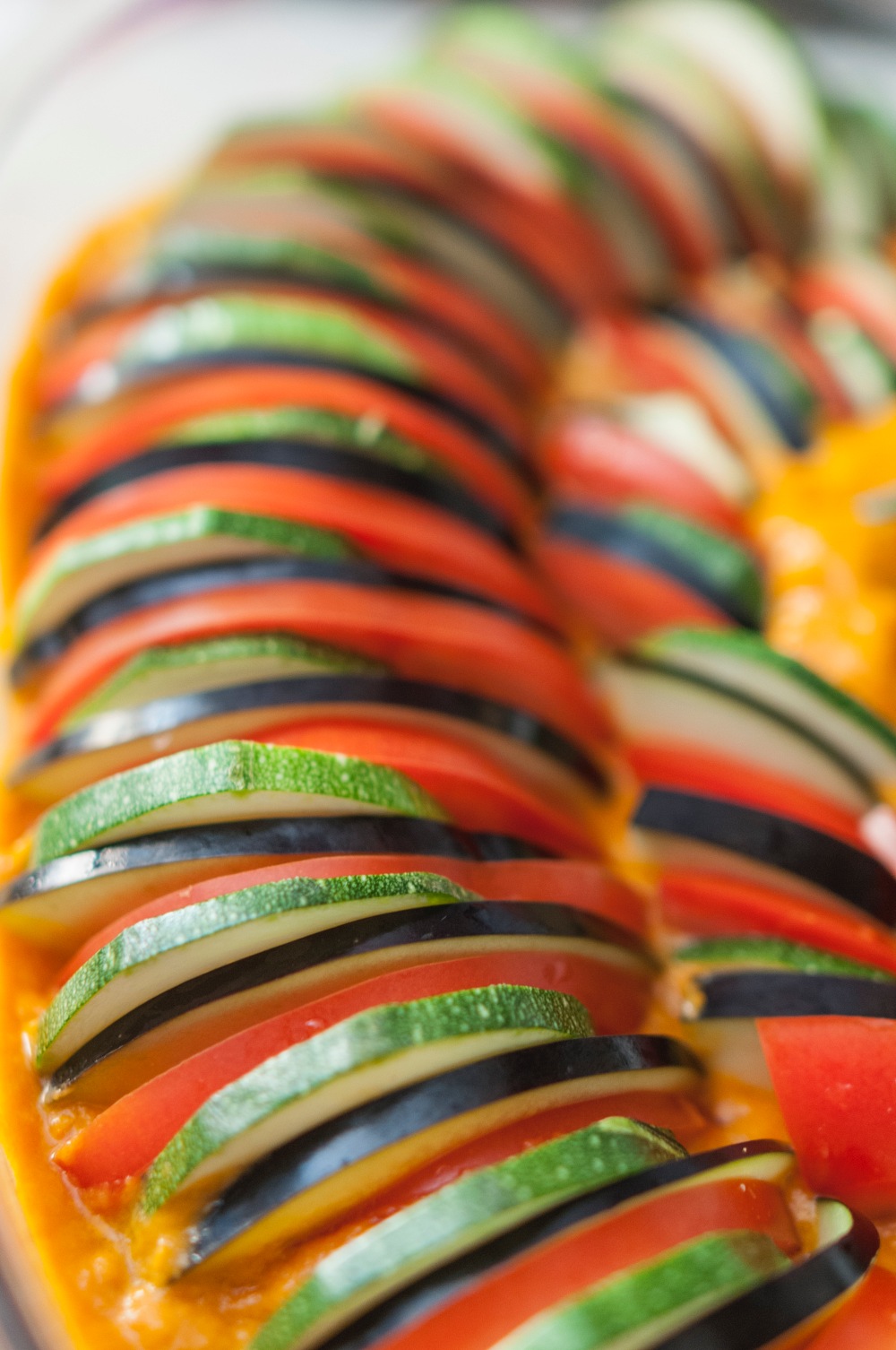 While some recipes call to peel the vegetables my mother always said to keep the skins on when you can since they have so many vitamins. So that's what I've done here. It also makes for a much prettier finished result in my opinion.
You'll need to slice the vegetables into roughly the same sized slices- about 3/8″ thick. Separate the tomatoes from the others. Salt them and leave them to dry out for 30 minutes. Do the same with the zucchini and eggplant.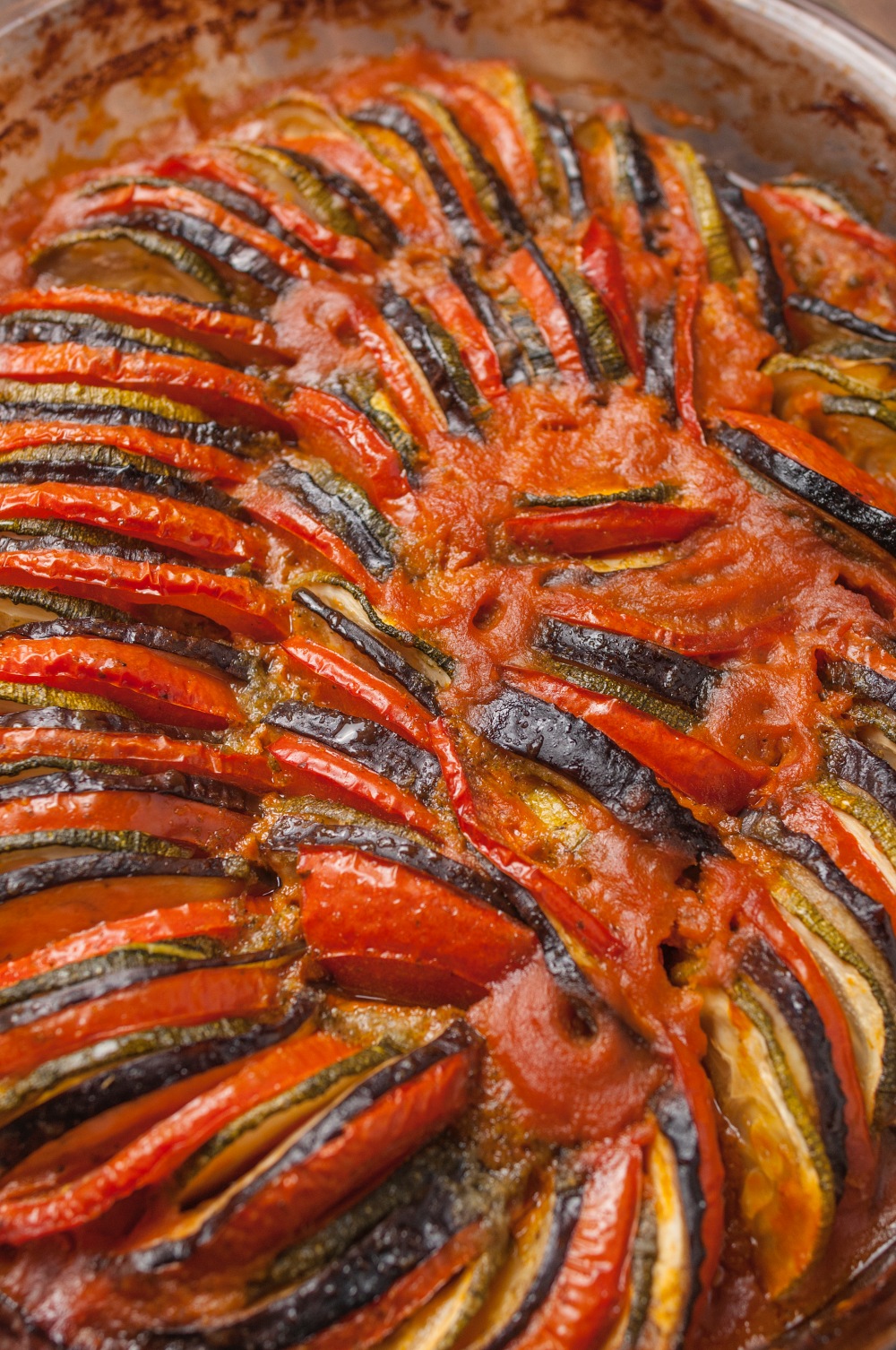 Then it's time to work on the sauce, which is a simple one made from onions, peppers, garlic, and tomatoes in olive oil. Once you have this done pour most of the sauce into a 3 quart baking dish. An oval one works nicely with the spiral pattern, but a rectangular one will do just fine, too.
This is the really fun part. In order to make the pattern make little "sandwiches" of eggplant, zucchini, and tomato slices. Keep the same pattern going throughout the dish and place standing skin-side up in the dish. You can make a spiral pattern or if using a rectangular dish you can make a snake pattern. Add more sauce as you go, but don't cover the top of the veggies.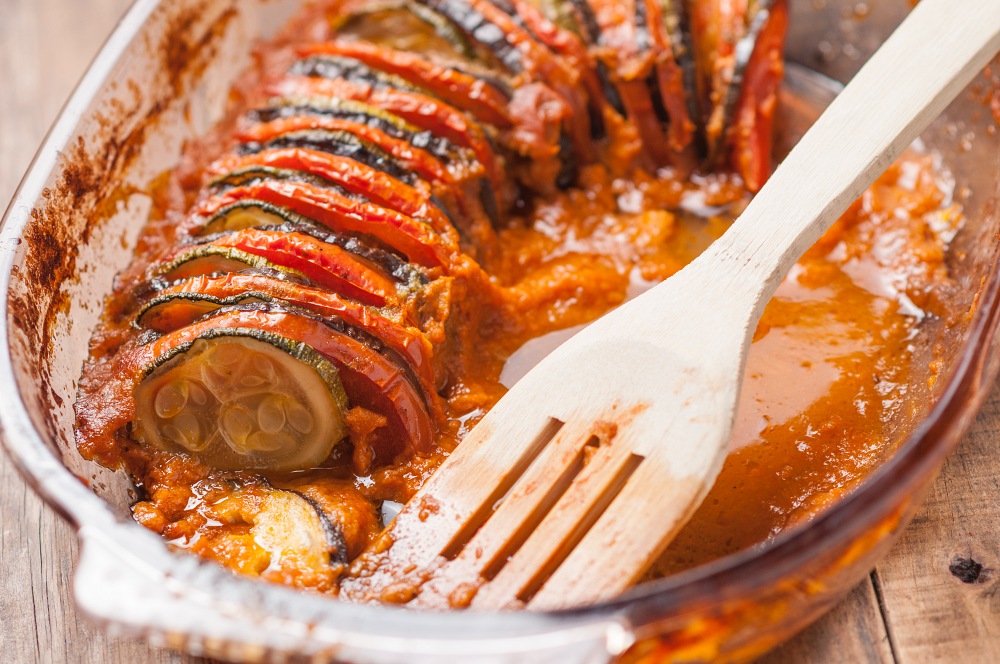 The majority of the baking time the dish is covered, but then the last 20 minutes are uncovered. This means that the top layer gets all thick and rich and concentrated with flavor. Serve this alongside literally any protein of your choosing for a wholesome and delicious meal that's a nod to the American chef who brought French cooking to the world.
Julia Child's Ratatouille
Serves 6-8
45m prep time
1h 20m cook time
Ingredients
1 lb eggplant
1 lb zucchini
1-2 tsp salt (for drying veggies)
4-6 Tbsp olive oil, more if needed
1/2 lb thinly sliced yellow onions
2 green bell peppers, sliced
3 cloves garlic, minced
Salt and pepper to taste
1 1/2 lb firm, ripe, red tomatoes like beefsteak, divided
Preparation
Slice eggplant and zucchini into 3/ 8" slices. Place into a large bowl and sprinkle with salt. Allow to stand for 30 minutes. After half an hour dry each slice with a paper towel. Do the same for 1/ 2 pound of the tomatoes, salting and placing in a separate bowl.
Sauté the eggplant in olive oil in a single layer in a large skillet over medium-high heat. Slices should only be browned slightly, so about a minute on each side. You may have to do this in batches. Repeat for zucchini. Set aside cooked, sliced veggies.
Peel, seed, and chop the remaining tomatoes. Reduce heat to medium. In same skillet sauté onions and peppers in olive oil for 10 minutes. Add garlic and then tomatoes. Season with salt and pepper. Simmer covered for 5 minutes.
Preheat the oven for 375˚F. Stir sauce and then increase heat to medium-high. Allow to bubble for another 5 minutes or until most of the liquid from the tomatoes has cooked off.
Pour most of the tomato sauce into the bottom of a 9"x13" baking dish (or use a 3 or 4 quart oval dish). Make sandwiches of the eggplant, zucchini, and tomato slices. Place these sandwiches standing up in casserole dish circling the outside of the pan into a spiral. Do this until pan is full.
Take care to keep the same pattern of eggplant, zucchini, and tomato slices for a striped effect in the dish. Add more sauce as you fill up the dish with veggie slices, but don't cover the veggies. They should be about 3/4 of the way covered with sauce.
Bake covered for 40 minutes. Finish baking uncovered for 20 minutes. Serve hot or cold alongside meat or fish of your choice.
Recipe adapted from Today.
SKM: below-content placeholder
Whizzco for 12T