You'll find arancini sold as street food throughout the Italian peninsula, but they truly belong to Sicily. These decadent balls of fried rice are known as little oranges thanks to their remarkable resemblance to one of the island's other specialities. Arancini are savory treats that shine as elegant appetizers on the dining room table or as an afternoon snack fresh off a food cart. They're just plain delicious.
If you want to make your own arancini from scratch, you've got to put yourself in a Sicilian mindset. In other words, slow down. Cooking up a batch of these goodies takes patience. This sort of recipe wasn't made for rushing, you'll want to dedicate a full afternoon to ensure the arancini meet Sicilian standards. In a way, making arancini is like making two recipes! The first step is to make a risotto. While risotto is a typical northern Italian dish, it's the base for this southern staple.
Arancini come stuffed with all manner of yummy ingredients: cheese, meat sauce and cheese, ham and cheese, even chocolate! The scrumptious recipe we're sharing with you today is a meat/cheese combination. You can choose your meat filling to suit your own tastes: we recommend prosciutto, salami, or chopped ham.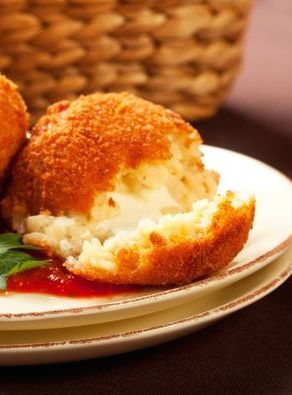 Sicilian Arancini
Ingredients:
4 cups chicken broth
4 tablespoons butter
3/4 cup finely chopped onion
1 cup Carnaroli or Arborio rice
1/2 cup dry white wine
1/2 cup finely grated Parmigiano-Reggiano, plus extra for garnish
1/3 cup heavy cream
1 1/2 tablespoons chopped fresh herbs (basil, thyme, parsley or chives)
Salt and freshly ground black pepper
3 eggs
1/3 cup cubed mozzarella, cheddar, muenster or Swiss cheese
1/3 cup fully-cooked meat filling (pepperoni, prosciutto, chopped ham, salami, sausage, etc.)
Vegetable oil, for deep-frying
1/2 cup flour
1 cup dry Italian bread crumbs
Tomato sauce, as accompaniment
Directions:
First make your risotto! In a saucepan bring chicken stock to a simmer. Cover and set aside to keep hot.
In another large saucepan, melt 3 tablespoons of the butter over medium-high heat. Add the chopped onion and saute until transparent, about 4 minutes. Add rice and cook, stirring constantly, until rice is opaque and fragrant, about 1 minute.
Add the white wine and cook, stirring, until absorbed. While continually stirring, begin adding the stock in 1/2 cup increments, allowing the liquid to become completely absorbed between additions. Cook until the rice is just tender and the risotto is creamy, about 20 minutes.
Add the grated Parmigiano-Reggiano, heavy cream, herbs and salt and pepper and stir to combine well. Transfer to a mixing bowl or baking dish and allow to cool completely. Refrigerate until thoroughly chilled (at least one hour!).
Once the risotto is cold, remove it from the fridge and stir in 1 of the eggs. Using a large spoon, divide the risotto into approximately 3 tablespoon portions. With your hands, form the portions into balls.
Press a hole into the center of each risotto ball and stuff the center with some of the cheese and the meat filling. Press the opening closed and roll the ball between your hands until it is smooth. Set aside while you prepare the other arancini.
In a large saucepan, heat 2 inches of oil until a deep-fry thermometer reads 360 degrees F. Place the flour, remaining 2 eggs and bread crumbs in 3 separate bowls. Using a fork, lightly beat the eggs. One by one, lightly coat each risotto ball in the flour, then the beaten egg mixture, then the bread crumbs, so that each ball is completely covered.
Transfer to a plate or baking sheet until you are ready to fry the arancini. Fry the balls in batches, a few at a time, turning once during cooking so that they are evenly browned, about 2 minutes. Transfer to paper-lined plates to drain briefly, then serve while they're still hot and gooey. Sprinkle some grated Parmesan on top and add tomato sauce on the side.
Buon appetito!
Makes 16 arancini.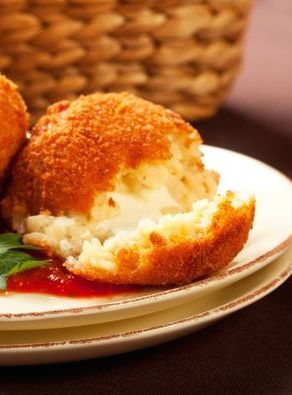 Recipe adapted from theFood Network.
SKM: below-content placeholder
Whizzco for 12T