If you've been to Italy, you know there's a "coperto"cover charge, if you will for sitting down at any restaurant. This fee replaces the need to tip. Our grumblings aside about having to pay for silverware on the table, the good news is that the coperto also covers the grissini. "Grissini" are an Italian breadstick that you can find at almost any restaurant, and they will stave off those hunger pangs as you wait for that amazing Italian food!
There are a plethora of pastas and pizzas that get constant attention (as they should), but rarely do we think about what we eat when we first sit down at an Italian restaurant. Grissini are delicate and airy and do an excellent job of satisfying your hunger but only just a bit! They're perfect because they still leave plenty of room for the main event. If you're having a dinner or cocktail party and want to give the masses something to munch on, these grissini are perfect and you'll impress everyone with your culinary know-how!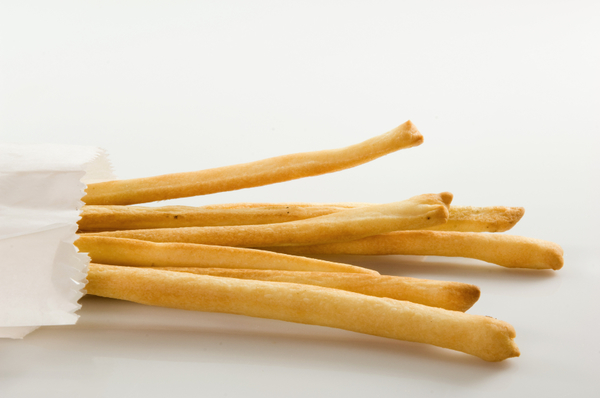 Grissini
Yields 4 dozen
Ingredients
3 cups all-purpose flour, divided
1 1/2 cups warm water, divided
1 cup whole wheat flour
1/3 cup extra-virgin olive oil
2 1/4 teaspoons (1 packet) active dry yeast
2 teaspoons honey
2 teaspoons salt
Directions
In a small bowl, combine yeast with 1/2 cup warm water. Stir and let sit 10 minutes, or until frothy. If mixture doesn't bubble up, discard and start again.
In a large bowl or mixer, combine whole wheat flour, remaining water and honey, and stir well. Then add in yeast water mixture.
Mix in 1 1/2 cups flour, olive oil and salt, and use a dough hook attachment (or your hands) to knead the mixture until dough begins to come together.
Turn speed up to medium and knead for 5-7 minutes, or until dough ball forms and is smooth and elastic.
Transfer dough to a lightly oiled bowl, cover with a clean towel and place in a warm, draft-free place for 1-2 hours, or until doubled in bulk.
Preheat oven to 425º F and prepare baking sheets by lining them with parchment paper or aluminum foil.
Turn dough out onto a flat, lightly floured surface and shape it into a large, flat rectangle.
Using a very sharp knife, cut off 1/2-inch slice of dough and roll it out into a long, thin rope. Use your fingers to gently pull it outwards, starting at the center.
Continue with remaining dough, then transfer ropes to baking sheets. Grissini should be close to the length of the baking trays.
Cover grissini with a clean towel and let rest 30 minutes, until risen a little more.
Place grissini in oven and bake for about 12 minutes, rotating in the middle, to make sure they don't burn.
Remove from oven and let cool before serving.
Recipe adapted from The Kitchn
SKM: below-content placeholder
Whizzco for 12T