Enjoy the elegance of a Beef Wellington in an individually wrapped package.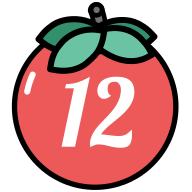 Dom Ruane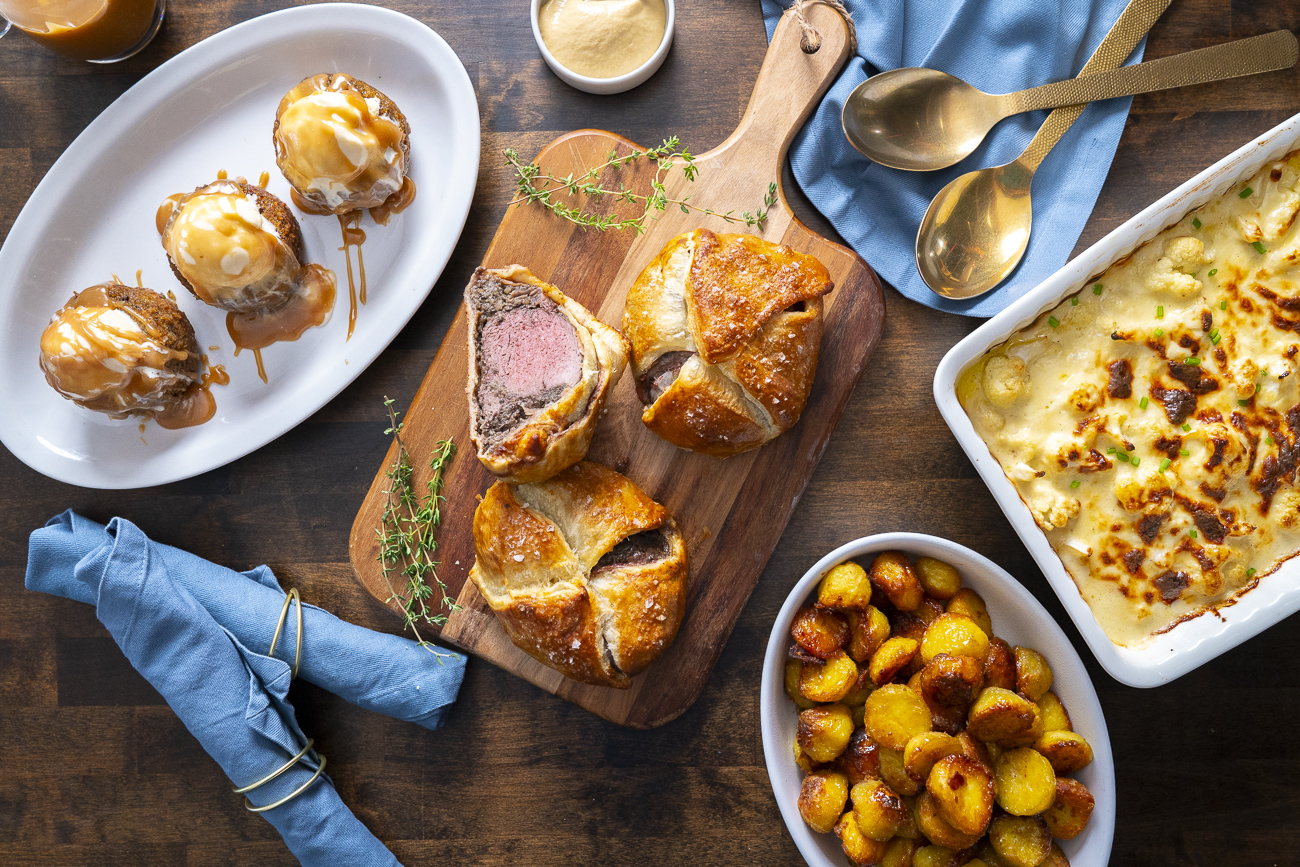 Of the many fine-dining experiences served at high-end restaurants, Beef Wellington holds a kind of pinnacle status in my mind. In its most elegant form, a traditional Beef Wellington takes hours to prepare, and the boldest will even make the puff pastry dough from scratch. As much as I love the craftsmanship of the original recipe, I also love knowing a few tricks to help me achieve the same level of deliciousness at home, no white linen or maitre d' required. If you're looking for an extraordinary holiday meal, look no further than the mouth-watering achievement that is the Individual Beef Wellington.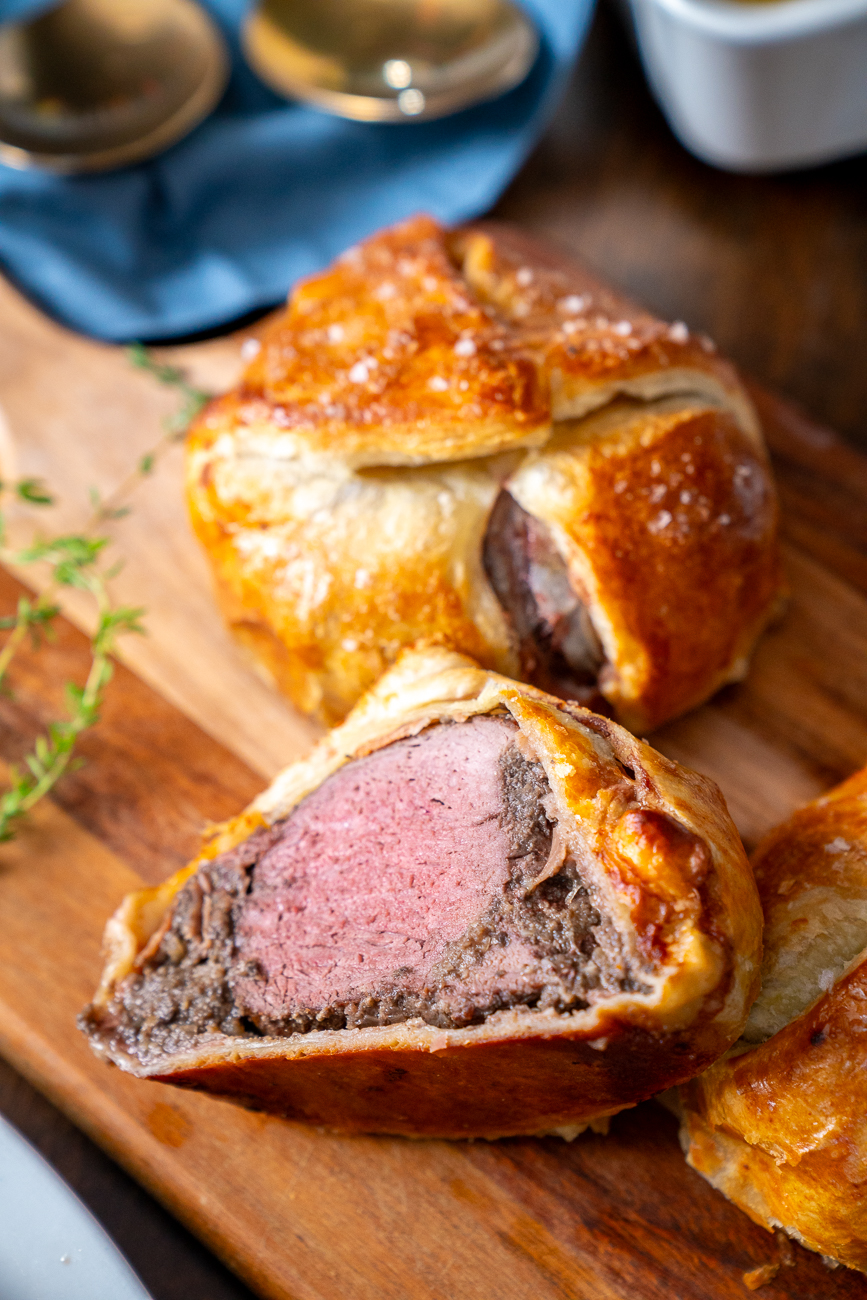 This take on the Beef Wellington can be done in much less time than the classic version. It has all of the same ingredients and all of the same elegance wrapped in a more accessible package. Store-bought puff pastry, a beautiful beef tenderloin, and a flavorful duxelle are the three essential ingredients in a Beef Wellington. A duxelle is a savory paste made from mushrooms, herbs, and butter. It is herbaceous and rich, a beautiful companion to the meal as a whole.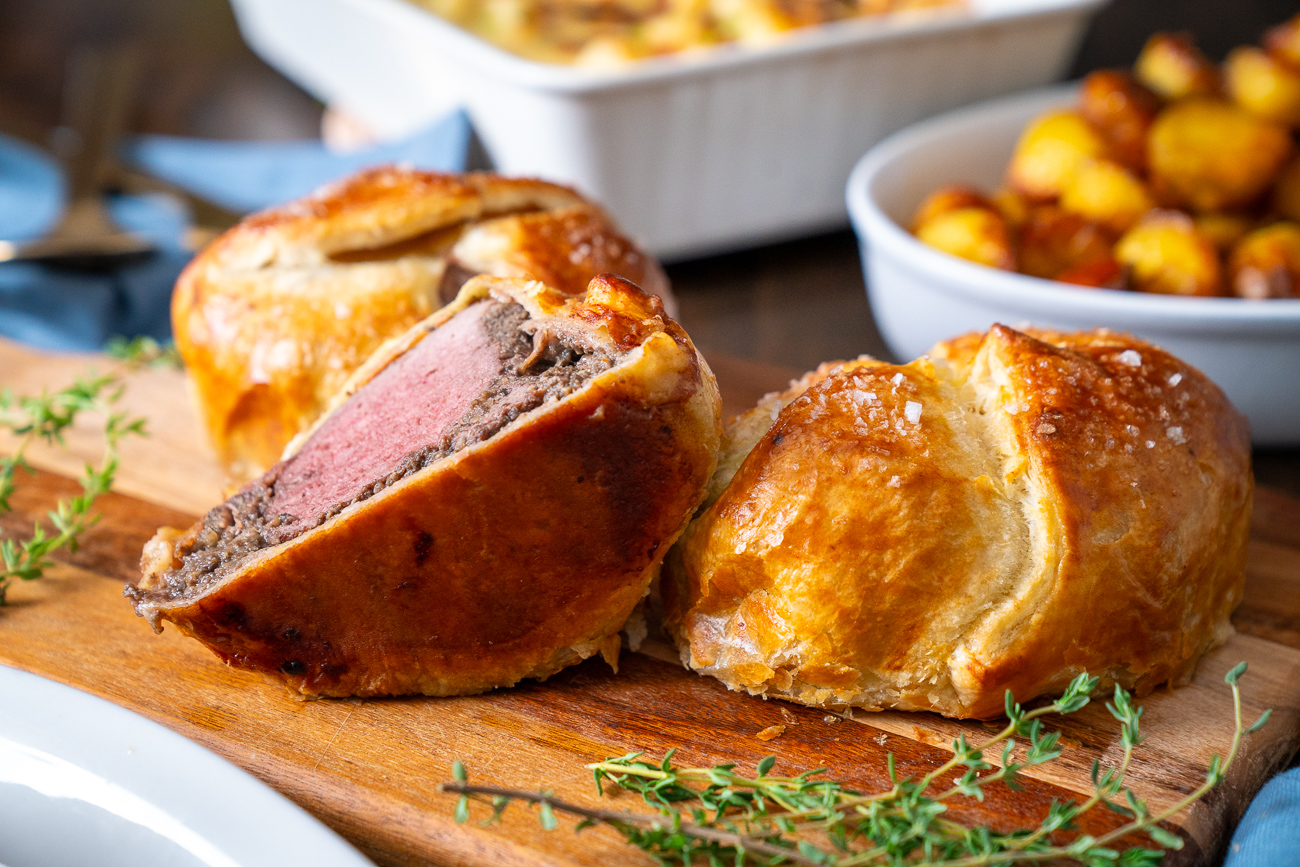 What a delightfully delicious gift to serve for the holidays! Listen, do not be intimidated here, you can do it! Not one of these steps is difficult to execute. I've outlined the process and it is highly doable. The duxelle is the "hardest" part of the preparation while searing the tenderloin and wrapping it in the prosciutto and pastry require just a little patience and precision. No culinary degree is required! A meal like this is ideal for a small dinner party but is easily doubled if your dinner table will welcome a few more guests this year.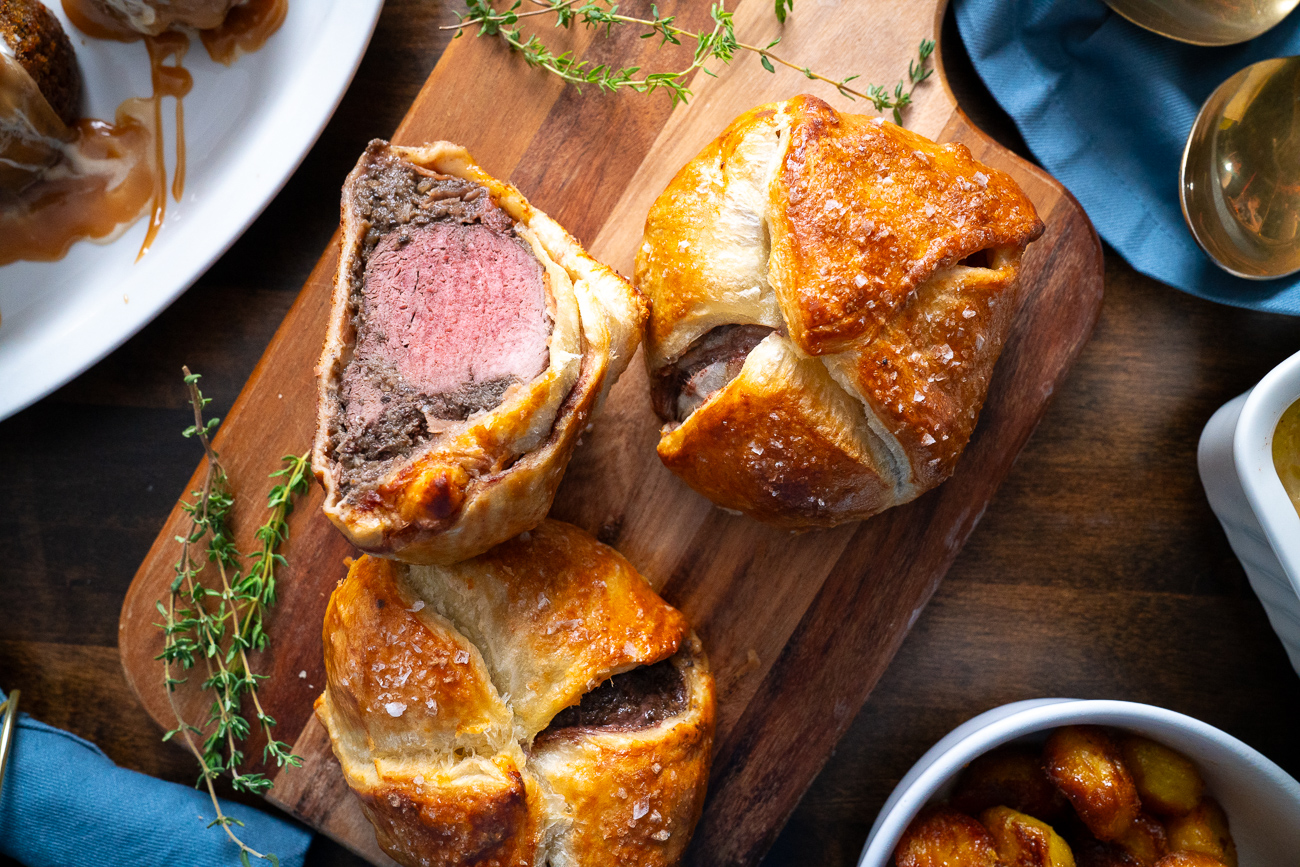 Wow, wow, wow. I mean, look at these golden beauties! As much as I love to give and receive a gift under a tree, I enjoy gifting experiences to my family and friends, and this experience of a Beef Wellington is a perfect gift for a holiday celebration.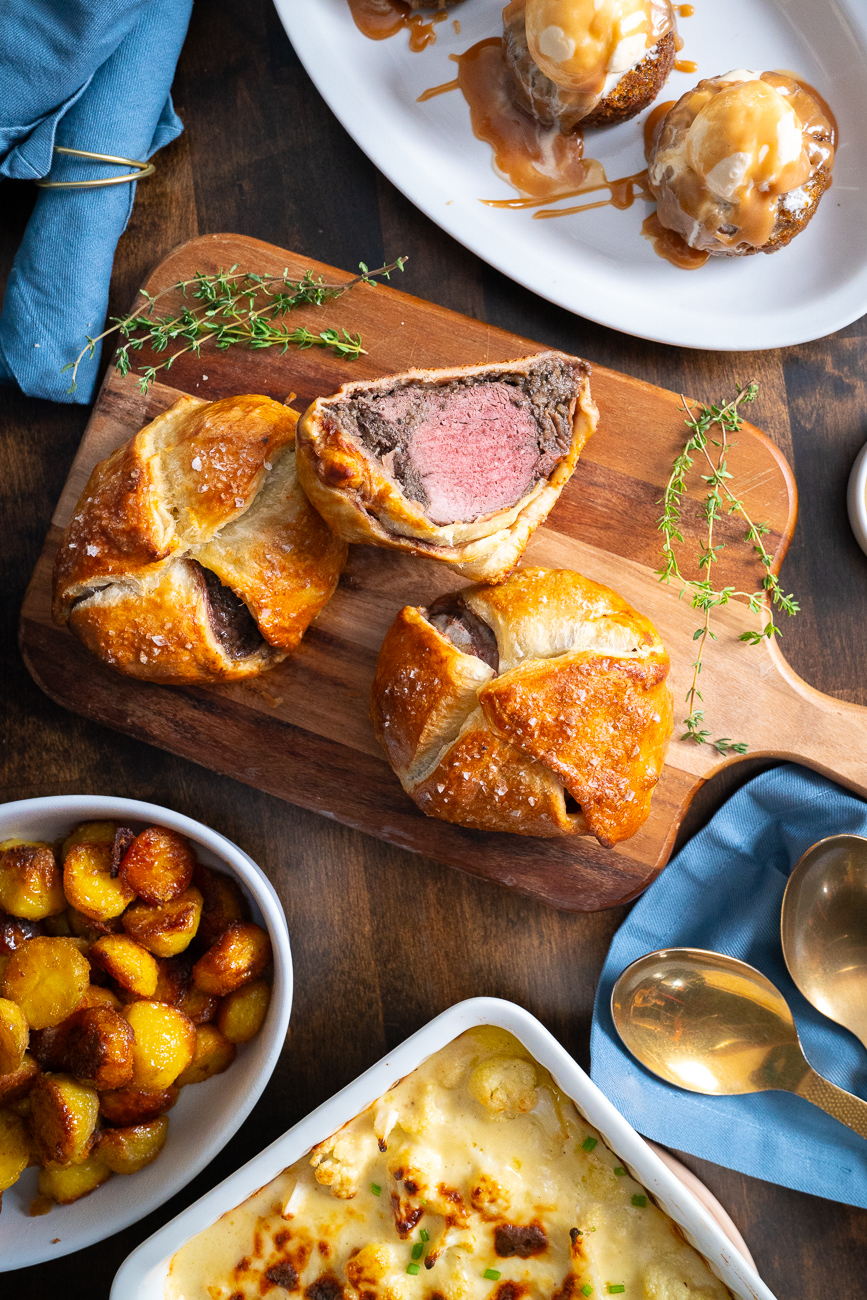 Individual Beef Wellingtons are from the Royal British Feast at Table for 12. It is served with Cauliflower Cheese, Duck Fat Roasty Potatoes, and Sticky Toffee Pudding.
Individual Beef Wellingtons
Serves 6-8
15m prep time
1h cook time
5m inactive
For the beef:
2 1/2 lb (6.5 oz. per person) beef tenderloin
2 tablespoons vegetable oil
Kosher salt and freshly cracked black pepper, to taste
For the pastry:
2 sheets frozen puff pastry, thawed & cut into 4 even squares
1/3 cup dijon mustard
6 oz. thinly sliced prosciutto
1 egg, whisked plus 1 tablespoon cold water
For the duxelle:
2 tablespoons butter
2 tablespoons olive oil
1 lb. button mushrooms, sliced
1 shallot, diced
3 garlic cloves, minced
1 1/2 fresh thyme leaves, chopped
3/4 cup white wine
Preparation
Preheat the oven to 425°F and prepare a sheet tray lined with parchment paper.
In a food processor, pulse together mushrooms, shallot, and garlic until the mixture resembles a paste.
Add the mixture to a hot sauté pan with olive oil and butter. Season with salt and pepper, then cook the mixture for 6 - 8 minutes until fragrant. Add wine and thyme, then reduce wine in the mushroom mixture until fully dry in the pan, about 5 minutes. Taste for seasoning. Set aside.
Preheat a cast iron pan over medium-high heat.
Add 2 tablespoons vegetable oil to the skillet and season the beef tenderloin on all sides. Sear the beef for 2 - 3 minutes on the first side, and then on all four sides. Remove to a wire rack and let rest for 5 minutes.
Slice beef into 6 even steaks (6 oz each), brush beef with Dijon mustard on all sides.
Place 2 sheets of plastic wrap next to each other on a clean work surface to roll the tenderloin slices.
Layer 2 pieces of prosciutto next to each other side by side. Sprinkle from end to end with the duxelle, then place beef at one end. Roll up beef in the prosciutto using the plastic wrap to help until beef is encased in the prosciutto.
Prepare puff pastry by dusting a work surface with flour and using a rolling pin, evenly roll your puff pastry into a large square bigger than a 6in tortilla.
Place prosciutto-wrapped pork in the center of a square of pastry and fold each side clockwise into the center of the beef. Press the pastry firmly together at the top and brush with an egg wash. Top with flakey salt and place on a prepared sheet tray.
Bake for 20 - 25 minutes or until the pastry is golden and the meat temps to 130 - 135°F. Let it rest for 5 minutes. Enjoy!
This recipe is from the Royal British Feast at Table for 12.
SKM: below-content placeholder
Whizzco for 12T